Aluminum alloy 7050 is a commercial aerospace grade aluminum with high strength, stress corrosion cracking resistance and toughness, Chalco can produce AMS 4342 UNS A97050 AMS QQ-A-225/9 7050 Aerospace aluminum rod bar has AS9100 Collin Aviation Certification.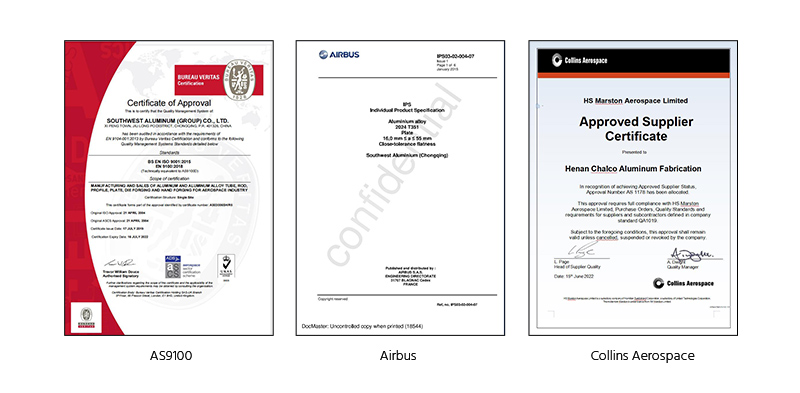 Specifications of Chalco 7050 commercial aerospace alloy rod bars
Material temper: F, O, T6, T73511, T74511, T76511 etc.
Trade name: AMS 4340, AMS 4341, AMS 4342, AMS 4201, UNS A97050
Standards: AMS 4050, AMS 4201, DMS-2233, BMS 7-323, ASTM B221, EN3982
Round rod diameter: common diameters are 5mm to 350mm.
Round rod length: common lengths are 2000mm, 2500mm, 3000mm or 4000mm.
Hex rod diameter: from 1/4" (6.35mm) to 5" (127mm).
Hex rod height: from 1/4" (6.35mm) to 5" (127mm).
Other specifications: other specifications such as custom lengths or parts machined to desired shapes are available upon request.
Chemical composition of Chalco 7050 aerospace aluminum alloy
7050 alloy chemical
Chemical element
% Present
Si
0.12%
Fe
0.15%
Cu
2.0-2.6%
Mn
0.1%
Mg
1.9-2.6%
Ti
0.06%
Cr
0.04%
Zr
0.08-0.15%
Zn
5.7-6.7%
Other (Each)
0.0-0.05
Aluminium (Al)
Balance
Mechanical properties of Chalco 7050 aerospace high quality aluminium rods
Properties
Mechanical property
Value
Tensile strength
515MPa
Yield strength
455 Min MPa
Elongation
A-11 Min %
Product features of Chalco 7050 aviation aluminum alloy rod bar
7050 aluminum is a heat treatable low temperature alloy known as a commercial aerospace aircraft alloy that is less quench sensitive than other aerospace aluminum alloys. This enables it to maintain its strength properties, stress corrosion cracking resistance and levels of fracture toughness.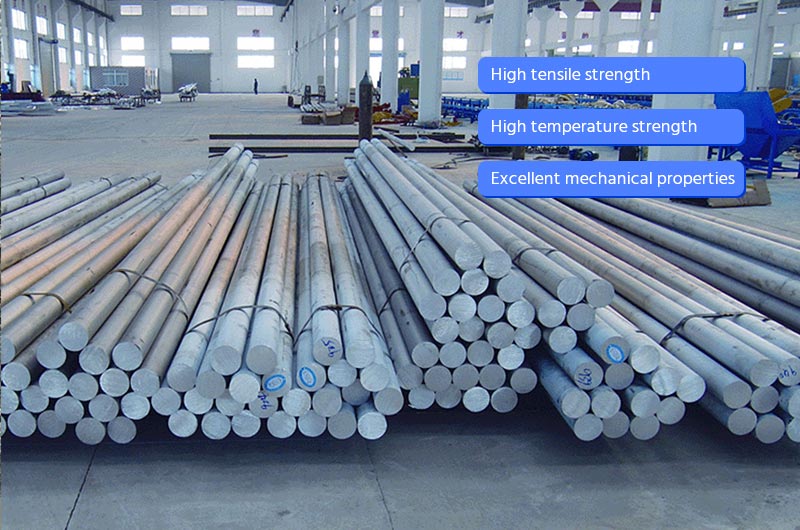 Strong corrosion resistance
High tensile strength
Brilliant polish
Excellent machine strength
High creep resistance
High temperature strength
Excellent mechanical properties
Application of Chalco 7050 industrial aerospace grade aluminium rod bars
7050 aluminum is the preferred aviation aluminum for applications such as fuselage frames, suitable for the manufacture of components that require high strength and light weight, such as fuselage frames for commercial and military aircraft applications, aircraft structural parts, structural parts in the aerospace field, aircraft shells, engines parts, aircraft bolts and wheels, etc.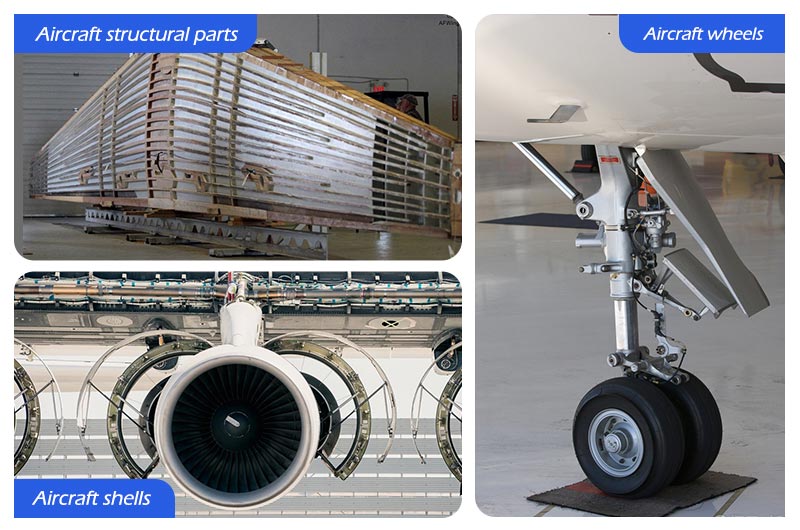 Production process of Chalco aluminum alloy 7050 (UNS A97050) bar
Aluminum ingot preparation: the production of 7050 aluminum alloy usually starts from aluminum ingots, which are processed by melting and casting, and generally have high purity and good crystallization properties.
Preheating and rolling: aluminum ingots are heat-treated in a preheating furnace, and then rolled into aluminum rods of required diameters through a rolling mill. During the rolling process, parameters such as rolling temperature and rolling speed need to be controlled to ensure the quality of the obtained aluminum rod.
Non-heat treatment: the aluminum rod is rolled through multiple passes and subjected to work hardening treatment to improve the strength, hardness and wear resistance of the aluminum rod.
Heat treatment: aluminum rods are heated under specific temperature and time conditions, so that the aluminum alloy material can obtain ideal properties and microstructure. Common heat treatment methods include aging treatment and solution treatment.
Cutting and processing: according to customer requirements, aluminum rods are cut and processed into parts of required length and shape.
Inspection: conduct various inspections on the manufactured 7050 aluminum rods, including tests on dimensions, mechanical properties, chemical composition, surface quality, etc., to ensure that they meet customer requirements and corresponding quality standards.
Packaging and transportation: pack the qualified 7050 aluminum rods, mark and record them, and then send them to customers.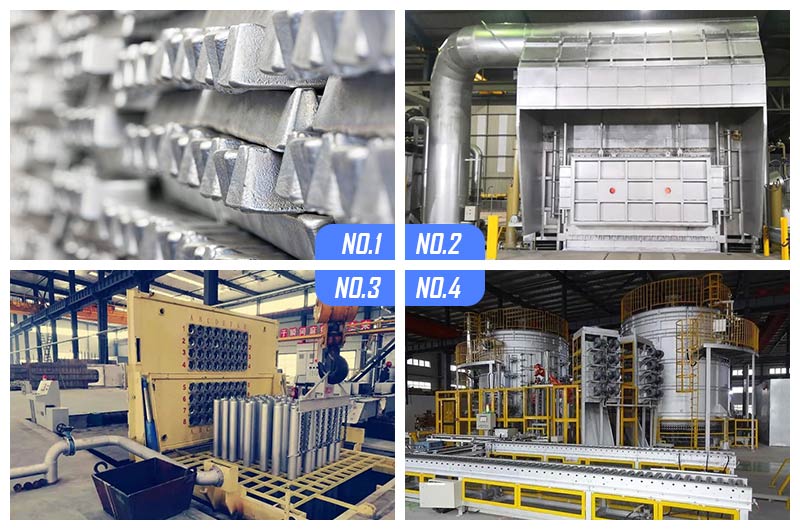 Stock of Chalco 7050 aerospace aluminum in round bar, square bar
Round rod: Common diameters include 5mm, 6mm, 10mm, 12mm, 15mm, 20mm, 25mm, 30mm, 35mm, 40mm, 50mm, 60mm, 70mm, 80mm, 90mm, 100mm, 120mm, 150mm, 200mm, etc.
Square rod: Common section sizes include 10mm×10mm, 12mm×12mm, 15mm×15mm, 20mm×20mm, 25mm×25mm, 30mm×30mm, 35mm×35mm, 40mm×40mm, 50mm×50mm, 60mm×60mm, 70mm×70mm, 80mm×80mm, 90mm×90mm, 100mm×100mm, 120mm×120mm, 150mm× 150 mm etc.
The length is usually between 2000mm, 2500mm, 3000mm, 4000mm, etc.
It should be noted that this is only one of the common dimensions of 7050 aviation aluminum round bars and square bars, and the actual inventory and supply may vary according to market demand.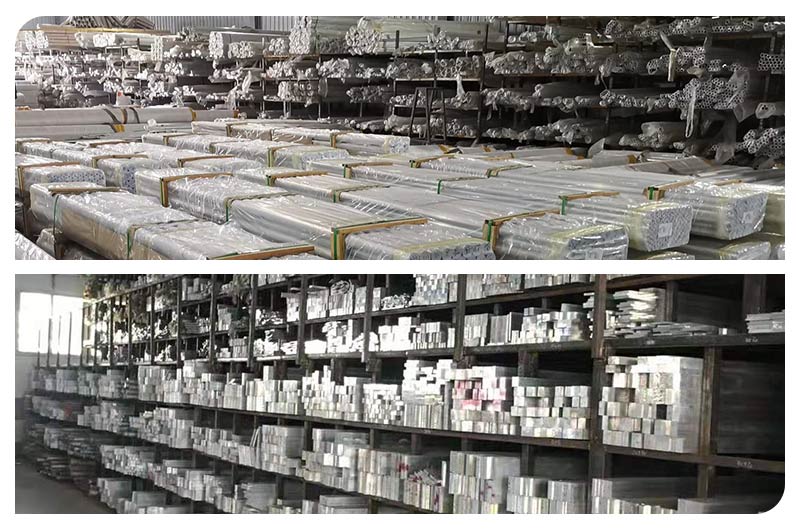 Why choose Chalco Aluminium as alloy 7050 aerospace bar aircraft materials manufacturer?
Chalco provides excellent quality aerospace materials, as well as the best technical services in the market, and has a deep knowledge base on how to support customers in meeting future challenges.
We have a complete set of domestic advanced aerospace materials research and development, testing and analysis instruments, which guarantee the efficiency of new product research and development and accelerate the transformation of scientific and technological achievements. In addition, our R&D & innovation and verification capabilities can help enhance customers' competitiveness by saving time and cost in new product development and marketing.
We have passed the AS9100 certification required by the aviation industry and the Colin Aviation certification, and produce according to the AMS 4342 UNS A97050 AMS QQ-A-225/9 standard required by customers, providing a strong guarantee for the quality of aerospace materials produced by our company.
The Chalco brand stands for quality, delivery and a solid reputation. With leading technology and globally competitive products, we can continue to develop together with our customers in the future.