2219 aluminum alloy is a high-strength aluminum alloy. Because the material has a strong aging strengthening effect, it has high hardness and strength after solution aging, and also has excellent welding performance. It can be processed into semi -finished products such as various wires and rods, and is widely used in stress structural components that produce medium loads, such as rivets, fasteners etc.
Why choose Chalco 2219 Aluminum alloy wire rod for rivets?
Chalco Aluminum is a company that integrates precision detection of precision testing such as melting, squeezing, and refined aluminum manufacturing.
Chalco Aluminum can provide excellent quality of 2219 aluminum alloy wire for fasteners using and high -quality technical services on the market, and have deep knowledge of how to support customers to deal with future challenges.
We have a whole set of domestic advanced rivets in China to develop, detect, and analyze instruments to provide guarantees for the development efficiency of new products and accelerate the transformation of scientific and technological achievements. In addition, our R & D & innovation and verification capabilities can help enhance the competitiveness of customers by saving the time and costs of new product development and marketing.
We have passed the AS9100 certification required by the aviation industry, the IATF16949 certification required by the automotive industry, etc., provides a strong guarantee for the quality of the aluminum alloy pole of the rivet for rivets produced by our company.
Chalco's brand represents quality, delivery ability and good reputation. With leading technology and global competitive products, we can continue to develop with customers in the future.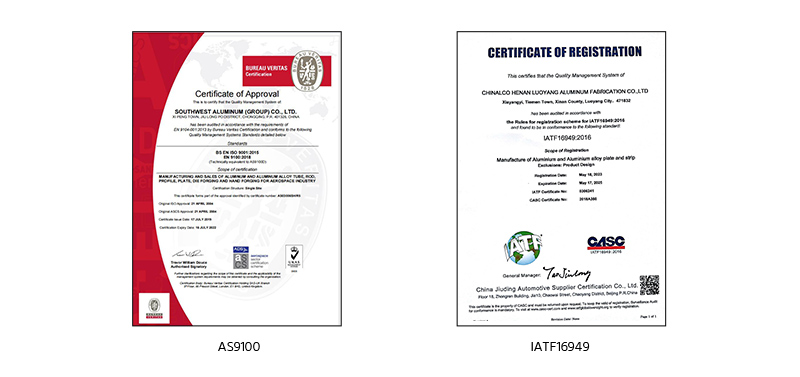 The specification of 2219 aluminum alloy wire for fasteners
| | |
| --- | --- |
| Size | 1.6-10.0mm |
| Temper | O, H13, T4 |
| Size tolerance | ±0.02mm |
| Weight coil | Above 50KGs |
| Function | Make Solid rivets |
The chemical composition of the 2219 Aluminum Alloy Wire Rod for fasteners
| | |
| --- | --- |
| Element | Composition % |
| Si | ≤0.20 |
| Fe | ≤0.30 |
| Cu | 5.8-6.8 |
| Mn | 0.20—0.40 |
| Mg | ≤0.02 |
| Cr | - |
| Ni | - |
| V | 0.05-0.15 |
| Zr | 0.10-0.25 |
| Zn | ≤0.10 |
| Ti | 0.02-0.10 |
The mechanical properties of the 2219 aluminum alloy wire for fasteners using
Alloy
Supply temper
Sample temper
Diameter mm
Mechanical properties
Tension strength Rm Mpa
Yield strength R p0.2 Mpa
Elongation after break/%
A100 mm
A250 mm
Not less than
2219
O
O
1.6-10.0
≤220
-
-
-
H13
H13
190-260
-
-
-
T4
T4
380
240
5
-
Shear strength of 2219 aluminum rod for rivets
| | | | | |
| --- | --- | --- | --- | --- |
| Alloy | Temper | Sample Temper | Diameter mm | Shear strength τ Mpa |
| 2219 | O H13 | T6 | 1.6-25.0 | ≥205 |
Riveting performance of 2219 aluminum rods for rivets
Alloy
Temper
Sample Temper
Diameter mm
Riveting property
Protrusion height of sample ratio to diameter
Riveting test time
2219
O H13
T6
1.6-25.0
-
-
The allowable deviation of the diameter of 2219 aluminium wires for rivets
Diameter
Tolerance allowed
Grade A
Grade B
Grade C
Grade D
≤1.6
+0.000
-0.015
+0.015
-0.015
±0.015
+0.00
-0.04
>1.6-4.0
+0.000
-0.025
+0.025
-0.015
±0.025
+0.00
-0.05
>4.0-6.0
+0.000
-0.030
+0.025
-0.025
±0.040
+0.00
-0.08
>6.0-10.0
+0.000
-0.040
+0.050
-0.025
±0.060
+0.00
-0.12
The appearance quality of 2219 aluminum alloy rod and wire for rivets
Defect name
Technical requirement
Fastener aluminum wire
Cracks, burrs, peeling, air bubbles, bumps, dents, scratches, triangular mouths, metal press-in, non-metal press-in and surface corrosion
Not allowed
Scuffs, scratches, bumps
Allowable depth does not exceed half of the negative deviation value
Oil spots
Allowed
Characteristics of the 2219 aluminum alloy wire rod for rivets
High strength: due to the high strength of 2219 aluminum alloy itself, the aluminum anchor rods made of it usually have high strength, so they can maintain stability when bearing greater tensile and shear forces.
Good thermal resistance: the heat resistance of the 2219 Aluminum wire for rivets using is good, and it shows good stability and performance in high temperature environments. It is not easy to soften, melt or lose its mechanical strength and chemical stability.
Excellent processing process performance: 2219 Aluminum Alloy Wire Rod for fasteners have excellent processing process performance, and can be used to manufacture fasteners such as rivets of various shapes and specifications through extrusion, drawing and other processes.
Light quality: density of aluminum alloy is low, which is lighter than other metals such as steel, so the fastener of the 2219 aluminum alloy manufacturing helps reduce the overall weight.
Wide application range: 2219 Aluminum Alloy Wire Rod for fasteners are suitable for multiple fields, such as aerospace, automobiles, ships, electronics, etc., especially in cases that need lightweight and high intensity.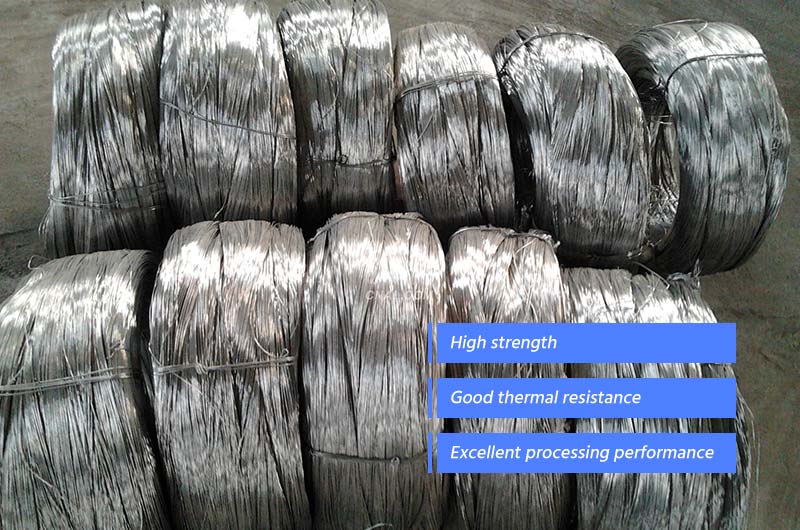 Key points for buying the 2219 aluminum alloy rod and wire for rivets
Material specifications: confirm the specific material specifications of the aluminum wire rod, including alloy type, composition, hardness, etc. To comply with the corresponding international or industry standards, such as American ASTM standards.
Heat resistance: if you need to use aluminum poles in rivets in high temperature environments to ensure that it has enough heat resistance to avoid softening or loss of strength during use.
Strength and hardness: according to your needs, choose an aluminum pole with appropriate strength and hardness to ensure that it can meet the expected connection or support requirements.
Size and shape: according to your specific application, select the appropriate size and shape of aluminum poles to ensure that it matches with rivets.
Surface treatment: find out whether the aluminum wire rod for rivets has undergone special surface treatment, such as anodizing, to improve its corrosion resistance and appearance quality.
Supplier reputation: choose reputable suppliers to ensure product quality and after-sales service.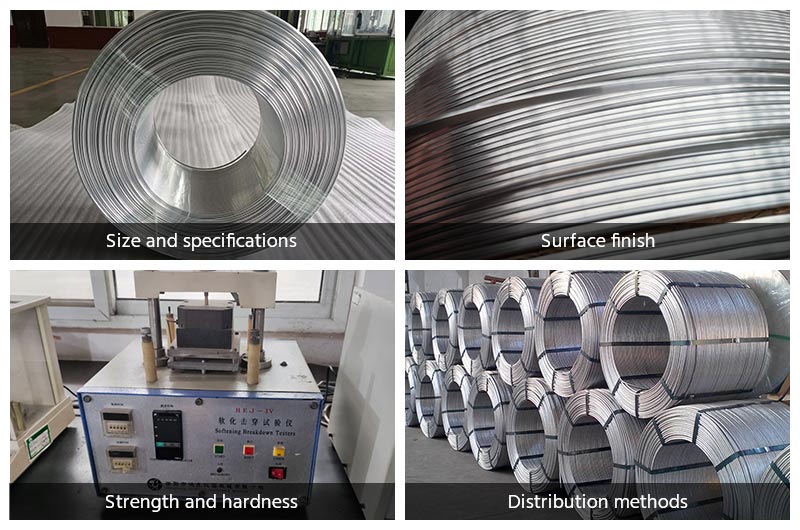 The packaging method of the 2219 Aluminum alloy wire rod for rivets
Double fiber cloth packing
Wooden Box Packing
Application of 2219 aluminium alloy wire for rivet
Chalco Aluminum produced in 2219 Aluminum alloy wire rod for rivets. The product tolerance is very rigorous. The specifications cover 1.6-10.0mm. The single volume weight can be produced according to customer requirements.
2219 aluminum alloy rivets are used for riveting high-strength internal and external structures, and are widely used in machinery, military industry, aerospace, ships, automobiles and other fields. The rivets on the aircraft fuselage are also called countersunk solid rivets, and they must be anodized with sulfuric acid solution and sealed with dichromate before riveting.