Why choose Chalco 6061 T6 aluminum tube for bicycle frame?
Advanced extrusion line
Chalco's multiple advanced aluminum tube extrusion production lines can produce seamless aluminum tubes for light weight and high strength bicycle frames.
Product quality assurance
The 6061 aluminum tubes for bicycle frames produced by Chalco can meet the test standards of ASTM F2711-08.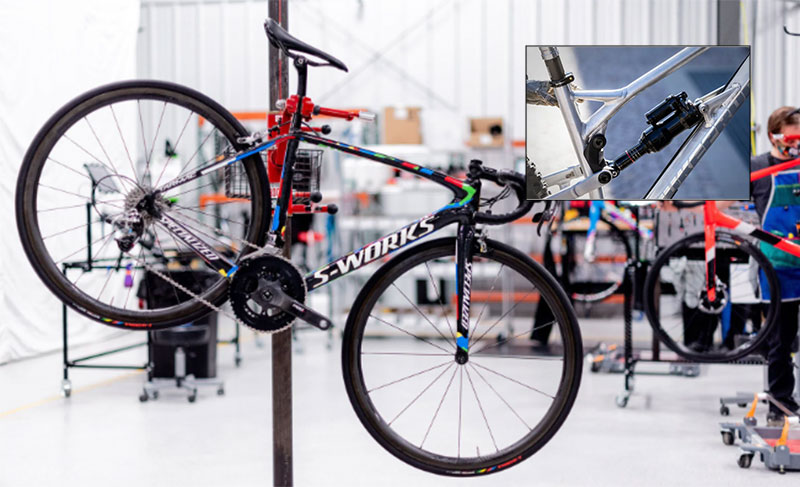 Specifications of 6061 aluminum tube for bicycle frame
| | |
| --- | --- |
| Alloy | 6061 |
| Temper | T6 |
| Diameter | 25.4-28.6mm |
| Length | 400-700mm |
| Surface treatment | color coating, polishing, anodizing |
| Color | Silver or customized according to requirements |
| Package | Bundling, plastic film, wooden box or as per customer requirements |
Chemical composition of 6061 aluminum tubes for bicycle frame
| | |
| --- | --- |
| Element | Composition (%) |
| Al | Remainder |
| Mg | 0.8-1.2 |
| Si | 0.4-0.8 |
| Fe | 0-0.7 |
| Cu | 0.15-0.4 |
| Cr | 0.04-0.35 |
| Zn | 0-0.25 |
| Mn | 0-0.15 |
| Ti | 0-0.15 |
| Other(each) | 0-0.05 |
| Other(total) | 0-0.15 |
Mechanical properties of 6061 aluminum tubes for bicycle frame
Temper
Wall thickness(mm)
Rm (MPa)
Rp0.2(MPa)
A (%)
A50mm (%)
Hardness (HBW)
min.
min.
min.
min.
T6
≤5
260
240
9
7
95
5-25
10
8
Advantages of 6061 aluminum tubes for bicycle frame
Strength and lightweight: Chalco 6061 aluminum tubes maintain sufficient strength while having a low density, resulting in a high strength-to-weight ratio for bicycle frames. This helps reduce the overall weight of the bicycle, making cycling more effortless and efficient.
Corrosion resistance: Chalco 6061 aluminum tubes exhibit excellent corrosion resistance, ensuring that bicycle frames can maintain their optimal condition even under various weather and environmental conditions. This is particularly crucial for riders who frequently cycle in humid or rainy regions.
Machinability and ductility: Chalco 6061 aluminum alloy tubes are easy to machine and shape, allowing manufacturers to design bicycle frames in various shapes and structures to meet different needs and riding styles.
Affordability: compared to some high-end materials such as carbon fiber, Chalco 6061 aluminum alloy tubes are more cost-effective, providing good performance at a competitive price point.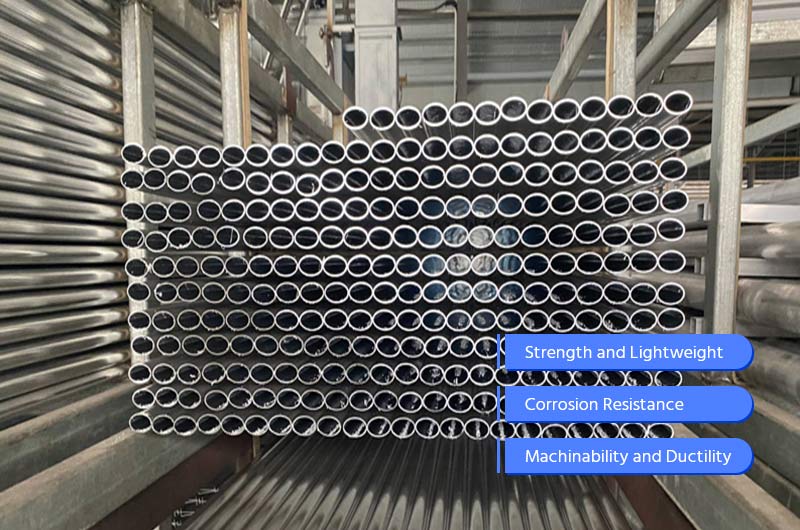 Different butted for bicycle frames using 6061 aluminum tubes
Single butted: in a single butted tube, the thickness changes only at one end of the tube, usually at one of the ends. The butting process involves reducing the thickness at both ends of the tube while maintaining a constant thickness in the middle section of the tube. This helps save weight while retaining reasonable strength. Single butting tubes are typically used in lower-end bicycles.
Double butted: double butted tubes have thickness variations at both ends, creating a tube with different thicknesses at each end. The ends of the tube are thicker, while the middle section is thinner. Double butting tubes offer better weight reduction and higher toughness compared to single butting tubes. They are commonly used in mid-range and higher-end bicycles.
Triple butted: triple butted tubes have three different thicknesses along their length. The ends of the tube are thicker, the middle section is thinner, and there is a third intermediate thickness section between the ends. Triple butting tubes are designed to provide the best combination of weight reduction, strength, and riding quality. They are typically used in high-end and performance-oriented bicycles.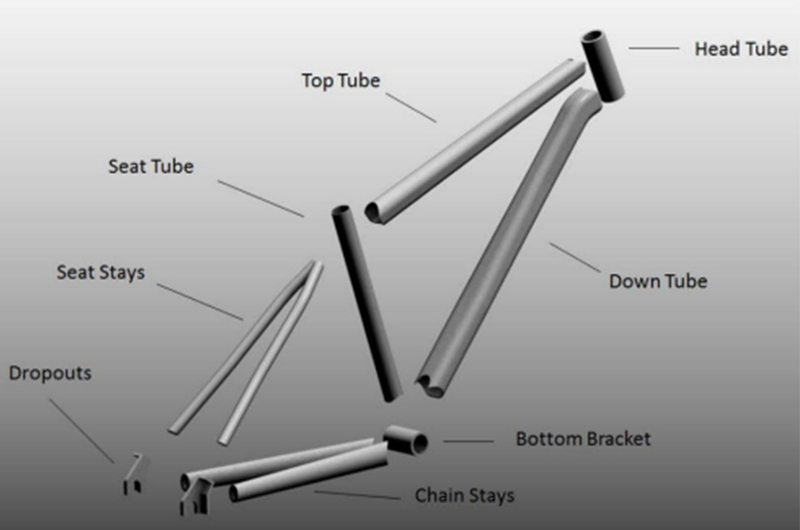 Production process of 6061 aluminum bicycle frame
Extrusion of aluminum tubes: the thickness of the aluminum tube, and therefore its weight, is determined according to the geometry of the bicycle frame, the maximum mechanical expected load, and the minimum mechanical properties achievable by the alloy.
Annealing: the extruded tube is annealed to increase its ability to deform without breaking, thereby increasing the material elongation A to a higher level than extruded tube without annealing. Extruded profiles usually have an elongation of around 10-15%, but after annealing, the elongation can reach around 25%.
Butting and/or hydroforming: annealed tubing is tapered or hydroformed to achieve the final frame geometry. These tubes can deform up to 60% before reaching their final geometry and, therefore, may require multiple annealing/reducing production cycles. Newer bicycles have increasingly complex geometries that require materials with high deformation without failure. For higher strength alloys, an intermediate annealing process prior to the butt joint process may not be necessary.
Welding: the individual components of the frame are joined together by welding to form a complete frame.
Post-weld heat treatment and aging: as a result of the welding process, the mechanical properties of the heat-affected zone decrease. In order to restore these properties, the frame must be heat treated. This heat treatment must include solution annealing, quenching and aging.
Surface treatment: after heat treatment, anodizing, liquid coating, powder coating, decals, laser engraving, etc. are performed on the frame to meet the appearance required by customers.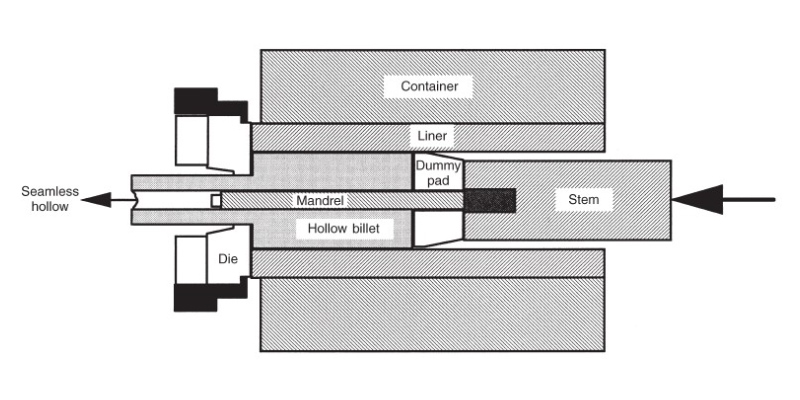 FAQ
Q: Are you a manufacturer? Do you have your own factory?
A: We are a manufacturer with our own factory with many years of production experience and established a good reputation.
Q: Can you produce extruded aluminum tubing?
A: We have several advanced extruded aluminum pipe production lines, which can produce high-quality extruded aluminum pipes.
Q: What colors can powder coatings be made of?
A: We have several advanced powder coating production lines, and can customize any color you need according to your requirements.
Q: Can you send me samples?
A: We can send samples, and the specific cost needs to be negotiated according to the actual situation.
Q: Do you have after-sales service for your products?
A: Our products have after-sales service. If there is any problem with the product you ordered, please contact us, and we will give you a satisfactory solution as soon as possible.