Aluminum alloy is basically an improved engineering material, which is made by injecting a small amount of other different metals into pure aluminum. According to the different alloying elements added, the specific properties also vary greatly, which can meet most production requirements.
This article will specifically study 6061 and 7075 aluminum alloys. Understanding the chemical composition, mechanical properties, yield strength, industrial application and price advantages of the two alloys will help you clearly understand the differences between them and the common application fields of each aluminum alloy, and help you make better choices. Let's explore this article below.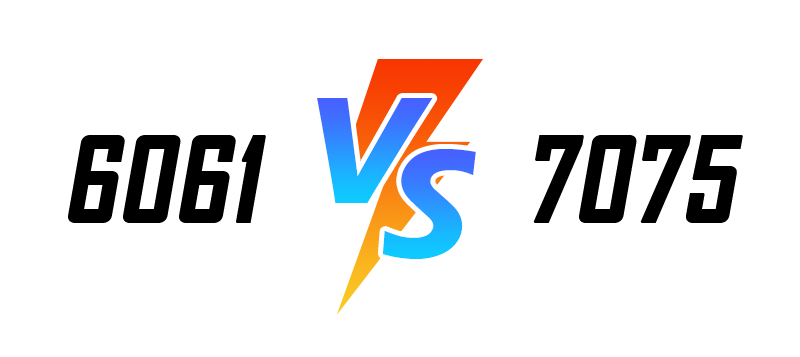 What is 6061 aluminum alloy?
6061 aluminum alloy is a representative alloy of 6000 series aluminum alloy, the main alloying elements are magnesium and silicon. 6061 aluminum alloy has the characteristics of medium strength, good corrosion resistance, weldability, no deformation after processing, easy coloring and good oxidation effect. Because it is easy to process, it is also commonly used for 6061 extruded aluminum profiles.
Its standard is AMS-QQ-A-225/8A or GB/T3880-2006. The products are 6061 t4 t6 aluminum plate sheet, Pre-stretch 6061-T651 aluminum plate, 6061 ultra-flat plate, 6061 ultra -wide ultra -thick aluminum plate, 6061 quenched plate and some other and other aluminum plate status.
6061 aluminum is widely used in various industrial structural parts requiring certain strength and high corrosion resistance, such as mobile phone slot, mobile phone shell, manufacturing trucks, tower buildings, structural materials, ships, railway vehicles, precision machining, etc.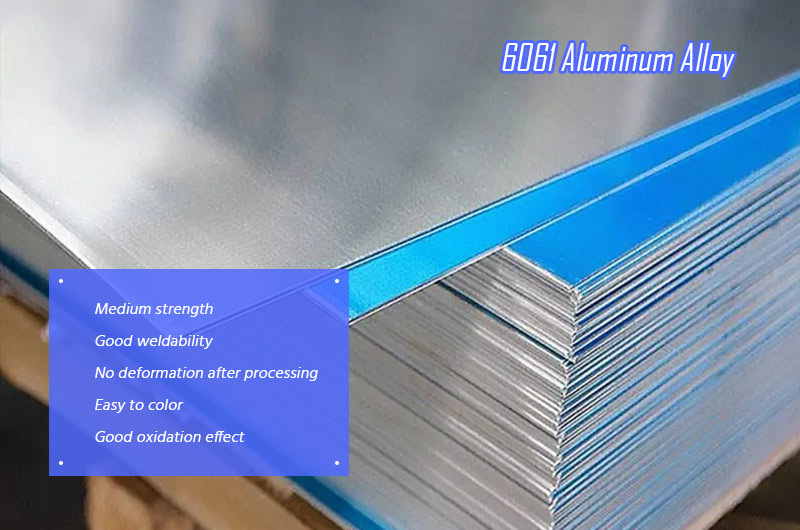 What is 7075 aluminum alloy?
7075 aluminum alloy is an aluminum alloy with zinc as the main alloying element. This makes 7075 have higher strength and higher strength-to-weight ratio. 7075 aluminum is the lightest and strongest aluminum, as strong as steel, with good fatigue strength and average machinability. This is a key feature of aerospace, defense and military industries. However, due to the high alloy composition of 7075 aluminum, its hardness is extremely high. Therefore, welding and pressing are very difficult.
Its standard is AMS-QQ-A-225/9 or GB/T3880-2006. It has 7075 T6 aluminum plate sheet, 7075 quenched and stretched aluminum plate, 7075 mold aluminum plate, 7075 ultra-thick aluminum plate and other aluminum plates in various states.
Due to its high strength, excellent wear resistance and corrosion resistance, 7075 aluminum alloy is widely used in aircraft frame, national defense, transportation, sporting goods, high-end bicycles, mold manufacturing, machinery manufacturing and other fields.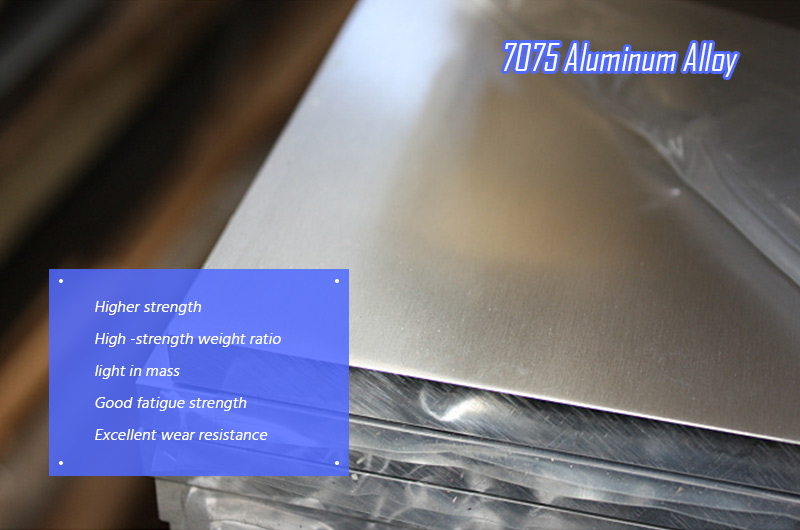 NO.1 6061 vs 7075 aluminum alloy chemical components
Element
Composition (%)
6061 Alloy
7075 Alloy
Si
0.4-0.8
0.40
Fe
0.7
0.50
Cu
0.15-0.4
1.2-2.0
Mn
0.15
0.30
Mg
0.8-1.2
2.1-2.9
Cr
0.04-0.35
0.18-0.28
Ni
-
-
Zn
0.25
5.1-6.1
Ti
0.15
0.20
Others:Each
0.05
0.05
Others:Total
0.15
0.15
Aluminiumin.
Remainder
Remainder
NO.2 6061 vs 7075 aluminum alloy specification
| | | |
| --- | --- | --- |
| Alloy | 6061 | 7075 |
| Thickness(mm) | 0.3-500 | 1-300 |
| Width(mm) | 100-2800 | 500-3000 |
| Length(mm) | 500-16000 | 1000-12000 |
NO.3 6061 vs 7075 aluminum alloy tempers
| | | |
| --- | --- | --- |
| Alloy | 6061 | 7075 |
| temper | F, O, T4, T451, T42, T5, T6, T651, T6511, H112 | F, O, T6, T651, T62, T652, T76, T7651, T73, T7351, T7451, H112 |
NO.4 6061 vs 7075 aluminum alloy main product forms
6061 aluminum alloy generally can be produced in 6061 aluminum sheet, 6061 aluminum alloy thick plates, 6061 T4/T651/T651 aluminum bar, 6061 aluminum tube, 6061 aluminum profile, aluminum angle, etc.
7075 aluminum alloy generally can be produced in 7075 aluminum sheet, 7075 aluminum thick plates, 7075 aluminum mold plate, forged 7075 T6 aluminum plate, 7075 T6/T651 aluminum forging, 7075 aluminum bar, 7075 aluminum tube, 7075-T6 aluminum levers.
NO.5 6061 vs 7075 aluminum alloy mechanical properties
The following is a comparison of some material properties of 6061 and 7075 aluminum alloy to highlight their differences. In order to facilitate understanding, this paper selects the most representative T6 temper of the two alloys for comparison.
In order to better analyze and understand these two aluminum alloys, we summarized the following table 6061 vs 7075 mechanical properties, hoping to help you.
| | | |
| --- | --- | --- |
| Material properties | 6061 Aluminum alloy | 7075 Aluminum alloy |
| Yield strength | 276 MPa | 503 MPa |
| Modulus of Elasticity | 68.9 GPa | 71.7 GPa |
| Thermal conductivity | 167 W/m-K | 130 W/m-K |
| Melting point | 582 - 652°C | 477 - 635°C |
| Electrical resistivity | 3.99 x 10-6 ohm-cm | 5.15 x10-6 ohm-cm |
| Hardness (Brinell) | 95 | 150 |
| Machinability | Good | Fair |
Yield strength of 6061 vs 7075 aluminum alloy
The yield strength of a material is called the maximum stress at which the material begins permanent deformation. In contrast, the yield strength of 7075 aluminum is much higher than that of 6061 aluminum and nearly twice that of 6061 aluminum alloy. This allows 7075 aluminum to withstand higher impact and pressure for a period of time without deformation. It is determined by the chemical composition and heat treatment of 7075 aluminum alloy.
Of course, 6061 aluminum alloy industry should not be considered fragile because its yield strength of 276 MPa is only slightly lower than that of some low carbon steels.
Modulus of elasticity of 6061 vs 7075 aluminum alloy
It can be considered as the "rigidity" of the alloy; It is a measure of the resistance of the material to plastic deformation. Materials with higher modulus are considered to be more elastic because more work is required to permanently deform the material.
7075 aluminum alloy has higher elastic modulus (71.7 GPa vs 68.9 GPa) than 6061 aluminum alloy. When we compare the Young's tensile modulus of the two alloys, their values are not different.
Thermal conductivity of 6061 vs 7075 aluminum alloy
Thermal conductivity is an index used to quantify the ability of materials to transmit or conduct heat. Generally, aluminum alloys are not used for insulation. This is because all forms of aluminum alloy are good thermal conductors. The chemical composition of the two heat-treated aluminum alloys has a significant effect on their thermal conductivity.
under these circumstances, compared with 7075 aluminum thermal conductivity, 6061 aluminum thermal conductivity has slightly higher thermal conductivity (130 W/m-K vs 167 W/m-K). Therefore, 6061 aluminum should be preferred when heat dissipation is mainly required, such as radiator, heat exchanger and other products.
Temperature resistance of 6061 vs 7075 aluminum alloy
We analyze the temperature resistance of 7075 T6 and 6061 T6 by comparing the melting point. The melting point of 7075 aluminum is slightly lower than that of 6061 aluminum (477 – 635 °C vs 582 – 652 °C). Therefore, 6061 alloy can withstand higher temperatures than 7075 alloy. However, it should be noted that 7075 aluminum alloy has excellent reaction to heat treatment. It can evenly distribute other alloy components in the metal.
Hardness of 6061 vs 7075 aluminum alloy
7075 aluminum is the highest strength to weight ratio of all aluminum alloys, so this alloy is mainly used in aerospace and national defense industry. In the "T6 state", the tensile strength of 7075 T6 aluminum is almost twice that of 6061 T6 aluminum. The shear strength of 7075-T6 aluminum is estimated to be 1.5 times that of 6061-T6 aluminum. Its tensile strength is comparable to that of many steel grades. It is much harder than 6061.
Although the strength of 6061 is only about half of 7075 aluminum hardness, its hardness is also sufficient for many applications in the construction, aerospace and automotive industries.
Machinability of 6061 vs 7075 aluminum alloy
Machinability of material measures its response to milling, cutting, die-casting and other processing procedures, and calculates the processing speed, surface finish and tool life when processing specific alloy. Just as hardness is defined in many ways, so is machinability.
Generally speaking, 6061 aluminum alloy and 7075 aluminum alloy have good machinability. However, the hardness and tensile strength of 6061 alloy are low. Its lower hardness is convenient for processing, while its lower tensile strength ensures better formability. Therefore, it is easier to process than 7075. The general manufacturer believes that 6061 aluminum alloy is the first choice for most machined parts because it achieves a balance between machinability, strength and other ideal properties
NO.6 6061 vs 7075 aluminum alloy corrosion resistance
Compared with 6061, one of the biggest disadvantages of 7075 is that its corrosion resistance is general. This is because the copper content of 7075 aluminum alloy is much higher than 6061. Because the copper reacts more with the environment, corrosion is inevitable.
The aluminum content in 6061 is higher than 7075, and the copper content in 6061 is less, so it forms a more consistent protective oxide layer to prevent corrosion.
NO.7 6061 vs 7075 aluminum alloy welding performance
As magnesium and silicon are the main alloy elements, 6061 aluminum has good formability and weldability. 6061 aluminum is considered weldable and can be welded by different methods, including welding, brazing or adhesive. In order to restore the weld to the original "T" temper, heat treatment and aging treatment may be required after welding.
As a harder material, 7075 aluminum has higher zinc content, which is not conducive to forming and welding. After welding, welding defects such as hot cracks are very easy to occur, and are generally considered as non-weldable. If parts need to be connected, they can only be connected with rivets or other fasteners.
NO.8 6061 vs 7075 aluminum alloy weight
The density of aluminum 6061 is 2.7 g/cm3(0.0975 lb/in3), Its weight is roughly the same as that of pure aluminum.
The density of aluminum 7075 is 2.81 g/cm3(0.102 lb/in3), slightly larger than pure aluminum, and its weight is higher. This is one of the reasons why 7075 aluminum alloy is superior to 6061 aluminum alloy. 7075 aluminum alloy has the same hardness as steel, but its weight is much lighter than steel, so it can be used to manufacture lightweight frames for aerospace.
For the specific alloy weight, you can click the aluminum weight calculation for details.
NO.9 6061 vs 7075 aluminum alloy application
6061 aluminum alloy application
6061 aluminum alloy, also be called as "structural aluminum", is one of the most commonly used aluminum alloys for extrusion. With its formability, it can be formed into sheet, round, square, extrusion, rolling or any form. Due to its good formability, the uses of 6061 aluminum alloy include but are not limited to the following:
Ship manufacturing: sailing boat, yacht, marine frame, marine accessories and hardware.
Automobile manufacturing: truck and bus bodies, wheels and various transport terminal uses, brakes and hydraulic pistons.
Aerospace: aircraft structural parts and fuselage parts.
Rail transit: railway vehicle parts, subway platforms, stairs, floors, covers, walkways.
Food industry: canned food, food and beverage cans.
Others: submersible gas cylinders, pipe fittings, hinge pins, valves and valve parts, bicycle frames, fire ladders, bridge parts, camera lens brackets, couplings, electrical accessories and connectors, magneto parks, 6061 aluminum frames, basic equipment and gusset plates.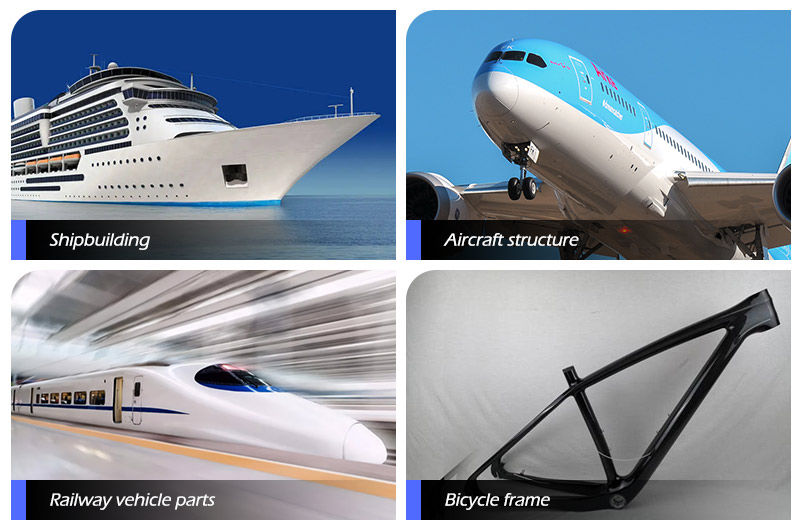 7075 aluminum alloy application
Due to its high strength, excellent wear resistance and corrosion resistance, 7075 aluminum alloy has been widely used in aviation, aerospace, national defense, transportation, sporting goods, mold manufacturing, machinery manufacturing and other fields, including but not limited to the following:
Aerospace: manufacturing aircraft main structure, engine parts, elevator, etc.
National defense and military industry: manufacturing rocket warheads, weapon parts, tank bodies, armoured vehicles, ships and other military products.
Transportation: braking system, engine support, frame, wheel hub and other parts of automobiles, trains and ships.
Sports goods: manufacturing ski, golf club, 7075 aluminum bike frame, motorcycle and other sports goods.
Machinery manufacturing: manufacturing die-casting die, extrusion die, precision processing equipment, automation equipment and other machinery manufacturing fields.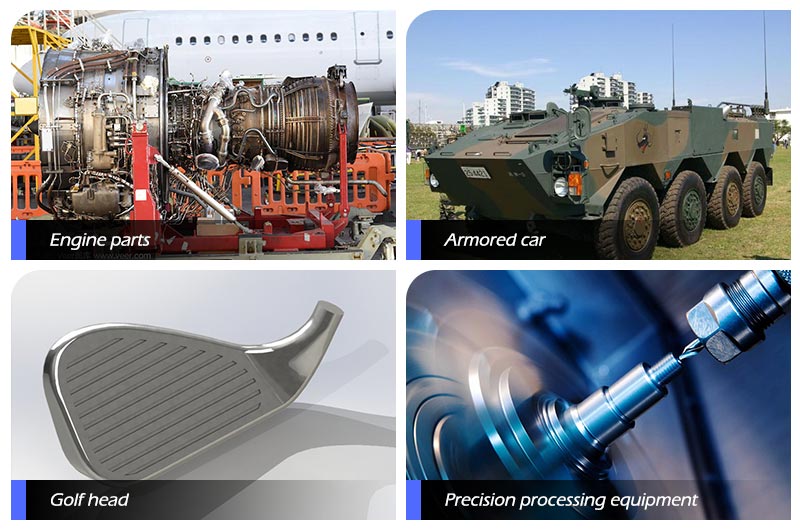 NO.10 6061 vs 7075 aluminum alloy price
7075 aluminum is the lightest aluminum alloy with the highest strength, and its 7075 aluminum price is also very expensive, while 6061 aluminum is the most widely used aluminum material, which also benefits from its 6061 aluminum price and high cost performance.
For specific alloy price information, you can query directly in the inventory information.
Comprehensive summary
In conclusion, both these two kinds of alloys have good properties, and they are good choice for non-intensive general-purpose applications. However, they perform better in their specific applications.
6061 aluminum alloy will be a better choice when products need to be welded or have high requirements for corrosion resistance. It is easy to process, easy to extrude, and has better corrosion resistance; 6061 aluminum alloy is more commonly used than 7075 aluminum alloy. Another major factor is that 6061 aluminum alloy is more economical due to their cost differences. Therefore, 6061 aluminum is usually the preferred choice for most suppliers.
The high strength and light weight of 7075 aluminum is its main characteristic. Therefore, it is more suitable when very high tensile strength, high strength-to-weight ratio and high fatigue resistance are required. If your project needs to be applied in aerospace or military industry, 7075 aluminum alloy is naturally preferred.
If you want to choose the most suitable alloy material, you need very rich professional aluminum knowledge. In this respect, Chalco - a high quality manufacturer can help you. We are a large modern aluminum processing enterprise integrating scientific research, processing and manufacturing.
Chalco can produce 1-8 series aluminum plates, strips and foils, with complete specifications, huge capacity, large inventory and good price, to meet your personalized processing needs. The products have passed the CE.ISO9001 certification, and can be customized according to customer needs, such as Japanese standards, European standards, American standards, etc.
You can contact us for details, or check our inventory information directly.