Packaging is one of the three major application fields of aluminum. Aluminum packaging has become the best choice of efficient packaging materials in dealing with plastic waste pollution, reducing resource consumption, ensuring food safety, reducing carbon emissions and some other environmental aspects.
What aluminum is used for packaging?
Chalco Aluminum provide service for many beverage packaging company, household food packaging company, aluminum pharmaceutical packaging company. Provide aluminum materials according to customer requirements.
Aluminum, as a packaging material, generally uses aluminum plates, aluminum blocks, aluminum foils, metalized film, aluminum discs, aluminum sheets, aluminum coils, aluminum strips etc.
Aluminum plate is usually used as can making material or cover making material.
Aluminum blocks are used to make cans for extrusion forming and thin reduction and deep drawing forming.
Aluminum foil is generally used for moisture proof inner packaging or composite materials and soft packaging.
There are many forms of raw materials according to the specific applications.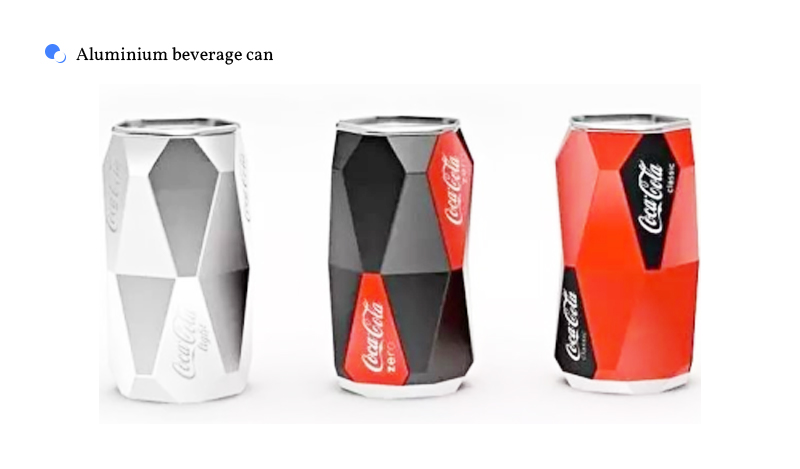 Why is aluminum good for packaging?
Aluminum packaging materials have excellent mechanical properties, high strength, safety and reliability. And they are easy to store, carry, transport, load and unload.
The water vapor permeability of aluminum is very low and it is completely opaque, which can effectively avoid the harmful effects of ultraviolet rays.
Its gas resistance, moisture resistance and fragrance protectiveness greatly exceed other types of packaging materials such as plastic and paper.
The aluminum packaging can maintain the quality of the goods for a long time and prolong the service life of the goods. This is particularly important for food packaging.
Aluminum packaging materials are easy to print and decorate. This can make the appearance of the goods gorgeous, beautiful and easier to sell.
The aluminum packaging material can be recycled and reused, so it is an ideal green packaging material.
Different application forms of aluminum packaging
Aluminum packaging includes aluminum foil soft packaging, aluminum cans, aluminum foil containers, aluminum bottles, aluminum covers, aluminum tubes and aluminum aerosol cans, etc.
Following is a brief introduction to the main applications:
Flexible packaging aluminum foil
Aluminum foil, as the packaging material, is mainly used for food packaging, pharmaceutical packaging and beverage packaging.
Foil Food Packaging
The main raw material for food packaging aluminum foil is 1 series, 3 series and 8 series aluminum alloy products, mainly include 1060, 1100, 3003, 8011, 8021 etc. And the tempers are also different according to the different requirements for food packaging aluminum foil. Common tempers are H14, H16 and H18.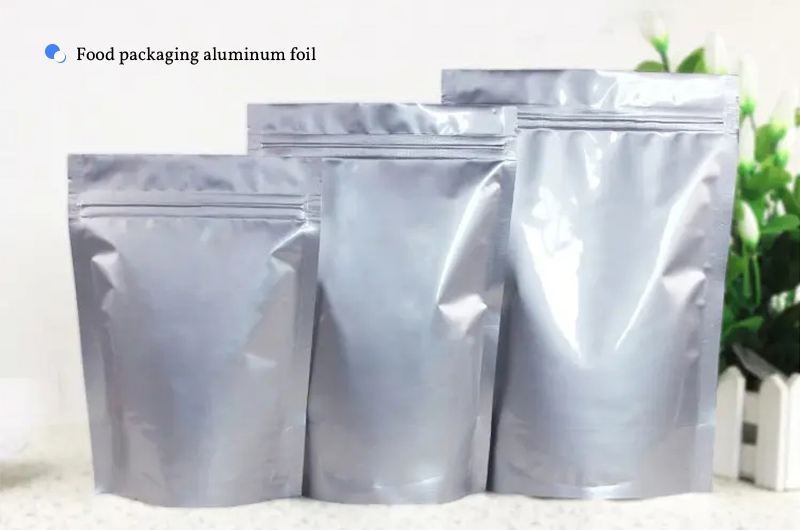 Alloy series
Typical Alloy
Temper
Thickness(mm)
Width(mm)
1000
1060, 1070, 1100
O, H14, H16, H18 etc.
0.014-0.2
20-1600
3000
3003
8000
8011, 8021
| | |
| --- | --- |
| household foil/tableware foil | 8011-O Temper |
| thickness | 0.009-0.08mm |
| Food flexible packaging foil | 8011/1235/1060 |
| thickness | 0.009-0.23mm |
| household aluminum foil for food packaging | 8011-0 Temper |
| thickness | 0.009-0.08mm |
Pharmaceutical Packaging Aluminum Foil
pharmaceutical aluminum foil/aluminum foil for pharmaceutical packaging/aluminum foil for capsules packaging.
Aluminum blister packaging is mainly used as a capping material, which can completely block any gas. So it is widely used.
8011-H18 aluminum foil has the advantages of high cup convex value, high heat sealing strength, no holes and good sealing performance.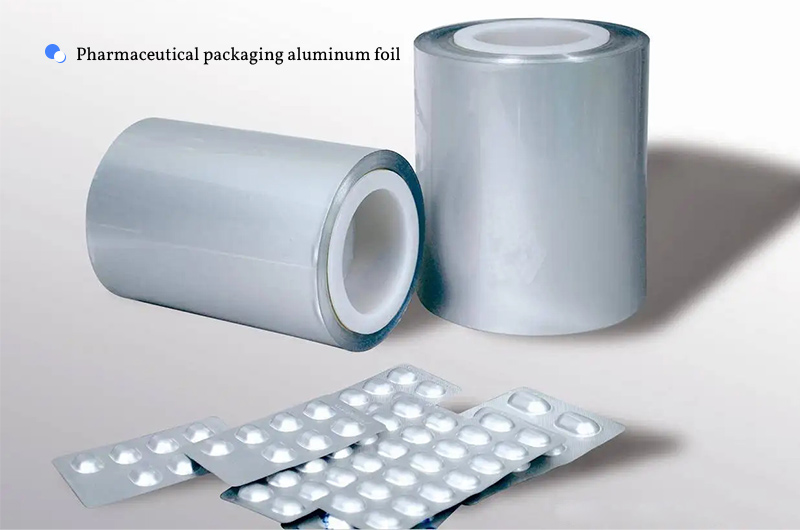 Application
Alloy
Temper
Thickness(mm)
Width(mm)
Typical Products
PTP Drug Packaging Aluminum Foil
8011 aluminum foil
H18
0.016-0.5
200-1600
Capsules cover plate, etc.
Blister Medicine Aluminum Foil
8021 aluminum foil
O
0.04-0.065
200-1600
blister packaging, etc.
Pharmaceutical Packaging Aluminum Foil
8021 aluminum foil,
8079 aluminum foil
O
0.016-0.2
200-1600
high-end medicine packaging
Drug Cover Aluminum Foil
8011 aluminum foil
H14, H16
0.016-0.5
200-1600
oral liquid aluminum plastic composite cap , infusion bottle aluminum plastic cap, etc.
Medicinal Aluminum Foil Gasket
1060 aluminum foil
O, H18
0.014-0.2
200-1600
drug packaging gasket
Pharmaceutical Packaging Aluminum Foi
All these products have passed strict pinhole detection, degreasing process and plate type control, in order to ensure that the aluminum foil produced for drugs can achieve ultra-high sealing in the later adhesive bonding process, and perfectly protect the drug quality.
Beverage Aluminum Foil
Aluminum foil packaging is an ideal packaging material for dairy products and beverages. Fruit juice and wine can be stored at room temperature for a long time in containers made of paper, aluminum foil and polyethylene film.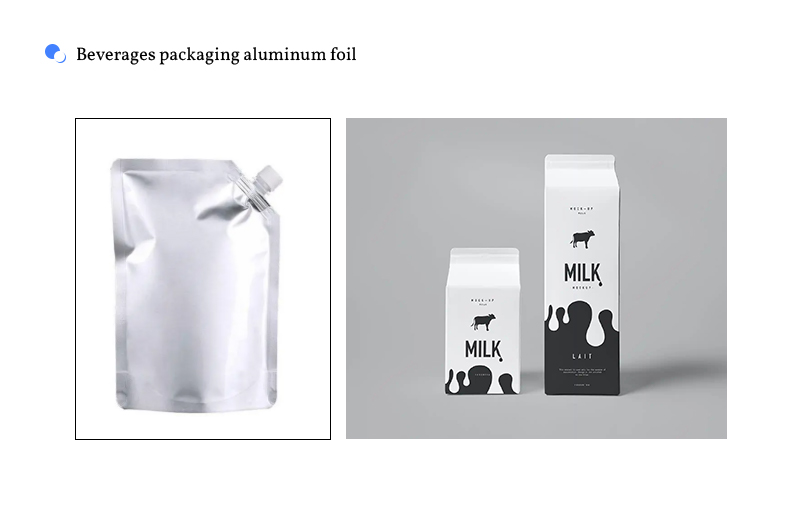 These products do not need long-term cold storage protection and are packaged in a laminate containing a layer of aluminum foil. The thin layer of aluminum foil completely protects the lightweight packaging from light, odor and gas.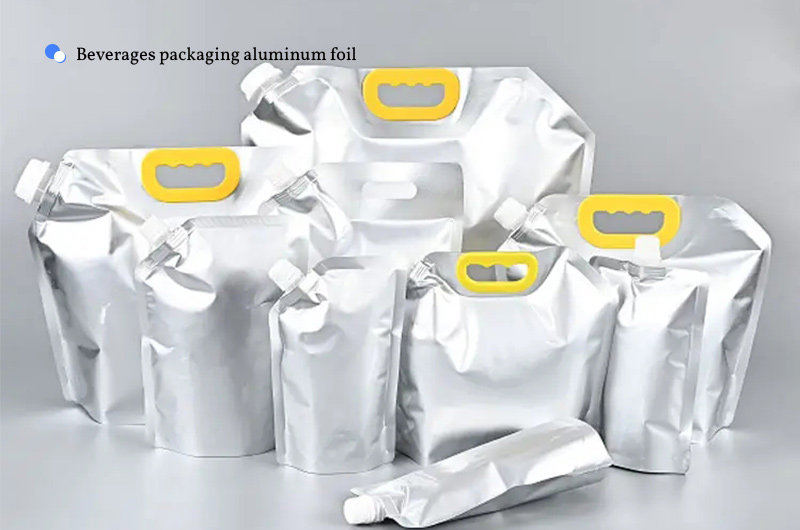 Aluminum beverage can
Aluminum can is not made of pure aluminum, it is made of aluminum alloy. Most of them are stamped by aluminum coil, printed by roller, and then equipped with pop can cover.
Common carbonated drinks (cola, beer, etc.) use resealable aluminum cans because they are not easy to be corroded by acid and the manufacturing cost is relatively low. Moreover, aluminum can is easy to form and not easy to deform, which can ensure the pressure of carbon dioxide in the soda and make the soda taste better.
Can cover material: 5052 aluminum plate, 3104 aluminum plate
Can pull ring material: 5182 aluminum plate
Can body material: 3004 aluminum plate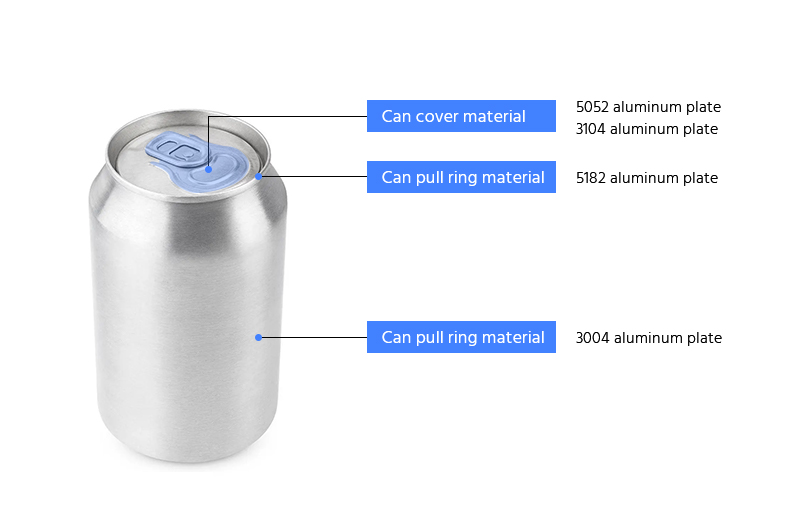 The surface of aluminum coil we provide: the problem of serious bubbles, missed coating, scratches, corrosion, oil stains, peeling, stripes, color difference, speckles, roll printing, periodicity and some other issues that affect the appearance quality all cannot be found on our products.
Characteristics of 5052/3104 aluminum alloy plates for pop top cans
Flatness: there is no obvious wave in the strip, the wave height does not exceed 3 mm within 1 m, the waves do not exceed 3/m, and there is no joint.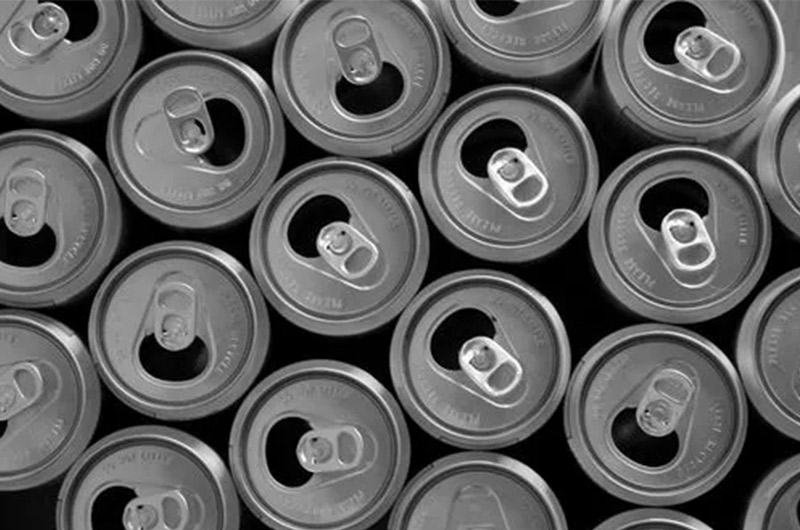 Side bending: the side bending on any 2000mm length shall not be greater than 0.5mm;
End warpage: cut 1500mm long products arbitrarily, and the height of end warpage is ≤ 5mm;
Surface: burr<=0.04mm;
End face: the end face is neat, rolled tightly without loose layer, staggered layer ≤ 2mm, tower shape ≤ 5mm;
Requirements of 5182 aluminum alloy for pop can pull ring
End warpage: cut 1500mm long products arbitrarily, the height of end warpage is ≤ 7mm;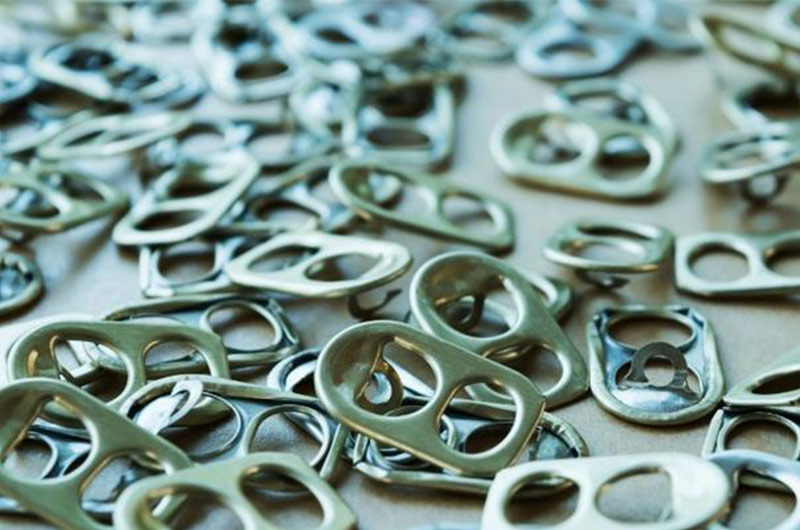 Aluminum can packaging has the advantage of light, sturdy and stackable. It can make it easier for brands to package and transport more drinks with less materials.
Application of aluminum can packaging: drugs, aluminum cosmetic packaging, household products, personal care products, industrial products (such as mold release agents, gas, etc.), tea (aluminum tea can packaging box), drinks (white spirit, beer, grape wine, cocktails, etc.), drinks (cola, fruit juice, tea, etc.), car care products, etc.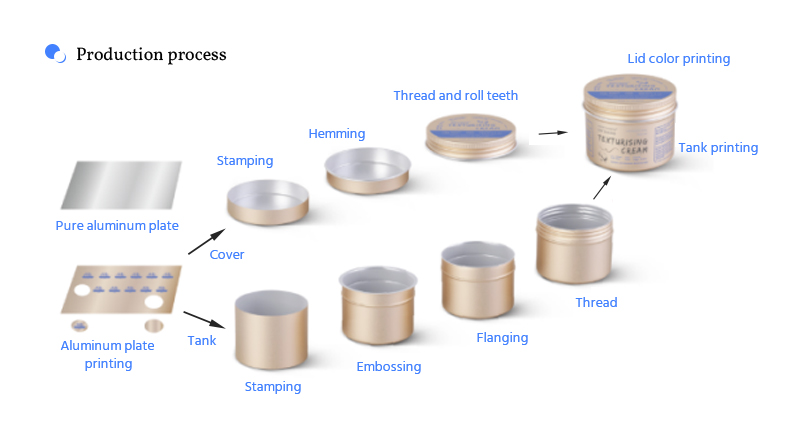 Aluminum foil container
Aluminum foil container can be divided into: aluminum foil container round, double diamond aluminium foil containers, aluminum foil container with lid, disposable foil containers.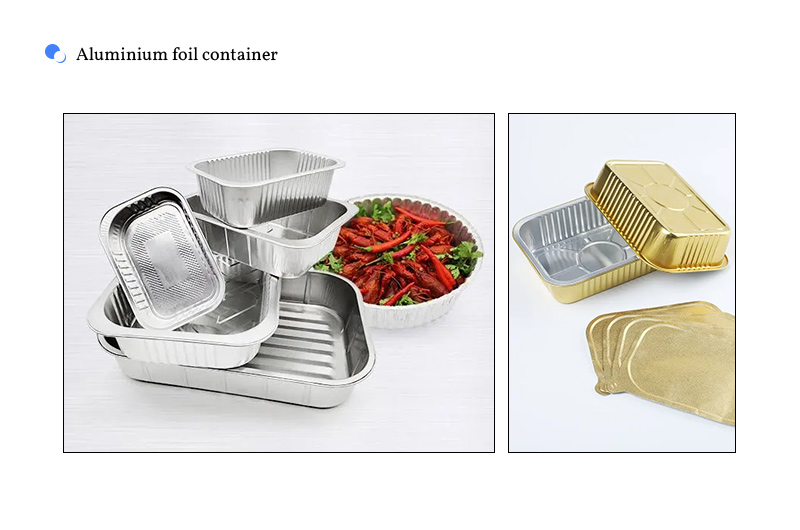 Alloy and temper for the Aluminum foil container: 8011, 3003, O, H22, H24
Thickness: 0.04-0.13mm
width: 150-1300mm
Application: aluminum foil container is used in fast food restaurants, takeout restaurants, home kitchens, hotels and service industries related to packaged food.
| | |
| --- | --- |
| Typical Alloy | 3003, 3004 |
| Temper | O, H22, H24 etc. |
| Thickness(mm) | 0.02-0.055 |
| Width(mm) | 100-1600 |
Aluminum bottle packaging
Aluminum cosmetic bottle has the simple appearance and is very suitable for packaging lotion, perfume and other cosmetics.
Aluminum bottles are seamless and can be easily installed with screw caps, plastic caps, lotion pumps and spray pumps.
The aluminum bottle has better durability. The aluminum bottle is made of one piece of aluminum embryo by stamping, without seams, so it has good sealing performance.
Aluminum spray bottle has good atomization effect, so it is often used as the packaging of spray. Because the atomization effect of aluminum spray bottle is higher than that of bottles made of other materials, the liquid sprayed out will make people feel cool and bring good experience.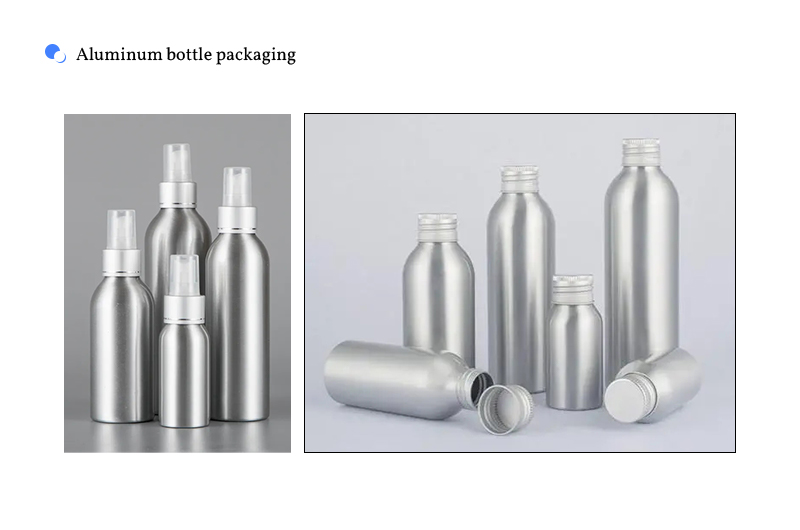 Internal coating protection, aluminum bottle is welcomed by big brands because of its good oxygen resistance and barrier property.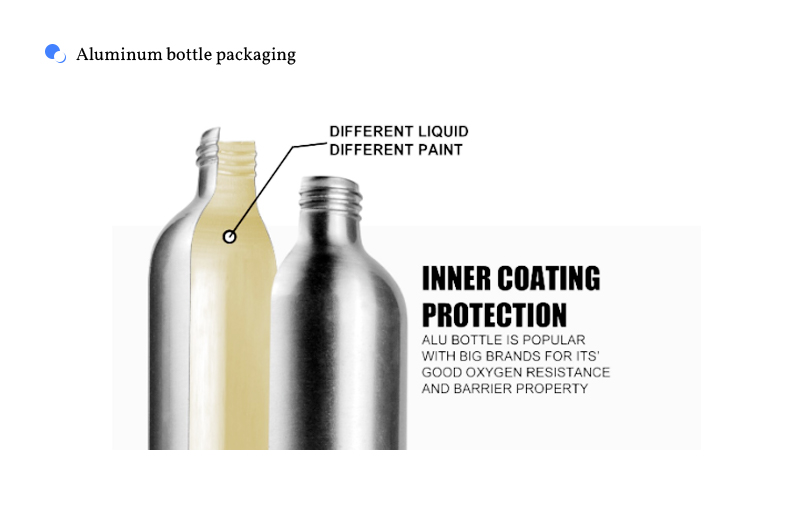 High pressure aluminum bottles filled with oxygen can be used for both medical and health care purposes. It has the advantage of sufficient capacity and easy to carry.
Aluminum bottle cap material
Aluminum bottle caps can be seen everywhere in life. Aluminum bottle cap material has the characteristics of hygiene, safety, good sealing, convenient opening, clean oil removal and fewer holes.
The common alloy of aluminum bottle cap material: 1235 aluminum foil, 8011 aluminum foil, etc.
1235 aluminum foil for bottle caps, 8011 Aluminum foil for bottle caps: the oil removal rate, strength, flatness, rate of elongation, size deviation, etc. all conform to their standards.
Aluminum bottle cap materials are widely used in yogurt caps, milk powder caps, cosmetic bottle caps, beverage bottle caps, white spirit bottle caps, red wine bottle caps, cosmetic bottle caps, medical caps and other fields.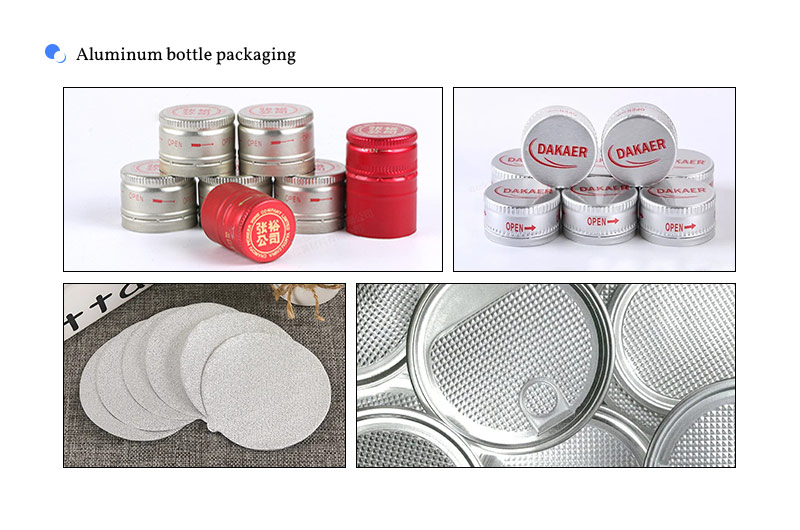 8011 Aluminum Foil for Milk Yogurt Lid
Yogurt cover film is mainly made of composite materials, and its structure is polyester/aluminum foil/heat seal (PET/AL/PE. EVA).
The 8011-O-state aluminum foil has few holes, good barrier and heat sealing performance and clean surface. The product is food grade and it can be cooked at high temperature, safe and hygienic.
8011 H14 H16 Aluminum for Wine Bottle Cap
About 50% of the anti-theft covers in wine bottle covers are made of aluminum. The aluminum wine bottle cap can keep the product in the bottle airtight, and also has the functions of anti-theft opening and security.
The base material for Aluminum foil roll of aluminum wine cover is 8011-H14 aluminum foil and 8011-16 aluminum foil.
Milk Powder Lid 8011 O Aluminum Foil
At present, tearable cover made of aluminum foil is theoretically the best food packaging material with barrier performance and moisture resistance. Compared with the traditional metal cover, it is easy to open and safe without hurting hands.
8011-O alloy as the raw material has been widely used in the field of aluminum foil easy to tear off cover, such as milk powder, canned food, etc.
8011-O aluminum alloy foil has the advantage of few pinholes and good barrier, heat sealing and tensile strength.
Aluminum Beverage Cover
This kind of product is mainly used for the packaging of alcohol and beverage products (including and without steam), and can meet the special requirements of high-temperature cooking and sterilization.
Compared with plastic bottle caps, aluminum bottle caps have the advantage of good performance, low cost, no pollution and recyclable.
8011 aluminum foil and 3105 aluminum coil are the sources of aluminum foil raw materials for various aluminum beverage bottle cap factories both at home and abroad.
The aluminum foil used for beverage bottle cap material has a flat surface, no rolling marks, no scratches, no stains, and excellent performance.
Aluminum tube packaging
This is the kind of aluminum hose, not the aluminum tube. This aluminum hose is stamped with pure aluminum sheet for packaging usage.
Advantages:
Compared with hose packaging, aluminum tube packaging has a strong barrier property, so some products with poor chemical stability are generally packaged with aluminum hose.
Aluminum packaging tubes have the characteristics of good shading, moisture-proof, airtight, corrosion resistance, non-toxic and tasteless.
The structure of alumina dioxide is very compact, which can protect the internal aluminum from oxidation and prevent the chemical reaction between products and packaging materials.
The tube body of aluminum squeeze tube packaging will collapse after being squeezed, making it impossible for air to flow into the aluminum hose, which is not easy to cause oxidation or pollution of the contents.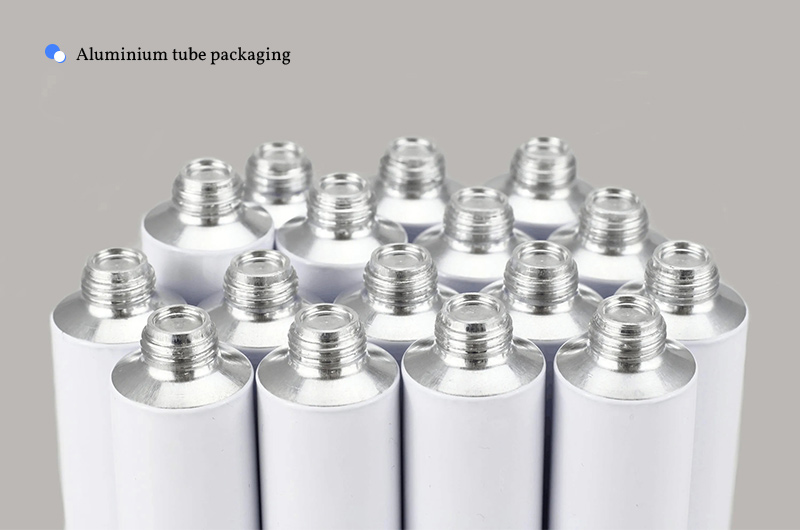 The usage of aluminum packaging tubes: drug packaging, aluminum cosmetic tubes, daily necessities (such as toothpaste, jam, etc.), personal care products, car care products, industrial products (such as glue, paint, etc.), household products, medicines, pet products and nearly all aspects of our lives.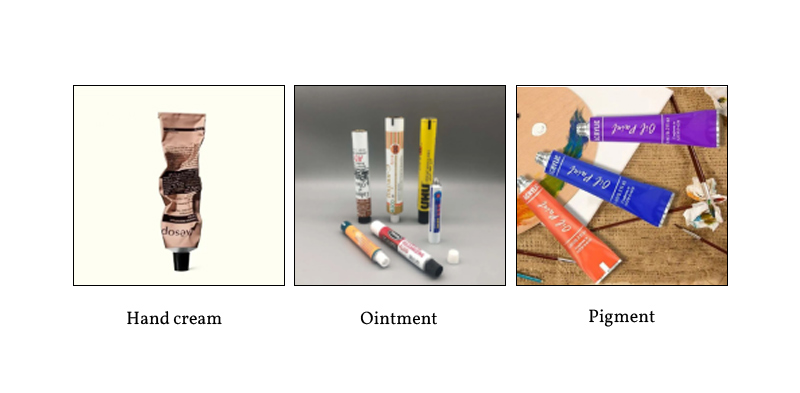 Pet Food
Many pet foods are sealed with aluminum tubes. Aluminum tube can effectively prevent microbial invasion, making food nutrition more stable and not easy to deteriorate.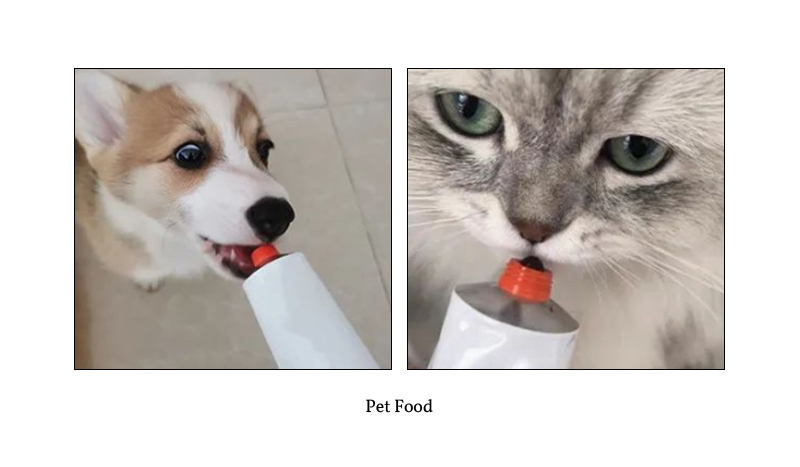 Aluminum packaging material manufacturer
Chalco Aluminium Co., ltd as a aluminum packaging material manufacturers specially provide aluminum materials for aluminum packaging. It has been meeting the needs and expectations of many world famous brands, for more than 20 years. Chalco Aluminums can provide aluminum plates, aluminum blocks, aluminum coils, aluminum foils, etc.
Complete types and specifications: a wide range of products, good processing performance, good corrosion resistance, and guaranteed product quality.
Excellent after-sales service is committed to meeting customer needs: Preferential price and excellent service. Adhere to the business philosophy of integrity and provide valuable solutions to customers.