With the demand for lightweight in the automotive market and the rise of all aluminum products in the architecture and decoration field, the irreplaceability of ultra wide aluminum coils in automotive skin, building exterior walls, and roof materials is becoming increasingly evident.
The integrated formability of ultra wide aluminum sheet coils not only has the irreplaceability of materials, but also becomes a key indicator to measure the production capacity of an aluminum product company.
How wide can Chalco ultra-wide aluminum plate be?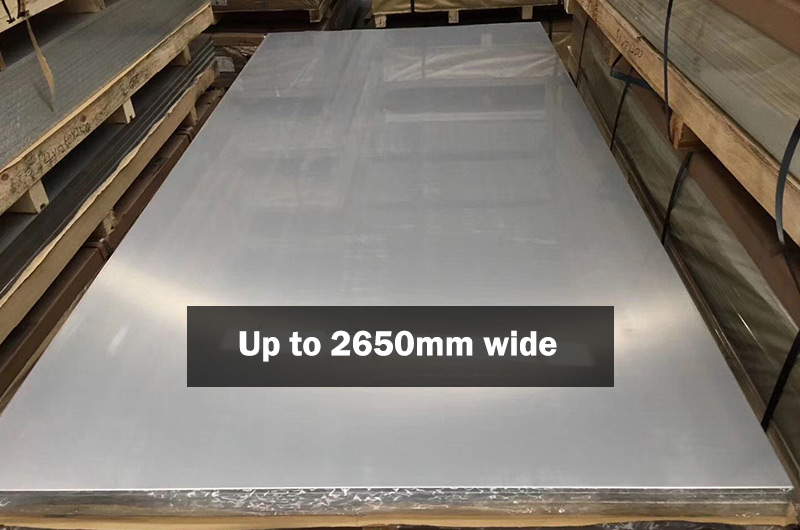 Chalco ultra-wide aluminum sheet coil can be 2650mm,commonly used width is 800-2000mm。
Hot selling alloy
1050, 1100, 3003, 3004, 5005, 5052, 5083, 5182, 5754
Max. width
2650mm
Hot selling width
800-2000mm
Length
1000-16500 or coil
Sheet thickness
4.5-100mm
Coil thickness
02.-8mm
Features
Smooth and flate, with good surface finish, weather resistance, corrosion resistance, and UV resistance
Deep processing
Stamping, color coating, etc.
Coating types
PE, PVDF, HDP, FEVE, etc., colors can be customized; Single or double sided coating can be applied according to customer needs.
Thickness of coating film
Standard 18-25 microns, maximum 60 microns, and customized
Packaging and transportation
Waterproof paper+anti polymer film+steel plate cover, with steel edge protectors and sufficient steel strips. More packaging details can be customized according to customer requirements
Standard
ASTM B209 EN485 GB/T33227 GB/T3880 etc.
Application
Roof and side panel skins of passenger cars/trailers/trucks/RVs, and container boxes;
Application of exterior facade cladding and roof, as well as interior and exterior decoration of buildings and trains;
Aluminum plastic panel, sandwich panel skin.
Explore more Large Size Products in Chalco
Ultra thick aluminum block: 340-620mm (slab)
Large large diameter aluminum billet bar: Φ1350mm
Large diameter aluminum tube: hot selling 100-800mm;largest can be 1582mm
Spiral welding aluminum large diameter tube pipe - Φ1582mm
Large diameter aluminum forged ring: outer diameter can up to 10m
Produce capacity and quality assurance of Chalco ultra-width aluminum sheet coil
Capacity guarantee: Chalco has 8 melting and casting production lines, as well as 1+4 "hot rolling production lines and supporting equipment. Can efficiently produce high-quality domestic largest wide aluminum sheet coils, with a maximum width of 2650mm.
Quality assurance: Chalco cross cutting production line has functions such as trimming, straightening, fixed length cutting, and automatic stamping. The sheet metal products have high dimensional accuracy and excellent shape. And it has online testing equipment such as Alscan hydrogen analyzer and slag analyzer.
Certification system: Chalco has quality system certifications such as ISO 9001, GJB 9001, AS9100, TS16949, and Nadcap (Non Destructive/Heat/Materials Testing) certificates.
Cooperative partner: Chalco ultra wide aluminum sheet coils are widely used in fields such as automobiles, vans, RVs, special vehicles, and building roofs, containers, etc. We have established long-term cooperative relationships with numerous well-known enterprises and have obtained numerous material certifications from them.

Chalco hot selling ultra-width aluminum sheet coil products
Properties reference table of Chalco ultra-width aluminum sheet coil
3003 Alloy
5052 Alloy
5754 Alloy
5083 Alloy
5182 Alloy
Brinell Hardness
28-65
46-83
52-88
75-110
-
Elastic Modulus GPa
70
68
68
68
68
Elongation at Break %
1.1-28
1.1-22
2.0-19
1.1-17
1.1-12
Fatigue Strength MPa
39-90
66-140
66-140
93-190
100-130
Shear Strength MPa
68-130
120-180
120-190
170-220
170-240
Tensile Strength: Ultimate MPa
110-240
190-320
200-330
290-390
280-420
Tensile Yield Strength: MPa
40-210
75-280
80-280
110-340
130-360
3003 ultra wide aluminum sheet coil for inner skin of van
3003 ultra wide aluminum sheet coil has good corrosion resistance, excellent weldability, good cold working performance, and medium strength.
The surface smoothness of 3003 aluminum sheet coil is high, which is not conducive to the adhesion of the paint layer. It is mainly used for the inner lining of vehicles such as box trucks.

3003 painted aluminum sheet is also widely used in the construction industry, such as roof and wall panels, ceilings, corrugated panels, and good thermal insulation and refrigeration.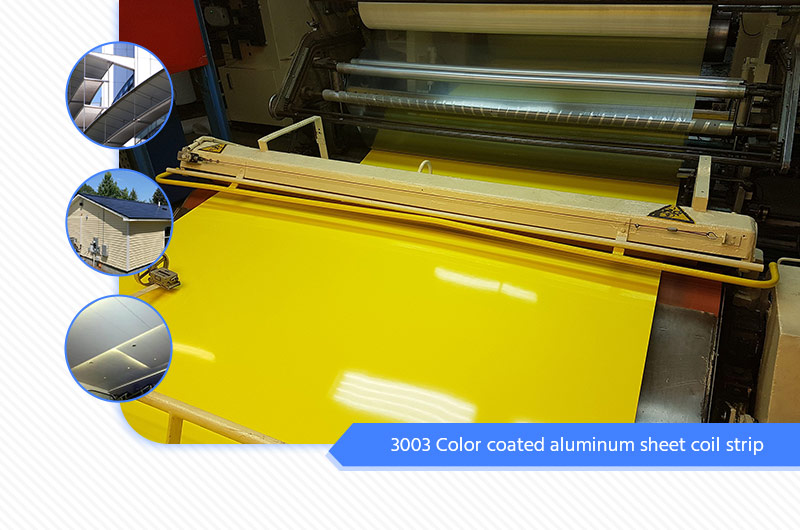 5052 ultra wide aluminum sheet coil for the outer skin of box car
Compared with 3003, 5052 not only has excellent corrosion resistance, but also brings better mechanical properties, supporting a wider range of applications.
5052 coated coil, also known as 5052 pre coated coil, is usually in the temper of 5052 H42 H46.
Compared with 3003, 5052 has better color coating and coloring performance, and is commonly used for the outer skin of Box truck, RV and refrigerator car.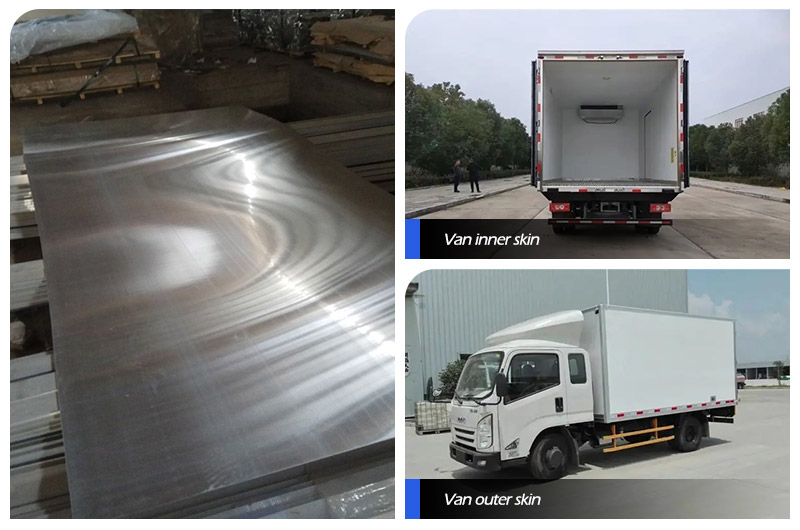 5754 truck, super wide aluminum sheet roll for RV
5754 ultra wide aluminum coil has high strength and excellent toughness, making it an ideal choice for applications that need to withstand large loads and impacts. It is commonly used in vehicle chassis, Box truck and other fields.
5754 ultra wide aluminum coil has good corrosion resistance and flame retardancy, suitable for fire vehicles, RVs, and building exterior panels and other fields.
5083 5182 ultra wide aluminum sheet coils for trucks, tank trucks, and refrigerated trucks
Good weldability makes 5083 5182 ultra wide aluminum coils easier to process and connect during the manufacturing and assembly processes of trucks and refrigerated trucks.
Good formability, capable of complex processing such as deep drawing and bending. Commonly used in applications that require high formability, such as truck body and tank body manufacturing.
5182 ultra wide aluminum coil has good resistance to general atmospheric and industrial corrosion, and is suitable for applications such as tank cars and refrigerated car compartments.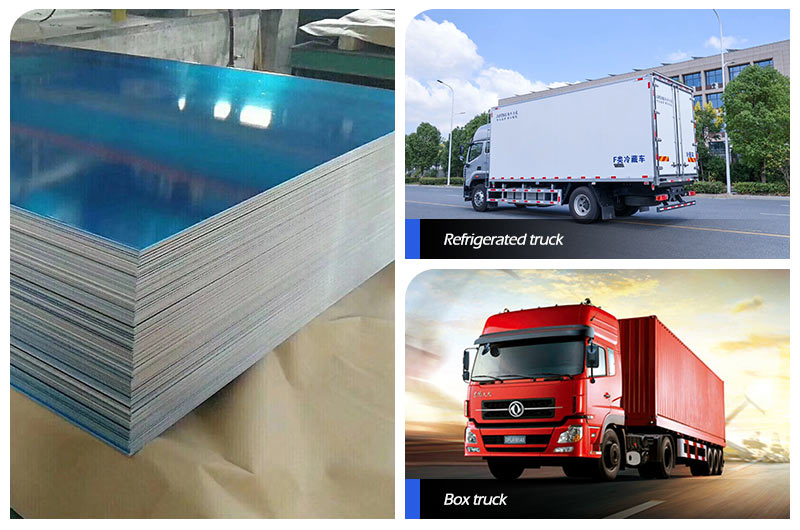 Chalo color coated ultra wide aluminum sheet coil commonly used alloys include 5052, 5754, 5083, 5182, etc.;
Chalco ultra wide color coated aluminum sheet coil has excellent acid and alkali resistance, with no cracking in the bending coating, uniform coating, and diverse colors.
Chalco color coated aluminum sheet coil is mainly used for vehicle color coated aluminum sheet coil; Color coated ultra wide aluminum sheet coil for roof material; The front or back panel of a honeycomb panel.
Chalco color coated aluminum sheet coils undergo chemical pre-treatment (cleaning) before color coating. Apply epoxy resin adhesive on the back, primer on the front, and then apply polyester (PE), PVDF or acrylic.
Polyester coatings belong to a high weather resistance system, with high ductility and flexibility.
PVDF coating has better UV resistance, and 2-3 layers of PVDF coating are particularly suitable for places such as building exterior walls that are outdoors all day.