Why choose Chalco cabinet handle aluminum profile?
Advanced extrusion system
Chalco is equipped with multiple extrusion production lines, including 600-3000 tons of presses imported from Japan and Germany, with an annual output of more than 60, 000 tons.
Electrophoretic oxidation system
Chalco has 2 advance powder caoting lines, our aluminum profiles meet international quality and win a good reputation from customers around the world, with an annual production capacity of 8, 000 tons.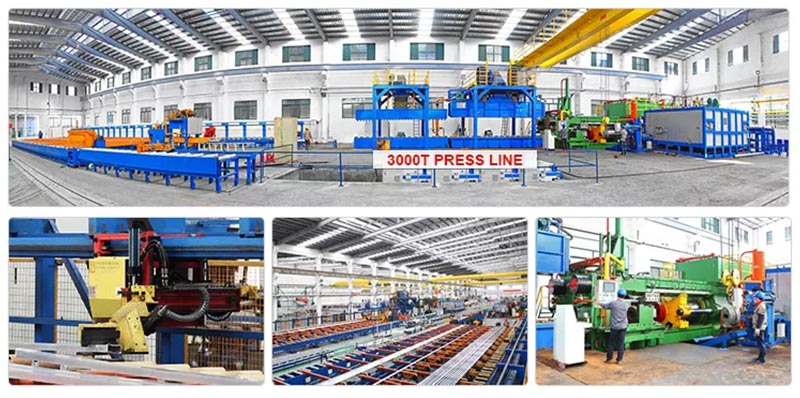 Specification of Chalco cabinet handle aluminum profile
| | |
| --- | --- |
| Alloy | 6063, 6061 |
| Temper | T4, T5, T6 |
| Color | Champagne, rose gold, silver or customized |
| Surface treatment | Sandblasting, polishing, wire drawing, anodizing, electrophoresis, etc. |
| Shape | Customized according to customer requirements |
| Tolerance | ±1% |
| Packaging | Self-adhesive label film and shrink film or customized |
Chemical composition of Chalco cabinet handle aluminum profiles
Element
Composition (%)
6061
6063
Al
Remainder
Remainder
Mg
0.80-1.20
0.45-0.90
Si
0.40-0.80
0.20-0.60
Fe
0-0.70
0-0.35
Cu
0.15-0.40
0-0.10
Cr
0.04-0.35
0-0.10
Zn
0-0.25
0-0.10
Ti
0-0.15
0-0.10
Mn
0-0.15
0-0.10
other(total)
0-0.15
0-0.15
other(each)
0-0.05
0-0.05
Mechanical properties of Chalco cabinet handle aluminum profiles
Alloy
Temper
Tensile strength (N/mm2)
tensile strength (N/mm2)
Elongation at Break (%)
A
6061
T4
≥180
≥110
16
T6
≥265
≥245
8
6063
T5
≥160
≥110
8
T6
≥205
≥180
8
Advantages of Chalco cabinet handle aluminum profiles
High temperature resistance: the kitchen is a high temperature environment, Chalco aluminum profile handles cannot be deformed in the high temperature environment of the stove, and maintain good performance.
Corrosion resistance: the humid environment in the kitchen is easy to cause metal corrosion. Chalco aluminum profile handles have excellent corrosion resistance, and can still maintain the brightness and beauty of the surface in a humid environment.
Oil resistance: the surface of Chalco aluminum profile handles is usually treated, such as anodized or sprayed, to form a protective film, which has very good oil resistance.
Easy to clean: there are often food residues, oil stains and dirt in the kitchen, but the aluminum profile handle has a smooth and flat surface, which is not easy to adhere to dirt, and can be easily cleaned by gently wiping.
Aesthetics: Chalco aluminum profile handles are available in a variety of surface finishes, such as spray-painted, anodized or chrome-plated, to coordinate with kitchen decor and cabinet doors.
Easy to install: compared with handles made of other materials, aluminum handles are relatively light and easy to install. This will be more convenient and labor-saving for users who install or replace the handle by themselves.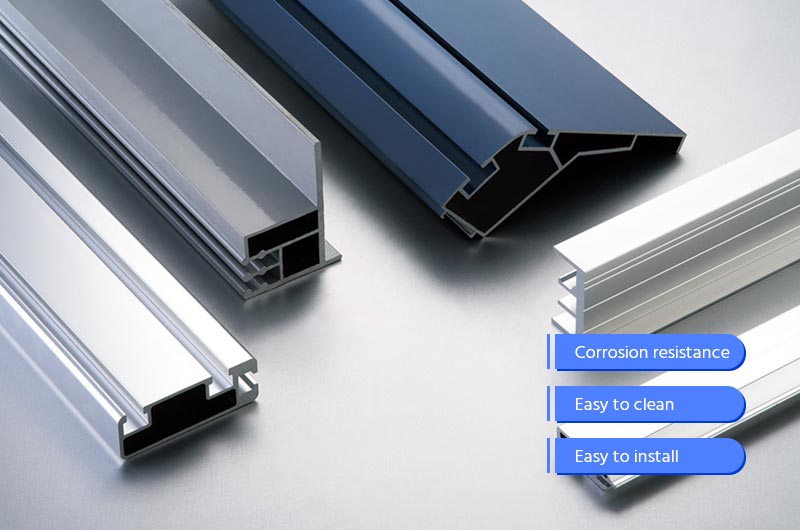 Hot selling products of Chalco cabinet pull aluminum profile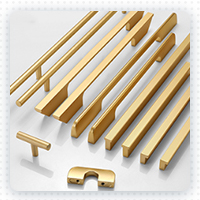 Straight-line aluminum handle
aluminum handle is formed into a straight line, which can be right-angled or rounded, suitable for various cabinet styles.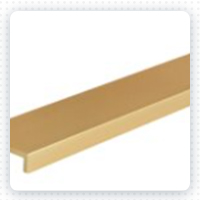 Bending aluminum handle
the aluminum alloy profile is bent into different shapes by bending machine or CNC, the main purpose is to meet the decoration requirements of customers.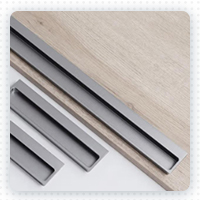 Hidden C-shaped aluminum handle
the shape of the C-shaped aluminum handle is similar to the letter "C", forming an arc in the horizontal direction. This design is both aesthetically pleasing and comfortable, allowing fingers to slide smoothly over the handle.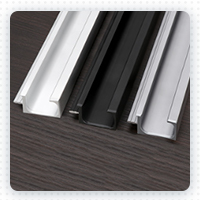 G-shaped handle
the shape is "G"-shaped. This design allows fingers to hold the handle, providing a comfortable grip area, which is convenient for opening and closing the cabinet door.
In addition to the above types of cabinet aluminum handles, there are also L-shaped handles, combined aluminum handles, aluminum knobs, curved handles, etc.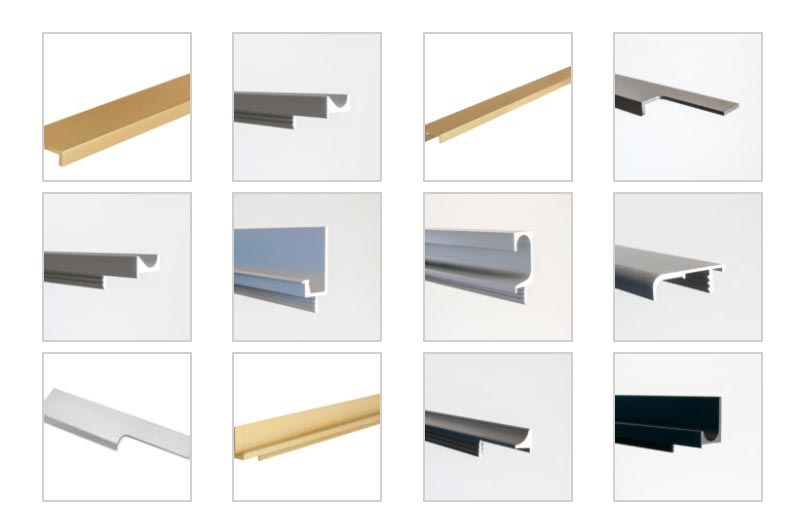 Aluminum profile vs stainless steel cabinet handle
There are two common materials for cabinet handles: aluminum profiles and stainless steel. So what are the advantages and disadvantages of these two materials? Faced with so many cabinet handle products, how to choose the one that suits you better? Hope the following little knowledge can help you.
| | | |
| --- | --- | --- |
| Characteristic | Aluminum Profile | Stainless Steel |
| Corrosion Resistance | Corrosion resistant, but not as good as stainless steel | Excellent corrosion resistance |
| Strength | High | High |
| Wear Resistance | Wear resistant, but relatively prone to scratches | Wear resistant |
| Appearance and Style | Offers more design options through various surface treatments | Simple, modern |
| Cleaning and Maintenance | Easy to clean, but may leave scratches | Easy to clean |
| Fingerprint and Water Stain Visibility | Relatively low | Easy to leave fingerprints and water stains |
| Price | Relatively affordable | Higher price |
FAQ
Q: Are you a manufacturer? Do you have your own factory?
A: We are a manufacturer with our own factory, with many years of experience in aluminum profile production, and have established a good reputation.
Q: What colors can powder coatings be made of?
A: We have several advanced powder coating production lines, and can customize any color you need according to your requirements.
Q: Can the oxide film be 15μm?
A: Above 10μm is fine.
Q: Can you send me samples?
A: We can send samples, and the specific cost needs to be negotiated according to the actual situation.