Aluminum alloy is an improved engineering material, which is made by injecting a small amount of other different metals into pure aluminum. The specific alloy properties change with the addition of different alloy elements, thus meeting most production requirements. Therefore, aluminum is usually the first choice of most manufacturers, and is also one of the most popular metal materials of all metals on the market.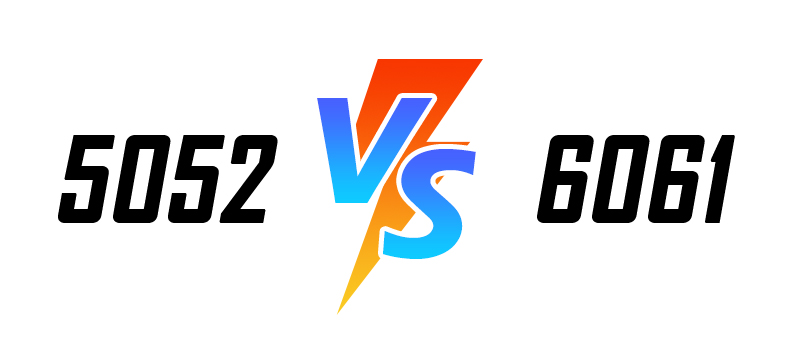 This paper will specifically study two kinds of alloys in the 5000 and 6000 series: 5052 and 6061, magnesium alloys and magnesium alloys with silicon characteristics. Understanding the chemical composition, mechanical properties, yield strength, industrial application and price advantages of the two alloys will help you clearly understand the differences between them and the common application fields of each aluminum alloy, and help you make better choices.
What is 5052 aluminum alloy?
5052 aluminum alloy belongs to the 5000 series alloy. The main element added is magnesium, about 3-5%. So, it is also called the aluminum magnesium alloy. The main character of 5052 aluminum alloy is low density, high tensile strength, high elongation and non-heat-treatable.
The density of 5052 aluminum alloy is 2.68g/cm3, slightly lower than pure aluminum, so it is very commonly used in aerospace field, such as aircraft fuel tank.
5052 aluminum alloy does not contain any copper, which means that it is not susceptible to salt water corrosion as other aluminum alloys. It belongs to stainless-treated aluminum alloys and is also the perfect choice for shipbuilding.
5052 aluminum alloy is also widely used in some traditional industries, such as 3C products, fuel tank materials, high-end curtain wall panels, louvers, pressure vessels and medical equipment.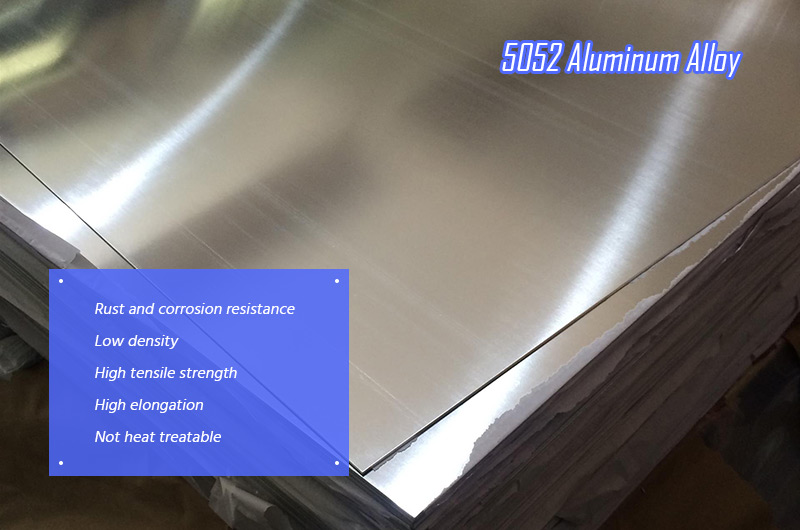 What is 6061 aluminum alloy?
The main elements added in 6000 series aluminum alloys are magnesium and silicon and the represented aluminum alloy is 6061. 6061 aluminum alloy has the characteristics of medium strength, good corrosion resistance, weldability, no deformation after processing, easy coloring and good oxidation effect.
The standard of 6061 aluminum alloy is ASTM B209 or GB/T3880-2006. Chalco 6061 aluminum products include 6061 t4 t6 aluminum plate sheet, pre-stretch 6061-T651 aluminum plate, 6061 ultra-flat plate, 6061 ultra -wide, ultra -thick aluminum plate, 6061 6061 quenched plate, and so on.
6061 aluminum is widely used in various industrial structural parts requiring certain strength and high corrosion resistance, such as mobile phone slot, mobile phone shell, manufacturing trucks, tower buildings, structural materials, ships, railway vehicles, precision machining, etc.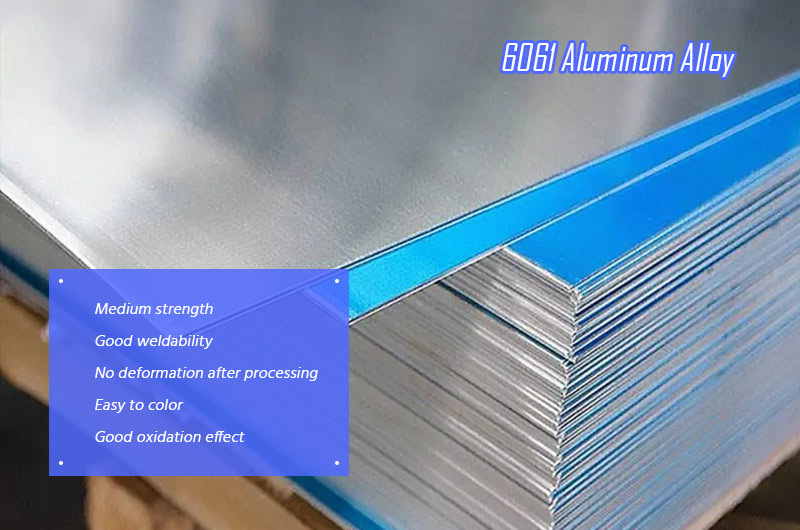 NO.1 5052 vs 6061 aluminum chemical composition
Element
Composition (%)
5052 Alloy
6061 Alloy
Si
0.25
0.4-0.8
Fe
0.4
0.7
Cu
0.1
0.15-0.4
Mn
0.1
0.15
Mg
2.2-2.8
0.8-1.2
Cr
0.15-0.35
0.04-0.35
Ni
-
-
Zn
0.1
0.25
Ti
-
0.15
Others:Each
0.05
0.05
Others:Total
0.15
0.15
Aluminumin
Remainder
Remainder
NO.2 5052 vs 6061 aluminum specification
| | | |
| --- | --- | --- |
| Alloy | 5052 | 6061 |
| Thickness(mm) | 0.1-600 | 0.3-500 |
| Width(mm) | 20-2650 | 100-2800 |
| Length(mm) | 500-16000 | 500-16000 |
NO.3 5052 vs 6061 aluminum tempers
| | | |
| --- | --- | --- |
| Alloy | 5052 | 6061 |
| Temper | F,O,H12,H14,H16,H18,H19,H22,H24,H26,H28,H32,H34,H36,H38,H111,H112,H114 | F,O,T4,T451,T42,T5,T6,T651,T6511,H112 |
NO.4 5052 vs 6061 aluminum shape
5052 aluminum alloy products include 5052 aluminum sheet, plate, 5052 embossed aluminum plate, 5052 aluminum tube, 5052 aluminum bar, and 5052 aluminum extruded profile, etc.
6061 aluminum alloy products include 6061 aluminum sheet, 6061 aluminum plate or ultra-thick plate, 6061 aluminum bar, 6061 aluminum tube, 6061 aluminum profile, 6061 angular aluminum.
NO.5 5052 vs 6061 aluminum weight
5052 aluminum alloy density is 2.68 g/cm3(0.0968 lb/in3), a little lower than pure aluminum. Therefore, it can be used in the application fields that require lightweight, such as the production of aircraft fuel tank materials and new energy vehicles.
density of aluminum 6061 is 2.7 g/cm3(0.0975 lb/in3). Its weight is roughly the same as that of pure aluminum.
For the specific alloy weight, you can click the aluminum weight calculation for details.
NO.6 5052 vs 6061 aluminum mechanical properties
Generally, 6061 aluminum alloy is most suitable for machining, while 5052 is used for sheet metal and welding applications. This kind of difference is by the difference in alloy composition.
The most representative aluminum alloys are 6061-T6 aluminum alloy and 5052 h32 hardened aluminum alloy. Each strengthening process has its own unique value.
| | | |
| --- | --- | --- |
| Material properties | 5052 aluminum alloy | 6061 aluminum alloy |
| Yield Strength | 193 MPa | 276 MPa |
| Modulus of Elasticity | 70.3 GPA | 68.9 GPA |
| Fatigue Strength | 117 Mpa | 96.5 Mpa |
| Thermal conductivity | 138 W/m-K | 167 W/m-K |
| Machinability | Poor | Good |
Yield strength
Yield strength is the minimum stress that causes deformation or permanent deformation of aluminum alloy test piece. 6061 aluminum is more difficult to permanent deformation than 5052 (276 MPa vs. 193 MPa), showing its increased strength and formability. The yield strength of 5052 aluminum is low, but this is useful because it requires less work to reach the plastic (or permanent) deformation area.
Elastic modulus
The elastic modulus can be considered as the "stiffness" of the alloy. It is a measure of the resistance of the material to plastic deformation. Materials with higher modulus are considered to be more elastic because more work is required to permanently deform the material.
5052 aluminum alloy has higher elastic modulus than 6061 aluminum alloy (70.3 GPa vs 68.9 GPa), which explains its advantages as a forming alloy. The large elastic modulus and low yield strength of 5052 aluminum allow the forming and processing of 5052 aluminum without great fracture risk.
6061 aluminum alloy has the opposite characteristics, which means it is difficult to deform and more prone to brittle fracture.
Fatigue strength
Fatigue strength is the ability of a material to withstand periodic load cycles. If enough time is given, small repetition force will lead to "metal fatigue", or weaken due to molecular micro-fracture, and finally reduce the strength of the alloy. This value helps to show the general durability of the metal and its change with time.
The fatigue strength of 6061 aluminum alloy is lower than that of 5052 aluminum alloy (96.5MPa vs. 117MPa), which means that 5052 aluminum can withstand more deformation cycles. 5052 aluminum is more elastic to fatigue damage than 6061 aluminum alloy.
Thermal conductivity
As most metals, 5052 and 6061 aluminum alloys are good thermal conductors. 6061 aluminum alloy has a higher thermal conductivity grade than 5052 aluminum alloy (167 W/m-K vs.138 W/m-K). Therefore, 6061 aluminum alloy is the preferred material for radiator and heat exchanger applications.
Machinability
Because of its properties, 6061 aluminum is generally used as a forming alloy, but it is very suitable for processing. Machinability is a measure of the reaction of metal to die-cutting, milling, turning or any other processing operation, which can be quantified using certain machinability measures.
5052 has higher elasticity, and the chips are too large during processing, resulting in excessive wear of the mold and reduced cutting accuracy. Therefore, it is more difficult to process.
6061 aluminum alloy has good machinability because it is more brittle, easy to produce smaller chips and easier to process.
In general, 5052 aluminum alloy is the main material for welding plates, while 6061 aluminum has higher strength and is very suitable for machining.
NO.7 5052 vs 6061 aluminum alloy heat treatment
A key difference between 5052 and 6061 aluminum alloy is that 5052 is a non-heat-treatable alloy. This means that 5052 aluminum alloy can be strengthened by cold working or strain hardening (such as rolling or forging). 5052 H112 aluminum sheet plate and 5052 H32 aluminum sheet plate are the most common hardening processes.
6061 aluminum alloy can be heat treated to improve its strength and durability. It will be heated in a sinking furnace at 533 °C (990°F), and then water quenched. 6061 T4 aluminum alloy and 6061 T6 aluminum alloy are the most common temper of 6061, which are commonly used in heavy structures. Therefore, the strength and formability under T temper are very important.
NO.8 5052 vs 6061 aluminum alloy corrosion resistance
5052 aluminum alloy does not contain any copper element, so it has excellent stability under environmental conditions. When used in salt water environment that weakens and erodes copper metal composite, it is not easy to corrode. Therefore, it is widely used in natural gas tankers and offshore structural parts. In terms of corrosion resistance, 5052 aluminum alloy is better than 6061 aluminum alloy.
When these two alloys are exposed to alkaline soil, a reaction called pitting may occur. However, due to the high magnesium content of 5052 and 6061 aluminum alloy, they can resist the corrosion caused by ammonia, ammonia hydroxide and nitric acid. In order to further avoid corrosion, 5052 color coated aluminum plate can be used, which can form a protective layer and is widely used in building curtain walls.
NO.9 5052 vs 6061 aluminum alloy application
Application of 5052 aluminum alloy
5052 aluminum alloy has a wide range of application field. Because of its excellent tensile strength, elongation, corrosion resistance and rust resistance, 5052 aluminum alloy has provided many advantages to industry manufacturers. The product characteristics of 5052 make it widely used in marine industry, electronic industry and chemical applications. In short, 5052 aluminum alloy has a wide range of uses, including but not limited to the following aspects:
Marine applications: large marine structures, LNG tanks, marine equipment.
Architectural decoration: building facade.
Home appliances: electronic shell, kitchen cabinet, electrical appliance, fan and fan blade, household freezer, clock board, fence, etc.
Transportation: aircraft, bus and truck manufacturing, road and name signs, fuel lines and tanks, street lights and other signs in the transportation industry.
Industrial manufacturing: pressure vessels, sheet metal parts, heat exchangers, chemical equipment, aluminum pedals, etc.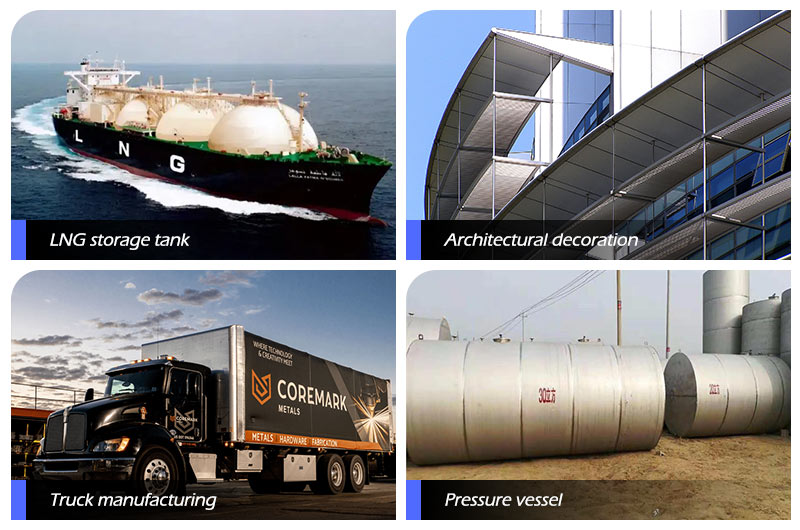 Application of 6061 aluminum alloy
6061 aluminum alloy is also called the "structural aluminum". It is one of the commonly used extruded aluminum profile. With its formability, it can be formed into sheet, round, square, extrusion, rolling or any form.
Chalco can provide 6061 aluminum plate, 6061 aluminum rod, 6061 aluminum pipe and other angle aluminum, tee and profile made of aluminum 6061. Due to its good formability, the uses of 6061 aluminum alloy mainly include following aspects:
Ship manufacturing: sailing boat, yacht, marine frame, marine accessories and hardware.
Automobile manufacturing: truck and bus bodies, wheels and various transport terminal uses, brakes and hydraulic pistons.
Aerospace: aircraft structural parts and fuselage parts.
Rail transit: railway vehicle parts, subway platforms, stairs, floors, covers, walkways.
Food industry: canned food, food and beverage cans.
Others: diving gas cylinders, pipe fittings, hinge pins, valves and valve parts, bicycle frames, fire ladders, bridge parts, camera lens brackets, couplings, electrical accessories and connectors, magneto parks, structural frames, basic equipment and gussets.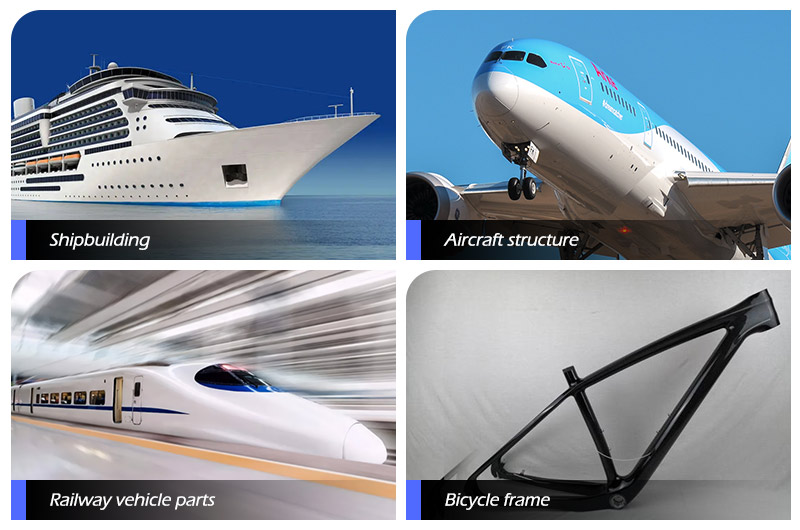 NO.10 5052 vs 6061 aluminum alloy price
At present, the price of 6061 aluminum alloy on the market is higher than that of 5052 aluminum alloy, because the processing technology of 6061 aluminum alloy is more complex and more difficult.
For specific alloy price information, you can query in the inventory information.
Chalco high quality 5052 and 6061 aluminum alloy
In summary, 5052 aluminum alloy is the commonly used non-heat-treated plate, can be anodized and is more suitable for sheet metal and welding. 6061 aluminum alloy is the cheapest and most versatile heat-treatable alloy with higher strength. It is very suitable for machining, although it is not easy to form.
In fact, the choice of material is depending on the requirement of your project. No matter which alloy you choose, it may have the excellent properties and special advantage.
If you want to choose the suitable ally material, you need very rich professional aluminum knowledge. In this aspect, chalco, the high quality manufacturing, can help you. We are a large modern aluminum supplier integrating scientific research, processing and manufacturing.
Chalco can produce 1-8 series aluminum plates, strips and foils, and can you're your personalized processing needs with complete specifications, huge capacity, large inventory and good price. The products have passed the CE.ISO9001 certification, and can be customized according to customer needs, such as Japanese standards, European standards, American standards, etc.
You can contact us for details, or check our inventory information directly.