5052 5182 H48 aluminum sheet coils exhibit outstanding corrosion resistance, strength, formability, and excellent ductility. These properties make them ideal for shaping into the required forms for can lid production. Their sealing capability effectively prevents leakage and spillage of the container's contents, making them particularly suitable for the manufacturing of beverage can lids.
Chalco 5052 5182 aluminum sheet coil specifications for can lid
5052 5182 Aluminum specifications for can lid
Alloy
5052 5182 H19 Aluminum coil strip
5052 5182 H48 aluminum coated sheet
5052 5182 H48aluminum coated coil strip
Temper
H18, H19, H36, H38, H39
H46, H48, H49
H46, H48, H49
Thickness
0.22-0.50mm
0.22-0.50mm
0.22-0.50mm
Width
500-1600mm
500-1600mm
20-1600mm
Tape inner diameter/length
300, 350, 405, 505
500-4000mm
300, 350, 405, 505
5052 5182 aluminum plate coil size deviation
Click to view detailed dimensional deviation requirements
5052 5182 H48 coating density
1. The inner coating is epoxy 12-13um, and the outer coating is 4-5um epoxy resin.
2. The surface density of the single-sided DOS liquid coating of the coating plate for the tank cover is generally: 5mg/m2-10mg/m2;
3. The coating surface of the coated strip for cover material should be evenly coated with wax. The density of the wax coating is generally: 40mg/m2-100mg/m2;
5052 5182 H48 coating color
Gold, Silver, Transparent
5052 5182 H48 coating performance
Click to view detailed coating performance requirements
product quality
Click to view detailed quality requirements
Package
1. Meet the requirements of GB/T3199 standard;
2. Export wooden pallet/box packaging;
3. Customizable according to customer requirements.
standard
EN 541, EN 573-3, YS/T726-2010,GB/T 3190,GB/T3880.1-2006
If you have more information about the product, please contact us for specific consultation.Quick Quote
Chemical composition of 5052 5182 aluminum sheet coils for can lids
Element
Chemical composition (%)
5182
5052
Si
0.2
0.25
Fe
0.35
0.4
Cu
0.5
0.1
Mn
0.0-0.5
0.1
Mg
4.0-5.0
2.2-2.8
Cr
0.1
0.15-0.35
Ni
-
-
Zn
0.25
0.1
Ti
0.1
-
Al
Remainder
Remainder
Physical properties of 5052 5182 aluminum sheet coils for can lids
Alloy
Temper
Thickness/mm
Tensile Strength Rm/MPa
Tensile Strength/MPa
Elongation %
5052
H36, H46
>0.220-0.300
255~305
≥200
≥2
>0.300 -0.500
255~305
≥200
≥3
H18, H38, H48
>0.220 -0.300
≥270
≥210
≥2
>0.300-0.500
≥270
≥210
≥3
H19, H39, H49
>0.220 -0.300
290
≥220
≥2
>0.300-0.500
≥290
≥220
≥3
5182
H36, H46
>0.220 -0.300
265 ~340
≥270
≥3
>0.300 -0.500
265 ~340
≥270
≥4
H18, H38, H48
>0.220 -0.300
330
≥285
≥3
>0.300-0.500
≥330
≥285
≥4
H19, H39, H49
>0.220-0.300
≥340
≥295
≥3
>0.300 -0.500
≥340
≥295
≥4
Coating properties of 5052 5182 aluminum sheet coils for can lids
Project
cover material
Cover coating
Cover inner coating
Coating surface density/(g/m')
3~6
10-13
Solvent resistance
>50 times without missing the bottom
-
High temperature sterilization
121℃, 30min distillation
There is no whitening, loss of gloss, peeling or falling off of the inner and outer coatings.
Acid resistance
121℃, 32min acid etching
-
The inner coating has no whitening, loss of gloss, peeling or falling off
Sulfur resistance
121℃, 3lmin sulfur corrosion
-
The inner coating has no whitening, loss of gloss, peeling or falling off
Adhesion
Level 1
Level 1
Features of 5052 5182 aluminum sheet coils for can lids
Corrosion resistance: both 5052 and 5182 alloys offer exceptional corrosion resistance, making them suitable for applications in marine and chemical industries, condensers, and beverage can production. They maintain stability when in contact with liquids.
Formability: 5052 alloy demonstrates excellent formability, making it suitable for various complex shapes and structures. 5182 alloy excels in forming capabilities, particularly advantageous in can manufacturing.
Moderate strength: the moderate strength of 5052 and 5182 alloys allows the tops to withstand the pressure of canning and prevents deformation during the canning process. They meet the strength requirements for beverage can lids, especially when a balance of moderate strength and high corrosion resistance is needed.
Surface quality: 5052 alloy sheets typically feature a flat and smooth surface, making them suitable for applications with high flatness and appearance requirements.
Food safety: both 5052 and 5182 alloys are food-safe materials, suitable for applications involving contact with food, such as can lids and food packaging.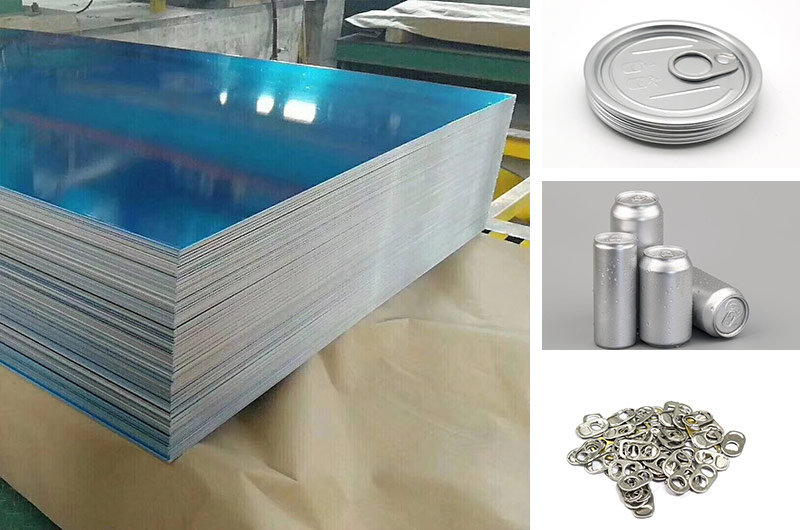 Differences between 5052 H48 and 5182 H48 aluminum sheet coils
5052 alloy has a lower magnesium content and is widely used in various applications due to its early development. It constitutes around 60% of the total usage in the manufacturing of beverage can lids, with thicknesses typically ranging from 0.22 to 0.26mm.
5052 H48 is commonly employed in non-pressurized beverage can lids and food can lids. On the other hand, 5182 H48, with its enhanced hardness and formability, is typically used in pressurized (gas-containing) beverage can lids.
Applications of 5052 5182 aluminum sheet coils for can lids
5182 belongs to the aluminum-magnesium alloy category, with broad applications, especially in the construction industry. It is a highly promising aluminum alloy known for its excellent corrosion resistance, good formability, and moderate strength. It finds extensive use in various fields, including the manufacturing of beverage and food can bodies, 5182 automotive aluminum plates, condensers, construction materials, and specialized vehicles (5182 aluminum tank truck plates).
5052, with its main alloying element being magnesium, exhibits excellent formability, corrosion resistance, weldability, and moderate strength. It is commonly used in aircraft fuel tanks, pipelines, transportation vehicles, 5052 aluminum tread plates for ships, and 3C electronic enclosures.
In the field of metal packaging for beverage cans, specifically, 5052 and 5182 aluminum sheet coils are primarily employed in the production of can end ring-pulls, Beer ends, drink lids, beverage lids, beer lids, aluminum can lids, aluminum covers, and Pop Can Covers.
Chalco's best-selling aluminum materials for beverage cans
As is widely known, beverage cans consist of three integral components: the can body, can lid, and pull-tab ring. The can body is formed through high-speed stamping on deep-drawing presses, resulting in a seamless can body. The can lid is later attached through a curling process, facilitated by the excellent ductility of 3104 aluminum, ensuring a secure connection between the lid and the can body.
Currently, the most commonly used aluminum alloys for overall beverage can manufacturing are 3003-H14, 3104-H19, 5182-H48, and 5052-H48 aluminum can alloys. Their specific applications are outlined as follows: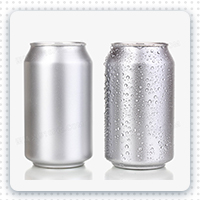 3004 3104 aluminum coil strips for can body
3004 3104 aluminum alloy coils are the primary materials used for can bodies. 3104 belongs to the Al-Mn alloys category. The addition of the main alloying element, manganese (Mn), enhances the mechanical properties of the alloy without compromising its corrosion resistance. The most commonly used 3104-H19 aluminum coil for can bodies offers exceptional deep-drawing capability and robust corrosion resistance.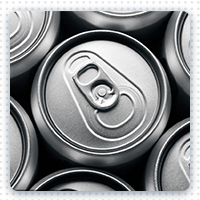 5052 5182 aluminum sheet coils for can lids
5052 5182 aluminum alloys are the most widely used materials for can lids. These 5xxx series aluminum-magnesium alloys offer excellent ductility and high strength, allowing easy production of various lid sizes. The 5052-H48 temper, with its moderate strength, can withstand the stresses of carbonated beverages and other gas metal packaging, making it an ideal material for lid production.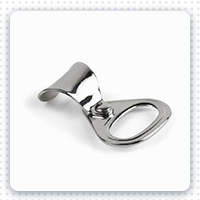 5182 aluminum sheet coils for can pull tabs
5182 aluminum alloy is the most representative material for pull-tab manufacturing. Classified under the 5xxx series of aluminum-magnesium rust-resistant alloys, 5182 aluminum sheets have a magnesium (Mg) content ranging from 4% to 5%. They exhibit excellent corrosion resistance and processability, along with high tensile strength, making them well-suited for aluminum pull-tab production with specific hardness requirements.
Supplier of 5052 5182 aluminum sheet coils
Chalco is a large, modern aluminum processing enterprise in China, encompassing research, processing, and manufacturing. Our facilities include a flat ingot casting system, a 2560mm "1+4" hot rolling production line, single-stand and tandem cold rolling production lines, a 2300mm stretch leveling machine, a 2300mm slitting/vertical cutting machine, coating production lines, and more.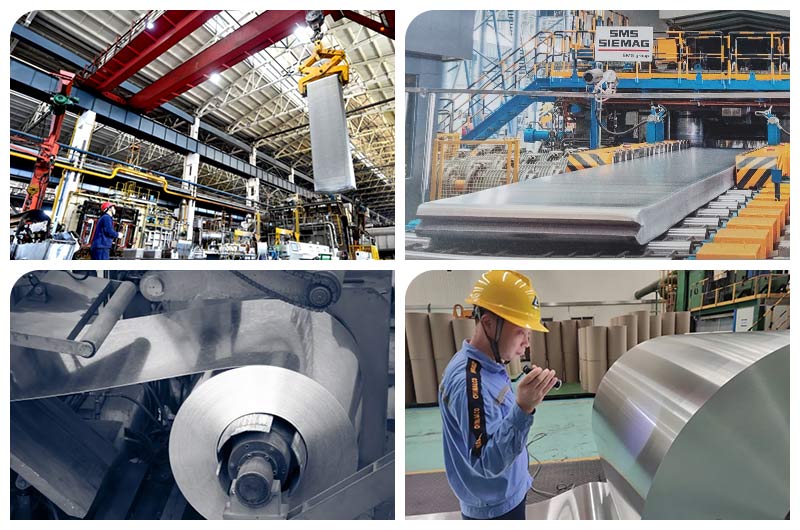 We offer a comprehensive range of 1-8 series aluminum plates, strips, and foils, with various specifications, high production capacity, ample inventory, competitive prices, and the flexibility to meet your personalized processing requirements. Our products are CE and ISO9001 certified, and we can customize them to meet various standards, such as JIS, EN, ASTM, and more, based on your specific needs. For more information, please feel free to contact us via email. Chalco looks forward to collaborating with you!
Are You Looking for an Aluminum Supplier?
If you need a professional aluminum supplier to provide you with high-quality, cost-effective aluminum, we will be your best choice.
Contact us Now
Quality requirements for 5052 5182 aluminum sheet coils for can lid
Thickness: the aluminum alloy used for can lids, specifically 5052 aluminum coils, exhibits a smooth surface and precise thickness control. It ensures a thickness tolerance of ±0.005mm, guaranteeing stability during subsequent processing.
Flatness: the coil strips must not exhibit noticeable waves, with a wave height not exceeding 3mm within a 1-meter span and no more than 3 waves per meter. For detailed flatness requirements, please refer to the specified standards.
Side curvature: the side curvature of the product along any 2000mm length should not exceed 0.5mm.
Tab curling: when cutting products of any length up to 1500mm, the tab curling height should be ≤5mm.
Joints: aluminum base strips should be free from joints, while coated strip coils may have a maximum of one joint.
Surface: surface defects that significantly affect the appearance quality of the product, such as severe air bubbles, paint leakage, scratches, corrosion, oil spots, peeling, stripes, color variations, spots, rolling marks, periodic imperfections, should have a burr thickness ≤0.04mm.
End face: the end face should be neat and tightly secured without loose layers. Misalignment should be ≤2mm, and the tower shape should be ≤5mm. The edges should be free from noticeable burrs.
Deviation in dimensions for 5052 5182 aluminum sheet coils for can lid
Thickness tolerance
| | |
| --- | --- |
| 5052 5182 aluminum sheet Strip thickness/mm | Thickness tolerance/mm |
| >0.220~0.300 | ±0.005 |
| >0.300 ~0.500 | ±0.008 |
Width tolerance
| | |
| --- | --- |
| 5052 5182 aluminum sheet Strip width/mm | Width tolerance/mm |
| ≤1000.0 | ±1.00 |
| >1000.0 | ±1.50 |
| ≤100.0 | ±0.20 |
| >100.0 | +1.5 |
Length tolerance
| | |
| --- | --- |
| 5052 5182 aluminum sheet Strip Length/mm | Length tolerance/mm |
| ≤2000 | +10 |
| >2000 | +20 |
Roughness
| | | |
| --- | --- | --- |
| Wave length/mm | Wave height corresponding to wave distance/mm | Number of waves allowed within any length of 1m |
| ≤500 | ≤4 | ≤3 |
| >500 | ≤6 | ≤3 |