Why choose Chalco Aluminum supplier?
As we all know, oil tank trucks are dangerous goods on the road, and the requirements for safety are very strict. In order to ensure that our products meet the safety requirements of the tank truck industry, we have passed the certification of the EN14286 standard (European standard for the safety of liquid transport tank trucks) and the ASTM B209 standard (the American aluminum plate industry standard).
Chalco cooperates with many well-known tank car manufacturers, including CIMC Lingyu, pt.geluran adikarya, almutlak, etc.

Chalco has a complete set of advanced material research and development, testing, and analysis instruments, which can provide high-quality aluminum plates that meet safety standards for the tank truck industry to ensure safety and reliability during transportation.
Specifications of 5052 aluminum tread checkered plate for oil tankerQuick Quote
Alloy
Temper
Pattern Type
Bottom Thickness
Muscle high
Width
Length
5052
H234
Lentil shape
2.0-4.0mm
1mm
1000-1600mm
2000-10000mm
O, H114
5 Bar
1.5-4.5mm
1mm
H234
3 Bar-1
1.5-4.5mm
1mm
O, H114
Compass Pattern
1.5-4.5mm
1mm
O, H234
4 Bar
2.0-4.0mm
1mm
O, H114, H194
3 Bar-2
1.0-4.5mm
0.3mm
H114, H234, H194
Crescent Pattern
1.0-4.0mm
0.7mm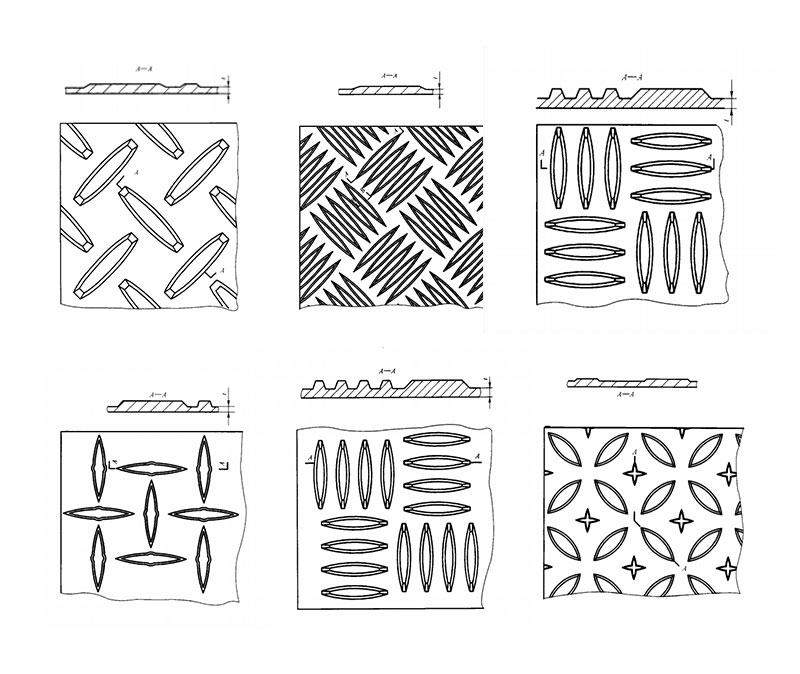 Chemical composition of 5052 aluminum tread checkered plate for oil tanker
| | |
| --- | --- |
| Element | Composition % |
| Si | 0.25 |
| Fe | 0.40 |
| Cu | 0.10 |
| Mn | 0.10 |
| Mg | 2.2-2.8 |
| Cr | 0.15-0.35 |
| Ni | - |
| Zn | 0.10 |
| Ti | - |
| Al | Remainder |
Mechanical properties of 5052 aluminum tread checkered plate for oil tanker
| | | | | |
| --- | --- | --- | --- | --- |
| Temper | Tensile Strength /MPa | Specified non-proportional Tensile Strength/MPa | Elongation After Break/% | Bending Factor |
| O | ≤150 | - | ≥14 | ≥3 |
| H114 | ≥180 | - | ≥3 | ≥3 |
| H194 | ≥195 | - | ≥3 | ≥8 |
Features of 5052 aluminum tread checkered plate for oil tanker
Equivalent names for 5052 Aluminum tread checkered plate are Aluminum diamond plate, Aluminum tread plate or aluminium floor plate, aluminum anti-slip plate and Aluminum checkered plate.
High strength: 5052 aluminum checkered plate has high strength, especially under cold working conditions. This makes the 5052 aluminum checker plate capable of withstanding certain loads and stresses, suitable for applications requiring certain strength, such as tank trucks.
Corrosion resistance: 5052 aluminum Tread Plate has good corrosion resistance, and has good resistance to many common corrosive media. This enables the 5052 aluminum checkered plate to withstand long-term use in harsh environmental conditions, resisting corrosion and oxidation.
Processing performance: 5052 aluminum Tread Plate is easy to process and form, suitable for cold working, pressure forming and bending operations. It can be made into the desired shape and size by cutting, stamping, bending and other processes.
Good surface quality: 5052 aluminum checkered plate has good surface quality, and its corrosion resistance and decorative effect can be enhanced through surface treatment and coating. At the same time, the pattern design of the 5052 aluminum pattern plate can provide additional anti-skid performance and increase safety.
Light weight: 5052 aluminum checker plate has a lower density, so the aluminum checker plate is relatively light, which can reduce the weight of the entire tanker and improve fuel economy and load capacity.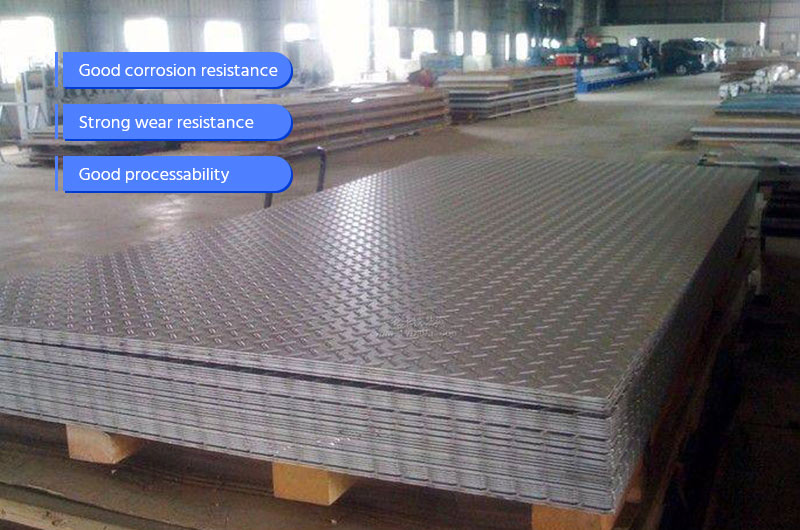 Application of Chalco 5052 aluminum tread checkered plate for oil tanker
Usually, the top walkway and door steps of the tank truck will use 5052 aluminum checkered plate, which can provide good anti-skid performance and decorative effect, especially suitable for areas that need to walk. Aluminum checker plates provide a safe, non-slip surface to keep operators stable when walking in wet or slippery conditions. In addition, due to the lighter weight of the aluminum alloy checkered plate, it also helps to reduce the overall weight of the tanker. Alternatively, Aluminum Tread Checkered Plate can also be used to make tool boxes to provide a lightweight and durable storage solution.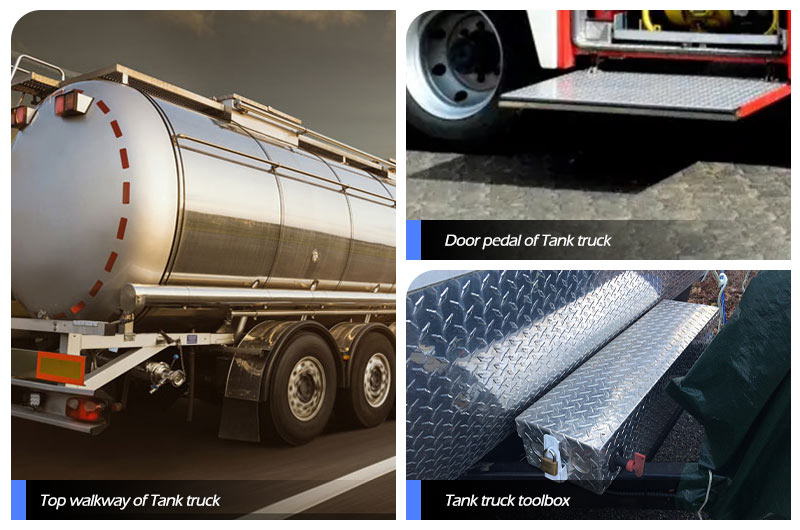 Precautions for purchasing 5052 aluminum tread checkered plate
Material and specification
Determine the required aluminum alloy material and specifications, including alloy type, thickness, width and length, etc. Different applications require different specifications of aluminum checkered plates, so make sure to choose the specifications that match your needs.
Pattern type
Chalco Aluminum Tread Checkered Plate has a variety of patterns to choose from, such as Compass Pattern aluminum plate, 1 Bar, 2 Bar, 3 Bar, 5 Bar Aluminium Tread Checkered Plate, lentil shape, Diamond shape, round bean shape anti-slip plate, etc. You can choose a suitable pattern type according to actual needs.
Surface treatment
The aluminum Tread Checkered sheet produced by Chalco can provide different surface treatments, such as anodizing, spraying, coating, etc. Appropriate surface treatment can be selected according to application requirements and aesthetic requirements.
Quality certification and supplier reputation
When purchasing aluminum checkered plates, make sure to choose a supplier with a good reputation and reliable quality certification. Chalco Aluminum can provide products that meet the standards, and provide corresponding technical support and after-sales service.
Check quality
Before purchasing, check the quality of the aluminum checkered plates, including surface flatness, pattern clarity, edge state, etc. Make sure there are no obvious defects, deformation or damage.
Packaging and shipping
Chalco has fully considered the way of packing and shipping the aluminum checkered plate to ensure that they will not be damaged during transportation.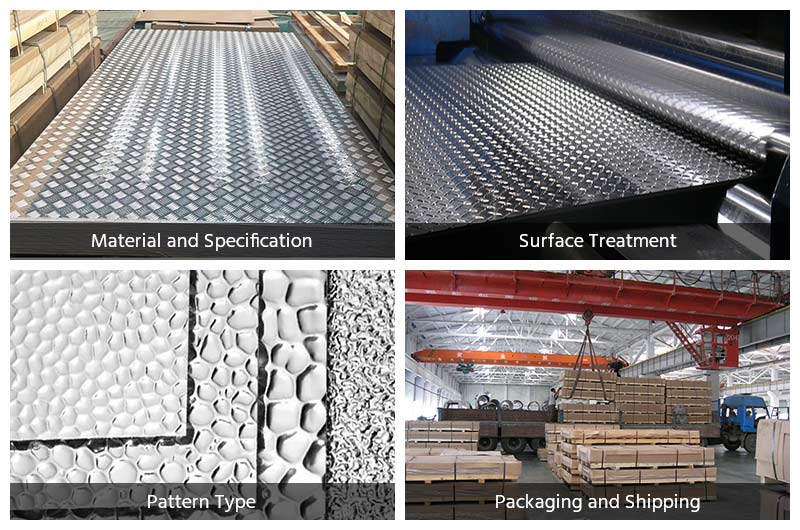 Permissible deviation of 5052 aluminum tread checkered plate for oil tanker
Bottom thickness
Bottom plate thickness tolerance
Width tolerance
Length tolerance
1.00-1.20
0-0.18
±5
±5
>1.20-1.60
0-0.22
>1.60-2.00
0-0.26
>2.00-2.50
0-0.30
>2.50-3.20
0-0.36
>3.20-4.00
0-0.42
>4.00-5.00
0-0.47
-
>5.00-8.00
0-0.52
| | |
| --- | --- |
| Nominal length | Diagonal length difference |
| ≤4000 | ≤10 |
| >4000-6000 | ≤11 |
| >6000 | ≤12 |