Aluminum alloy is widely used in tank cars, from tank bodies, partitions, outer walls, floors to internal structures, pipelines, and welding materials, aluminum alloy has multiple applications. Chalco provides a complete range of aluminum alloy products, including aluminum plates, profiles, and welding wires, providing an overall solution for oil tank truck projects. Product quality assurance, in accordance with GB/T 3880, GB/T 33881, EN485, EN14286, ASTM B209, and other standards.Welcome contact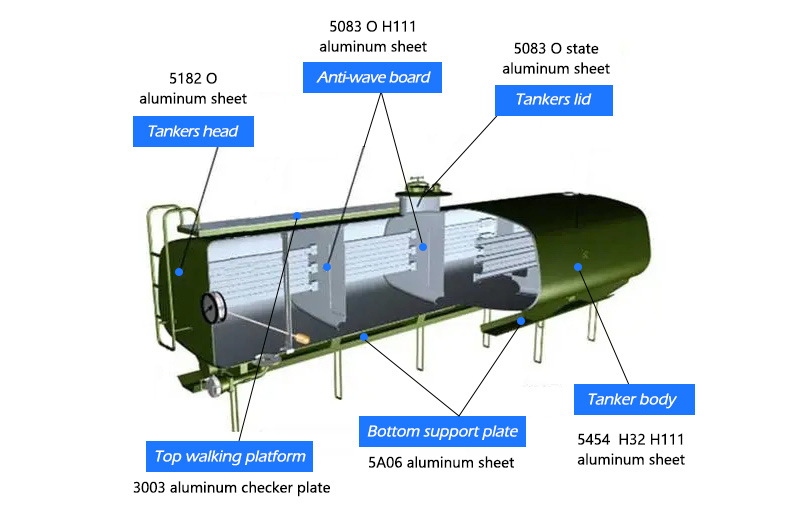 Specification of Chalco aluminum products for tank truck
| | |
| --- | --- |
| Alloy | 5083 5454 5182 3003 6061 6063 |
| Welding wire | ER5183 ER5356 |
| Aluminum plate thickness | 3-10mm |
| Aluminum plate width | 1000-2650mm |
| Aluminum plate length | 2000-16000mm |
| Aluminum profile product shape | L type, T type, round tube, triangular beam etc. |
| Surface treatment | Mill finish, bright mirror finish |
| Tanker material aluminum thickness | 6mm, 5mm |
| Bulkhead and baffle thickness | 7mm |
| Tanker shell thickness | 6mm & 5mm |
| Shape of tanker Ellips | double "d" |
| Manhole 20" aluminum alloy manhole cover | C801-560 |
Chalco aluminum plate for tank truck
Plate products are the most commonly used type of aluminum products in terms of tank truck, covering various parts such as car bodies, tank bodies, partitions, etc. Commonly used are 5000 series aluminum plate and treat checkered aluminum plates, mirror reflective aluminum plate, and ultra wide aluminum plates.
Aluminum alloy profiles for tank truck
The tank car mainly consists of a tank body, an aluminum alloy chassis assembly, a walking mechanism, a traction device assembly, a ladder, a fender, and accessories. 6000 series alloy is commonly used as extruded aluminum profiles in structural components such as pipes, protection, and beams on powder tank semi-trailers, with 6061 and 6063 materials being the most widely used.
6061 aluminum profile for tank truck

The tanker frame should use more extruded aluminum profiles, using aluminum magnesium alloy 6061 T6 extruded "T" profiles, such as 6061 material L-shaped beams, T-shaped beams, triangular beams, and other wing profiles. On the premise of ensuring the strength of the chassis assembly, the weight of the chassis has decreased by about 65%.

Welcome contact

6063 aluminum profile for tank truck

The chassis assembly is made of aluminum magnesium alloy 6063 T6 "T" profile, and mainly consists of intermediate crossbeam, T-shaped reinforced beam, longitudinal beam, traction device assembly, etc. The middle crossbeam, T-shaped reinforced beam, and longitudinal beam are all made of aluminum magnesium alloy.

Welcome contact
Aluminum welding wire rod for tank truck
There are many welding methods for aluminum alloy tank materials, and each method has its own different application scenarios. At present, the main welding methods for aluminum alloy lightweight vehicles include manual AC tungsten inert gas arc welding (TIG welding), automatic wire feeding double pulse AC tungsten inert gas arc welding (TIG welding), and automatic/semi-automatic consumable argon arc welding (automatic/semi-automatic MIG welding).
Brazing material

ER5183 and ER5356 welding wires are two commonly used welding wires for tank cars. Chalco Aluminum's welding wires can fully meet welding requirements and are commonly used to replace well-known welding wire brands, reducing production costs for customers.

Welcome contact
Chalco tank truck aluminum material parameter table
Element
Chemical composition (%)
5083
5454
5182
3003
6061
6063
Si
0.40
0.25
0.60
0.20
0.40-0.80
0.20-0.60
Fe
0.40
0.40
0.70
0.35
0.70
0.35
Cu
0.10
0.10
0.05-0.20
0.15
0.15-0.40
0.10
Mn
0.40-1.00
0.50-1.00
1.00-1.50
0.20-0.50
0.15
0.10
Mg
4.0-4.9
2.4-3.0
-
4.0-5.0
0.80-1.20
0.45-0.90
Cr
0.05-0.25
0.05-0.20
-
0.10
0.04-0.35
0.10
Ni
-
-
-
-
-
-
Zn
0.25
0.25
0.10
0.25
0.25
0.10
Ti
0.15
0.20
-
0.10
0.15
0.10
Al
Remainder
Remainder
Remainder
Remainder
Remainder
Remainder
Mechanical Property
Alloy
Temper
Tensile strength Rp0.2/MPa
Yield strength Rm/MPa
Elongation A50mm/%
5083
O/H111
290-370
≥145
≥17
5454
O/H111
215-285
≥85
≥19
5182
O/H111
280-350
≥125
≥26
3003
H14/H24
145-185
≥125
≥4
6061
T4
180
110
13
T5
240
205
7
T6
260
240
8
6063
T4
130
65
12
T5
160
110
5
T6
215
170
6
Why choose Chalco Aluminum as supplier of tank truck?
Chalco SMS rolling mill can produce flat and sharp large width aluminum plates, with a maximum width of 2650mm. It can also provide different surface treatments such as embossing, patterning, polishing, and mirror surface;
Chalco has a variety of tank car extrusion molds to choose from, which can produce and manufacture aluminum profiles according to customer requirements, and has the ability to open molds, which can save costs for customers;
Chalco can be used for different welding methods, such as TIG, MIG, FSW, EBW, etc., providing tank car welding solutions for large and small orders;
Chalco is the ideal aluminum supplier for tank trucks, providing customers with one-stop solutions in alloys, products, surface treatment, CNC processing, and other aspects.
Tips for purchasing and using aluminum plates for tank trucks
1. Welding is very important for the manufacturing of tank cars. How to avoid welding failure?
Welding failure may lead to leaks and structural issues. Problems such as incomplete penetration, porosity, and improper welding techniques may damage the integrity of the storage tank. Choosing the correct welding material is the primary condition for successful welding. Chalco ER5183 and ER5356 can fully meet the welding requirements and have a price advantage, reducing production costs for customers.
2. How to minimize the problem of tank body corrosion in tank trucks?
Tank trucks are usually used to transport goods such as oil, gas, and hazardous chemicals, so they have high requirements for corrosion resistance. When selecting aluminum plates, manufacturers should not only pay attention to selecting 5000 series corrosion-resistant alloys, but also choose partners with quality requirements that meet the standards, in order to strive for long-term cooperation and avoid unnecessary losses caused by substandard quality.
3. How to avoid cracking of aluminum plates during the production of tank cars?
Due to the special nature of transporting goods, tank trucks must avoid problems such as tank body cracks. This requires aluminum plates to have strong resistance to stress cracking. The Chalco cold rolling project adopts a German Simark six high cold rolling mill, which eliminates internal stress and does not deform during cutting, effectively avoiding cracking issues.
4. Why do tank car manufacturers increasingly favor using aluminum plates as the production material for tank cars?
With the demand for lightweight vehicle bodies and the requirements for corrosion resistance, weldability, heat dissipation, and surface treatment methods of tank car body materials, aluminum alloys are increasingly used in the field of tank car manufacturing, greatly reducing fuel utilization. And aluminum, as a recyclable material, can be used in tank cars using aluminum products, which can effectively save energy and protect the environment.
5. Need welding and CNC processing?
Welding, deep-draw, stamping, and rolling forming are all important steps in the production and processing of aluminum plates. Chalco not only provides tank car aluminum plates, but also provides additional services such as welding, cutting, and CNC processing, providing overall solutions for customer projects.
Chalco can provide you the most comprehensive inventory of aluminum products and can also supply you customized products. Precise quotation will be provided within 24 hours.
Get a quote