The 2139 2195 2060 Aluminum Armor Plate produced by Chalco is a material with high strength, light weight and excellent protective performance to provide excellent protective performance against impact, explosion and shrapnel threats. They are used in military, civil security and industrial fields It is widely used to protect the safety of personnel, property and equipment.
The aluminum alloy armor plates and bulletproof plates produced by CHALCO are supplied to world-renowned military equipment manufacturers such as SUKROBORONPROM, ASELSAN HEAVY INDUSTRIES TAXILA, Raytheon Company, and SF Engineering.

2139 2195 2060 aluminium armor plate specification
| | |
| --- | --- |
| Aluminum alloy | 2139 2195 2060 |
| Temper | Type A /Type B |
| Production standards | MIL-DTL-32341A (MR) |
| Thickness (mm) | 0.50 to 2.50 inch, 0.50 to 40 inch |
| Width (mm) | ≤100 inch |
| Length (mm) | ≤236 inch |
| Remark | The above specifications are for reference, special specifications can be customized |
Aluminium armor plate chemical composition
ELEMENTS
ALLOYS 2/
Class I 2139 alloy
Class II 2195 alloy
Class III 2060 alloy
Silicon
0.10
0.12
0.07
Iron
0.15
0.15
0.07
Copper
4.5-5.5
3.7-4.3
3.4-4.5
Manganese
0.2-0.6
0.25
0.10-0.50
Magnesium
0.2-0.8
0.25-0.8
0.60-1.1
Chromium
0.05
N/A
N/A
Zinc
0.25
0.25
0.30-0.50
Titanium
0.15
0.1
0.10
Zirconium
N/A
0.08 - 0.16
0.05-0.15
Vanadium
0.05
N/A
N/A
Lithium
N/A
0.8-1.2
0.60-0.90
Silver
0.15-0.6
0.25-0.6
0.05-0.50
Other, max. Each
0.05
0.05
0.05
Other, max. Total 3/
0.15
0.15
0.15
Aluminum
Remainder
Remainder
Remainder
2139 Class II aluminium srmor plate minimum mechanical properties
Thickness, inches
Tensile Strength, ksi
Yield Strength, 0.2% Offset, ksi
Elongation percent
Type A
Type B
Type A
Type B
Type A
Type B
0.500 to 300, incl.
67
62
64
53
9
10
3 to 4, incl.
67
N/A
64
N/A
9
N/A
2195 2060 Class I aluminium armor plate minimum mechanical properties
Thickness, inches
Tensile Strength, ksi
Yield Strength, 0.2% Offset, ksi
Elongation percent
Class II
Class III
Class II
Class III
Class II
Class III
0.500 to 2.5 incl.
71
73
63
70
9
7
Aluminium armor plate thickness tolerances
Ordered Thickness (Inches)
SPECIFIED WIDTH (Inches)
OVER
0.00
39.38
59.07
78.75
98.44
118.12
137.81
157.49
THRU
39.37
59.06
78.74
98.43
118.11
137.80
157.48
177.17
OVER
THRU
TOLERANCES - INCHES (PLUS and MINUS)
0.500
1.000
0.031
0.031
0.037
0.043
0.051
0.060
0.070
0.085
1.001
1.575
0.039
0.039
0.047
0.055
0.065
0.075
0.090
0.105
1.576
2.362
0.055
0.055
0.060
0.070
0.085
0.100
0.115
-
2.363
3.000
0.075
0.075
0.085
0.100
0.105
0.125
-
-
3.000
4.000
0.090
0.090
0.105
0.110
0.125
-
-
-
2139 2195 2060 unweldable applique aluminium armor plate application
Military applications: these armor plates are widely used in military equipment such as military vehicles, tanks, fighter jets, helicopters and warships. They provide ballistic, blast and impact resistance, protecting vehicles and personnel from enemy fire and threats.
Aerospace field: aluminum alloy armor plates are also widely used in the aerospace field. They can be used in the structures and housings of aircraft and drones, providing lightweight protection and helping to improve the maneuverability and fuel efficiency of aircraft.
Automotive industry: these armor plates are used in the automotive industry to make ballistic and impact resistant armored vehicles. For example, vehicles intended for military, police or specialty use may incorporate these armor plates for additional safety protection.
Ships and marine engineering: aluminum alloy armor plates can be used for protection requirements in ships and marine engineering. They can be used in the manufacture of ship hull structures, decks and portholes, providing protection from sea impacts and external threats.
Personal protection: these armor plates are also used in personal protective equipment such as bulletproof vests, helmets and armor. They can provide protection for body parts and reduce injuries to personnel from impacts and external forces.
Industrial safety: in some industrial environments, aluminum alloy armor plates can also be used to protect equipment, pipelines and structures to prevent accidents or external shocks from damaging facilities.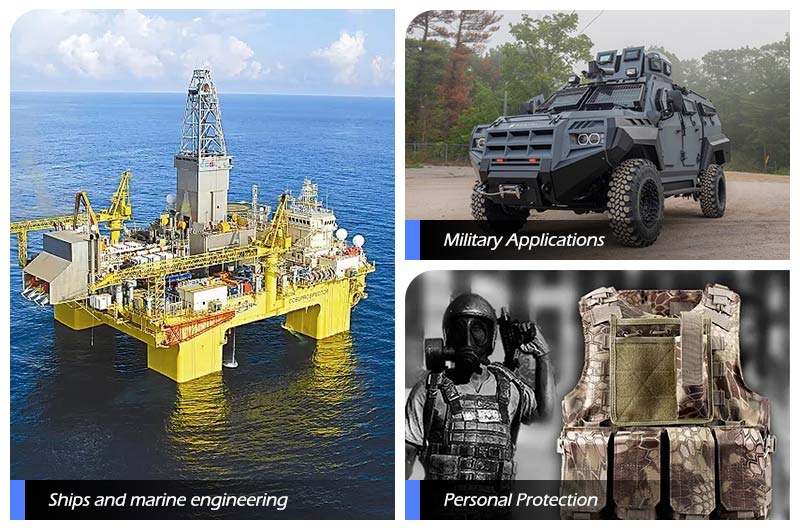 2139 2195 2060 unweldable applique aluminium armor plate advantage
High strength: aluminum alloys such as 2139, 2195, and 2060 have excellent strength properties that make them excellent in dealing with impacts and external forces. These alloys provide excellent protection against impact from shrapnel, explosions and other threats.
Lightweight: aluminum alloys are relatively lightweight materials, and they have a higher strength-to-weight ratio than other common armor materials such as steel. This means that armor plates manufactured using these alloys can provide the same or better protection while reducing the overall weight burden. Useful for applications such as aerospace and vehicles that require increased mobility and fuel efficiency.
Corrosion resistance: aluminum alloys have excellent corrosion resistance, especially against oxidation and corrosion. This allows these armor plates to maintain their performance in a wide range of environmental conditions and extend their service life.
Machinability: although the alloys mentioned in the name are sometimes referred to as "non-weldable", they otherwise have good machinability. They can be easily cut, punched, bent and formed to suit a variety of applications.
Heat resistance: aluminum alloys generally have better thermal conductivity and heat dissipation properties, which allows them to better maintain their structure and performance in the face of high temperature environments. This is critical for armor protection against situations such as fire and high-temperature explosions.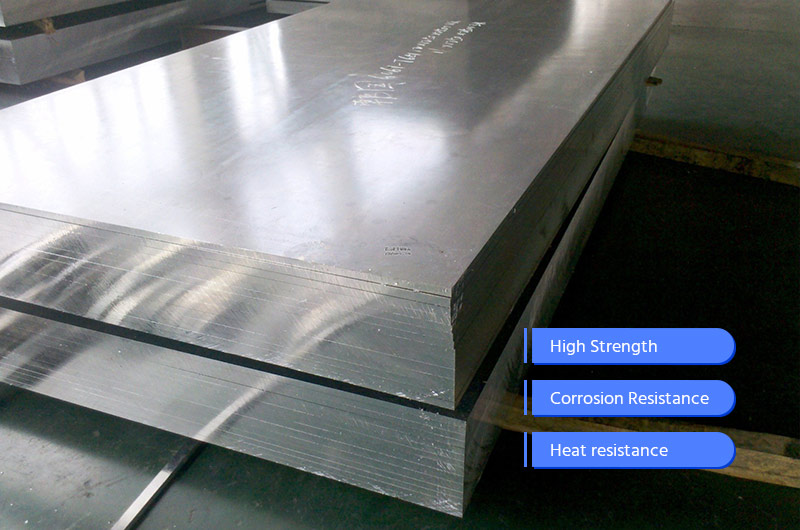 Precautions for purchasing 2139 2195 2060 aluminum armor plate
Determination of requirements: clarify your specific needs and uses, including the size, thickness, quantity and performance requirements of armor plates, etc. This helps determine the correct size and model.
Quality certification: make sure that the purchased armor plate meets the appropriate quality certification standards, such as military standards, international standards or industry standards. This ensures the quality and reliability of the armor plate.
Reliable supplier: choose a reputable and experienced supplier or manufacturer. They should have a good reputation and reliable delivery ability, be able to provide high-quality products and timely services.
Material testing: find out whether the supplier provides relevant material testing reports, such as chemical composition analysis, mechanical performance testing, and protective performance testing. This helps to verify the performance and quality of the armor plate.
Customization options: if you have special needs, such as custom size, shape or surface treatment, etc., please discuss the feasibility and customization options with the supplier.
Price and delivery time: compare the price and delivery time with different suppliers. Consider the justification for the price and make sure that the supplier will deliver the required number of armor plates on time.
Ask for references: if possible, ask the supplier for information on reference customers or projects for the quality and satisfaction of the armor plates they have delivered in the past.
Logistics and packaging: make sure to negotiate logistics and packaging arrangements with suppliers to ensure that the armor plate is not damaged during transportation and can reach the destination on time.