8011 aluminum foil has a clean, hygienic and shiny appearance. As a packaging foil, it plays the role of moisture-proof, moisture-proof and gas-proof, and also becomes a common material for fine candy wrapping because it has an elegant silver-white luster and is easy to process with beautiful patterns and designs in various colors.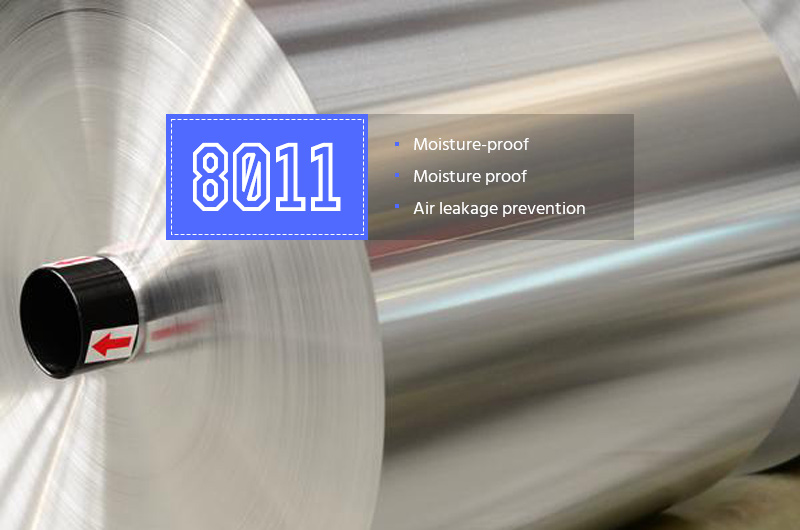 Parameters of 8011 aluminum foil for candy wrapping
| | |
| --- | --- |
| Alloy | 8011 |
| Temper | F, O, H14, H16, H18, H19, H22, H24, H26, H28 |
| Thickness | 0.007-0.2mm |
| Width | 100-1600mm |
| Outer diameter of coil | 300-800mm, or customized |
| Standard | JIS, DIN, BS, ASTM, SAE, etc. |
| Product usage | candy packing |
| Test certificates | according to EN 10204 3.1, third party inspection, buyer's inspection, factory certificate |
| | |
| --- | --- |
| Element | Composition(%) |
| Si | 0.50-0.9 |
| Fe | 0.6-1.0 |
| Cu | 0.10 |
| Mn | 0.20 |
| Mg | 0.05 |
| Cr | 0.05 |
| Zn | 0.10 |
| Ti | 0.08 |
| Other | 0.20 |
| Al | Remainder |
The benefits of 8011 aluminum foil for candy wrapping
Stable condition and high protection condition
8011 aluminum foil does not rise and shrink when the temperature is -73 to 371°C, and as an opaque packaging material, the reflection rate of 8011 aluminum foil can reach 95%, so it has a good protection for the products exposed to sunlight, which ensures that the candy is not easy to change the product form during the storage process because of the change of temperature and light, and there is no grease penetration.
8011 aluminum foil has the characteristics of moisture-proof, impermeable, fragrance preservation, moisture barrier and oxygen barrier, which can prevent moisture absorption, oxidation and volatile deterioration of the packaging contents. As the wrapped items are fully isolated from external light, moisture and gas, the packaging is not easily attacked by bacteria, fungi and insects, so that the packaging is well protected.
Lightweight and malleable
8011 aluminum foil is a soft metal film, relatively light weight, the specific gravity is only one third of iron, copper, etc., thin thickness, small weight per unit area. Due to its thinness, plasticity, and good extensibility, it avoids the disadvantage of easy springback when twisted. This characteristic determines that 8011 aluminum foil can be used to package various shapes of products, and can also be manufactured into various shapes of candy boxes and bags at will.
Tasteless, odorless, non-toxic, high security
8011 aluminum foil is a non-toxic packaging material, it can be in direct contact with food without any health hazards, and because it is tasteless and odorless, it will not cause any odor to the packaged food. Moreover, 8011 aluminum foil itself is not volatile, and it will not dry out or shrink itself or the packaged food. Moreover, the surface of 8011 aluminum foil is extremely clean and hygienic, so that no bacteria or microorganisms can grow on its surface, fully guaranteeing the safety of the candy inside the package.
Good surface printing effects
Not only does 8011 aluminum foil have an elegant silvery-white luster and is easy to process with beautiful patterns and designs in a variety of colors, but its good printability also determines the versatility of 8011 aluminum foil as packaging.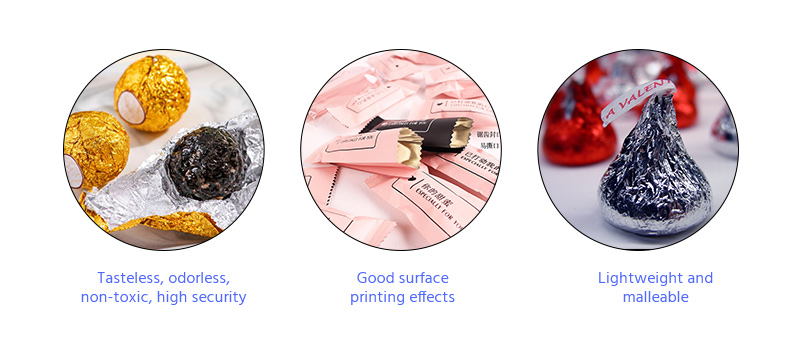 Production process of 8011 aluminum foil for candy wrapping
hot rolling/cast rolling smelting→composition adjustment→stationary furnace refining→online degassing→adding grain refiner→filtering→cast rolling→cold rolling→heat treatment in middle thickness→aluminum foil rolling→double rolling→finished product slitting→finished product heat treatment→check the package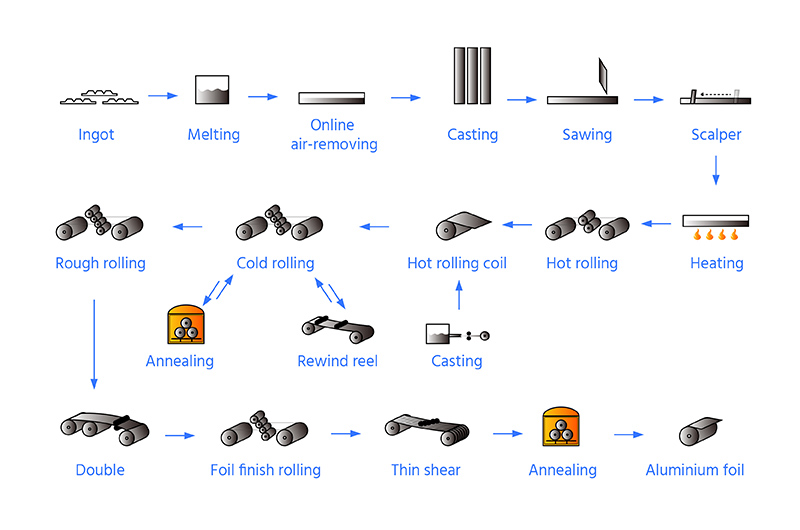 Price composition of 8011 aluminum foil for candy wrapping
The market price of 8011 aluminum foil is not fixed. Not only does the price quoted vary from manufacturer to manufacturer, but it also varies from period to period, which is mainly related to the price of raw material ingots and the processing fee of each manufacturer. When asking for a specific quote, you need to provide the state, thickness, width and dosage of the product so that the manufacturer can account for an accurate quote. In general, the price of 8011 aluminum foil for candy wrapping is composed of the following two sections:
FOB price of aluminum foil on beer bottles = SMM A00 aluminum ingot price on the day of inquiry + processing fee / exchange rate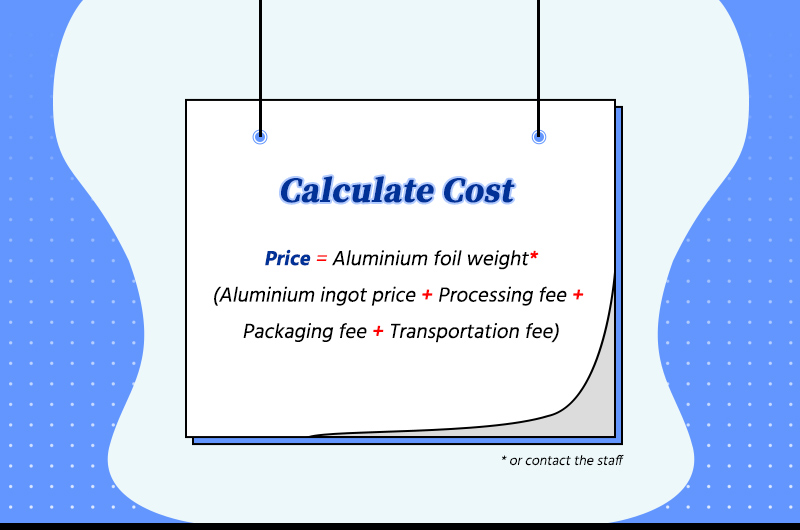 Notes:
Aluminum ingot price is SMM A00 aluminum ingot price
FOB price can be US dollar price, Euro price, or Renminbi price, according to customer requirements.
Two other forms of 8011 aluminum foil for candy wrapping
There are two other forms of candy wrapping, one is aluminum-plastic composite or aluminum-paper composite packaging, and another is the use of aluminum-plated film.
The development of 8011 aluminum foil packaging is closely related to the progress of material compounding technology. The composite material is divided into grass-roots level, functional layer and heat seal layer; grass-roots level mainly plays the role of beauty, printing and moisture barrier; functional layer mainly plays the role of barrier and light avoidance; heat seal layer is in direct contact with the packaging items and plays the function of adaptability, permeability resistance and heat sealability. With the development of base material and compound technology, the function of 8011 aluminum foil packaging will be improved continuously.