Cooking foil bags seem to be all the rage, we're seeing them all over Pinterest and Facebook, and from lemon salmon to breakfast potatoes with cheese, meals are made easy when you create foil bag recipes.
Just assemble, pack, cook, and you're done. So now is the time to create your very own cooking foil bags recipe.
Poblano-potato bundles
Preheat grill to medium heat. Place the potatoes, onions and poblanos in a large bowl and add the melted butter, heavy cream, paprika, granulated garlic, parsley, salt and a generous grind of pepper.
Place potato mixture into Chalco's Cooking Foil Bag, stacking in center. Seal the edges of the Cooking Foil Bag tightly. Grill, moving, and turning the potato packets frequently to ensure they are evenly heated, until the potatoes are tender, about 25 minutes. The effect of adding meat flavor is more obvious.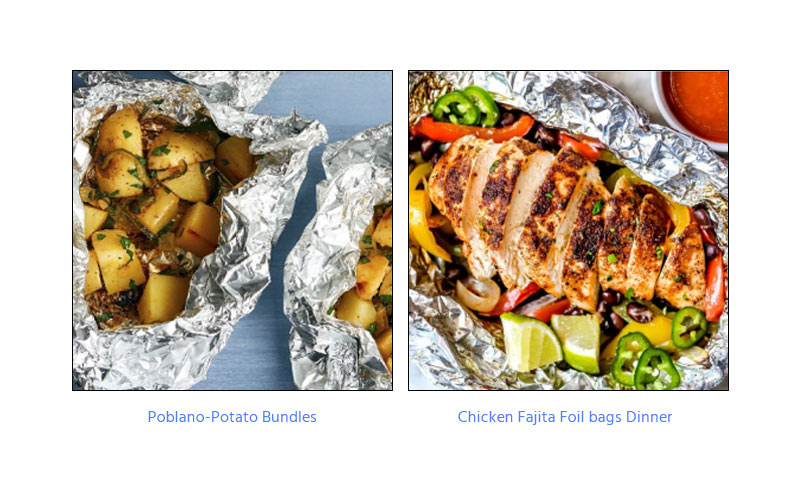 Chicken fajita foil bags dinner
Prepare a grill for medium-high heat or set the oven temperature to 400°F.
In a small bowl, combine chili powder, cumin, garlic powder, coriander powder, paprika, kosher salt, and freshly ground black pepper. Sprinkle half of the seasoning on both sides of the chicken breasts and set aside.
In a large bowl, add chopped vegetables and drained black beans. Stir in remaining seasonings. Set aside.
Place ⅓ of seasoned vegetables in Foil bags and top with seasoned chicken breasts. Sprinkle the chicken breasts with more paprika for extra color, if desired. Make the edges of the Foil bags tightly sealed.
Place Chalco's foil bags vegetable side down, cover and cook for 5 minutes, then seam side down and cook for another 20 minutes or until chicken is cooked through. Let wrapper sit for 5 minutes, then serve with lime wedges and jalapenos, if desired.
Cajun shrimp boil foil bags
In a large bowl, combine shrimp, sausage, zucchini, potatoes and corn. Add melted butter, Cajun seasoning, and seafood seasoning. Stir to combine. To Chalco's foil bags, preheat your outdoor grill to medium-high heat. While baking, preheat oven to 400 degrees Fahrenheit.
Place the foil bags on the counter. Stack the shrimp and sausage mixture in the center, distributing it evenly between the foil bags. Fold the edges over to seal, leaving some space inside the package for air to circulate.
Place the bag on the grill and close the lid. Grill 10 minutes first side, then flip and cook another 5 minutes, until shrimp are cooked through and vegetables are tender. While baking, place foil bags on a rimmed baking sheet. Bake for 15 to 20 minutes. Carefully open the foil bags. Serve hot sprinkled with parsley and lemon wedges.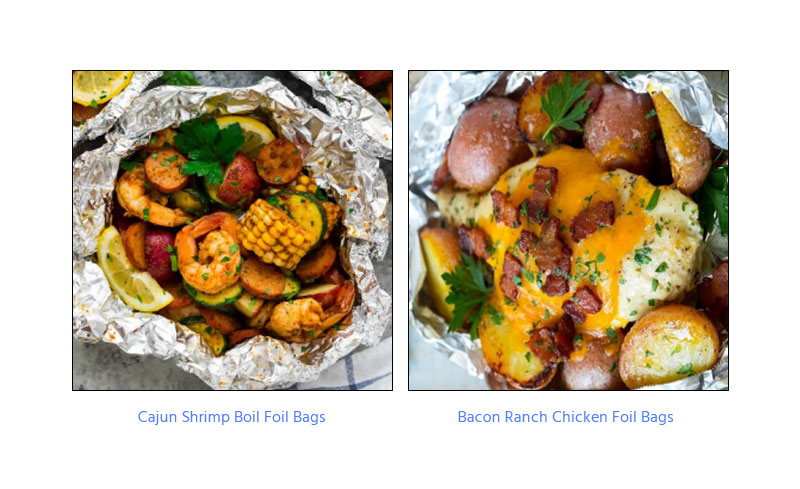 Bacon ranch chicken foil bags
Preheat oven to 425 degrees, or preheat grill over medium-high heat. In a small bowl, whisk together butter, ranch seasoning, salt, and pepper. Place potatoes in a bowl and drizzle 4 tablespoons ranch butter over top. Mix well.
Place chicken breasts in Chalco's foil bags and season with salt and pepper. Evenly distribute the potatoes inside and arrange them around the chicken. Drizzle remaining 2 tablespoons butter over chicken breasts. Seal the foil bags, leaving a small opening.
Bake for 45 minutes or grill for 30 minutes. Unwrap and sprinkle cheese over chicken and potatoes. Unwrap and return to oven or grill for 2-3 minutes or until cheese is melted. Sprinkle with bacon and parsley and serve.
Maple-glazed salmon
Pat each side of the salmon with paper towels to remove excess water, then season with salt and pepper. Stir together the remaining spices and set aside. Place the salmon in the center of the Chalco's foil bag so it can be folded while baking. Sprinkle the seasoning over the salmon, making sure to pat it in.
Spoon maple glaze onto top of salmon. Bake for about 14-15 minutes or until salmon is almost cooked through. Remove salmon from oven.
Change the setting to grill, open the foil bags and place the salmon under the broiler for about 2 minutes or until golden brown, then remove from the oven.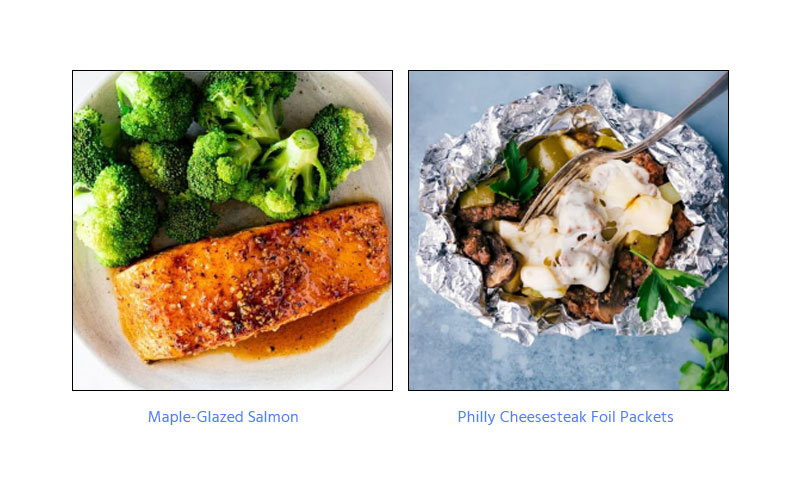 Philly cheesesteak foil packets
If using a grill: Preheat to 525-550 degrees Fahrenheit. If using an oven, preheat to 400°F.
Scrub the potatoes clean and dry - Yukon golds don't need to be peeled. Cut potatoes into bite-sized 1/2-inch pieces. Cut bell peppers into bite-sized 1-inch pieces (discard seeds and ribs). Finely dice the yellow onion. Cut the mushrooms into thin slices. Place all these vegetables in a large bowl and add 3 tablespoons of olive oil, salt and pepper (I added 1/2 teaspoon salt and 1/4 teaspoon pepper). Toss to completely coat all vegetables, then distribute mixture evenly among foil bags.
Add a pound of ground beef to the same bowl you used for the veggies (for less!). Add 1 tablespoon Worcestershire sauce, 2 tablespoons ketchup, 1/2 teaspoon chili powder, 1/2 teaspoon onion powder, 1/2 teaspoon garlic powder, 1/4 teaspoon cayenne pepper, 1-1/2 teaspoon Italian seasoning, Salt and pepper (go and taste it). I add 1/2 tsp salt and pepper; add to personal preference. Knead the ingredients together with your hands until combined.
Coarsely mince meat over vegetables in Chalco's foil bags. Seal the foil package completely (if not completely sealed, it will leak when turned over), making sure there is some room for air circulation in the foil bags. Place the foil bags in the middle of the grill and cook on high for 10 minutes. Flip foil bags and cook for an additional 5-10 minutes or until vegetables are tender. My 525 degree grill takes exactly 15 minutes. Our favorites are on the grill or campfire, but they can be baked too.
Remove foil bags from heat and carefully unpack (watch out for the release of steam). Immediately place 1 and 1/2 slices of Provolone cheese on top, then return the foil bags to the heat for a few minutes to let the cheese melt on top (30 seconds to 1 minute in the oven, 1-2 minutes in a closed hot grill minutes, then let it melt on its own for campfire cooking (do not put it back on the fire). Enjoy immediately!
Zucchini parmesan foil bags
Preheat a gas or charcoal grill on high heat. Toss together butter, Parmesan, basil, and oregano; season with salt and pepper.
Arrange zucchini on Chalco's foil bags. Spoon butter mixture over zucchini. Lift the sides of the foil. Fold the top and ends in half to seal the package, leaving room for heat to circulate inside. Place the foil bags on the grill and cook for about 15-20 minutes, until cooked through.
Serve immediately, garnish with red pepper flakes and parsley if desired.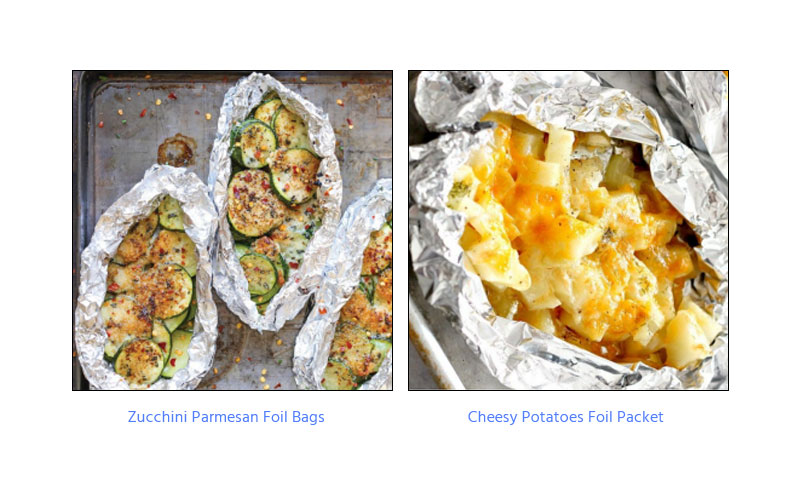 Cheesy potatoes foil packet
Place potatoes in Chalco's foil bags. Add a tablespoon of diced onion. Put a tablespoon of butter over the potatoes and drizzle with a tablespoon of olive oil. Season the potatoes with salt and pepper. Close the foil bags. But make sure to leave enough room for the steam.
Place foil bags on large baking sheet. If baking in oven: Preheat to 375°F. Place the baking sheet in the oven and bake for 18 to 20 minutes. Carefully open the pocket to allow the steam to escape. Check to see if the potatoes are soft. Sprinkle with shredded cheese, evenly distributed over all pockets. Flatten the sides of the foil bags, then return the foil bags to the oven to melt the cheese. You can heat for 2 minutes if desired.
Start eating, be careful to burn your mouth.
Italian sausage and veggies foil packet
If using an oven; preheat oven to 425°F (218°C). If grilling, prepare grill by heating to medium-high heat (450°F; 232°C).
Wash the vegetables and dry them. Cut sausage into 1/2-inch thick slices. Cut baby sweet potatoes into 1-inch pieces (no need to peel). Dice the onion and mushrooms. Remove stems and seeds from bell peppers and slice thinly. Cut long pieces in half lengthwise. Finely chop the garlic.
Place sausage, vegetables, and garlic in a large bowl. Add the olive oil and all the seasonings (basil, oregano, parsley, onion powder, thyme, red pepper flakes if you like it spicier), salt and pepper (I added 1/2 teaspoon salt and 1/4 teaspoon pepper powder; add according to preference). Stir gently until well combined.
Distribute mixture evenly among prepared Chalco's foil bags. Seal the foil bags tightly so no air can escape but still have room for steam to circulate.
Bake for 30-40 minutes (30 minutes for veggies to be crispy; 35 minutes was perfect for us; 40 minutes for very tender veggies).
Carefully open the foil bags and wait for the steam to release. Garnish with fresh chopped parsley, any additional salt/pepper, and freshly grated Parmesan cheese, if desired.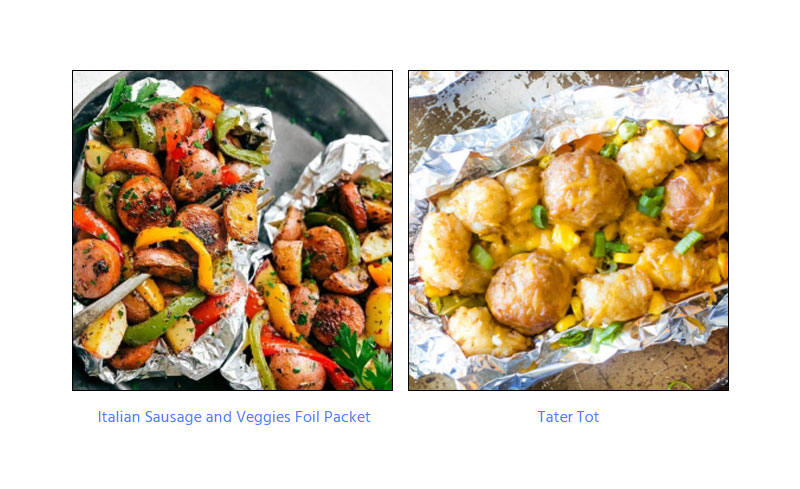 Tater tot
Preheat your grill or oven to 350 degrees or prepare a campfire. Mix all ingredients together in a bowl.
Pack the mixture into Chalco's foil bags. Then crimp the edges closed. But please leave a small opening for the steam to escape.
Place foil bags directly on the grill or pan in the oven and cook for 30 minutes or until everything is heated through. You can also cook these over a campfire on the grate. Serve immediately.
Baked tilapia foil bags
Preheat oven to 400F (or preheat grill to medium).
Place each tilapia fillet on a piece of foil large enough to fold over and wrap tightly. Season each fillet with salt and pepper.
Sprinkle the garlic over the tilapia fillets, then top with the butter and lemon slices. Add asparagus and tomatoes to Chalco's foil bags, then pack tightly. Place foil bags on the grill or on a baking sheet in the oven. Bake 10 minutes or until the tilapia is cooked through and flakes easily with a fork.
Remove and serve on a plate.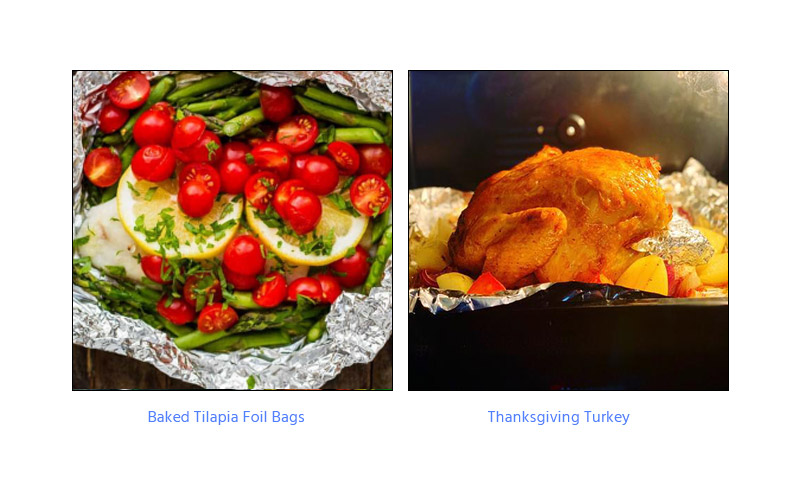 Thanksgiving turkey
First, stuff the bell peppers, onions, and garlic inside the turkey. Season the bird by combining spices like onion powder, garlic, rosemary, pepper, salt, and herbs to make a paste, and add some olive oil and lime juice. Take this paste and spread it on and inside the skin of the turkey and add some butter cubes between the skin and the meat.
Place the turkey in Chalco's foil bags, then place in a preheated 500° F oven and cook for about 15 minutes to get all the skin crispy.
Reduce the oven temperature to 350° F and cook the bird for about an hour and a half or more, depending on the size of the bird. When done, remove the bird and let rest for at least 15 minutes before cutting into it.
Grilled pizza bread
Scoop out the middle of the two loaf halves to form shallow boats. Spread each half with pizza sauce and top with mozzarella cheese, pepperoni, black olives, red onion, green pepper, and red pepper flakes.
Wrap the bread loosely in Chalco's foil bags, place over a campfire (or on a hot grill), and cook until the cheese is melted and the crust is toasted, 10 to 15 minutes.
Take your time and chill for about 10 minutes until sliced.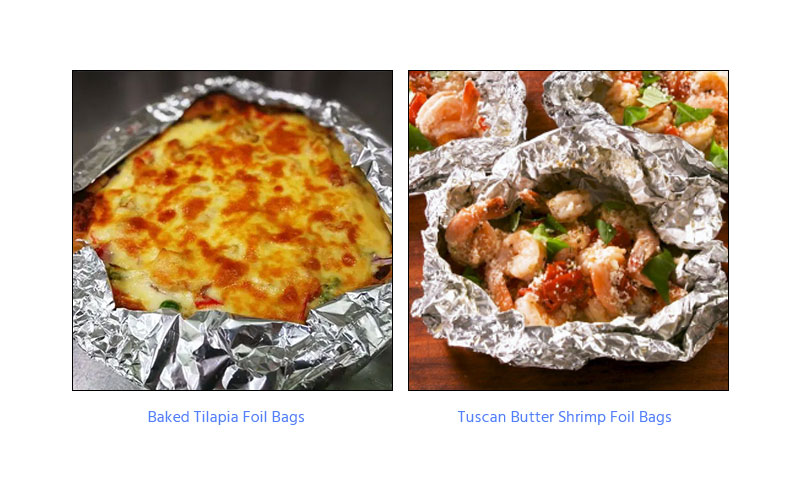 Tuscan butter shrimp foil bags
Preheat grill to medium-high. In a large bowl, toss together shrimp, tomatoes, melted butter, garlic, and Italian seasoning. Season with salt, pepper and a pinch of red pepper flakes.
Pour about 1 tablespoon of cream over the Chalco's foil bags and top with Parmesan. Fold the foil packet crosswise to completely cover the shrimp, then roll up the sides to seal the packet.
Place the foil bags on the grill and cook for 10 minutes, until the shrimp are cooked through and the tomatoes are just starting to pop.
Sprinkle more Parmesan cheese and basil on top before serving.
Berry crisp foil bags
Preheat grill to high. In a large bowl, whisk berries, lemon juice, and 1 tablespoon brown sugar until combined. Set aside.
In another bowl, whisk together oats, flour, pecans, butter, remaining brown sugar, cinnamon, and salt until combined and crumbs form.
Spread half of the berries on the foil, then top with half of the crumble mixture. repeat.
Fold the Chalco's foil bag and seal.
Grill for 15 to 20 minutes, until berries are bubbling and oat mixture is cooked.
Cool slightly, then top with vanilla ice cream and serve.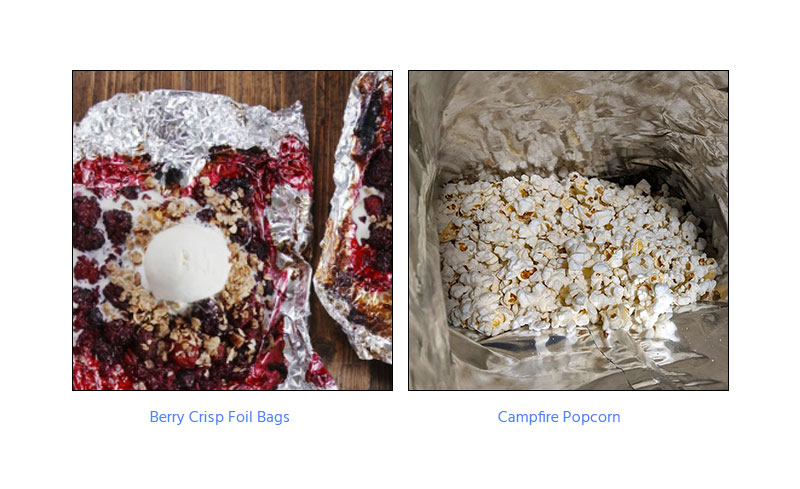 Campfire popcorn
Place popcorn kernels and vegetable oil in thick foil bags. Leave enough space for the kernels to pop and place on the campfire. This step is more dangerous, please pay attention to safety. If you have no experience, it is recommended not to try it.
Wait quietly, you can stay away a little, until it doesn't burst anymore. Season with garlic powder and salt.
On a rainy day, it's wonderful to lie in a tent in the wild and enjoy popcorn and the sound of rain.