Why choose Chalco marine grade aluminum 5454?
Classification society certification
With CCS, DNV, NK, CCS, ABS, BV, LR, KR and other classification society certification, quality fully in line with the world Marine grade standards.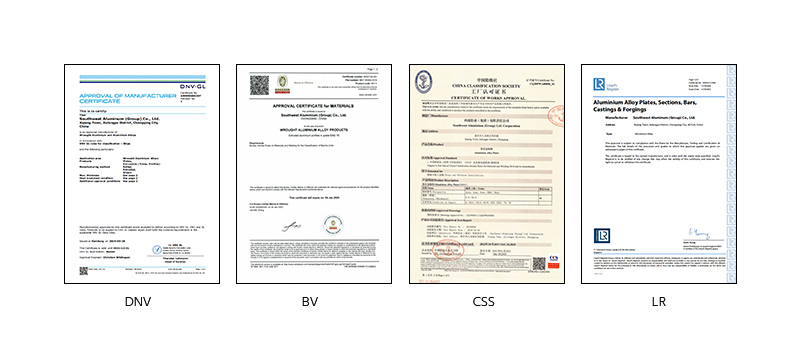 Production standard
ASTM B928/B928M-15
ASTM B928/B928M-21
ISO 12215-5:2019
Authentication
Chalco products are manufactured in our advanced factories using strict quality and environmental management systems, and have passed ISO 9001 and ISO 14001 certifications.
Production strength
Production and management comply with the international Marine quality system to ensure the best quality of super corrosion resistance, good welding performance, strong impact resistance.
The specification of 5454 marine grade aluminum sheet
| | |
| --- | --- |
| Alloy | 5454 |
| Temper | O, H111, H22, H32, H112 |
| Thickness | 5454 marine grade aluminum sheet: 1.0-6mm 5454 marine grade aluminum plate: 6.0-50mm |
| Normal dimension | 1250 × 2500mm, 1500mm×3000mm, 2000mm×8000mm |
| Standard | ASTM B928/B928M-15 ASTM B928/B928M-21 ISO 12215-5:2019 |
Chemical composition of 5454 marine grade aluminum plate
Element
Composition %
Al
Rem
Si
≤0.25
Fe
0.000-0.400
Cu
≤0.10
Mn
0.50-1.0
Mg
2.4-3.0
Cr
0.05-0.20
Ti
≤0.20
Zn
≤0.25
Note:Each:≤0.05;Total:≤0.15
Mechanical properties of 5454 aluminium grade for marine use
Alloy
Temper
Sample temper
Thickness mm
Tensile strength RmMPa
Extension strength RP0.2/Mpa
Elongation %
A50 mm
A
5454
O
O
3.00-6.00
215-285
≥85
≥17
>6.00-12.50
215-285
≥85
≥18
>12.50-50.00
215-285
≥85
-
H111
H111
3.00-6.00
215-285
≥85
≥17
>6.00-12.50
215-285
≥85
≥18
>12.50-50.00
215-285
≥85
-
H22, H32
H22, H32
3.00-6.00
250-305
≥180
≥8
H112
H112
6.00-50.00
≥220
≥125
≥8
Advantages of Chalco 5454 aluminum marine plate
Corrosion resistance: 5454 ship plate has excellent corrosion resistance, especially suitable for use in the Marine environment. Aluminum alloy has the characteristic of self-protection, forming a layer of dense oxide film on the surface, which can effectively prevent further corrosion and prolong the service life of the ship plate.
High strength: 5454 marine ship plate has high strength, can withstand the stress and pressure of the ship in navigation and harsh sea conditions. It has a better strength-to-weight ratio than some traditional ship plate materials, such as steel plate, which can reduce the weight of the hull and improve the load capacity and fuel efficiency of the ship.
Good machinability: 5454 marine ship sheet has good machinability, can carry out a variety of processing and forming operations, such as bending, cutting, welding, etc. This allows 5454 plates to be customized according to the needs of the ship's design, adapting to the hull needs of different shapes and structures.
Good welding performance: 5454 marine grade series aluminum has good welding performance, can achieve reliable welding connection. This is important for ship construction and maintenance to ensure the strength and tightness of the ship's structure.
High impact resistance: 5454 marine grade aluminum sheet has a high impact resistance, can be subjected to impact and extrusion pressure to maintain the integrity of the structure. This characteristic makes the ship better able to resist the influence of external forces and improve the safety of the hull in the harsh Marine environment, such as wave impact.
Recyclable: 5454 marine grade aluminum plate is a recyclable material, aluminum alloy has good recyclability, can be recycled to reduce the consumption of resources and environmental pollution.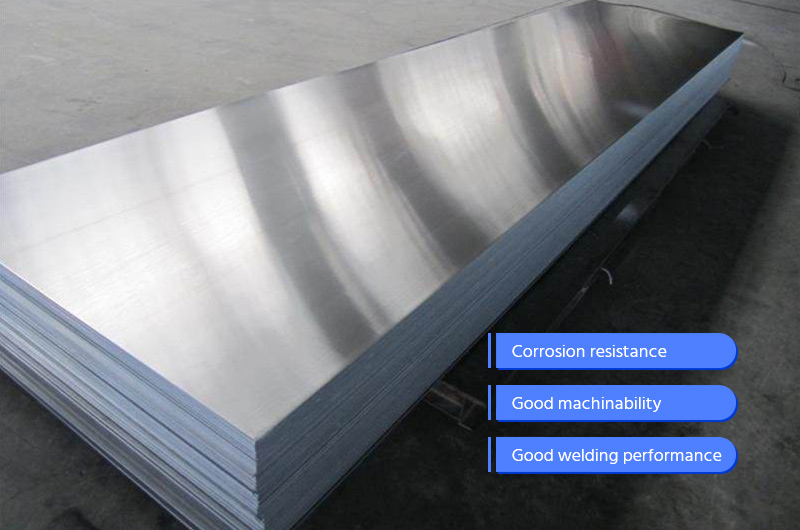 Applications of Chalco marine grade aluminum sheets 5454
Hull structure: 5454 aluminum sheet for ship can be used for the main structural parts of the hull, such as hull, bottom, cabin wall, ship bulkhead and so on. It has high strength and good corrosion resistance, can withstand the stress and pressure of the ship under navigation and harsh sea conditions, and maintain good durability.
Deck covering: 5454 H111 aluminum ship plates can be used as a covering material for ship decks. A deck is a platform on a ship that carries crew, cargo, and other equipment and structures. 5454 aluminum sheet has strong corrosion resistance and high strength characteristics, can maintain good durability in the Marine environment.
Ship internal components: marine grade 5454 H32 marine grade aluminum can also be used for ship internal components and equipment, such as cabin partition, interior trim board, ship furniture, etc. It can be machined and customized according to the needs of the ship's design to meet the requirements of the ship's interior space.
Marine fuel tank: 5454 ship plates can be used to manufacture Marine fuel tanks. Fuel tanks are important equipment for storing Marine fuels, lubricants and other liquids, and the 5454 plate's high strength and good sealing properties make it ideal for the manufacture of reliable and durable Marine fuel tanks.
Ship ladders and handrails: 5454 H22 marine grade aluminum plates can be used to manufacture ladders and handrails on ships. Ship ladders and handrails need to be strong and stable enough to ensure the safety of the crew when disembarking or moving through the hull.
In general, 5454 aluminium grade for marine use with its strong corrosion resistance, high strength, good durability and other characteristics, is widely used in ship construction and maintenance. It can meet the requirements of ship structure, while providing good performance and reliability.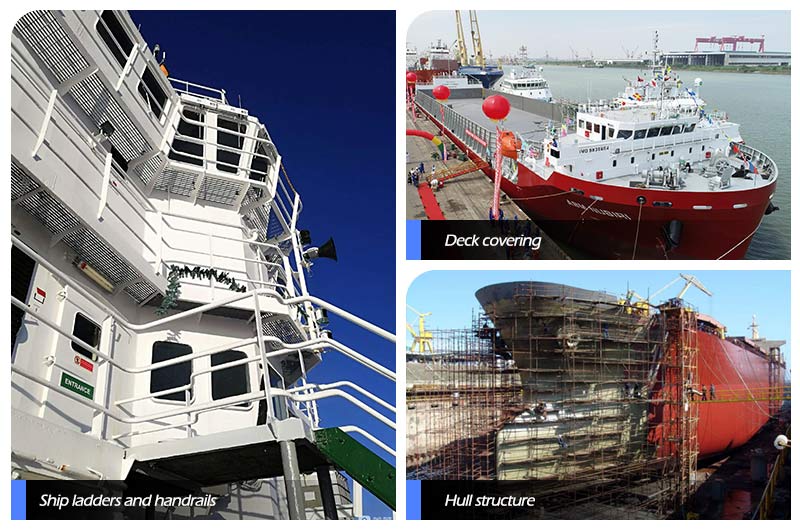 Precautions for purchasing 5454 marine grade aluminum sheet
Material certification: ensure that purchased 5454 marine sheet complies with relevant standards and certification requirements.
Supplier reputation: choose suppliers or dealers with reputation and good reputation to buy 5454 plate. You can evaluate the reliability of suppliers by referring to customer evaluations and querying the background information of suppliers.
Specification and size: according to the actual needs, select the appropriate marine grade aluminum 5454 specification and size. The appropriate sheet specification is selected taking into account the design requirements of the hull, the operating environment, and the required strength and thickness.
Check the quality: check the quality of the 5454 marine grade aluminum diamond plate before purchase. Check the surface for obvious damage, corrosion or deformation to ensure that the quality of the board meets the requirements.
Price comparison: price comparison between different suppliers to ensure a reasonable price. However, price is not the only consideration. Quality is as important as supplier reliability.
Transportation and packaging: consult with suppliers on transportation and packaging arrangements. To ensure that the 5454 board can be safely transported to its destination and is properly protected en route.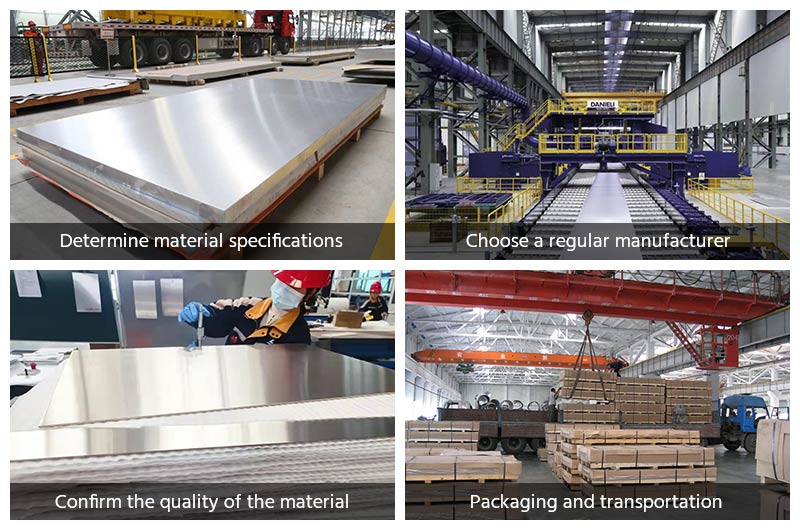 The tolerance of 5454 marine grade aluminum plate sheet
| | | |
| --- | --- | --- |
| Thickness | Width | Length |
| 3.00-20.00 | 1 000-2 400 | 1 000-11 000 |
| >20.00-50.00 | 1 000-3 500 | 1 000-20 000 |
Thickness
Permissible thickness deviations for the following widths
≤1500
>1500-2000
>2000
3.00-4.00
+0.10-0.10
+0.17-0.15
+0.23-0.15
>4.00-8.00
+0.20-0.20
+0.23-0.20
+0.28-0.25
>8.00-12.00
+0.38 -0.25
+0.51-0.25
+0.58-0.25
>12.00-20.00
+0.50 -0.35
+0.60-0.40
+0.65-0.50
>20.00-50.00
+0.65 -0.45
+0.75-0.50
+0.90-0.65