The application of aluminum in kitchen mainly includes aluminum profiles, aluminum foils, aluminum wafers, aluminum coils, aluminum bars, etc. Aluminum profiles are mostly used in the manufacture of aluminum cabinets; Aluminum foil is mostly used for food packaging and disposable lunch boxes; Aluminum plate and aluminum strip are mostly used in the field of kitchen appliances.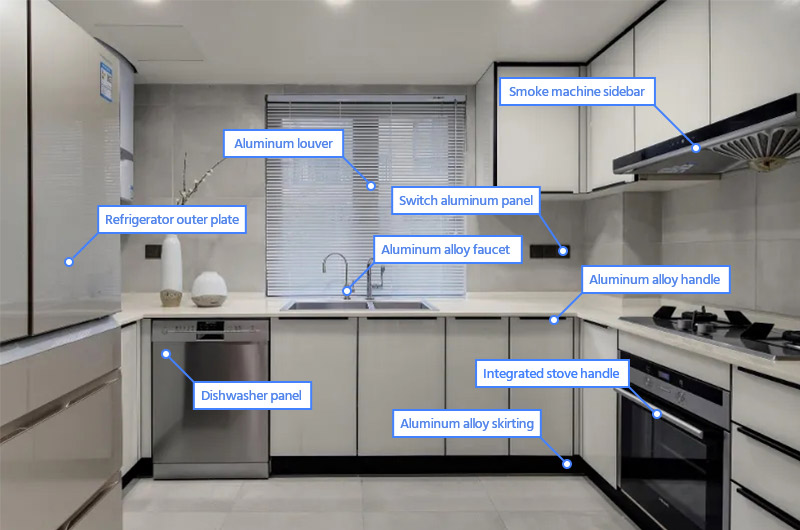 Common specifications of aluminum for kitchen
Common specifications of aluminum profiles for cabinets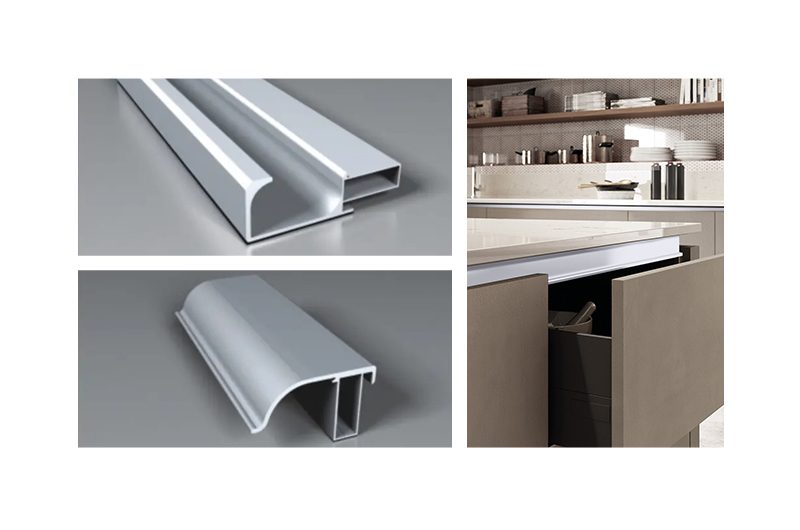 | | |
| --- | --- |
| Alloy | 6xxx, 6063, 6061 etc. |
| Temper | T4, T5, T6 |
| Length | 5.8M or customized |
| Thickness | 0.4mm-20mm or customized |
| Color | silver, champagne, bronze, gold, black, sand coating, anodized acid-base or customized |
| Surface treatment | polishing, anodizing, electrophoresis, powder spraying, wood color, fluorocarbon coating, polishing, wire drawing, etc. |
| Film thickness | anodic oxide film 8-25 μ; Powder coating 40-120μ; Electrophoretic membrane 12-25μ. |
| Packaging details | the internal packaging is provided with a protective film to protect the surface of each profile; the external package is wrapped with heat shrinkable film and waterproof kraft paper. |
| Service life | 12-15 years of anodizing treatment; powder coating 18-20 years. |
| Certificates and Standards | CQM, ISO, SGS, BV |
| Delivery time | 7-15 days for mold processing and sample testing; the mass production will be completed within 15-25 days after the buyer confirms the sample. |
Common specifications of aluminum foil for tableware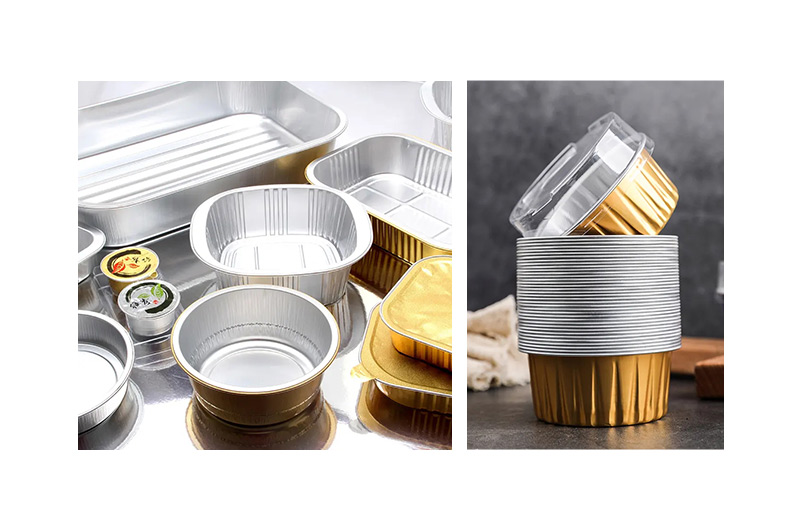 | | |
| --- | --- |
| Alloy | 3003, 3005, 8006, 8011 etc. |
| Temper | O(soft) |
| Thickness and tolerance | 0.008mm(8micron)-0.2mm(40micron) (tolerance: ±5%) |
| Width and tolerance | 120-1500 mm (tolerance: ± 1.0mm) |
| Surface treatment | single-sided, double-sided, color coating, etc. |
| Coil weight | 100-300kg |
| Inside diameter | 3 inches or 6 inches |
| Surface quality | no black spots, no lines, no creases, no wrinkles, etc. |
| Core material | steel/aluminum/paper |
| Application | used for cooking, freezing, baking and other food packaging |
Application of aluminum profiles in aluminum cabinets
Chalco's Common Cabinet Aluminum Profile Classification
For all aluminum kitchen cabinets, all kinds of cabinet components, such as backboards, cabinets, drawers and shelves, are made of aluminum, not only limited to cabinet doors or front panels. The aluminum profiles of kitchen cabinets are mostly 6000 aluminum, with the surface treatment of anodizing, powder spraying and other methods. The packaging details are usually transparent printed protective film to ensure that the product will not be damaged during transportation.
Aluminum profiles for integral cabinets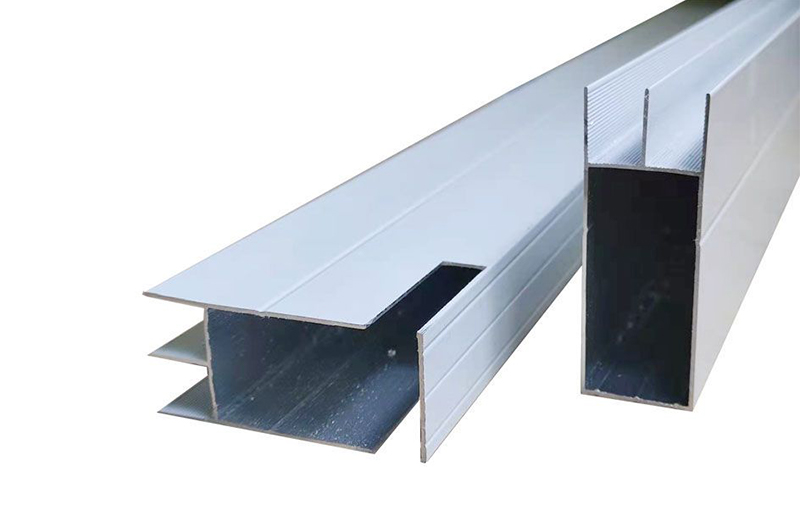 | | |
| --- | --- |
| Alloy | 6000 series |
| Temper | T3-T8 |
| Shape | square, round, angular, flat, curved, etc. |
| Color | various colors can be customized |
| Thickness | 0.65mm for sliding, 0.8mm for door leaf, or customized |
| Length | customizable |
| Application | cabinet backboard, cabinet body, drawer, shelf and other parts. |
Aluminum for cabinet door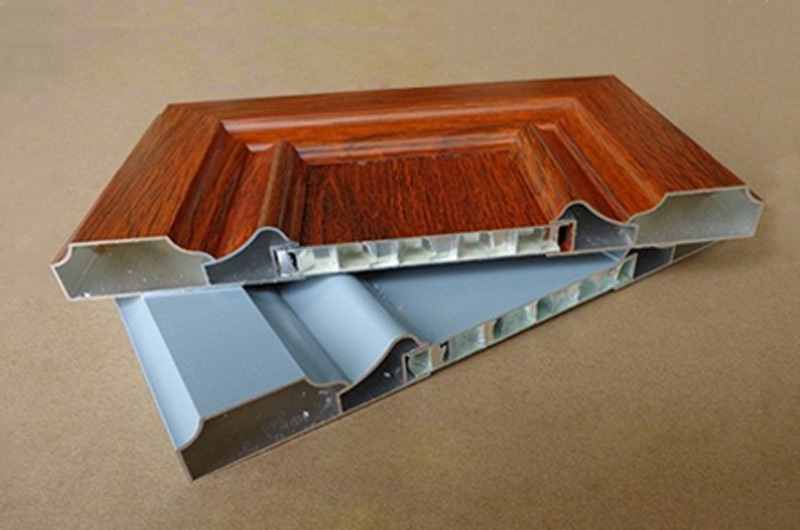 | | |
| --- | --- |
| Alloy | 6061, 6063 |
| Temper | T5, T6 |
| Application | cabinet doors, wine cabinet doors, etc. |
| Shape | customizable |
| Surface treatment | polishing, powder coating, anodizing, electrophoresis, polishing |
| Machining | high-precision CNC machining |
Cabinet door handle aluminum profile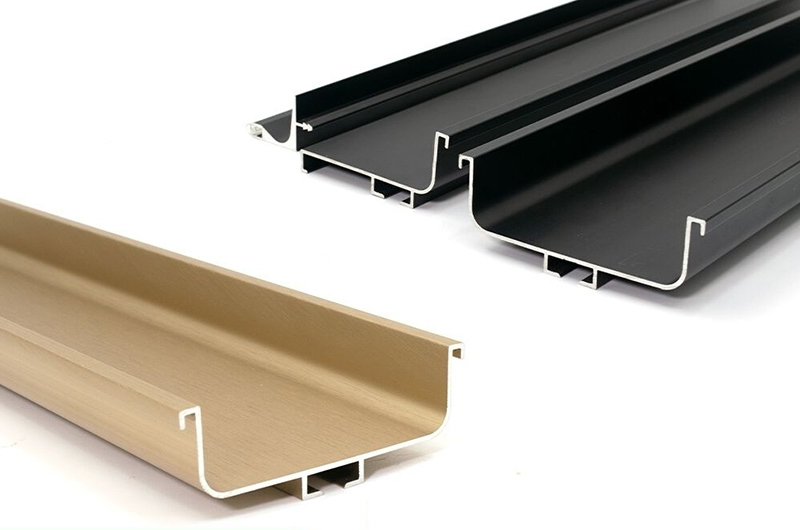 | | |
| --- | --- |
| Alloy | 6061, 6063 |
| Temper | T5, T6 |
| Color | silver bar anodized or customized |
| Shape | square, angle, G, etc. |
| Product classification | anodized aluminum handle, silver CNC aluminum handle, G-shaped cabinet handle, etc. |
Cabinet slot aluminum profile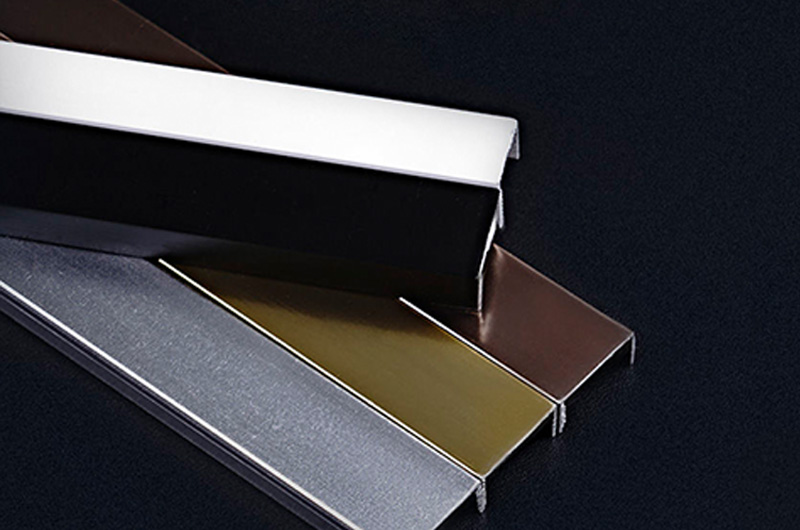 | | |
| --- | --- |
| Alloy | 6061, 6063 |
| Temper | T5, T6 |
| Shape | various channel aluminum materials suitable for cabinets or customized according to customer requirements. |
| Surface treatment | polishing, powder coating, anodizing, electrophoresis, polishing. |
| Machining | high-precision CNC machining |
| Deep processing | precision cutting, drilling, milling, manufacturing. |
Aluminum cabinet and wine cabinet frame profiles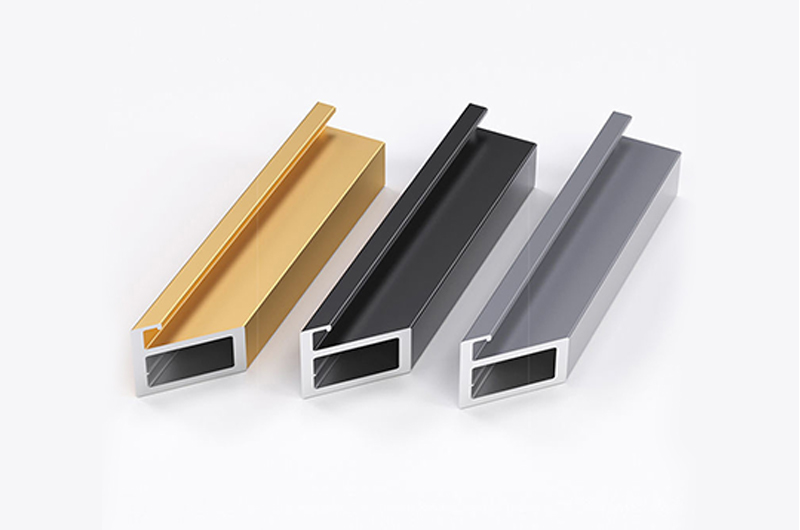 | | |
| --- | --- |
| Alloy&Temper | 6063-T5 / 6061-T6 |
| Color | gold, different colors |
| Shape | square or round |
| accurate | +-0.15mm |
| Features | high quality, scratch resistance and deformation resistance. |
Performance advantages of aluminum in aluminum cabinets
Aluminum cabinets is considered a breakthrough in the kitchen cabinet industry, because aluminum has outstanding performance compared with wood derivative cabinets, and has advantages that traditional cabinets cannot match.
Soundness of aluminum
The kitchen cabinet is often exposed to conditions of damp and high temperature, and aluminum is the only material with enough elasticity to resist it. Aluminum itself is a kind of solid material, so aluminum kitchen cabinets are difficult to deform or break. The application of aluminum profiles in the field of cabinets makes aluminum cabinets more durable than traditional ones.
Porosity of aluminum
In hot or humid countries, traditional wooden cabinets are always vulnerable to termites and other pests. And the food is easy to breed bacteria after long-term contact with perforated wooden cabinets. The non porous property of aluminum can not only prevent pests, but also prevent your aluminum modular kitchen cabinet from becoming a breeding ground for bacteria and other microorganisms.
Water resistance of aluminum
Damp is a big problem with wooden kitchen cabinets because it can cause water damage of the cabinet. For example, warping and swelling of cabinet components. However, aluminum is a waterproof material with strong waterproof property. This advantage has led to the popularity of aluminum modular kitchen cabinets in countries affected by hot, humid and changing climatic conditions.
Rust resistance of aluminum
Non rusting is another characteristic of aluminum as the preferred metal for cabinets. Aluminum is covered with a thin oxide layer, which can protect it from most corrosion. Especially after surface treatment, the corrosion resistance of aluminum has been further improved.
Environmental protection of aluminum
For those who love environmental protection, this is an additional benefit. The kitchen cabinet made of aluminum is one of the most environmentally friendly and sustainable storage solutions available. The aluminum material is also 100% recyclable, so your aluminum kitchen cabinet will not burden the earth.
The style can be customized at will
People often have a misunderstanding that aluminum kitchen cabinets only have monotonous metal design. In fact, the height, thickness and surface color of aluminum all can be customized. Chalco provides you with aluminum materials with both quality and beauty for the production of various aluminum cabinet products.
Aluminum foil and aluminum wafer in aluminum tableware
Because of its high barrier property, high temperature resistance, low temperature resistance, oil resistance, water resistance, non-toxic and tasteless characteristics, aluminum can be used as food storage and packaging materials to maintain food flavor and extend food quality guarantee period for a longer time.
Aluminum foil and aluminum circle products are most widely used in aluminum tableware. With the increase of market demand, the demand for high-quality aluminum foil and aluminum circle is also increasing. Chalco provides high-quality aluminum products, strictly controls the quality, and has its own unique requirements and capabilities in product quality inspection and transportation.
Chalco's common tableware aluminum classification
Aluminum foil for food packaging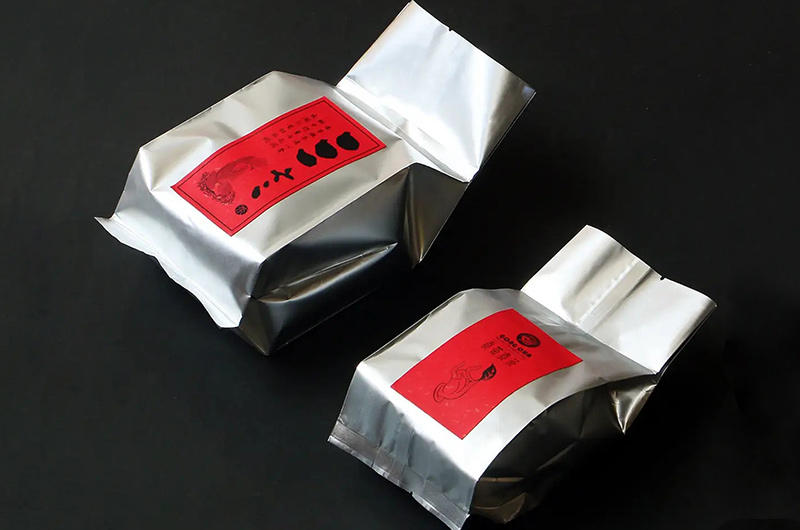 | | |
| --- | --- |
| Alloy | 1060 |
| Thickness | 0.014-0.2mm |
| Width | 3800mm maximum |
| Standards | GB/T, ASTM, EN |
| Surface protection | paper interlaced, PE/PVC film |
| surface treatment | Mill Finish, color coated, stucco embossed, etc. |
Aluminum foil container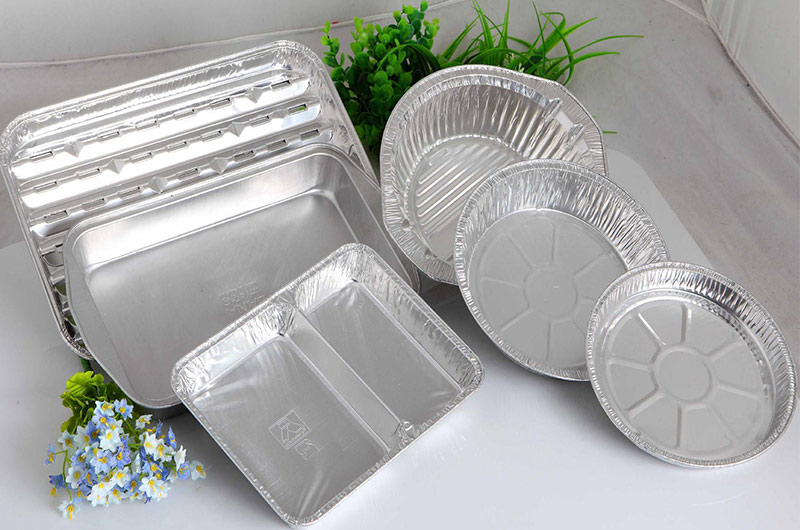 | | |
| --- | --- |
| Alloy | 3003, 8011 |
| Thickness | 0.03mm-0.20mm |
| Application | aluminum foil lunch box, etc. |
| Processing | after cold rolling or hot rolling, the aluminum foil becomes a reprocessed product with uniform thickness, smooth surface, no pinholes, no dust particles, and no odor. This process is a fully automatic cold stamping production process completed by special equipment and molds at one time. |
| Advantages | the aluminum foil container can be directly heated on the gas stove or baked in the microwave oven without fear of danger. |
Lacquered aluminum coil container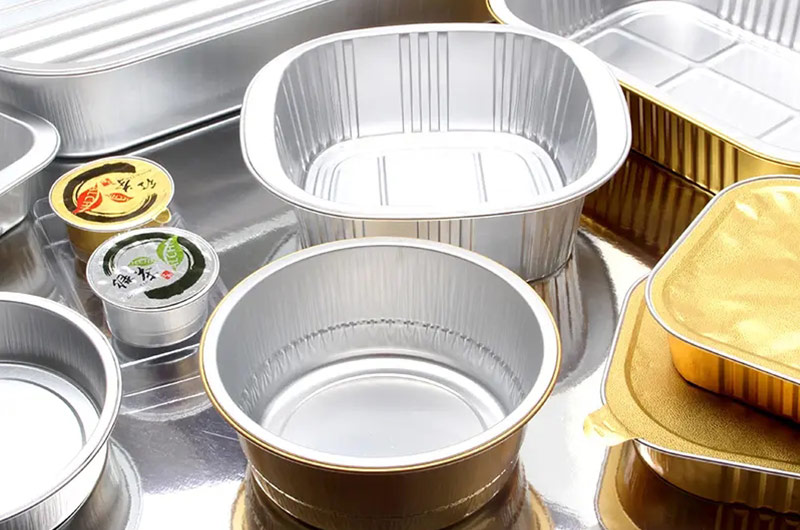 | | |
| --- | --- |
| Alloy | 8011A, 8006, 3005, 3105 |
| Thickness | 40-300 μm |
| Coating characteristics | colored or colorless paint; vinyl, epoxy or polyester properties; the color can be specified by the customer. |
| Application | container for hot processed dairy desserts; container for cooking in an oven; container for preparing frozen desserts. |
Aluminum circle for cookware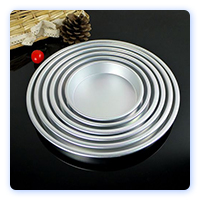 Frying pan, pizza dish, electric frying pan Alloy: 1060
Temper: O, H12
Thickness: 2-3mm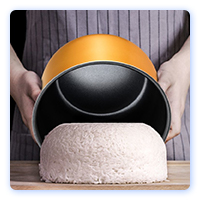 Electric pressure cooker, electric rice cooker Alloy: 3003
Temper: O
Thickness: 2-4mm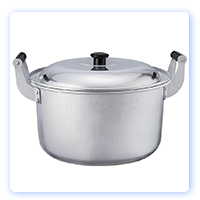 Soup pot Alloy: 1100
Temper: O
Thickness: 0.7-2mm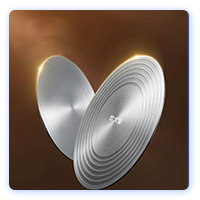 Cooker bottom, stainless steel cooker bottom Alloy: 1100
Temper: O
Thickness: 3-5mm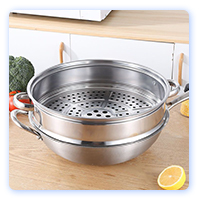 Cooker cover Alloy: 1100
Temper: H14
Thickness: 0.7-2mm
The aluminum performance advantage reflected in tableware
With the emergence of new household appliances, such as ovens, and people's increasingly high requirements for food storage, preservation, packaging and other aspects, the advantages of aluminum and aluminum products are increasingly prominent in the field of food storage and packaging field. This makes aluminum products more and more popular in the kitchen, and it is also welcomed by more and more downstream manufacturers.
High barrier, anti-oxidation ——can extend the shelf life of food
The aluminum foil's high barrier properties, moisture resistance, and oxidation resistance can isolate food from oxygen, water vapor, stains, etc., creating an excellent storage environment for food. Some aluminum foil packaging also adds a desiccant/deoxidizer or uses vacuum packaging or vacuum packaging methods to achieve the purpose of extending the shelf life of the food.
High mechanical strength-strong impact resistance and piercing ability
Aluminum foil has many excellent physical properties, such as high mechanical strength, high impact resistance, and strong puncture ability, making the food bag difficult to break, and can protect the food from damage caused by external factors such as extrusion, impact, vibration, temperature difference, etc., thereby reducing Loss during storage, transportation, and racking.
Strong adaptability-can adapt to various environments
Aluminum foil has the characteristics of high-temperature resistance, low-temperature resistance, oil resistance, water resistance, etc., and can adapt to various environments. The environment of food processing and production does not have much influence on its performance.
Easy to process-Can meet most packaging needs
Easy to process. Aluminum has a low melting point, good heat-sealability, and is extremely easy to shape, and can be processed into any shape according to the mold. The processed aluminum foil has excellent ductility and can be used to cover foods of different shapes. It is also easy to carry out surface treatment, such as the embossing process can make aluminum foil more beautiful and promote consumption.
Lightweight-Reduce transportation costs and reduce product packaging volume
The thickness of the aluminum foil is extremely thin, which can minimize the weight of the product while achieving the protection function. Lightweight packaging can reduce shipping costs and improve ease of use.
Aluminum plate and aluminum strip in kitchen appliances
Anodized embossed plate for refrigerator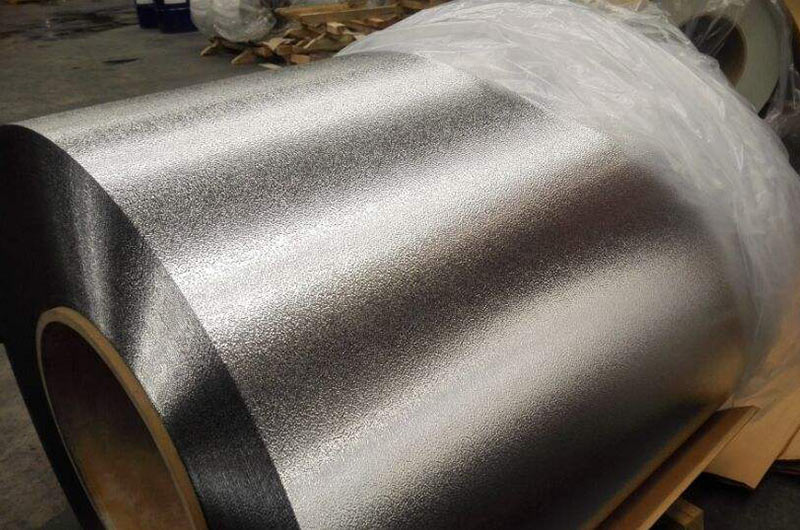 | | |
| --- | --- |
| Length | 400-1000mm |
| Roll inner diameter | 505mm |
| The weight of the roll | customer |
| Finish | stucco |
| Surface treatment | anodized or pre-painted |
| Application | anodized embossed plaster aluminum plate is usually used in refrigerators and cooler systems |
Aluminum air duct for range hood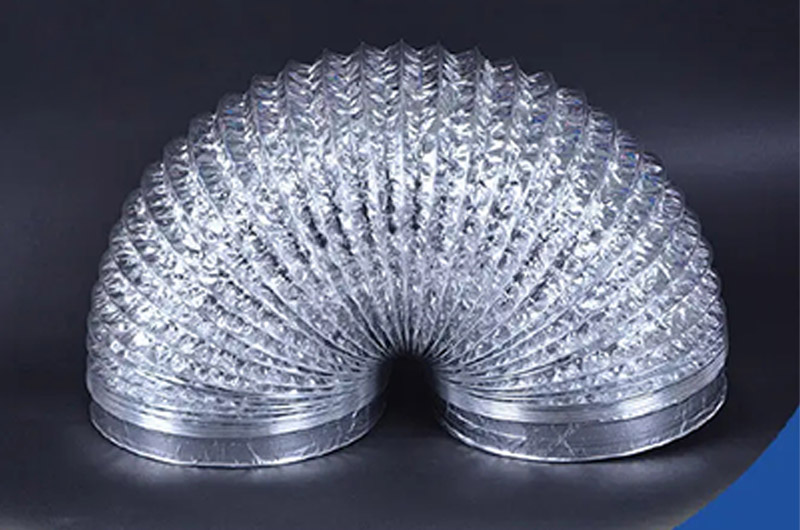 | | |
| --- | --- |
| Alloy | 8011 |
| Temper | O |
| Blank thickness range | 0.09-0.18mm |
| Scope of application | household kitchen range hood, forced exhaust gas water heater, oil fume system for hotel kitchen |
Choose Chalco kitchen aluminum
We provide a full set of aluminum for kitchen, including aluminum materials for dining cabinets, aluminum tableware, and aluminum materials for kitchen appliances. All kinds of kitchen aluminum can be customized according to customer needs. Chalco Aluminum improves customer satisfaction by maintaining a customer-centric approach. The timeliness of our delivery, the accuracy of our products, and the integrity of our packaging and transportation are widely appreciated by our customers.
After years of training, Chalco has accumulated multiple experiences and market acumen in the production and sales of aluminum products. The aluminum products produced have been checked by many parameters to ensure a excellent quality. Contact us to obtain accurate product parameters, specifications and quotations. Click the button below to start the happy cooperation.