Chalco exclusively innovates low-temperature spiral welding technology and introduces world leading advanced equipment to produce the patented products - spiral weld pipe and its accessories. Machinable aluminum pipe diameter is Φ 219-1580mm.
The products are widely used in various fields such as deep cooling air separation, automobile manufacturing, textile industry, food and beverage, furniture manufacturing, new energy, military manufacturing, medicine and medical treatment, electronic appliances, power transmission, etc.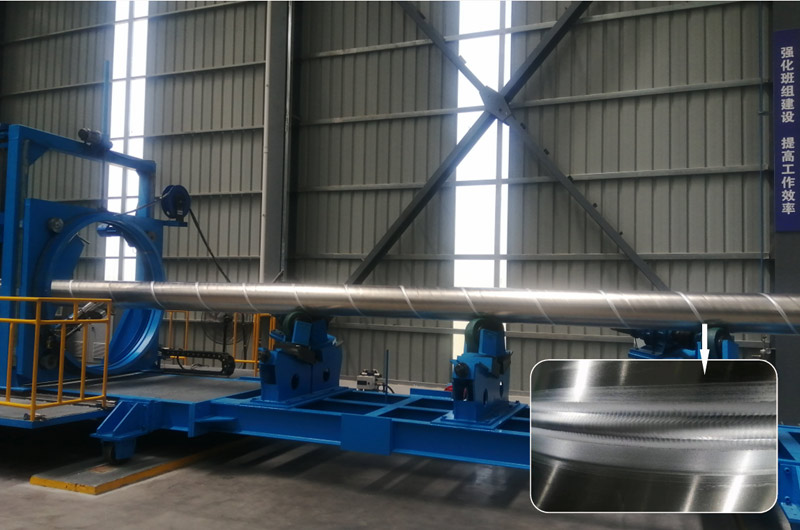 Specification of Chalco ultra diameter spiral weld pipe
| | |
| --- | --- |
| Alloy | 5052 5083 5754 5A05 |
| Temper | O H112 |
| Technology | Low temperature spiral seam welding |
| Diameter | Φ219-1580mm |
| Wall thickness | 4.0-14mm |
| Allowable deviation (Outer diameter of pipe end) | ±2mm |
| Straightness | ±2mm |
| Product quality inspection | The finished product has passed the pipeline water injection pressure test, and the design pressure is 1.0MPa. When the pressure reaches 5.1MPa, it bursts from the side of the middle section of the pipeline, and the weld is intact. |
More large-sized products in Chalco
Ultra thick aluminum block: 340-620mm (slab);
Ultra wide aluminum plate coil: 950-2150mm;
Ultra large diameter aluminum bar: maximum 1350mm billet bar;
Large diameter aluminum tube: hot selling Φ100-800mm; largest can be Φ1582mm
Super large diameter forged ring: with an outer diameter of up to 10m.
Technical explanation of Chalco ultra large diameter aluminum weld pipe
Low temperature spiral welded pipe adopts innovative low-temperature welding technology by spiral welding the narrow aluminum plates and strips;
The circumferential stress of the spiral weld pipe body forms a certain angle, and the stress is relatively small. The overall strength of the aluminum pipe is higher than that of the straight welded pipe;
Produce shells with different pipe diameters using narrower plate and strip materials, resulting in high production efficiency;
The difference in roundness of welded pipes is less than 0.1% of the inner diameter of weld pipes, the formability of aluminum pipes is better;
The length of aluminum pipes is flexible and can be cut into typical lengths according to pipeline construction needs.
Low temperature welding process, aluminum pipes have obvious advantages in low temperature resistance and oxidation resistance.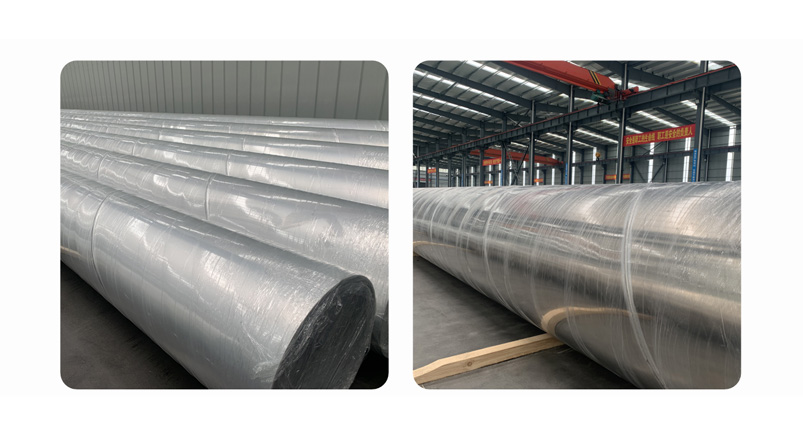 Ultra large diameter Al weld pipe hot selling products and its application field
Mechanical properties
Alloy
Temper
Thickness/mm
Tensile strength Rm/Mpa
elongation strength R60mm/MPa
Elongation at break
Bending radius
Not less than
5052 spiral weld pipe
O H112
>3.00-6.00
170-215
65
18
1.0t
>6.00-14.00
19
2.0t
5754 spiral weld pipe
O H112
>3.00-6.00
190-240
80
18
1.0t
>6.00-14.00
18
2.0t
5083 spiral weld pipe
O H112
>3.00-6.00
275-350
125
15
1.5t
>6.00-14.00
16
2.5t
5A52 spiral weld pipe
O H112
>3.00-6.00
270-350
150
18
1.5t
>6.00-14.00
19
2.5t
Nominal Pressure PN≤1.0 MPa
Nominal Diameter
300
350
400
450
500
600
700
800
900
1000
1200
1300
1400
1500
OD
312
362
412
466
516
630
720
820
920
1020
1224
1324
1328
1528
WTδ
6
6
6
8
8
8
8
10
10
12
12
12
14
14
Theoretical Weight kg
187
215
245.2
372.7
413.4
499.2
571.8
800
912
1214
1480
1573
1974
2117
The length of the spiral weld pipe in this table is 12000mm
The size of aluminum spiral weld pipe can be customized according to user drawings, customized unit (mm)
Chalco large diameter spiral weld pipes are mainly made of 5000 series alloys, with main products including 5052 large diameter aluminum welded pipes, 5754 large diameter aluminum welded pipes, 5083 large diameter aluminum welded pipes, and 5A52 large diameter aluminum welded pipes.
Compared with other alloy grades, the 5000 series alloy mainly has advantages such as high strength, good corrosion resistance, strong weldability, excellent plasticity, and conductivity, and is widely used in various fields:
Oil, liquefied gas, natural gas and other storage containers and transportation pipelines;
Pressure vessels and storage tanks for liquids or gases, such as LPG tanks and oxygen tanks;
Pipelines and containers in marine engineering;
Pipeline system used for transmission and distribution of high-voltage direct current (HVDC) power.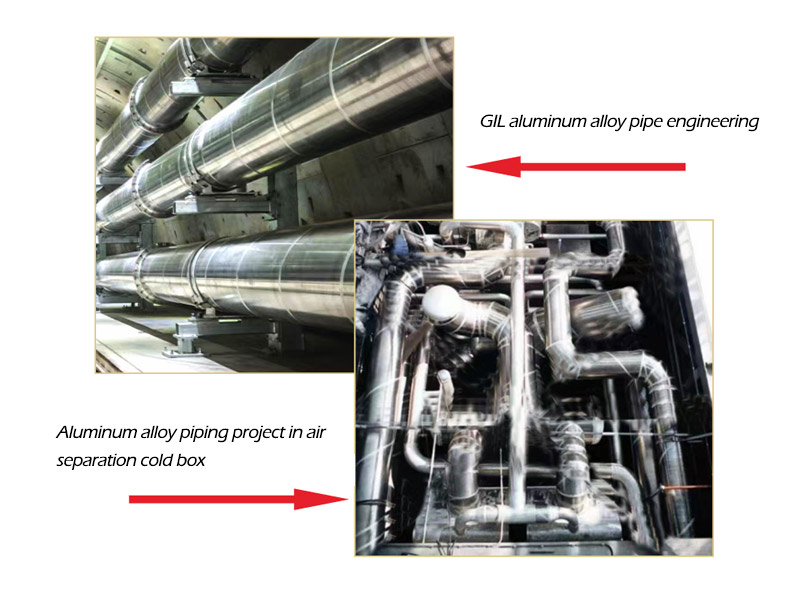 Chalco ultra large diameter aluminum welded pipe accessory products
Accessory products

Large diameter aluminum bend pipe

Large diameter aluminum pipe head

Aluminum tees for large diameter pipes

Aluminum alloy reducer pipe
Comparison between aluminum spiral welded pipe and longitudinal seam straight welded pipe
Aluminum spiral welded pipe
Longitudinal seam straight welded pipe
Bearing less stress
When a thin-walled cylinder is subjected to pressure, its circumferential stress is twice the axial stress. Spiral welds are at a certain angle compared to circumferential stress and have less stress.
Bearing greater force
Strong stress The longitudinal welded aluminum pipe is subjected to circumferential stress, which is perpendicular to the welding direction and bears the maximum force.
Flexible production
Spiral welded pipes are produced with narrower plates and strips to spiral generated large diameter aluminum tube; Plate and strip materials of the same width can produce welded pipes with different pipe diameters by adjusting the forming angle.
Fixed production
The straight welded aluminum alloy shell can only use aluminum plates with specific widths and lengths. Currently, the common aluminum plate width can reach 2.5m. If it is further widened, customization is required, and the cost will greatly increase.
Good formability
The straightness tolerance of the welded pipe shall not exceed 1mm/m and shall not exceed 0.5% ‰ of the length of the welded pipe. The allowable deviation of the outer diameter of the pipe end is (-1, 2) mm. The difference between the diameter of one end of the welded pipe and the diameter of the other end shall not exceed 1.5mm.
Poor formability
Due to the processing and forming process, it is difficult to control the ovality of the weld seam of the straight seam pipe.
Fewer connection welds
In theory, the length of spiral welded pipes can be infinitely extended and can be cut into typical lengths of 12 to 18m, effectively improving the quality of pipeline construction, reducing connection weld seams, and significantly improving construction efficiency.
Multiple connecting welds
Longitudinal seam welded pipes are made of aluminum plates, usually with a length of 3m, spliced into pipe sections of 12 to 18m in length. There are more connecting welding seams during construction process.
High technical difficulty
The requirements for ovality, straightness, weld height and other aspects of welded pipes are high. In addition, the forming of aluminum alloy is difficult to control and the welding process is relatively poor, making the technical difficulty of aluminum alloy spiral welded pipes very high. Need the specialized molding machines, welding machines, and conveyor lines, the investment costs are high.
Low technical difficulty
The production technology, production welding process and welding machines are simple, so the investment cost is relatively low.
Are You Looking for an Aluminum Supplier?
If you need a professional aluminum supplier to provide you with high-quality, cost-effective aluminum, we will be your best choice.
Contact us Now