Specification for aluminum extruded profiles for aluminum bridges
| | |
| --- | --- |
| Alloy | 5083, 6005A, 6082, 6061, 6063, 7003, 7005, 7020, 7021, 2014, 2117 |
| Temper | T5, T6 |
| Wall thickness (mm) | 2mm-5mm |
| Meter weight (Kg/m) | 3-150 |
| Profile type | Click to view cross-sectional view |
| Surface treatment | Anodizing, electrophoretic painting, powder coating, spray painting |
| Color | bronze, champagne, gold, black, white |
| Packing | Pearl cotton foam, kraft paper, wooden tray, wooden frame, metal tray |
| Standard | GB∕T 34488-2017 |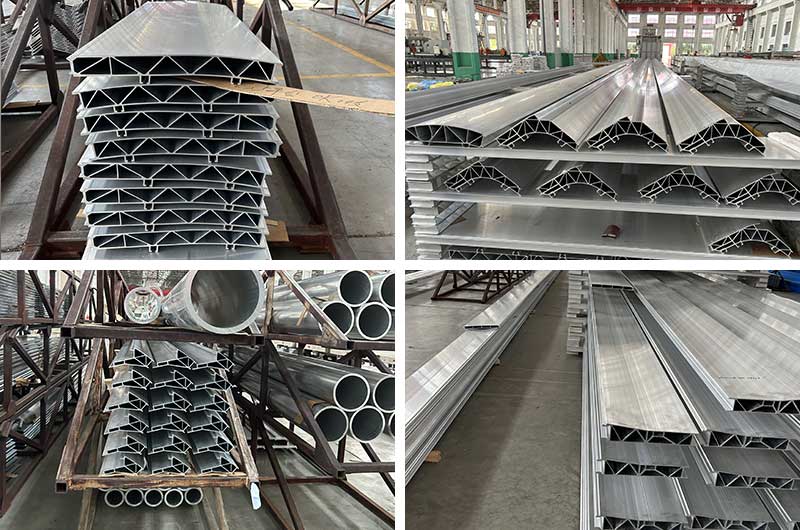 Physical properties for aluminum extruded profiles for aluminum bridges
Alloy
Temper
Thickness mm
Tensile Strength/MPa
Yield Strength/MPa
Elongation%
Hardness(HB)
5083
H112
-
≥270
≥125
≥12
-
6005A
T5
≤6.3
≥250
≥200
≥7
-
>6.3-25.00
≥250
≥200
≥8
-
T6
Solid Profiles
≤5.00
≥270
≥225
一
90
>5.00-10.00
≥260
≥215
一
85
>10.00-25.00
≥250
≥200
≥8
86
Hollow Profiles
≤5.00
≥255
≥215
一
87
>5.00-15.00
≥250
≥200
≥8
88
6082
T6
≤5
≥290
≥250
≥6
95
>5.00-25.00
≥310
≥260
≥10
95
6061
T5
≤16
≥240
≥205
≥9
-
T6
≤5.00
≥260
≥240
≥7
95
>5.00-25.00
≥260
≥240
≥10
95
6063
T5
≤3.00
≥175
≥130
≥6
65
>3.00-25.00
≥160
≥110
≥7
65
T6
≤10.00
≥215
≥170
≥6
75
>10.00-25.00
≥195
≥160
≥8
75
7003
T5
-
≥310
≥260
≥10
-
T6
≤10.00
≥350
≥290
≥8
110
>10.00-25.00
≥340
≥280
≥10
110
7005
T5
≤25.00
≥345
≥305
≥10
-
T6
≤40.00
≥350
≥290
≥10
110
7020
T6
≤40.00
≥350
≥290
≥10
110
7021
T6
≤20.00
≥410
≥350
≥10
120
Torsional of aluminum extruded profiles for aluminum bridges
Nominal width /mm
Torsional on the following lengths
Length per meter
Full length L/mm
≤200.00
≤2.0
≤6.0
>200.00-300.00
≤3.0
≤8.0
>300.00
≤4.0
≤0.0015*L
What are the advantages of all aluminum bridge aluminum extruded profiles?
Lightweight and high-strength
The density of aluminum is low, 1/3 of steel and 1/5 of concrete, making the weight of aluminum bridges lighter, for example, the weight of the bridge deck is only 98 kg/m2, while the weight of the concrete bridge is 490 kg/m2.
Superior strength
The strength of aluminum is equivalent to or higher than that of typical bridge steel, so it can withstand greater dynamic and static loads when designing bridges, improving the efficiency of aluminum bridges.
Strong corrosion resistance
Aluminum has high corrosion resistance, no need to paint, and low maintenance cost. At the same time, surface treatment and beautification can be carried out to meet the needs of decoration and aesthetics.
Adapt to various temperatures
Aluminum has high toughness and no low-temperature brittleness, and its strength and plasticity increase slowly as the temperature decreases, and it performs well even under polar conditions.
Good processing performance
Aluminum is easy to process and form, and has excellent extrusion performance. It can produce complex extrusion cross-section profiles, which is easy to assemble and improves structural rigidity.
Excellent weldability
While aluminum is not as weldable as bridge steel, friction stir welding (FSW) performs exceptionally well, with welds that are nearly equal to the base material and require no repairs.
Easy pre-assembly and installation
aluminum bridge components are lighter than steel bridges and concrete bridges, and can be pre-assembled in the factory, which is convenient for transportation, hoisting and installation, shortens the construction period and reduces costs.
Recyclable
Aluminum has strong recyclability and is one of the best structural metals for recycling. At the end of its service life, more than 95% of the aluminum can be recycled into the aluminum needed to build the bridge, which has the same performance as the raw material.
Variety of surface treatment
Aluminum alloy materials have unique metallic luster and texture, and have good surface treatment performance. After anodizing, it can be colored according to needs, and other surface treatment methods such as electrophoretic painting, electroplating, and fluorocarbon spraying can also be carried out.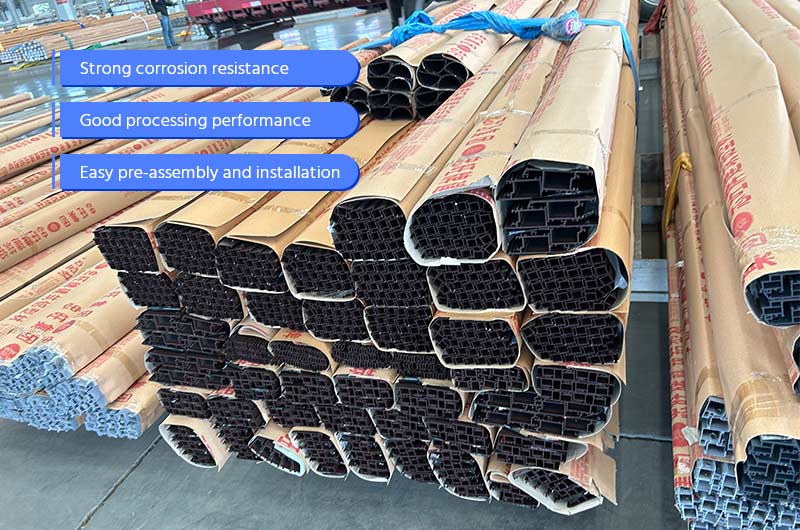 Chalco all aluminum bridge aluminum profile hot selling products
6005A T6 Aluminum Solid Profiles for Aluminum Bridges
6005A T6 Aluminum Hollow Profiles for Aluminum Bridges
6063 T6 Aluminum Profiles for Aluminum Bridges
6061 T6 Aluminum Profiles for Aluminum Bridges
6082 T6 Aluminum Profiles for Aluminum Bridges
7003 T6 Aluminum Profiles for Aluminum Bridges
7005 T5 Aluminum Profiles for Aluminum Bridges
7021 T6 Aluminum Profiles for Aluminum Bridges
Where are aluminum profiles used in bridge structures?
Main structural member
The application of aluminum profiles on the main structural parts of the bridge includes bridge decking panel, Longitudinal Beam, truss, etc., and the assembly methods include riveting and welding. Among them, the most widely used is aluminum bridge decking panel. Due to the advantages of light weight, strong designability, simple design, and short installation period, aluminum profile panels have many application examples.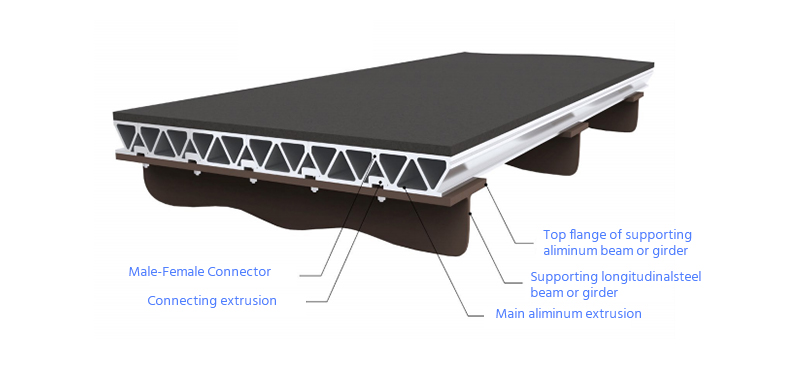 Auxiliary structure
The auxiliary structural parts of aluminum profiles used on bridges mainly include: pedestrian or bicycle passage structural parts added to the original bridge, bridge railings, road sign brackets, road signs, lighting support rods, etc. Aluminum profiles can be used for these parts, mainly because of their good corrosion resistance, low density, and aesthetics.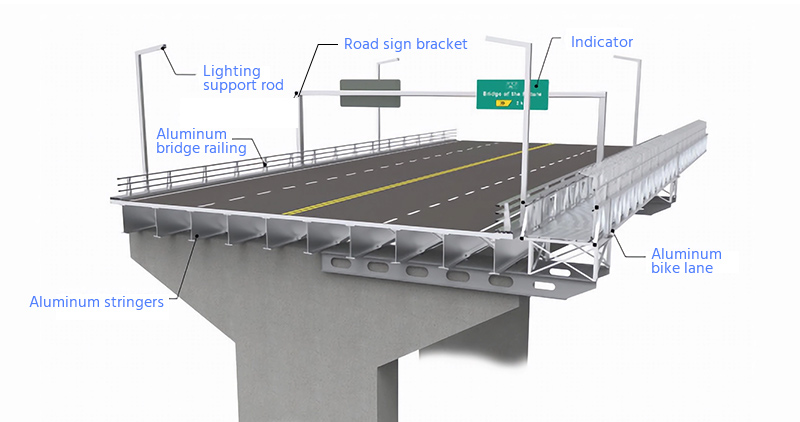 What bridges can aluminum profiles be applied to?
Pedestrian Bridge
Aluminum alloys can be used to manufacture light-weight pedestrian bridges, making construction and installation easier, and providing sufficient strength and stability.
Suspension bridge
Aluminum alloys can be used in the main girders, towers and cables of suspension bridges to reduce the self-weight of the bridge and improve structural rigidity and wind resistance.
Highway bridge
Aluminum alloys can be used to manufacture main beams and beams of highway bridges, which have high strength and rigidity, can withstand large loads and provide a smooth driving surface.
Railway bridge
Aluminum alloys can be used in beams, beams and track support structures of railway bridges, with sufficient strength and durability for applications such as light rail and urban railways.
Temporary Bridge
Aluminum alloys can be used to manufacture bridge components for approach bridges, facilitating temporary access, for example during road construction or in emergency situations.
Aircraft Bridge
Aluminum alloys can be used in the construction of aviation bridges, such as airport runway bridges and aviation terminal bridges, to meet the needs of air traffic and provide lightweight structures and good corrosion resistance.
Pontoon Bridge
Aluminum alloy can be used for the main beam, Bridge decking panel and connectors of the belt pontoon bridge. It has good corrosion resistance and lightweight properties, and is easy to assemble and carry quickly.
Armored Bridge
Aluminum alloys can be used to manufacture structural components of armored bridges, such as main beams, support frames, pylons, beams and Bridge decking panels, etc. It is convenient for quick assembly and disassembly, improves mobility and deployment speed, and adapts to the needs of the battlefield environment.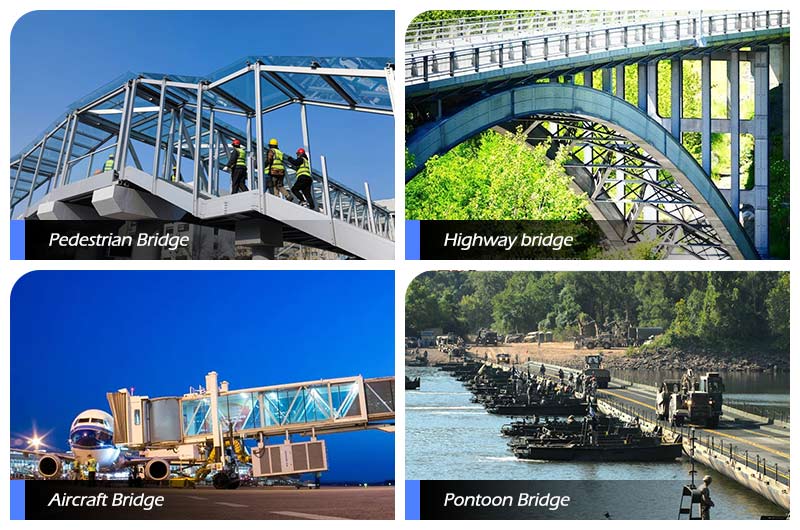 What aspects should be paid attention to when purchasing aluminum profiles as bridge main materials?
Connection technology
When purchasing aluminum profiles as the main material of bridges, the first consideration is to choose the appropriate connection technology, such as stainless steel bolts, galvanized bolts and aluminum alloy bolts. At the same time, attention should be paid to welding technology to avoid material strength reduction and surface and internal defects in the heat-affected zone.
Welding technology
When purchasing aluminum profiles as the main material of bridges, welding technology needs to be paid attention to. Since the material strength in the heat-affected zone will be severely reduced after welding, the main force-bearing components should be mechanically connected instead of welded. Aluminum alloy welding has the problems of complex process and prone to surface and internal defects. Friction stir welding (FSW) is an advanced welding process suitable for welding bridge decks with less welding stress and high-strength welds.
Large deflection
When purchasing aluminum profiles as the main material of bridges, it is necessary to take into account its large deflection characteristics. Due to the lighter material of the aluminum alloy, the ratio of dead load and live load in the pedestrian bridge has changed, so that the vertical deflection of the aluminum alloy structure bridge under the crowd load is greater than that of the steel structure bridge.
High natural frequency
When purchasing aluminum profiles as the main material of bridges, it is necessary to consider its high natural frequency characteristics. Due to the light weight and small dead load ratio of the aluminum alloy structure bridge, its natural vibration frequency is high under no-load conditions, but the frequency will be significantly reduced under the crowd load. This is different from the law that the natural vibration frequency of traditional steel structure bridges is low under dead load and does not change much under crowd loads.
Anti-corrosion
When purchasing aluminum profiles as the main material of bridges, corrosion resistance is an important consideration. Galvanic corrosion is prone to occur when aluminum alloy is in contact with other metals or non-metals containing acid and alkali. In order to prevent corrosion, isolation materials such as paint, rubber, PTFE, etc. should be used between the aluminum alloy and other materials.
Why choose chalco's all-aluminum bridge aluminum extrusion profiles?
Chalco Aluminum has multiple aluminum alloy continuous extrusion production lines, which can meet the production requirements of various all-aluminum bridge aluminum profiles.
With a number of surface treatment production lines such as anodizing, powder coating, fluorocarbon spraying, etc., bridge aluminum profiles with various surface treatments can be customized.
A number of independent testing and testing capabilities, strength testing, performance testing, cantilever beam load testing, ZEISS metallographic microscope, salt spray test, to ensure that all products shipped out of the factory are higher than the standard requirements.
Strictly control the quality and improve the environmental management system, all extrusion profiles have passed ISO 9001 and ISO 14001 certification.
List of aluminum alloy bridges that have been put into use
| | | | | | |
| --- | --- | --- | --- | --- | --- |
| Place | structure type | use | span/m | bridges decking panel | Aluminum alloy used |
| United States, Pittsburgh, Smithfield Street | Orthotropic deck | road, tram | 100 | Aluminum thick plate | 2014-T16 |
| Crasse River, Masena, New York, USA | Riveted Plate Girder | railway | 30.5 | | Clad 2014-T6, 2117-T4 rivet |
| Saguay, Arvida, Canada Sagucnay River | Rivetel Arch | highway | 6.1/88/6.1 | concrete | 2014-T6 Alc thick plate,extrusion, 2117 rivet |
| Des Moines, Indiana, USA 86th Street, Moines | Welded Plate Girder | highway | 20 | concrete | 5083-113 |
| Jericho, New York, USA | Riveted Plate Girder | highway | 23.5 | concrete | 6061-T6 |
| Petersburg, Virginia, USA City Appomattox River | Bolted Triangular Box Girder | highway | 29.5 | Concrete | 6061-T6 |
| Amisville, New York, USA | Riveted Triangular Box Girder | highway | 18 | mixed soil | 6061-T6 |
| Sexville, Michigan, USA Palapscoriver | Riveted Triangular Box Girder | highway | 28/29/32 | concrete | 6061-T6 |
| United States, Pittsburgh, Smithfield Street | New Welded Orthotropic Bridge Deck | road, tram | 100 | Aluminum thick plate | 5456-H321 |
| Hendon Dock, UK | Riveted Double Leaf Bascule Bridge | road, railway | 37 | Aluminum thick plate | 2014-T6, 6151-T6 |
| River Tummel, Scotland | Riveted Truss | pedestrian | 21/52/21 | Aluminum sheet | 6151-T6 |
| Aberdlee, Scotland | Double Leaf Bascule Bridge | road, railway | 30.5 | aluminum sheet, wood | 2014-T6, 6151-T6 |
| Dusseldorf, Germany | Box Girder with Arch Ribs | pedestrian | 55 | | |
| Germany Lunen | Riveted Diagonal Bracing Truss | highway | 44 | Extruded Aluminum Profile | 6351-T6 |
| L.uceme, Switzerland, 2 bridges | Suspended Fixed Beam | Pedestrians and livestock vehicles | 20/34 | wood | 5052 |
| Logston, South Wales | Welded W-Shaped Truss with Through Beam | pedestrian | 18 | Corrugated Aluminum Sheet | 6351-T6 |
| Monmouthshire, UK | Welded | | 18 | Corrugated Aluminum Sheet | 6351-T6 |
| Banbury, UK | Riveted Truss | highway | 3 | Corrugated Aluminum Sheet | 6351-T6 |
| Gloucester, UK | Riveted Truss | highway | 12 | extrusion profile | 6351-16 |
| Seona River, Arvida, Quebec, Canada | All Aluminum Alloy Bridge | | 9.75 | | 2014-T6 |
| Crossing the River Medway in Maidstone, England | Suspension Bridge | pedestrian | 180 | Wide aluminum board, extruded board | 6082-T6, 6063-T5 |
| Rick Harvey Bridge in Amsterdam | Movable Bridge | | 10/13 | Trapezoidal Section Extruded Plate | |
| Fosmo all-aluminum bridge in Nordland in Northern Norway | Aluminum Profile Longitudinal Welding | | | Aluminum extrusion profile | |
| Little Buffalo Lake River, Clarksville, Virginia, USA | | | 9.75 | Aluminum extrusion profile | 6063-T6 |
| Brossard, Quebec, Canada | Low Truss | pedestrian | | Aluminum hollow extruded profiles | 6061-T6 |