Aluminum alloy has beautiful color, good corrosion resistance, high reflectivity to light and heat, and good sound absorption performance. Various colors can be obtained by chemical and electrochemical methods. Therefore, aluminum materials are widely used in roofs, walls, doors and windows, skeletons, interior and exterior decorative panels, ceilings, suspended ceilings, handrails, indoor furniture, store containers and construction templates of industrial and civil buildings.
锚点位置:alloy, building, panels, ceiling, gusset-plate-ceiling, square-tube-ceiling, roof, support, spacer, screen-partition, chalco
Architectural aluminum alloy doors and windows
Compared with wooden doors and windows or plastic doors and windows, aluminum extrusion for windows and doors have the advantages of long service life, corrosion resistance, easy recovery of materials and high reuse rate. While keeping the beautiful appearance, it has excellent heat insulation effect and obvious energy-saving effect. With the growth of the market scale of aluminum doors and windows, the demand for aluminum profiles also increases.
Aluminum Profiles for Windows and Doors
Material
6005/6060/6061/6082/6063
Temper
T3-T8
Application
windows, doors, curtain walls, rails, decoration profile.
Color
Customized Color
Thickness
1.General profiles thickness: 0.8mm—1.4mm
2.Anodizing protection thickness: 8-12 micron
3.Normal powder coated thickness: 60-100 micron
Shape

square, angled, flat, hollow, oval, triangle, U-profile, L-profile, T-profiles, H-profiles,

or customized available

Surface treatment
anodizing, mill finish, electroplating, polishing, sandblasted, powder coating, silver
plating, brushed, Painted, PVDF, etc.
Deep process

CNC, drilling, milling, cutting, stamping, welding, bending, assembling,

Custom Aluminum Fabrication

OEM & ODM
Available. Our engineer can check and discuss your design, great help !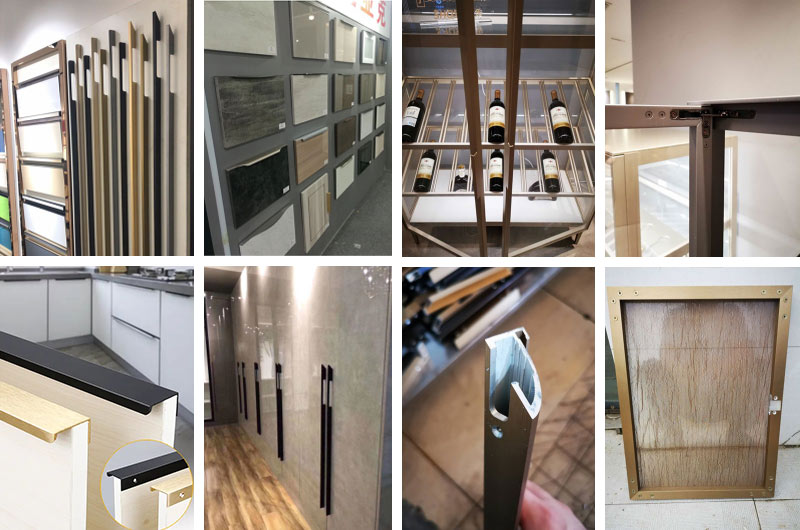 Building aluminum curtain wall
Aluminum curtain wall is a light wall with decorative effect commonly used in modern large and high-rise buildings. The application of curtain wall is mainly concentrated in modern office buildings, hotels, urban commercial complexes and other commercial real estate and comprehensive venues. It is a non-bearing peripheral protective structure with decorative effect.
In recent years, with the continuous expansion of the commercial real estate market and the increasing number of high-rise and super high-rise buildings, the curtain wall industry has developed rapidly. Aluminum building construction curtain wall has always played a leading role in curtain wall.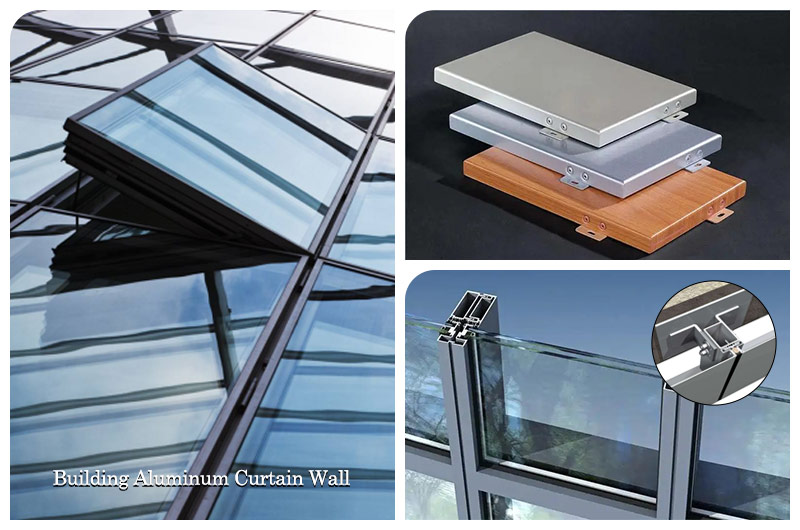 Specifications of aluminum curtain wall
Curtain wall aluminum plate is a new type of curtain wall material, which uses 1100 H24, 3003 H24, 5005 H24 and other high-quality aluminum alloy plates as the base material. It is formed by numerical control bending and other technologies, and its surface is sprayed with decorative paint.
Normal thickness: 1.5mm/2.0mm, 2.5mm, 3.0mm
Common specifications: 1500 * 3000mm, 1200 * 2000mm
Surface treatment of aluminum curtain wall
The surface of aluminum panel curtain wall is generally subject to chrome pretreatment and then fluorocarbon spraying treatment. Polyvinylidene fluoride resin for fluorocarbon coating and varnish is generally divided into two coats, three coats or four coats. Fluorocarbon coating has good corrosion resistance and weather resistance, resistance to acid rain, salt fog and various air pollutants, good cold and heat resistance, resistance to strong ultraviolet radiation, and long service life.
Chalco selects high quality fluorocarbon coatings from the world-famous fluorocarbon coating manufacturers, such as PPG, DNT, AKZO, NIPPON, etc., and a wide range of colors can be provided. Customers can directly select colors through the color swatches provided by Chalco. And we can also provide customized color swatches.
Advantages of aluminum curtain wall
Lightweight materials reduce the load on the building;
Excellent waterproof, antifouling and anti-corrosion properties ensure that the external surface of the building is durable and fresh;
It is easy in processing, transportation and installation, providing strong support for its wide use;
It has diversity of colors and can be combined into different shapes, which expands the design space;
The advantage of high-cost performance, easy maintenance and long service life are in line with users' requirements.
Aluminum building exterior wall panels
It adopts 1100/1050/1060/3003/3105/5005/5052 and other new aluminum exterior wall panels decorative and thermal insulation materials, which are made of polyester baking paint or fluorocarbon paint, carved aluminum alloy plate, polyurethane insulation layer and glass fiber cloth.
It is mainly used for exterior wall decoration and energy-saving transformation of gymnasiums, libraries, school and hospital office buildings, villas and other buildings. The main functions are architectural decoration, heat preservation, energy conservation, heat insulation, sound insulation, waterproof and mildew proof.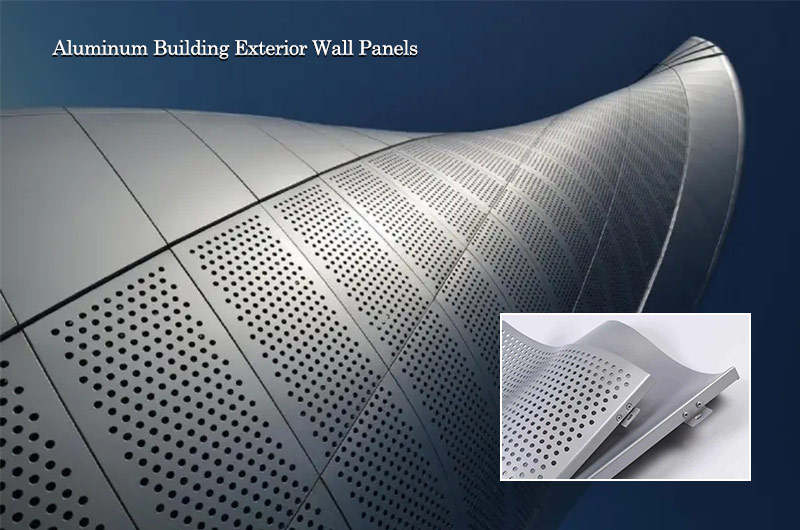 Advantages of Aluminum Waterproof Exterior Wall Panels
Light weight, good rigidity and high strength;
Good weather resistance and corrosion resistance. Pvdf fluorocarbon paint can be used for 25 years;
Good workmanship. The aluminum plate can be processed into plane, arc, spherical and other complex geometric shapes by the process of processing before painting;
The coating is uniform and colorful. The advanced electrostatic spraying technology makes the adhesion between the paint and the aluminum plate uniform, with various colors and large selection space;
It is not easy to stain and is convenient for cleaning and maintenance. The non adhesion of the fluorine coating film makes it difficult to attach pollutants to the surface, and has a good cleanability;
The installation is convenient and fast. The aluminum building exterior wall plate is formed in the factory and fixed on the skeleton without cutting at the construction site;
It is recyclable and environmentally friendly. Aluminum decorative wall panels can be 100% recycled, which is different from glass, stone, ceramics, aluminum plastic plate and other decorative materials, and has high recycling residual value.
Aluminum ceiling
Aluminum ceiling sheet is a ceiling partition decoration material which is good for air circulation, exhaust and heat dissipation. At present, the biggest issue of common building decoration materials is fire prevention. The fire protection acceptance is very strict in large shopping malls, hotels, clubs and other public areas. Aluminum veneer and aluminum ceiling panels fully solve this problem.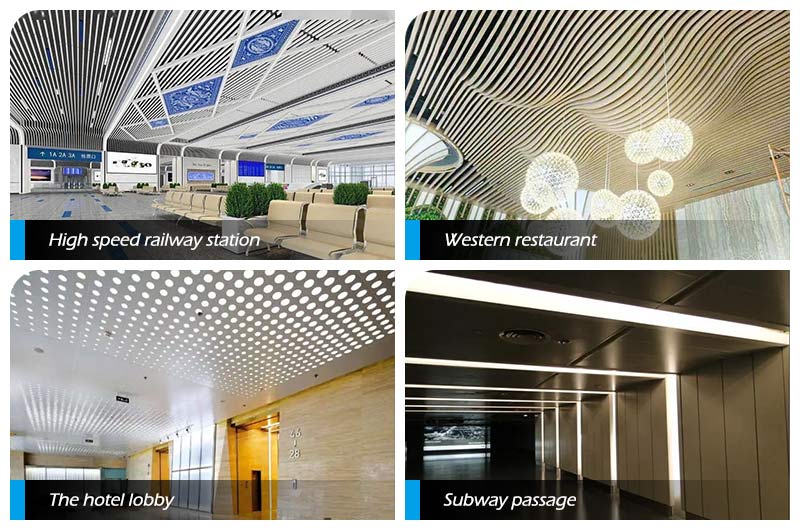 Aluminum ceiling installation materials are divided into the following categories:
1. 5005 and 5052 aluminum ceiling
Aluminum magnesium alloy also contains some manganese. The greatest advantage of this material is its good oxidation resistance. At the same time, because of the manganese content, it has certain strength and stiffness, and is the most ideal material for aluminum ceiling.
2. 3003 aluminum ceiling
The strength and stiffness of 3003 aluminum manganese alloy material is slightly better than that of 5 series aluminum magnesium alloy. It is a conventional aluminum ceiling material, but its oxidation resistance is slightly lower than that of 5 series aluminum magnesium alloy. If the environmental requirements are high, it is recommended to use 5 series aluminum magnesium alloy
3. 3003 grid aluminum ceiling
Flexible combination of grid ceiling: aluminum grid and aluminum frame are used for combination, which has unique design and novel shape after installation. The inward folding edge at the top of the main bone and auxiliary bone of grid ceiling enhances the firmness of the bone bars. The main bone and auxiliary bone bars can be trimmed on the spot to meet the requirements of different sites. The trimmed bone bars can still be used together. The port structure of the main bone and auxiliary bone is exquisite to make the connection of the bone bars seamless.
Aluminum gusset plate ceiling
Aluminum gusset plate is a special material with light and durable texture. It is widely used in home decoration ceiling. It has a variety of excellent characteristics and is suitable for kitchen and bathroom. It can achieve good decorative effect and has a variety of effects, so it is popular with consumers.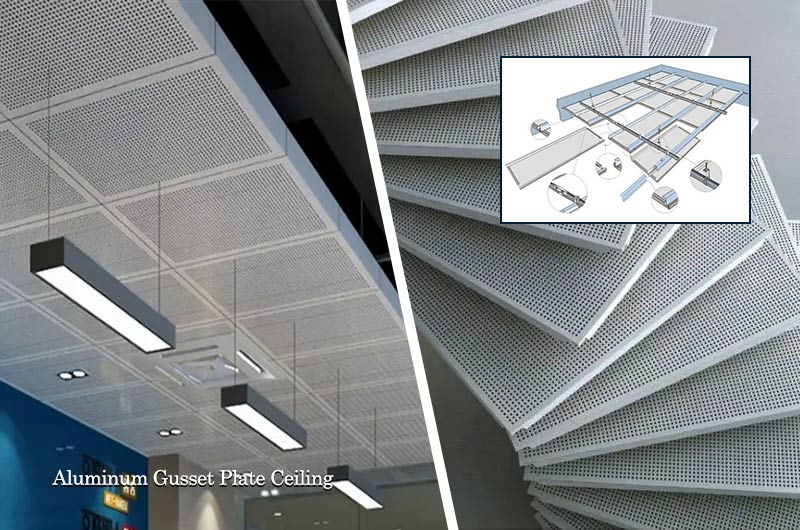 Specifications:
Material: 1100/1060/1070/3003/5005/5052, etc.
Dimensions: 300, 450, 500, 600 square plate
Plate thickness: 0.3~0.6mm, 0.6~1.0mm, 1.0~1.2mm
Processing technology: die pressing
Color: white, black, gray, solid/monochrome, imitation wood grain, stone grain, silver grey/flash silver, gold, champagne gold, rose gold, primary/natural color, titanium gold, high gloss, matte, two-color, tricolor, custom design, antique copper
Installation method: concealed installation of triangular keel
Advantages of aluminum metal gusset plates:
Aluminum gusset building sheet has tight structure and strong waterproof property;
The installation structure is a windproof special keel snap type structure, with strong compactness, no gap and strong water resistance;
High and deep keel, strong wind resistance;
High flexibility can be suitable for outdoor devices and can be flexibly assembled and used, providing designers with a wider space for conception;
Aluminum square tube ceiling
Aluminum tube ceiling is generally used in public places with numerous people in concealed works. It is convenient for air circulation, exhaust and heat dissipation, and can make the light evenly distributed, making the whole space spacious and bright. Aluminum square tube is widely used in subway, high-speed railway station, station, airport, shopping mall, passageway, leisure place, public toilet, building exterior wall and other open places.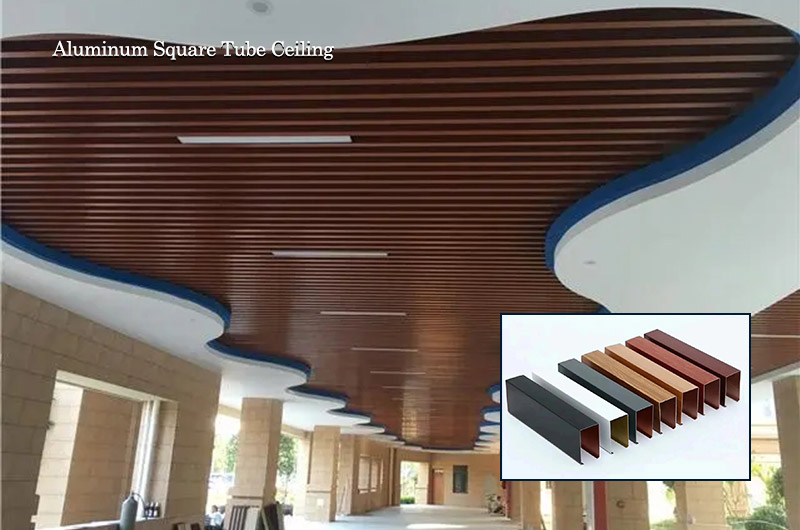 Aluminum ceiling square tube is a kind of open type long hanging plate, which is composed of aluminum square tube arranged in different distances. The long strip plate is used to hang on the keel for installation, which hides the keel system visually. The aluminum square ceiling is vertical, coherent and thick, and the appearance is simple and elegant.
Specification:
Bottom width: generally 20-400mm,
Height: 20-600mm
Thickness: 0.4-3.5mm
Material: 1100, 3003, 5005, etc. According to the alloy strength of aluminum, it can be divided into H24, H18, etc.
Surface treatment:
The surface treatment of aluminum square tube ceilings is mainly as follows: spraying, baking, roller coating and film covering. The service life of spraying and baking paint is short, and color difference is easy to occur. The service life of roller coating is in the middle. The coated plate can be divided into ordinary film and imported film. The service life of imported film can basically reach 20 years without discoloration.
Color coated aluminum roof
After cleaning, chromizing, roller coating, baking and other processing, the surface of the aluminum coil is coated with various colors of paint. This kind of aluminum coil is called color coated aluminum coil. Colored aluminum is widely used in roofs due to its advantages of light texture, bright color, easy processing and forming, and no rust.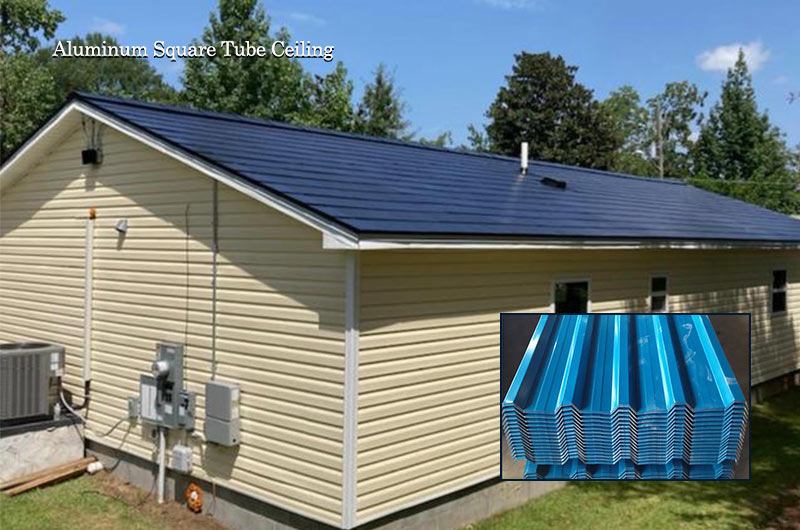 Conventional alloys are 1100, 1050, 1060, 1070, 3003, 3004, 3105, 5052, 5005, etc.
The thickness is 0.2mm-6mm, and the coating thickness is 5-25UM.
The surface color is rich, which can be painted with imitation stone grain color, imitation wood grain color aluminum plate, printed color aluminum, brushed color aluminum, etc.
According to different use requirements, it can be divided into PE color coated aluminum plate and PVDF color coated aluminum plate, which can guarantee color fastness for 10-20 years.
Aluminum support, guardrail, handrail
The application of aluminum profiles in building energy conservation is also increasingly widespread, and energy-saving aluminum profiles have become the green building materials around the world.
Generally, 6005/6060/6061/6082/6063 is commonly used.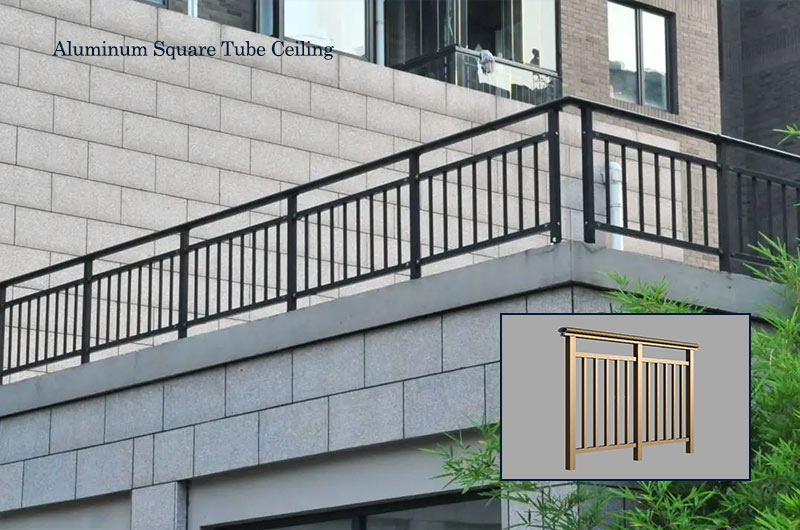 The surface of aluminum alloy bracket, guardrail and handrail will not rust, not produce light pollution, and the color will remain bright after powder coating or electrophoretic color coating. The new technology of interpenetration and welding between pipes is adopted to make the support, guardrail and handrail safer, light weight, impact resistance, etc.
Aluminum spacer for insulating glass
It is also called hollow aluminum strip. It is a glass product that supports two or more pieces of glass with aluminum strips, evenly separates them, and sticks and seals around them to form a dry gas space between glass layers. Insulating glass aluminum strip is a new type of building material with excellent heat insulation, sound insulation, beauty and applicability, and can reduce the deadweight of buildings.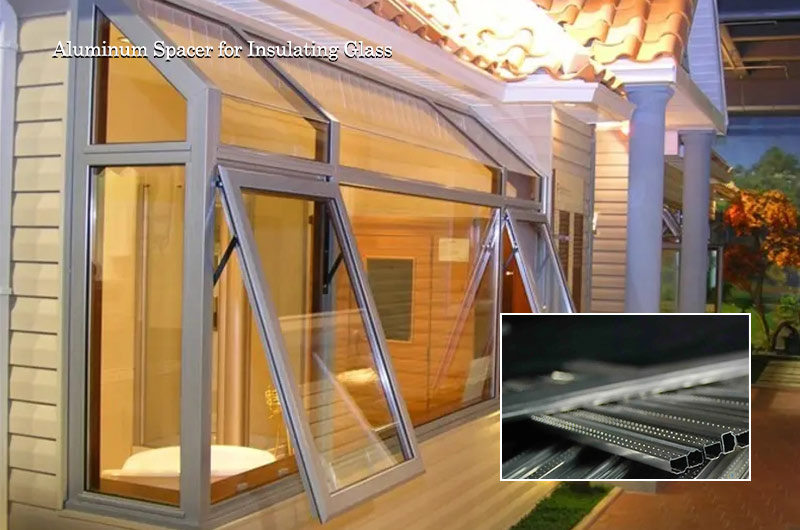 Common specifications: 4mm, 5mm, 5.5mm, 6mm, 6.5mm, 7mm, 8mm, 8.5mm, 9mm, 10mm, 11mm, 11.5mm, 12mm, 14mm, 14.5mm, 15mm, 16mm, 17mm, 18mm, 19mm, 20mm, 21mm, 25mm and other aluminum strips, which can also be customized according to the special needs of users.
The wall thickness of one side shall be between 0.25-0.4, and the limit deviation of peripheral wall thickness shall be ± 0.025.
The product is not allowed to have hard bending and side bending (except free sag bending radian).
Advantages of aluminum spacer bar:
The surface is flat and smooth, rust proof, and high anti-corrosion brightness;
The aluminum glass spacer surface has uniform hole penetration, good straightness, no deformation and stable size;
It has high strength and good toughness, and can be continuously bent into aluminum frames at any angle with bending equipment.
Aluminum office screen and partition
The main purpose of the installation of aluminum profile screen partition in the office is to separate the office area. At the same time, it can better reflect the image of the enterprise.
In the market, the high office cubicles are mainly made of aluminum alloy. The products are fashionable, elegant and generous. It can improve the comfortability of office environment.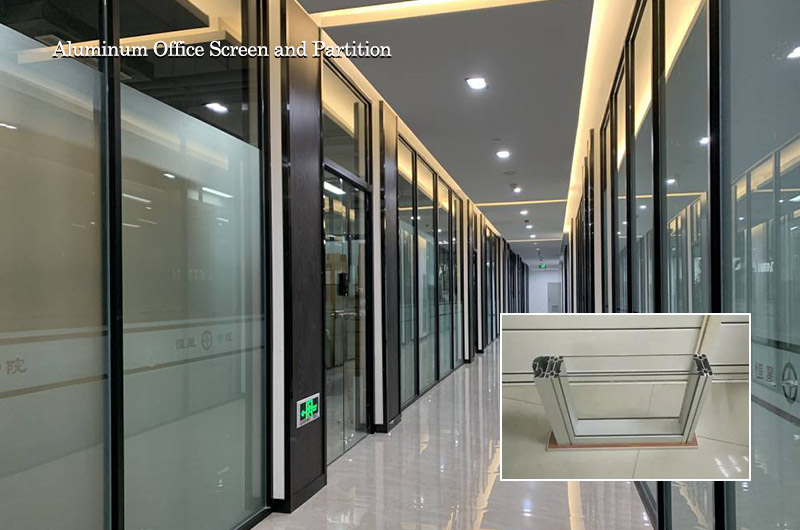 The overall frame of the aluminum profile screen partition is made of aluminum profiles. Conventional partitions mostly use 4040 aluminum profiles, and there are also partitions used together with 4040 aluminum profiles and 4080 aluminum profiles.
Advantages of aluminum office partitions:
The surface is anodized and sandblasted, which is corrosion resistant and easy to clean.
It is firm and has good load-bearing performance.
It is easy to set up, flexible in application, strong in adjustment, and is not limited by external conditions. It can be adjusted according to changes in work needs.
Overall anti-static, fundamentally eliminate the threat of potential static electricity to products.
The materials is environmental friendly and can be reused to save production costs.
Chalco is a reliable supplier of building decoration materials
Chalco has a rich series of aluminum in architectural products, which can provide architectural aluminum veneer, color coated aluminum plate, aluminum ceiling, aluminum profiles, oxidized decorate sheet, powder coated profiles, etc. Our products can be widely used in various architectural decoration fields;
Excellent anti-corrosion performance, good processing performance and strong operability;
Stable quality, strict and perfect quality inspection system;
With strong flexibility, we can customize according to customers' design drawings to meet the diversified needs of different customers;
Adhering to the business philosophy of integrity with reasonable price and reliable quality;
Serve customers and provide customers with valuable solutions.