6061 aluminum plate is the most widely used aluminum alloys. It is an Al-Si-Mg alloy, which is strengthened by precipitation hardening. 6061 aluminum plate is famous for its excellent weldability, high strength, good machinability and good corrosion resistance.
6061 is the most commonly used heat-treatable alloy, widely used in various manufacturing projects, such as battery container, mobile phone card slot, mobile phone shell, manufacturing trucks, tower buildings, structural materials, ships, railway vehicles, precision machining, etc.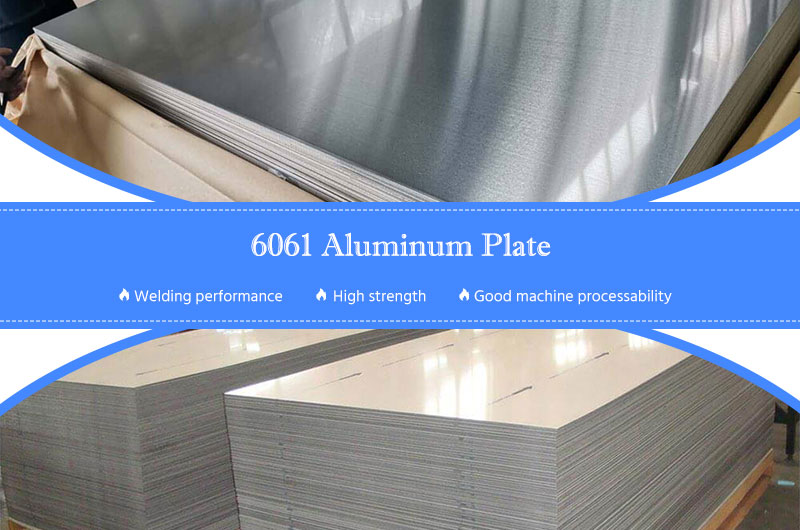 Chemical composition of 6061 aluminum plate
| | |
| --- | --- |
| Element | Composition % |
| Si | 0.4 - 0.8 |
| Fe | 0.7 |
| Cu | 0.15 - 0.4 |
| Mn | 0.15 |
| Mg | 0.8 - 1.2 |
| Cr | 0.04 - 0.35 |
| Ni | - |
| Zn | 0.25 |
| Ti | 0.15 |
| Others:Each | 0.05 |
| Others:Total | 0.15 |
| Aluminium | Remainder |
Specification of 6061 aluminum plate
| | |
| --- | --- |
| Standard | ASTM B209;AMS-QQ-A-250/11 |
| Temper | F, O, T4, T451, T42, T5, T6, T651, T6511, H112 |
| Thickness(mm) | 0.3 - 500 |
| Width(mm) | 100 - 2800 |
| Length(mm) | 500 - 16000 |
Mechanical properties of 6061 aluminum plate
| | |
| --- | --- |
| Ultimate Tensile Strength | 310 MPa |
| Yield Tensile Strength | 276 MPa |
| Fatigue Strength | 96.5 MPa |
| Shear Strength | 207 MPa |
| Melting Point | 582 - 652°C |
Chalco hot selling 6061 aluminum plate
6061 aluminum sheet
6061 aluminum sheet has a smooth and clean surface without grinding. It can be directly used in digital 3C fields, such as mobile phone slot, keyboard, computer support, computer shell, aluminum furniture, door/door handle, PC board pad, etc.
6061 aluminum plate
This kind of alloy is widely used in underwear mold, shoe sole, fine processing, passenger car decorative plate/inspection machine plate, car chassis protection parts, car four doors and two covers, wheel hub, car seat, electric cars battery pack cover and other fields.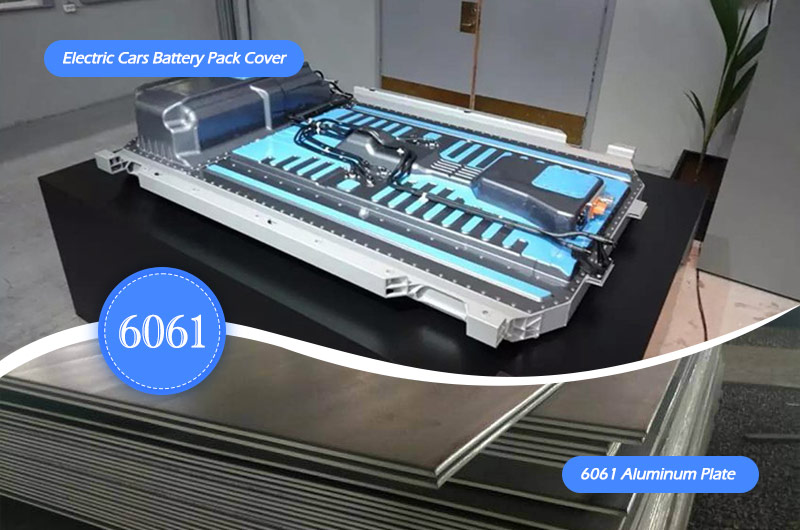 6061 O aluminum plate
6061 O aluminum plate has the good extrusion formability, and the hardness and strength of the finished product after quenching are high. After forming, the surface is beautiful, has good plasticity and excellent corrosion resistance, and has no tendency of stress corrosion cracking. It is very suitable for application in high-end vehicle hub construction, mechanical parts, precision machining and other fields.
6061 T6 aluminum plate
T6 represents the heat treatment temper, and T6 is a widely used temper of 6061 aluminum. The production process in this temper is:
plate quenching - plate slicing - tensile machine - aging treatment - sawing machine - polishing - packaging
6061 T6 is a very popular alloy, because of its good corrosion resistance, which can also be further improved by protective coating treatment. Therefore, it is often used in the fields of water, air and hydraulic pipelines and shipbuilding. 6061 T6 aluminum plate is of medium strength, light weight and very durable. It is also often used for bicycle frame, fly fishing reels, guns, radio and remote-control items and fire rescue ladders.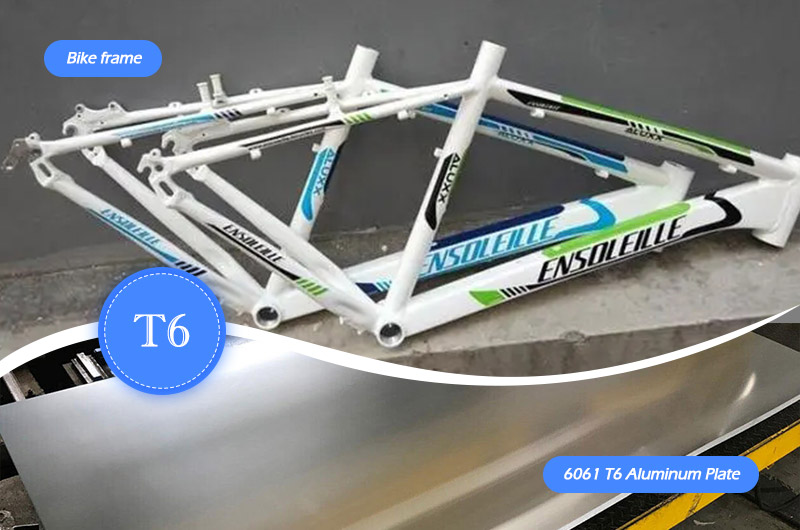 6061 T651 aluminum plate
6061 T651 is formed after the internal stress is relieved by stretching on the basis of 6061-T6. Therefore, it is more suitable for processing and forming. It is considered as the most common heat-treatable aluminum alloy with good corrosion resistance.
This is a lightweight material with a semi-smooth surface and a dull finish. It is usually processed according to the end user's specifications, and is often used in aerospace fixtures, electrical fixtures, communications, and also widely used in automatic mechanical parts, precision machining, mold manufacturing, electronics and precision instruments, SMT, PC plate solder carriers, and so on.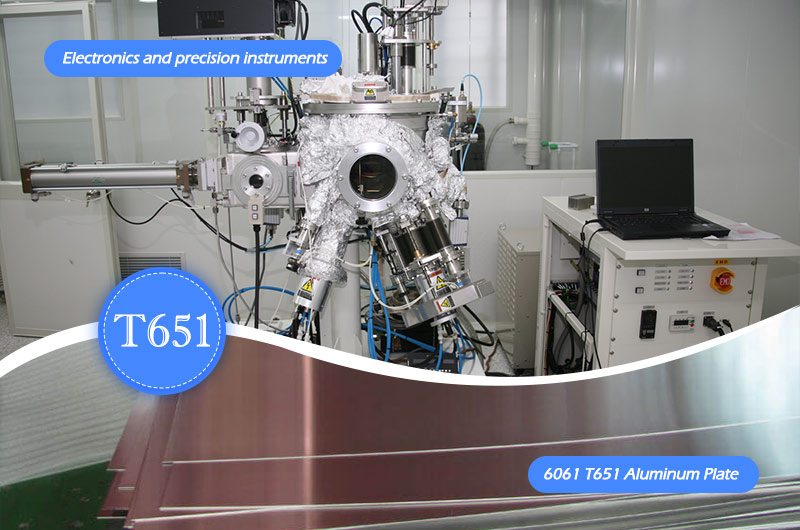 6061 ultra-wide aluminum plate
Generally, aluminum plate with a width of more than 1500mm is defined as ultra-wide aluminum plate. 6061 ultra-wide aluminum plate is a special type and its maximum width can reach 2650mm. Ultra-wide aluminum plate is usually used in the fields of ship manufacturing, electronic equipment, precision machinery and other special requirements.
6061 embossed aluminum plate
There are many types of 6061 patterned aluminum plate, including 6061 pointer patterned aluminum plate, 6061 one ribbed aluminum plate, 6061 three ribbed aluminum plate, 6061 five ribbed aluminum plate. 6061 checkered plate has good weldability, no low-temperature brittleness, good toughness, long service life and other characteristics, and is widely used in the fields of stairs, buildings, vehicles, ships and other anti-skid floors, and decoration fields.
Weight calculation of 6061 aluminum plate
Weight calculation pf aluminum plate:Length(mm)*width(m)* density 2.7g/cm3
Price of 6061 aluminum plate
6061 aluminum plate price:(LME ingot price + processing fee) * weight + packaging fee + transportation fee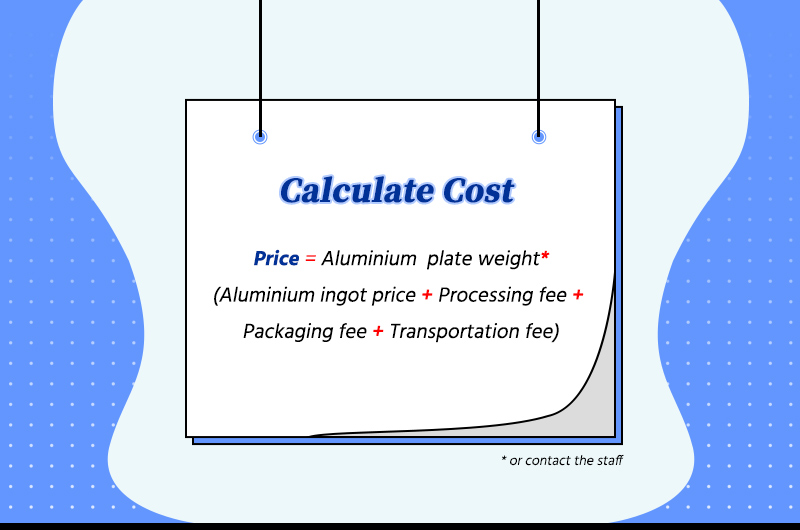 Please contact Chalco aluminum to inquire about the processing cost per ton of aluminum plates of relevant models. The processing costs of 6061 aluminum plates of different sizes vary greatly. We offer you the best price.
6061 aluminum plate packaging and transportation
The products are packed in export wooden boxes or wooden pallets, fumigated wooden tray with fumigation certificate.
During transportation, it is not allowed to mix aluminum plate with active chemical products and wet materials. The carriage and cabin should be kept in a dry, clean and pollution-free condition.
Aluminum plates are generally shipped in closed carriages or warehouses, and ultra-long plates or gondola cars in special cases. The waterproof cloth shall be tightly covered and tied to ensure that water, rain and snow will not enter the packaging box and aluminum products.
Aluminum plates are generally stored in the warehouse during transshipment. If it needs to be stored in the open air under special circumstances, it must be tightly covered and tied with rainproof cloth. At the same time, the bottom aluminum plate shall be padded not less than 100mm.
During transportation, moisture-proof packaging measures shall also be taken to avoid water ingress into the aluminum plate packaging. In the process of loading and unloading, collision shall be avoided and aluminum plates shall be safely transported to the user's warehouse.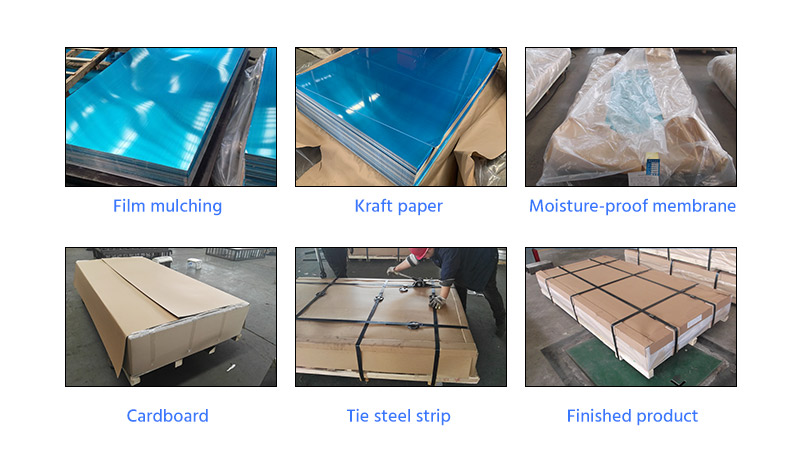 Chalco-high quality 6061 aluminum plate suppliers
Chalco has focused on research, development and production of aluminum panels for more than 20 years. As one of the most professional suppliers of aluminum products, we can provide high-quality 6061-T6, 6061-T651, etc. aluminum plates. The product is free of oil spots, waves, scratches, rolling marks, trimming, burrs, etc.
Chalco has always adhered to the principle of quality first and customer first. We have won the trust of customers by relying on advanced scientific research technology and excellent equipment quality.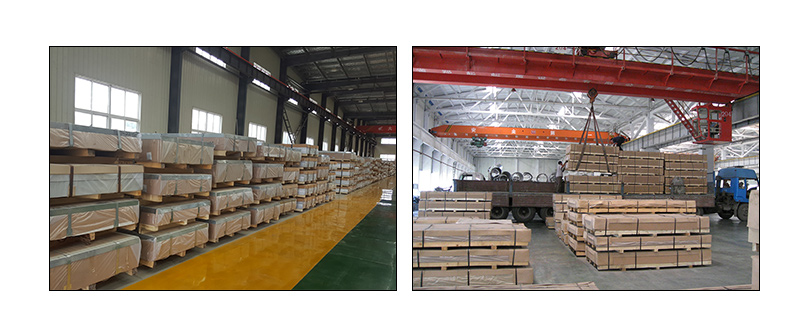 6061 Aluminum Sheet Inventory ListQuick Quote
| | | | | |
| --- | --- | --- | --- | --- |
| Alloy | Temper | Thickness (mm) | Width (mm) | Length (mm) |
| 6061 | T6 | 1 | 1250 | 2500 |
| 6061 | T6 | 1.5 | 1250 | 2500 |
| 6061 | T6 | 2 | 1000 | 2000 |
| 6061 | T6 | 2.5 | 1500 | 3000 |
| 6061 | T6 | 4 | 1500 | 3000 |
| 6061 | T6 | 5 | 1500 | 3000 |
| 6061 | T6 | 10 | 2500 | 6000 |
| 6061 | T6 | 15 | 2000 | 4000 |
| 6061 | T6 | 22 | 1500 | 3000 |
| 6061 | T6 | 45 | 1500 | 3000 |
| 6061 | T6 | 45 | 2000 | 4000 |
| 6061 | T6 | 50 | 1500 | 3000 |
| 6061 | T6 | 50 | 2000 | 4000 |
| 6061 | T6 | 60 | 2600 | 6000 |
| 6061 | T6 | 80 | 1220 | 4000 |
| 6061 | T6 | 85 | 1500 | 3000 |
| 6061 | T6 | 90 | 2600 | 6000 |
| 6061 | T6 | 95 | 1500 | 3000 |
| 6061 | T6 | 110 | 2600 | 6000 |
| 6061 | T6 | 120 | 1500 | 3000 |
| 6061 | T6 | 200 | 1500 | 3000 |
| 6061 | T651 | 9.75 | 1220 | 4000 |
| 6061 | T651 | 9.75 | 1220 | 3660 |
| 6061 | T651 | 10 | 1500 | 3000 |
| 6061 | T651 | 12 | 1500 | 3000 |
| 6061 | T651 | 16 | 1220 | 3660 |
| 6061 | T651 | 25 | 2000 | 4000 |
| 6061 | T651 | 40 | 2000 | 4000 |
| 6061 | T651 | 60 | 1220 | 4000 |
| 6061 | T651 | 60 | 1500 | 3000 |
| 6061 | T651 | 60 | 2000 | 4000 |
| 6061 | T651 | 70 | 2000 | 4000 |
| 6061 | T651 | 95 | 2000 | 4000 |
| 6061 | T651 | 130 | 2000 | 4000 |
| 6061 | T651 | 150 | 2000 | 4000 |
| 6061 | T651 | 170 | 1500 | 3000 |
| 6061 | T651 | 180 | 2000 | 4000 |
| 6061 | T651 | 240 | 2000 | 4000 |
| 6061 | T6 | 0.8 | 1500 | 3000 |
| 6061 | T6 | 1 | 1500 | 3000 |
| 6061 | T6 | 1.2 | 1500 | 3000 |
| 6061 | T6 | 1.5 | 1500 | 3000 |
| 6061 | T6 | 2 | 1250 | 2500 |
| 6061 | T6 | 2 | 1500 | 3000 |
| 6061 | T6 | 3 | 1250 | 2500 |
| 6061 | T6 | 4 | 1250 | 2500 |
| 6061 | T6 | 5 | 1250 | 2500 |
| 6061 | T6 | 6 | 1500 | 3000 |
| 6061 | T6 | 8 | 1500 | 3000 |
| 6061 | T6 | 10 | 1500 | 3000 |
| 6061 | T6 | 12 | 2500 | 6000 |
| 6061 | T6 | 14 | 1500 | 3000 |
| 6061 | T6 | 15 | 1500 | 3000 |
| 6061 | T6 | 16 | 1500 | 3000 |
| 6061 | T6 | 16 | 2600 | 6000 |
| 6061 | T6 | 18 | 1500 | 3000 |
| 6061 | T6 | 20 | 2600 | 6000 |
| 6061 | T6 | 25 | 2600 | 6000 |
| 6061 | T6 | 40 | 2600 | 6000 |
| 6061 | T6 | 45 | 2600 | 6000 |
| 6061 | T6 | 50 | 2600 | 6000 |
| 6061 | T6 | 55 | 2000 | 4000 |
| 6061 | T6 | 65 | 1500 | 3000 |
| 6061 | T6 | 75 | 1500 | 3000 |
| 6061 | T6 | 80 | 1500 | 3000 |
| 6061 | T6 | 80 | 2600 | 6000 |
| 6061 | T6 | 100 | 1500 | 3000 |
| 6061 | T6 | 100 | 2600 | 6000 |
| 6061 | T6 | 110 | 1500 | 3000 |
| 6061 | T6 | 130 | 1500 | 3000 |
| 6061 | T6 | 140 | 1500 | 3000 |
| 6061 | T6 | 150 | 1500 | 3000 |
| 6061 | T6 | 160 | 1500 | 3000 |
| 6061 | T6 | 170 | 1500 | 3000 |
| 6061 | T6 | 180 | 1500 | 3000 |
| 6061 | T6 | 190 | 1500 | 3000 |
| 6061 | T651 | 6 | 1500 | 3000 |
| 6061 | T651 | 8 | 1500 | 3000 |
| 6061 | T651 | 15 | 1500 | 3000 |
| 6061 | T651 | 16 | 1500 | 3000 |
| 6061 | T651 | 55 | 2000 | 4000 |
| 6061 | T651 | 75 | 2000 | 4000 |
| 6061 | T651 | 160 | 2000 | 4000 |
| 6061 | T651 | 190 | 2000 | 4000 |
| 6061 | T651 | 230 | 2000 | 4000 |