Chalco's capacity for aerospace grade aluminum products
Chalco can ensure that our 6061 aluminum forgings have sufficient strength, toughness, corrosion resistance and reliability in aerospace applications.Welcome contact
AS9100, OHSAS 18001, ISO14001, ISO 9001, NADCAP HT, NADCAP NDT, IATP16949
AMS 4127 6061-T6 Forgings Rolled or Forged
AMS 4128 6061-T451 Forged
AMS 4146 6061-T4 Forgings
QQ-A-367 6061 Forgings
MILA22771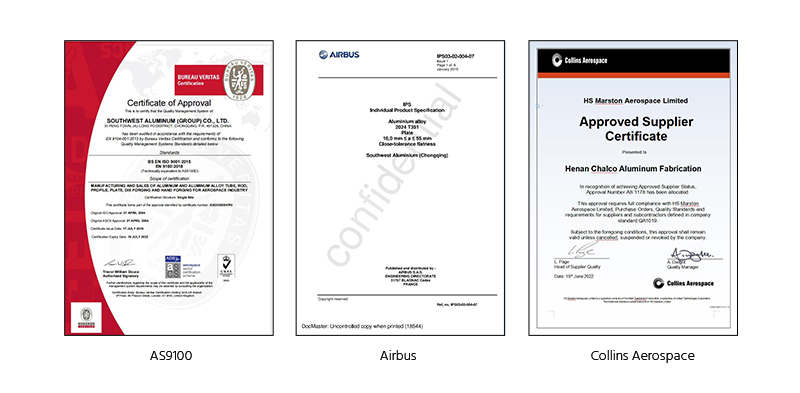 Specification of 6061 T6/T451/T4 aluminum forgings
Forging
Types
Max Weight
Max Measurement
Open Die Forge
cube
≤5T
Length≤7000mm;
width≤2000mm;
height≤500mm
disc
≤5T
diameter≤2500mm
ring
≤5T
Outer diameter of quenching parts≤2500mm;
outer diameter of non-quenching parts≤4000mm;
height≤500mm
cylinder
≤5T
Out diameter 200 to 800mm; Length≤2000mm;
outer diameter 801 to 2000mm; length≤1500mm
axle
≤8T
length≤7000mm,
diameter≤800mm
Closed Die Forge
PVA≤3.0 (Diameter≤1950mm)
Complicated closed die forge parts
PVA≤1.5㎡\(Diameter≤1400mm)
Chemical composition of 6061 aluminum forgings
| | |
| --- | --- |
| Element | AMS 4127 Requirements (wt. %) |
| Si | 0.4-0.8 |
| Fe | 0.7 max |
| Cu | 0.15 max |
| Mn | 0.15 max |
| Mg | 0.8-1.2 |
| Cr | 0.04 max |
| Zn | 0.25 max |
| Ti | 0.15 max |
| Al | balance |
| Other | 0.05 max |
Mechanical properties for 6061 aluminium forgings
| | | | |
| --- | --- | --- | --- |
| Property | T6 | T451 | T4 |
| Tensile strength | 310 MPa | 310 MPa | 241 MPa |
| Yield strength | 275 MPa | 275 MPa | 152 MPa |
| Elongation at break | 12% | 17% | 25% |
| Hardness, brinell | 95 HB | 95 HB | 65 HB |
| Modulus of elasticity | 68.9 GPa | 68.9 GPa | 68.9 GPa |
What are the characteristics of 6061 aviation aluminum forgings?
High strength
Good corrosion resistance and weldability
Good plasticity and formability
Resistance to pressure and temperature change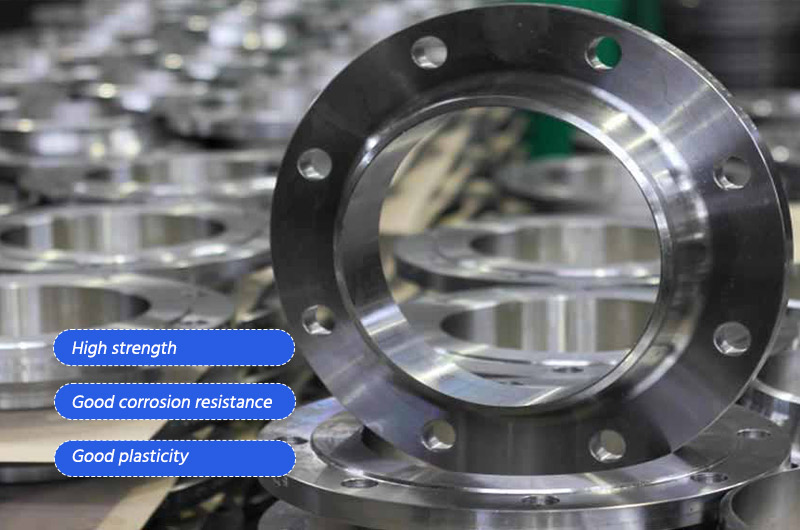 Application of 6061 aviation aluminum forgings
6061 aluminum forged components are commonly used to manufacture structural parts of aircraft, such as fuselage components, wings, control surfaces, and wing connectors, due to their high strength and lightweight characteristics, which are crucial for aircraft performance.
In the manufacturing of rockets and missiles, 6061 aluminum alloy is employed to create structural components capable of withstanding high mechanical stresses and impact.
6061 aluminum forged components are also used in the construction of satellite structures and casings due to their lightweight nature and corrosion resistance.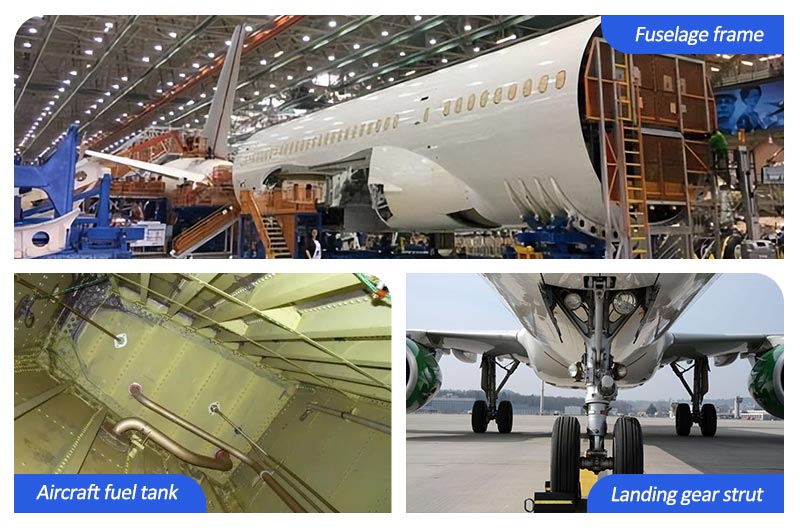 Other hot selling aerospace aluminum forging products in Chalco
FAQ for purchasing 6061 aerospace aluminum forging
Q1: What is Chalco's experience in producing 6061 aerospace forgings for the aerospace industry?
A: Chalco has extensive experience in manufacturing high-performance, key, and safety-critical forged parts. Our focus is on aluminum alloy materials, mold design, process design, and key technologies of aluminum alloy heat treatment.
Q2: What manufacturing capabilities and equipment does Chalco have for producing 6061 aerospace forgings?
A: Chalco possesses mold manufacturing and design equipment, multiple forging production lines, and complete testing facilities. We offer comprehensive services from concept to product design, manufacturing, testing, and verification, ensuring product stability and consistency.
Q3: What does Chalco offer in terms of production reliability and pricing for 6061 aerospace forgings?
A: Chalco provides the necessary conditions for high production reliability and optimized processes. Our 6061 aerospace forgings are first-hand supplies with stable prices. For specific pricing details, please contact our customer service personnel for quotations and free samples.
Q4: How can I inquire about the price and request samples for 6061 aerospace forgings from Chalco?
A: For price inquiries and sample requests, you can get in touch with our customer service team. They will be happy to provide you with the necessary information.
Q5: Does Chalco offer customized services for 6061 aerospace forgings, and can they cater to specific aerospace requirements?
A: Yes, Chalco provides customized services and can tailor products to meet specific aerospace requirements. We have the capabilities to assist with concept, design, manufacturing, testing, and verification, ensuring the products align with your needs.
Chalco can provide you the most comprehensive inventory of aluminum products and can also supply you customized products. Precise quotation will be provided within 24 hours.
Get a quote