Chalco's produced aluminum foil for pet food containers offers excellent sealing performance, high-temperature resistance for cooking, and is environmentally friendly and recyclable.
It can also be customized into various sizes and shapes according to customer needs, and supports multi-color differentiated printing.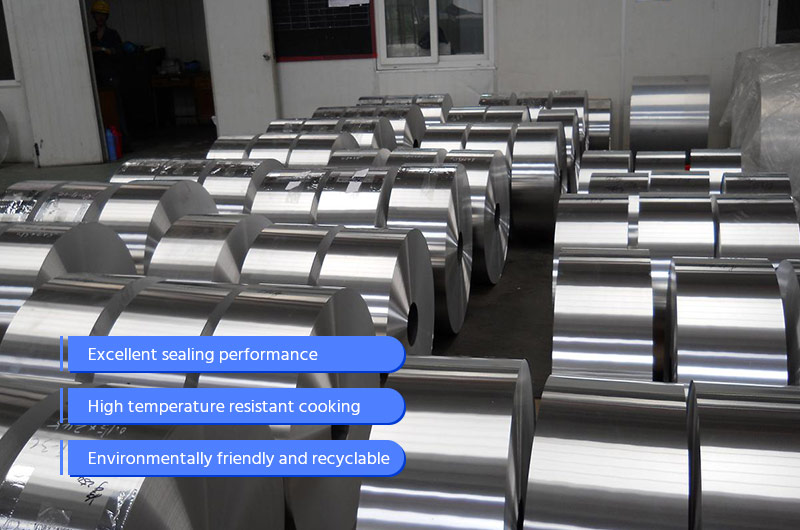 Aluminum foil for pet food container specifications
Alloy
3104 5052
3003 3004 8011 8066
Temper
O H24
O H22 H24 H26
Width
200-1960 mm (7.87-77.16 in)
300-1600 mm (11.81-63 in)
Thickness
≥0.035 mm
0.045-0.12 mm
Price
(LME ingot price + processing fee) × weight + packaging fee + transportation fee
Sample
Send samples for free, if you need samples, please click free sample
Stock
In stock
Custom Made
The above specifications and packaging spraying can be customized according to customer needs
For other questions, such as minimum order quantity, payment method, delivery date, packaging and transportation, etc., please click to view.
Chemical composition of aluminum foil for pet food container
Element
Composition (%)
3003
3004
3104
5052
8011
Al
Remainder
Remainder
Remainder
Remainder
Remainder
Si
0.60
0.30
0.60
0.25
0.50-0.90
Fe
0.70
0.70
0.80
0.40
0.6-1.0
Cu
0.05-0.20
0.25
0.05-0.25
0.10
0.10
Mn
1.0-1.5
1.0-1.5
0.8-1.4
0.10
0.20
Mg
-
0.8-1.3
0.8-1.3
2.2-2.8
0.05
Cr
-
-
-
0.15-0.35
0.05
Zn
0.10
0.25
0.25
0.10
0.10
Ti
-
-
0.10
-
0.08
Ga
-
-
0.05
-
-
V
-
-
0.05
-
-
Other (each)
0.05
0.05
0.05
0.05
0.05
Other (total)
0.10
0.15
0.15
0.15
0.15
The chemical composition will affect the performance and can be produced according to the standard required by the customer.
Impact of chemical composition on mechanical properties of aluminum foil for pet food container
Adding an appropriate amount of Cu to the alloy can enhance its strengthening ability during annealing.
Alloys with higher manganese content exhibit higher yield strength compared to alloys with lower manganese content under the same conditions.
Chromium hinders the nucleation and growth processes of recrystallization, imparts a certain degree of strengthening to the alloy, and also improves the alloy's toughness.
Why is aluminum foil packaging becoming increasingly popular for pet food containers compared to other packaging materials?
Compared to other packaging materials
Aluminum foil is more environmentally friendly than plastic, as it can be reused and offers better insulation.
Aluminum foil is less prone to breakage than glass, making it more flexible and convenient to use.
Aluminum foil provides stronger moisture resistance and odor barrier compared to paper.
Aluminum foil is more eco-friendly than tin foil, non-toxic, and comes at a more reasonable price.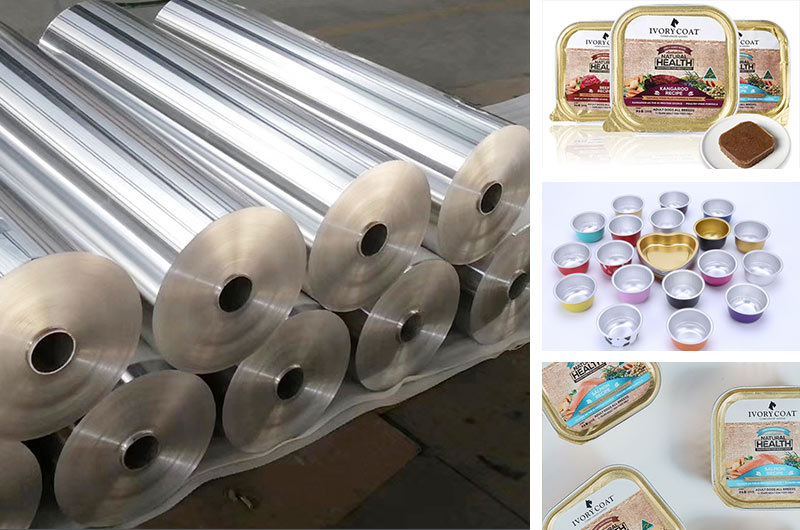 Excellent sealing
Pet food, often containing meat, is susceptible to spoilage if not properly sealed. Despite its thinness, aluminum foil for pet food containers boasts strong barrier properties, effectively blocking light, gases, and other substances.
This enhances freshness, protects moisture, prevents leakage or contamination of flavors, and effectively maintains the original taste and characteristics of the product.
Ease of processing
Aluminum foil is highly malleable, ensuring that even during the process of stamping utensils, it doesn't crack or break, even in areas with folds and edges.
This allows aluminum foil for pet food containers to be produced in various sizes.
Innovative and appealing packaging style
Aluminum foil possesses a bright metallic luster and is compatible with all printing techniques.
As a result, designers can leverage their creativity to craft unique patterns and brand logos. Additionally, Chalco Aluminum offers multi-color differentiated printing, achieving brand distinctiveness.
High temperature resistance
Aluminum foil for pet food containers exhibits remarkable heat resistance and remains intact without deformation even at a frigid temperature of minus 193 degrees Celsius.
Superior protective performance
The unique alloy and shape of aluminum foil for pet food containers grant it higher rigidity, enabling effective protection of the contents from external impacts, compression, and pressure during packaging.
Lightweight and convenient for transport
Aluminum foil for pet food containers is lightweight, easy to carry, and opens effortlessly. It facilitates transportation and sales.
Non-toxic raw material, quality assurance
Aluminum foil for pet food containers contains no harmful substances like heavy metals. During production, a high-temperature annealing sterilization process is used.
As a result, aluminum foil for pet food containers can safely come into contact with food, without harboring or promoting bacterial growth.
Environmentally friendly and recyclable
Aluminum foil for pet food containers boasts exceptional recyclability and reusability, allowing for an unlimited number of recycling cycles.
Meet all pet food packaging
Dog Food.
Cat Food.
Dogs Treats.
Bird Seed.
Fish Food.
Horse Feed.
Etc.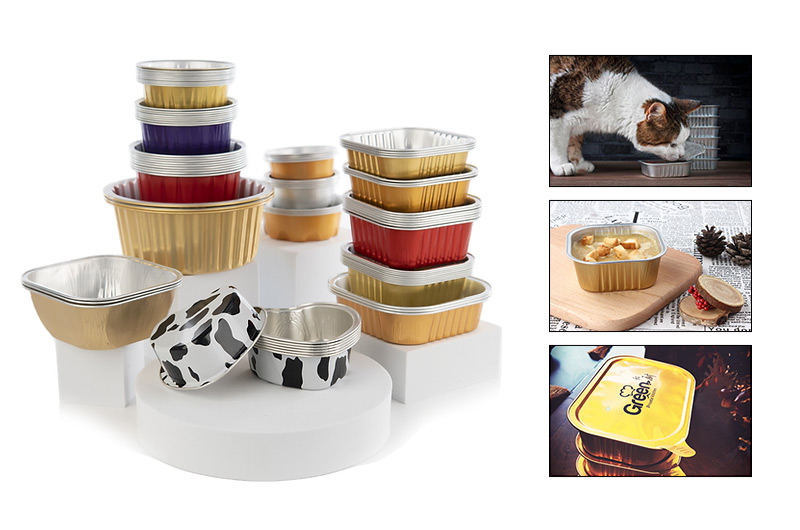 Aluminum foil for pet food container advantages
Company strength
Currently, China leads the world in aluminum foil production and exports. Chalco Aluminum stands as the largest aluminum producer in China.
Our production of ultra-thin aluminum foil ranging from 0.0045 to 0.005mm has been recognized as a key new product by the Chinese government. For several consecutive years, we have been honored by ABB as an outstanding supplier of the year, and we have also received the Annual Excellence Award from the American company GE.
Production equipment
Chalco Aluminum takes pride in its impressive production equipment. We possess a 2000mm Achenbach and Davy aluminum foil rolling mill, alongside the incorporation of the German Herkules roll grinder.
The grinder's maximum roll diameter reaches 650mm, and its grinding precision is an astounding 0.0001mm.
Additionally, we have the Kampf aluminum foil slitter, which enhances the diversification of our production line, catering to the needs of various customers.
To ensure product quality, we have invested in high-precision annealing furnaces that utilize negative pressure vacuum annealing technology. The furnace gas temperature differential is controlled within a range of ±3℃, ensuring steadfast enhancement of product quality for every batch.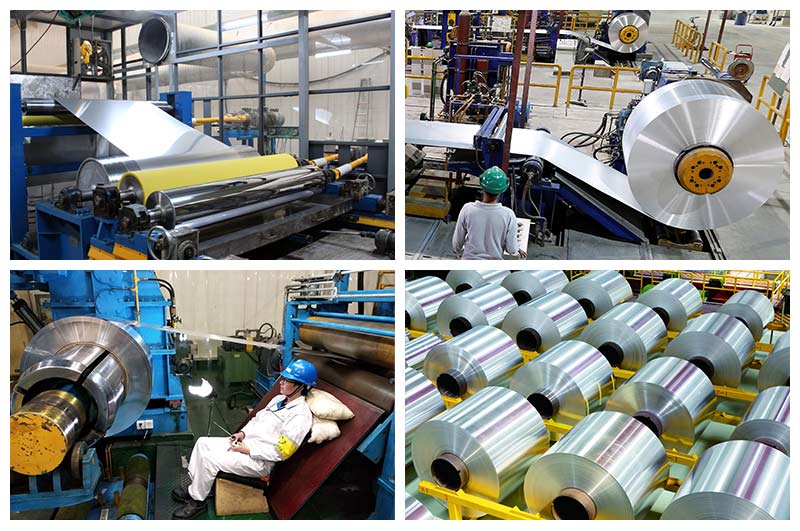 Quality assurance
The aluminum foil for pet food containers produced by Chalco Aluminum boasts high strength, smooth coil end surfaces, and is free from burrs.
We commit to maintaining a 34-35 Dyne value for the aluminum foil for pet food container product within two weeks of usage.
Furthermore, we provide online surface defect and pinhole inspection reports for the entire length of the aluminum foil for pet food container product.
We consistently adhere to a zero-defect principle, ensuring that every piece of product leaves the factory without defects, and offering you high-quality aluminum foil for pet food container products.
Collaborative partners
Chalco Aluminum is a qualified supplier for Amcor, the world's largest flexible packaging enterprise.
Additionally, we are also the manufacturer of aluminum foil for pet food containers for the following pet food brands:
A. Royal Canin Dog Food.
B. Victor Dog Food.
C. Blue Buffalo Dog Food.
D. Fromm Dog Food.
E. Orijen Dog Food.
F. Purina Dog Food.
G. Acana Dog Food.
H. Iams Dog Food.

Frequently asked questions about purchasing aluminum foil for pet food container
Payment method
Contact us to get quotation information. Quick Quote
Delivery time
We maintain sufficient stock of common models and colors. This is why our minimum order quantity is so low. Please confirm with our sales personnel before placing an order.
Aluminum foil for pet food container packaging
The packaging methods of Cooking Bag Foil can be divided into two types according to the thickness and status: box packaging and tic-tac-toe packaging.
Box packaging is divided into stacking type, suspension type and bottom bracket type.
The stacking type is mainly used for products with small specifications and light weight.
the bottom bracket type is mainly used for products with large specifications and heavy weight; the suspension type is mainly used for products with general specifications and weight.
To learn more about packing methods, please click How to Pack Aluminum Products.
Is Chalco Aluminum a trading company or a manufacturer?
Yes, we are the manufacturer of Aluminum Foil For Pet Food Containers.
Does Chalco Aluminum offer other aluminum foil products?
We offer the following hot selling aluminum foils:
Vial sealed with 1060 aluminum foil
Aluminum foil for 3105 screw cap
5052 Aluminum foil for EOE and tabs
0.006-0.05mm household aluminum foil roll
8011 8011A Aluminum foil for bottle caps
Aluminum foil for candy packaging
1145 1235 8011 Aluminum foil for cigarette packing
Can aluminium foil trays be printed?
Yes, Aluminium foil trays can be decorated with multi-color printing designs, typically using gravure printing technology.
Lastly, if you have a pet, here's a small piece of advice.
Dogs often enjoy tearing and chewing on packaging bags. Please do not allow your dog to ingest aluminum containers.
If it happens accidentally, don't panic. In many cases, it might only cause stomach discomfort, and they might pass it through their stool like they do with many other ingestible items. However, it's still important to stay calm and seek help from a veterinarian immediately.