Aluminum foil on paper back is a kind of composite aluminum paper product, which uses the characteristics of aluminum foil, such as moisture resistance, rust prevention, gas resistance, corrosion resistance, etc. Some manufacturers use thermoplastic film as adhesive to combine aluminum foil and paper to form multi-layer composite paper. This composite aluminum foil is a high-performance packaging material, which combines the high barrier performance of aluminum foil with the folding and impact resistance of paper.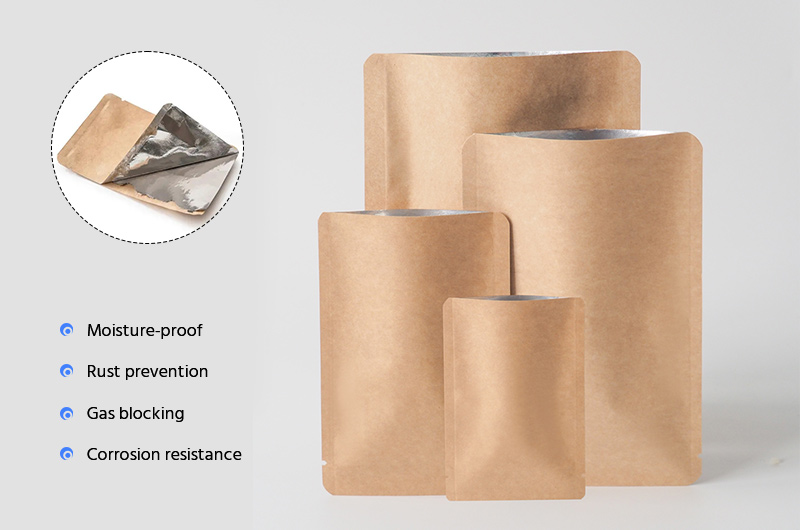 Why choose aluminum foil backing paper?
There are many kinds of wrapping paper used to keep food fresh or protect food from moisture, such as cellophane wrapping paper, wax paper, parchment and aluminum foil. Although food wrappers can protect the food they wrap, as the only layer of food protection, they may not be the preferred choice. With the development of aluminum continuous rolling technology, composite aluminum foil lining paper products have been produced - combining the quality of wax paper or parchment with the quality of aluminum foil to form a composite packaging product.
Aluminum foil backing paper is mostly used for packaging candy, cigarettes, etc. to protect food from sunlight and avoid food deterioration. Even in hot weather, the waterproof property of this foil is three times that of standard foil. The paper absorbs moisture, while the foil itself protects the contents from other adverse factors. Foil paper with waterproof and oil proof paper on one side is used for packaging butter, cheese, ice cream and other dairy products.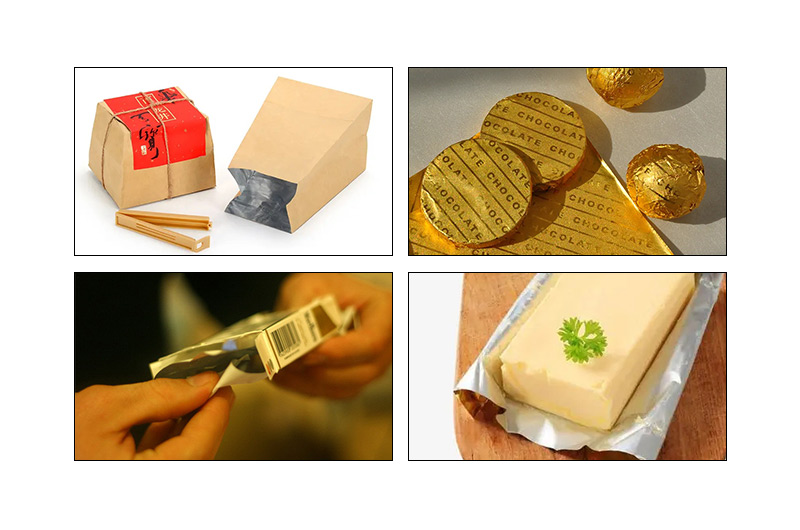 Specifications of aluminum foil backing paper
Structure of aluminum foil backing paper
Composite aluminum foil paper is mainly composed of paper base (aluminum foil backing paper), aluminum foil, color coating, etc.
Aluminum foil backing paper: it is a kind of processing paper with high requirements, and the quantitative range is 21~50 g/m2.
Aluminum foil: It is rolled from metal aluminum.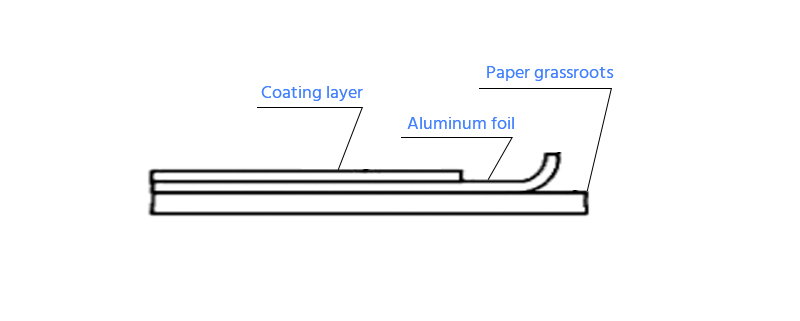 Page+PE
Metallized film/aluminum foil+paper/kraft paper
Metallized film/aluminum foil+paper/kraft paper+PE
Metallized film/aluminum foil paper+paper/kraft paper+woven fabric
Customization
Size parameters of aluminum foil backing paper
| | |
| --- | --- |
| Width | 200-1500mm |
| Length | 38.1 M - 3000 M Per roll |
| Thickness | 0.1-0.22mm |
| Weight | 105gsm |
| Standard roll size | 1.2M × 1000M/roll |
| Level | Food grade |
Technical indexes of aluminum foil backing paper
Index name
Unit


Ration
g/m2
Less than 30.0g
30.0g~44.0g
More than 45.0g
21.0±1.0
26.0±1.3
28.0±1.4
32.0±1.6
35.0±1.7
37.0±1.8
50.0±2.5
Longitudinal tensile strength≥
kN/m
1.20
1.40
1.70
Sizing degree≥
mm
0.25
Smoothness (smooth surface)≥
s
100
Brightness (whiteness)≥
%
80.0
Fluorescent brightness (fluorescent whiteness)≤
%
0.7
Longitudinal folding resistance≥
times
20
Dustiness
(0.3~1.5)mm2≤
piece/m2
40
>1.5mm2
piece/m2
Should not
Moisture
%
5.0±2.0
Ash powder
%
8~20
There shall be no more than 3 joints for each roll of aluminum foil backing paper, and the joints shall be firm and marked. There shall be no adhesion between upper and lower layers at the joint. The distance between joints shall not be less than 1000m.
The fiber structure of the aluminum foil backing paper should be uniform, and there should be no serious cloud flowers. The paper surface shall be flat and free of folds, wrinkles, defects, holes, streaks, spots, cracks, sand and hard blocks.
The cutting edge of aluminum foil backing paper shall be neat and clean. The end face of the roll shall be flat and free from cracks and missing edges. The bow shape shall not exceed 10mm, and the zigzag shape shall not exceed 3mm.
The tightness of both sides of the drum shall be consistent; There shall be no paper scraps and other sundries in the drum; The deviation of drum width shall not exceed 3mm.
The color of the same batch of aluminum foil backing paper shall be consistent without obvious difference.
When aluminum foil is used for food packaging, the hygienic indicators of aluminum foil shall comply with the provisions of GB 11680.
Chalco aluminum foil lining paper products
Classification of aluminum foil backing paper products
According to different composite processing methods, aluminum foil paper can be divided into vacuum aluminized paper and composite aluminum foil paper.
Composite aluminum foil paper is made of calendered aluminum foil and base paper with a thickness of 0.006~0.008mm, which are processed in a laminating machine through the action of adhesive. Composite aluminum foil paper is a high-grade composite packaging paper that has developed rapidly in recent years. Because of its good moistureproof, mildew proof and fragrance preserving properties, it is widely used in the cigarette industry, with the largest application amount, and is mostly used for the inner packaging of high-end cigarettes.
Aluminum foil backing paper is the base paper of composite aluminum box paper, which is a kind of industrial paper with high requirements. The quantitative range is 21~50g/m2. The quality shall be supplemented and improved according to the actual production of users.
Advantages of aluminum foil lining paper products
The composite components in the aluminum foil of the paper back material are mostly non-toxic and tasteless materials, which will not pollute the contents and human body, and can easily meet the packaging health and safety standards.
The aluminum foil has the advantages of high separation performance, light weight, long shelf life at room temperature, etc., so that the food is not easily affected by moisture. Ordinary food packaging saves time, waste and loss.
Aluminum foil composite paper has good barrier performance and waterproof performance. For the food coated with light oil, it can prevent the loss of edible oil and has good oil control effect.
The aluminum foil surface can also be printed with different colors of ink as required to improve the effect of packaging and decoration.
The resin can be decomposed when heated to high temperature, separating paper and aluminum foil, thus greatly improving the recyclability of materials, reducing the waste of materials and the load on the environment.
Chalco aluminum foil lining paper application field
Chalco aluminum foil backing paper for tobacco packaging
Alloy
1235
thickness
0.01-0.20mm
width
150-1250mm
Paper weight
20–70g /m2
Drum size
According to customer requirements
standard
Aluminum foil: GB3 198-82 and GB10570-89 national standards
Aluminum foil backing paper: QB1704-93 industry standard
Characteristics:
The cigarette aluminum foil is specially used in the field of cigarette liner packaging. Composite aluminum paper for cigarette is composed of 6 µm or 7 µm aluminum foil and 21g/m2 to 50g/m2 aluminum foil backing paper.
We provide a variety of aluminum foil solutions for cigarette packaging, with different colors, different printing patterns, laser aluminum foil and transfer aluminum foil.
It has different sizes and thicknesses to choose from.
Our aluminum foil backing paper also has advantages in its strong tensile strength, beautiful appearance, environmental protection property and other characteristics.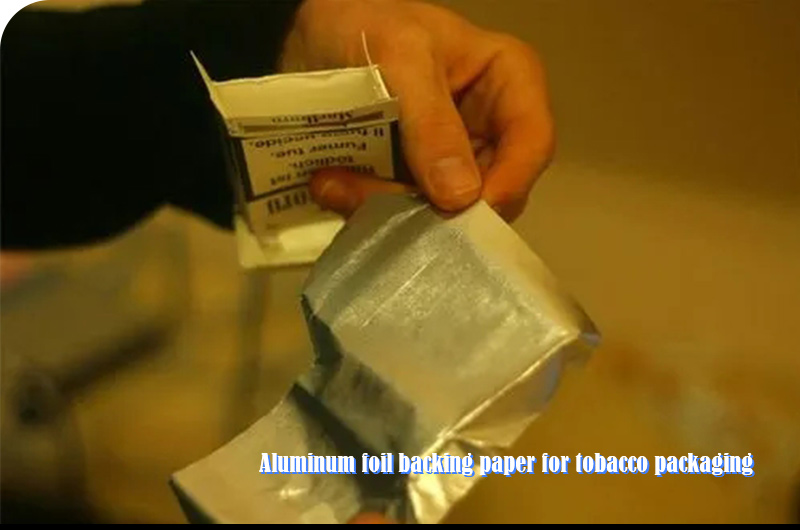 Chalco aluminum foil backing paper for food packaging
| | |
| --- | --- |
| Alloy | 8011 |
| Temper | O |
| Thickness | 7mic AL/40 gsm food paper or customized |
| Surface treatment | composite, printing, coating, embossing |
| Color | red, and green, blue, purple, pink, gold or more |
| Color/printing/embossing | customizable |
| Application | chocolate, butter, candy, cheese, etc. |
Characteristics:
Food grade, non-toxic, no odor, no fading;
Excellent impermeability for water vapor and gas;
Extended shelf life;
No need to occupy storage space;
Less waste than other packaging materials;
Non toxic and hygienic;
Oil proof and does not absorb liquids.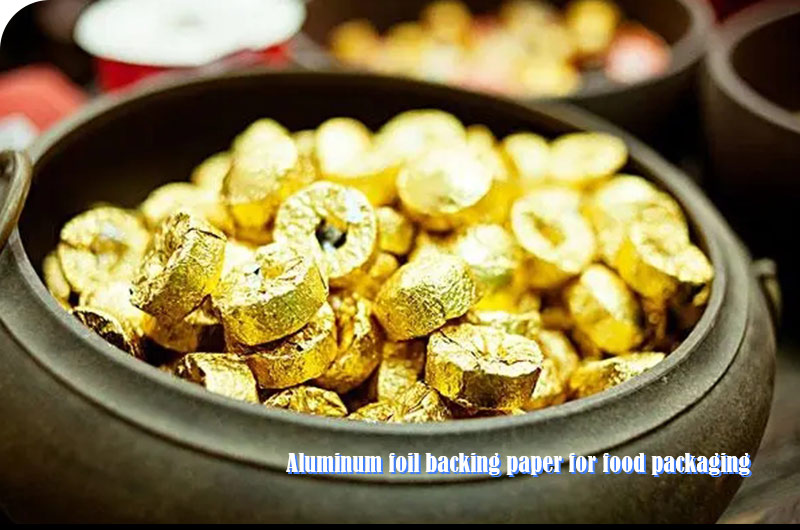 Chalco aluminum foil backing paper for wine label
Alloy
8011
Temper
O
thickness
0.01-0.20mm
width
150-1250mm
Coil No
75mm, 150mm, 200mm, 300mm, 400mm, 508mm
Or customized
Coil outer diameter
1700mm max
Coil weight
50-1000 kg
application
beer label aluminum foil capsule or bottle neck label
Characteristics:
Aluminum foil wine label paper made of imported base paper. It is water resistant, waterproof and not easy to curl. It is mainly used for labels of printable and recyclable glass bottles (including body label, back label and neck label). in order to give wine label paper an elegant effect, the method of surface embossing can be used. The pattern on the whole plane gives the label a special charm.
Aluminum coated paper for high humidity strength beer label is mainly used for labels of printable and recyclable glass bottles (including body logo, back logo, neck logo, etc.). This type of aluminized paper has good alkali resistance and alkali penetration, good printing performance. It is suitable for offset printing, gravure printing and flexographic printing. It is an important part of product personality and also a guarantee of authenticity to have good bottle sticking performance and good label removal performance when washing bottles.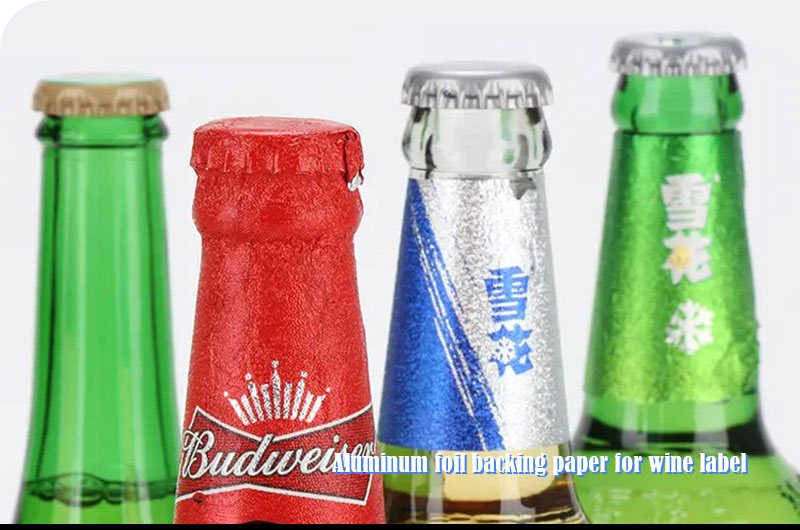 Chalco aluminum foil backing paper for decoration materials
Aluminum foil backing paper is also used in the field of decoration materials. It not only forms a waterproof film between gypsum and decorative finish, but also increases insulation and helps prevent condensation. You can use it under wallpaper or lining paper. It even helps prevent mold from growing on the walls.
It is a kind of asphalt foil, which can prevent moisture and related problems, such as mildew and mildew. It is 3 layers (kraft paper, asphalt and foil). Of course, if moisture seeps in from outside, the problem needs to be solved. For example, if you have a leak, you still need to fix it. However, this kind of foil does come in handy in some projects. Some people use it in the bathroom to reduce condensation.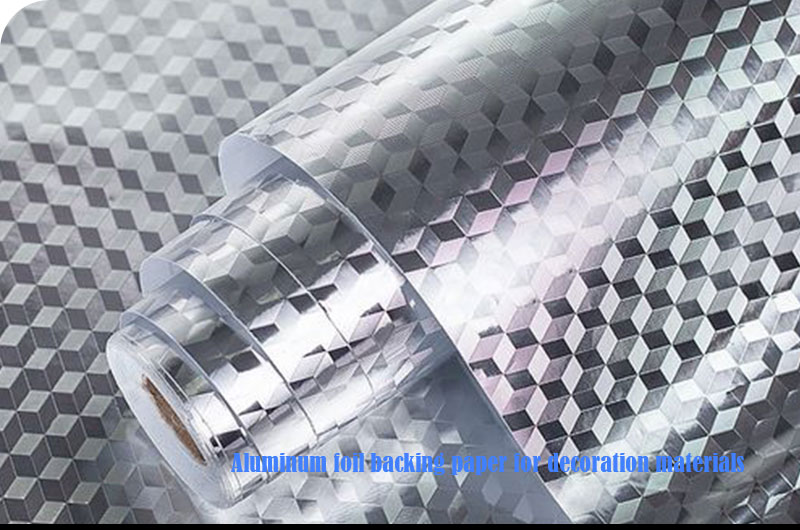 Chalco aluminum foil backing paper for energy-saving lamps
Since the second half of 2003, the packaging box of energy-saving lamps of Philips Yaming Lighting Co., Ltd. has been packaged with laser aluminum spray paper. The original packaging box of Philips Energy Saving Lamp was made of paper composite anti-counterfeiting film. Because of the plastic film in this material, it is not environmentally friendly. In order to maintain the good image of international enterprises and effectively reflect the coordinated development of economy, society and environment, Philips decided to use environment-friendly aluminum sprayed paper on the new packaging box of the Energy Saving Lamp.
The new packing box is finished with (250-300) g heavy laser aluminum spray brush. The display effect of the packaging box shelf made of aluminum sprayed paper is very outstanding, which is more glossy and layered than the original packaging. And the stiffness, compressive strength and seismic performance of the new packaging box are still very ideal after transportation, storage and handling.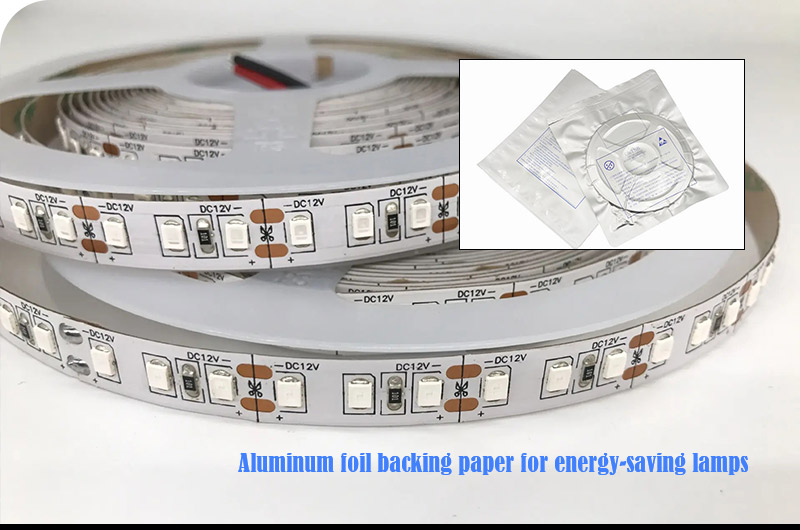 Choose Chalco aluminum foil backing paper
Chalco is a professional aluminum product production company. The company's aluminum products cover all aluminum related fields such as aluminum plates, aluminum bars, aluminum foils, etc. Chalco's high-quality aluminum foil lining paper products can meet your needs in various fields.
Chalco high quality aluminum foil lining paper products
Health and safety, meeting the requirements of QS certification, and the inspection report of the Technical Supervision Bureau is complete.
The paper is single-sided light, with good smoothness and high glossiness, which is suitable for covering aluminum foil.
The paper has good tension resistance, excellent strength index, and can meet the processing requirements without breaking the paper.
The paper has good evenness, tight fiber bonding, excellent surface strength and internal bonding force, and the aluminum foil is tightly covered.
The paper surface is clean, free of sand holes, holes, mosquitoes and other impurities. The rewinding quality is excellent, the end face of the paper roll is smooth and clean, and the size is accurate.
Perfect aluminum foil lined paper product packaging
The packaging and marking of aluminum foil lining paper shall be carried out according to GB/T 10342 or the provisions of the order contract.
Covered and clean transportation tools shall be used during transportation. Aluminum foil liner paper shall not be impacted during loading and unloading, and paper pieces shall not be dropped from high places.
The aluminum foil backing paper shall be properly kept to prevent the impact of snow, rain and ground moisture.
Contact Chalco for quotations and samples of aluminum foil lining paper
It is a development process to seek new packaging options, which is shown by the fact that all countries are standardizing the use of plastic packaging. With its excellent performance, aluminum foil quickly occupies the market share in the food packaging industry. Suppose you also want to wrap your items with aluminum foil. In this case, it is very important to choose a reputable aluminum foil manufacturer. There are many aluminum foil suppliers, but different manufacturers produce aluminum foil with different standards and prices.
Chalco is a leading supplier of aluminum foil. Our mission is to provide global consumers with high-quality aluminum products. If you have a demand for aluminum foil packaging or for various aluminum products, please click the contact information below to contact us for quotations and samples. Chalco provides you with one-stop convenient, comfortable and intimate shopping experience with high-quality products, the most competitive prices and the most professional services.