6061 aluminum forging for auto have the characteristics of high strength, light weight, corrosion resistance and easy processing. They are suitable for many automotive applications such as engine parts, body structural parts, chassis parts, wheels and steering systems.
Why choose Chalco Aluminum's 6061 T6 aluminum forging for auto?
Chalco production capacity
It has a number of core technologies and production processes for the production of key automobile forgings and high-end construction machinery forgings, and has been authorized by a number of invention patents.
Chalco Aluminum can provide 6-series automotive inner panels, 6-series outer panels, and automotive structural materials, realizing full coverage of key automotive lightweight varieties, and the industrialization of automotive lightweight materials has entered a new stage.
Automotive IATF16949 standard
Chalco Aluminum has passed the requirements of the automotive IATF16949 standard audited by BSI (British Standards Institution), providing quality compliance for continuously expanding the automotive product market and achieving high-quality development.
Reference
Serving Tesla, Ford, Shanghai Automobile, NIO Automobile, BAIC New Energy, Changan Automobile and other famous new energy automobile manufacturers, confirmed the material certification relationship, and completed the parts of many automobile factories such as BAIC New Energy and NIO Automobile Model car plate material certification.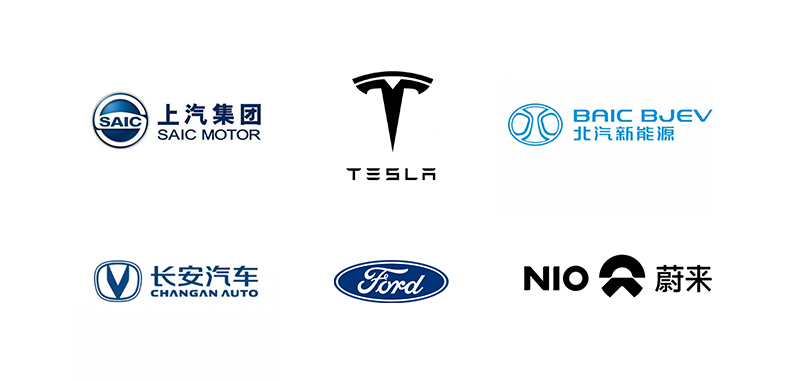 Specs of 6061 T6 aluminum forging for auto
Alloy
6061
Temper
T6
Free forging
≤10000kg
Die forging
≤2.5m²
Forged aluminum ring size Aluminum rolled ring forgings
Wall thickness: 50-400mm
Height: 2000mm
Out diameter: 100-6000mm
Standard
GB/T38958-2020
GB/T33823-2017
GB∕T 26036-2020
Chemical composition of 6061 aluminum alloy
| | |
| --- | --- |
| Element | Composition % |
| Si | 0.4-0.80 |
| Fe | 0.70 |
| Cu | 0.15-0.6 |
| Mn | 0.15-0.40 |
| Mg | 0.80-1.20 |
| Cr | 0.04-0.35 |
| Zn | 0.25 |
| Ti | 0.15 |
| Al | Remainder |
Mechanical property of 6061 T6 aluminum forging
Alloy/Temper
Thickness /mm
Direction
Tension Strength RM/Mpa
Yield Strength RP0.2/Mpa
Elongation /%
HBW
Not less than
6061 T6
&le100
downstream line
260
240
10
80
non streamlined
260
240
5
6061 T6 aluminum forged wheels
wheel type
Alloy Temper
Tension Strength RM/Mpa
Yield Strength RP0.2/Mpa
Elongation /%
HBW
Not less than
passenger wheel hub
6061 T6
290
260
7
90
Commercial wheel hub
6061 T6
330
290
9
100
Features of 6061 aluminum forgings
Good mechanical properties: 6061 aluminum forgings have high strength and excellent tensile strength, and can withstand large loads. This makes it ideal for use in applications requiring high strength and rigidity such as automotive engine components, chassis components and suspension systems.
Good corrosion resistance: 6061 aluminum alloy has excellent corrosion resistance, and has high resistance to corrosion and oxidation under common automotive environmental conditions. This makes it ideal for manufacturing automotive skins, body parts and other components exposed to harsh environments.
Lightweight: compared with traditional steel, 6061 aluminum alloy has a lower density, so it is lighter in weight. This lightweight feature allows the car to reduce overall weight, improve fuel economy, and improve vehicle handling.
Ease of processing: 6061 aluminum alloy has good processing properties, including forging, machining and welding. This gives it an advantage when making complex-shaped auto parts, such as wheels, chassis connectors and key components of the steering system.
Good heat treatment response: 6061 aluminum alloy can be strengthened by heat treatment process to improve its strength and hardness. This enables it to provide better performance in applications requiring higher strength, such as engine blocks and drivetrain components.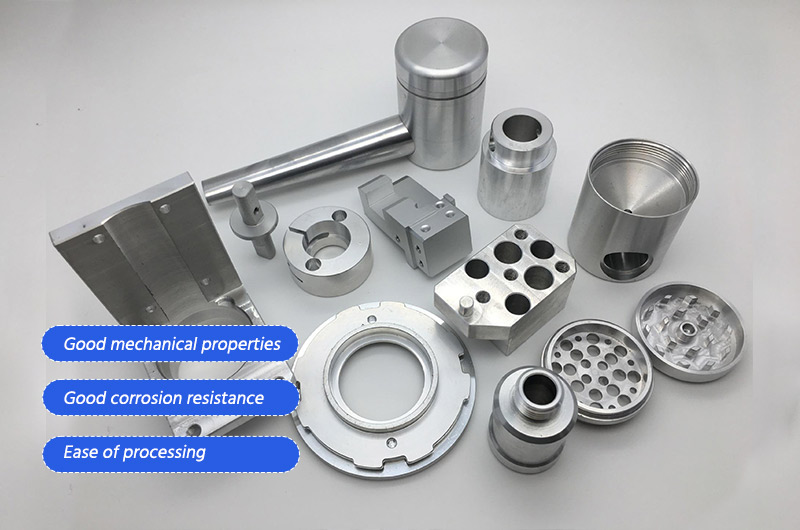 Uses of 6061 T6 aluminum forging for auto
Engine parts: 6061 aluminum forgings can be used to make engine parts such as cylinder heads, crankcases, intake manifolds and radiators. These components need to be high-strength, heat- and corrosion-resistant, while being lightweight to improve engine efficiency and fuel economy.
Body structural parts: 6061 aluminum forgings can be used for car body structural parts, such as door frames, roof beams and side impact beams. These components need to have sufficient rigidity and strength to ensure that the body provides effective protection in the event of a collision and to reduce the overall weight of the vehicle.
Chassis components: 6061 aluminum forgings can be used to manufacture chassis components such as control arms, suspension connectors and brake calipers. These parts need to have excellent strength, rigidity and corrosion resistance to ensure the safety and reliability of the vehicle when handling and braking.
Wheels: 6061 aluminum forgings can be used to make lightweight wheels to reduce the unsprung mass of the vehicle and improve fuel economy and handling performance. Aluminum forged wheels generally have high strength and rigidity, while providing good durability and appearance quality.
Steering system: 6061 aluminum alloy forgings can be used to manufacture key components of the steering system, such as steering arms, steering rods and steering knuckles. These components require high strength, fatigue resistance and precise machining to ensure the reliability and precise handling of the steering system.
Heat dissipation system: 6061 aluminum forged parts can be used to manufacture automotive heat dissipation system components, such as radiators and cooling fans. Aluminum forged parts can provide good heat conduction performance to effectively dissipate the heat generated by the engine to maintain the normal operating temperature of the engine.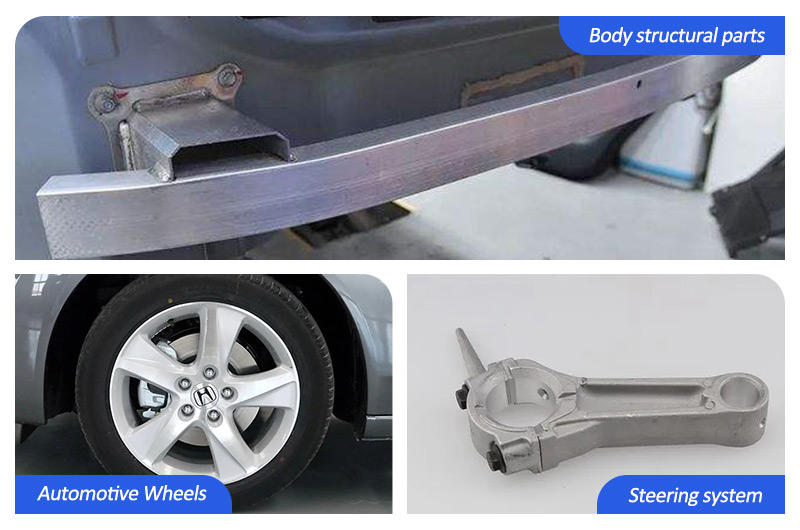 Precautions for purchasing 6061 T6 aluminum forging for auto
Here are some things to look out for when purchasing 6061 T6 aluminum forgings for use in automobiles:
Choose a reliable supplier: choose a reputable and professional supplier or distributor of aluminum forgings. Make sure that the supplier has a good quality management system and can provide products that comply with relevant standards and specifications.
Confirm product specifications: clarify product specifications with suppliers, including size, shape, weight, quantity and other requirements. Make sure the aluminum forgings you purchase match your needs and application requirements.
Quality certification and testing: confirm that the supplier can provide corresponding quality certification, such as ISO 9001 certification, and can carry out necessary quality testing, such as material composition analysis, mechanical performance testing and dimensional inspection, etc.
Supplementary technical requirements: if there are special technical requirements or processing requirements, such as heat treatment, surface treatment or other special processing techniques, please communicate clearly with the supplier before purchasing, and ensure that the supplier has relevant technical capabilities and experience.
Price and delivery date: negotiate price and delivery date with suppliers to ensure reasonable price and reliable delivery plan within the scheduled time.
Comply with regulatory requirements: when purchasing, you must comply with local regulatory requirements to ensure that the purchased aluminum forgings comply with relevant regulations and standards, such as the safety and environmental protection requirements of the automotive industry.
Quality assurance and after sales service: understand the supplier's quality assurance and after sales service policies to ensure proper support and problem solving capabilities when needed.
To sum up, choosing a reliable supplier, confirming product specifications and quality requirements, clearly communicating technical requirements with suppliers, and complying with regulatory requirements are the key things to pay attention to when purchasing 6061 T6 aluminum forgings for automobiles.