Automotive aluminum wheel hub forging chemical element
Element
Composition (%)
6061
6063
6082
Aluminum (Al)
Remainder
Remainder
Remainder
Silicon (Si)
0.2-0.6
0.4-0.8
0.7-1.3
Magnesium (Mg)
0.45-0.9
0.8-1.2
0.6-1.2
Iron (Fe)
0.0-0.3
0.0-0.7
0.0-0.5
Copper (Cu)
0.0-0.1
0.15-0.4
0.0-0.1
Chromium (Cr)
0.0-0.1
0.04-0.35
0.0-0.25
Zinc (Zn)
0.0-0.1
0.0-0.25
0.0-0.25
Manganese (Mn)
0.0-0.1
0.0-0.15
0.4-1.0
Titanium (Ti)
0.0-0.08
0.0-0.15
0.0-0.1
Remainder (each)
0.05
0.05
0.05
Remainder (total)
0.15
0.15
0.15
Mechanical properties of automotive aluminum wheel hub forgings
| | | | | | |
| --- | --- | --- | --- | --- | --- |
| Alloy | Tensile strength / MPa | Yield stress / MPa | Elongation (%) | Hardness HBW | Eatigue strength / MPa |
| 6063 | 240 | 215 | 12 | 73 | 70 |
| 6061 | 310 | 275 | 12 | 95 | 95 |
| 6082 | 340 | 290 | 10 | 80 | 120 |
Heat treatment process of 6061 aluminum wheel hub forgings
Solid solution soaking time
Thickness / mm
Keep warm time / min
Hot tub
Air furnace
>30-50
60-120
120-150
>50-75
75-160
150-210
>75-100
90-180
180-240
>100-120
105-240
210-360
Specific processes will be adjusted according to the size, dimensions, or specific requirements of the components, as well as customer specifications.
Aging heat treatment
Alloy
State before time
Product type
Clock temperature / ℃
Time / h
After-hours condition
6061
W
model and free
room temperature
≥96
T4
T
model and free
171-182
8
T61
Specific processes will be adjusted according to the size, dimensions, or specific requirements of the components, as well as customer specifications.
The static unbalance of automotive aluminum wheel hub forgings
Nominal diameter number (inch)
Static imbalance · cm
Passenger car wheel hub
commercial vehicle wheel hub
12
350
400
13
400
500
14
450
500
15
550
700
16
650
700
17
750
-
17.5
-
1100
18
900
-
19
1250
-
19.5
-
1250
20
1550
-
21
2000
-
22
2550
-
22.5
-
1500
24.5
-
2000
Impact performance of automotive aluminum wheel hub forgings
On passenger car wheels, there will be no visible cracks that penetrate the center part of the wheel, and there will be no separation between the center part and the rim. Furthermore, the tire pressure will not completely deflate within one minute.
Appearance quality of automotive aluminum wheel hub forgings
The wheel surface is smooth and even, without any burrs, sharp edges, or insufficient filling.
The paint coating has no bubbles, runs, orange peel texture, exposed base, or scratches.
There are no paint drips on the mounting surface, center hole, and nut seat surface of the wheel.
The markings on the wheel are intact and clear.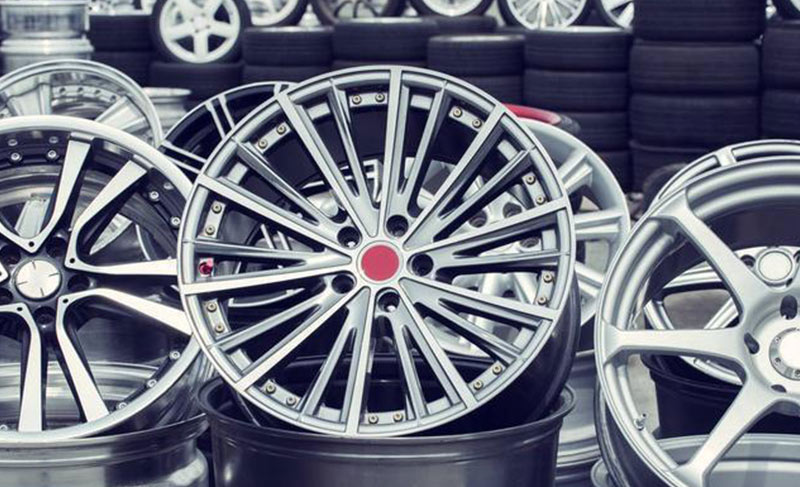 Why choose Chalco Aluminum
Global collaboration and honors
Chalco is a supplier to numerous automotive companies, including BYD, Geely, Chery, Great Wall, Changan, Dongfeng in China; Mercedes-Benz, BMW, Volkswagen, Audi in Germany; Renault in France; Tesla, General Motors, Ford, Chrysler in the USA; Honda, Toyota in Japan, and more.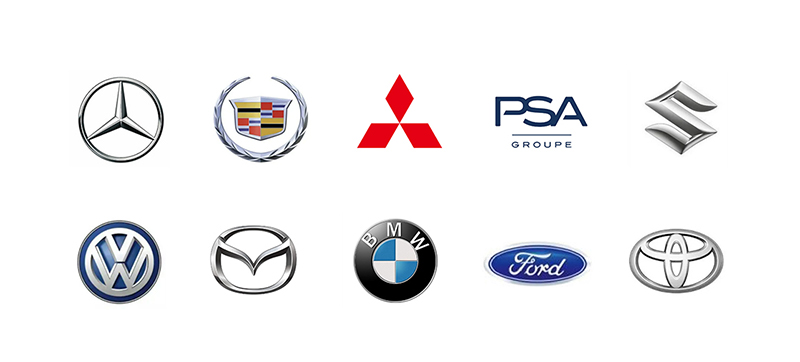 Through a series of international standards and certifications, including ISO/TS16949, ISO14001, ISO-9001, IATF 16949, VDA 6.1, JIS D 5301, we have gained recognition and honors from numerous international companies.
Choosing Chalco, you will gain a professional and reliable partner to meet your high-quality aluminum wheel hub forging needs.
Excellence in craftsmanship and independent design capability
We utilize forging and spin-forming plastic forming processes to manufacture aluminum wheel hub forgings.
We possess independent design capabilities and can also provide customized designs according to customer requirements, ensuring efficient and precise production. For inquiries regarding mold costs, please contact us for detailed information.
Stringent quality inspections
Conducting wheel visual inspection, dimension parameter inspection, air tightness test, dynamic bending fatigue test, dynamic radial fatigue test, impact test, and dynamic balancing test to ensure the high quality and reliability of the forged aluminum wheel hubs.
Advanced technology and automated production lines
Chalco possesses advanced aluminum alloy wheel forging and spinning technology, equipped with automated production line equipment, enabling unmanned or minimal human involvement in the production process, thus enhancing efficiency.
Optimized design and energy-saving weight reduction
Chalco's mature forging CAD/CAM/CAE system excels in optimizing automotive industry design and process, achieving weight reduction in components, improving production efficiency, and reducing energy consumption.
Our forged aluminum alloy wheel hubs offer advantages such as high strength, excellent stability, corrosion resistance, precise dimensions, and reduced material usage.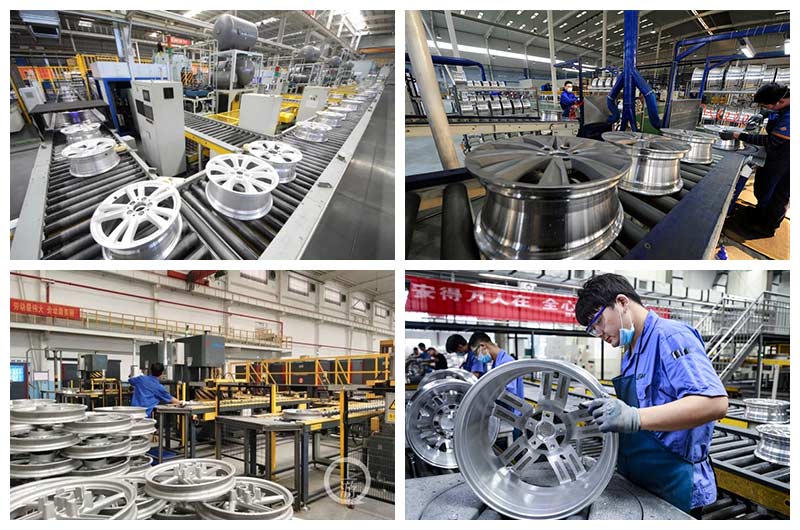 Differences between 6061, 6063, and 6082 aluminum wheel hub forgings
6061 aluminum wheel hub forging
6061 aluminum alloy is a typical heat-treatable strengthening aluminum alloy, known for its moderate strength, good workability, corrosion resistance, and machinability.
During the hot forging process, grain refinement and the generation of new grains significantly improve the material's strength, toughness, processability, and corrosion resistance while homogenizing its microstructure.
6063 aluminum wheel hub forging
6063 aluminum alloy exhibits excellent formability and anodizing properties. Due to its lower Mg2Si content, it is suitable for air cooling quenching.
Compared to 6061 alloy, its processing properties are similar, but it has higher strength mainly due to higher magnesium and silicon content, as well as the addition of copper and chromium.
Additionally, a small amount of titanium is added to reduce the likelihood of cracking and to enhance the recrystallization temperature, thus improving the performance of the forgings.
6082 aluminum wheel hub forging
6082 alloy offers excellent extrusion and forging properties. It boasts superior formability, corrosion resistance, weldability, and machinability.
Compared to 6061 alloy, 6082 alloy exhibits slightly higher quenching sensitivity due to its higher manganese content, resulting in less recrystallization in deformed alloy products.
It possesses a fibrous deformation microstructure that is fine, dense, and highly anisotropic, with increased deformation resistance, requiring higher heating temperatures during forging.