Because aluminum has a series of advantages such as light weight, high strength, low density, corrosion resistance, recyclability, easy forming, environmental protection, etc., a large number of applications of aluminum in the transportation industry have become an important way to achieve energy conservation and emission reduction globally recognized.
The high-quality aluminum is widely used in trains/subways, commercial vehicles, trucks, passenger cars, containers, etc.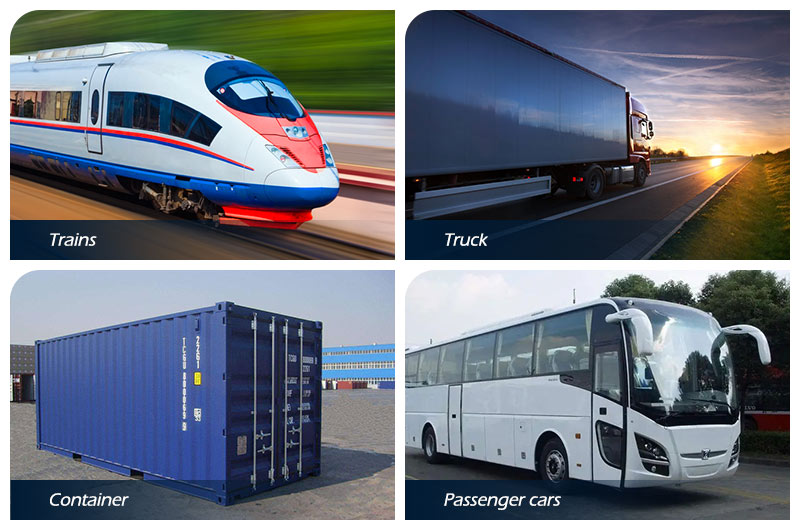 Benefits of aluminum for transport
Realize lightweight, energy saving and consumption reduction.
Easy processing and forming, short manufacturing cycle.
Excellent corrosion resistance and long service life.
Simple maintenance and easy recycling.
Aluminium in rail transport
Due to its light weight, corrosion resistance, good formability and other advantages, aluminum alloy has been widely used in rail transit equipment products in various countries, mainly including car bodies and parts with lightweight requirements.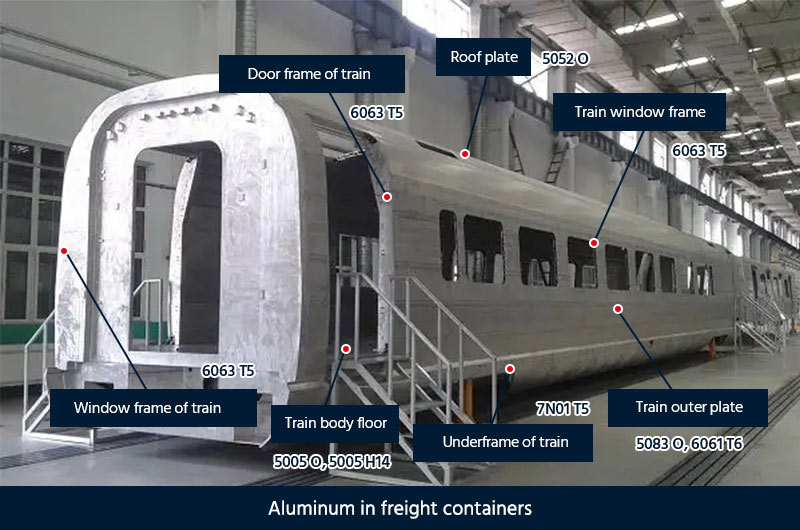 Aluminum alloy car body
Aluminum alloy plate in car body
| | |
| --- | --- |
| side plate | 6061 T6, 5083 O |
| body underframe and framework | 7N01 T4 |
| Roof sheet and floor plate | 5005 O, 5005 H14, 5005 H18 , 5052 O |
Aluminum alloy profile in car body
| | |
| --- | --- |
| body skeleton | 5083 H112 |
| body bone plate | 6061 T6 |
| car body underframe and framework | 6061 T5 |
| Roof sheet, window frame and trim | 6063 T5 |
| car body underframe and framework | 7N01 T5 |
| car body underframe and framework | 7003 T4 |
Aluminum alloy parts
With the continuous development of rail transit equipment in the direction of high speed and heavy load, there is an urgent need for lightweight bogie components such as traction motor, wheel set, transmission plate, axle box body, and traction bar. Cast aluminum alloy and forged aluminum alloy are increasingly used in these components, and forged aluminum alloy has more advantages in strength, elongation, impact toughness, etc.The materials used for aluminum alloy forgings are mainly 2A14, 6082 and 7050.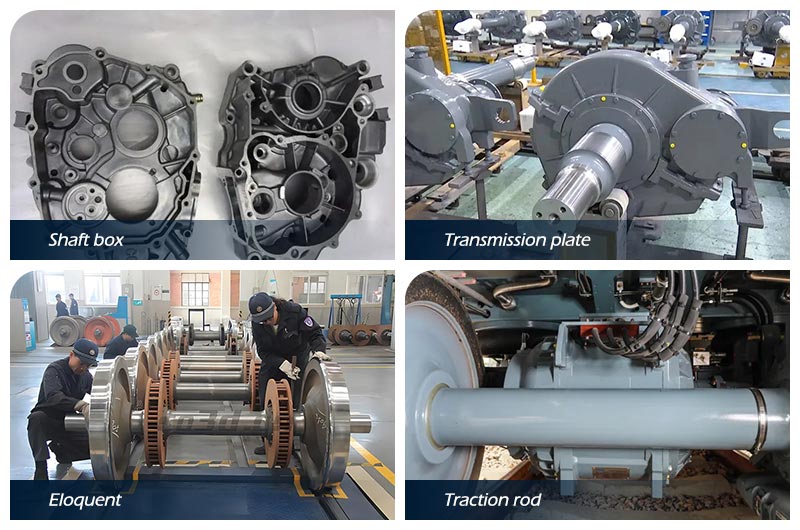 2A14 aluminum alloy forgings have moderate strength after heat treatment and are suitable for parts with large load.
6082 aluminum alloy forgings have good welding performance, and are suitable for the parts that need to be welded with other parts.
7050 aluminum alloy forgings have excellent comprehensive mechanical properties and resistance to stress corrosion, and are suitable for the parts under dynamic load.7050 high-strength forged aluminum alloy axle box body has been loaded in batches and applied to exported projects such as Macedonian EMUs and Czech EMUs. 7050 high-strength aluminum alloy is also used to produce the key part of the wheel set hollow shaft drive - the drive plate.
Aluminum in commercial vehicles
Application of aluminum alloy in van
Aluminum alloy van mainly includes aluminum alloy van semi-trailer and aluminum alloy wing open transport vehicle.
Aluminum alloy materials available for aluminum alloy van type transport vehicles include aluminum plates, aluminum alloy profiles, aluminum honeycomb panels, aluminum castings, etc.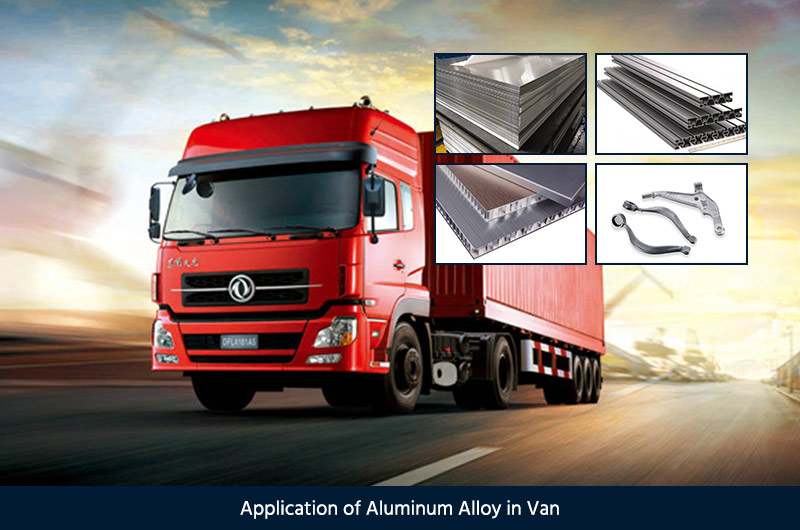 Aluminum alloy van has long been popular in European and American markets. The aluminum alloy van has a variety of side panel forms, which can be made into an aluminum alloy skin+inner panel structure, or combined with aluminum alloy and fiber reinforced composite materials to form a composite side panel structure. Because of its light weight, large loading space, beautiful appearance, and the ability to print advertisements on the surface, it occupies a leading position in the American market.
The aluminum alloy profiles used for containers mainly include 6061, 6082, 6351, 6005, 6063 and 6060, among which 6061 and 6082 accounts for more than 90%.
Application of aluminum alloy in refrigerator cars
Refrigerator truck is a closed van type transport vehicle used to transport frozen or fresh goods, including bread type refrigerated truck, van type refrigerated truck and semi-trailer refrigerated truck.
The biggest difference between aluminum and steel in the relationship between properties and temperature is that steel has low temperature brittleness, while aluminum and aluminum alloys do not. When the temperature decreases, the strength and plasticity of aluminum and aluminum alloy increase with the decrease of temperature, so aluminum alloy becomes a good material for low-temperature equipment.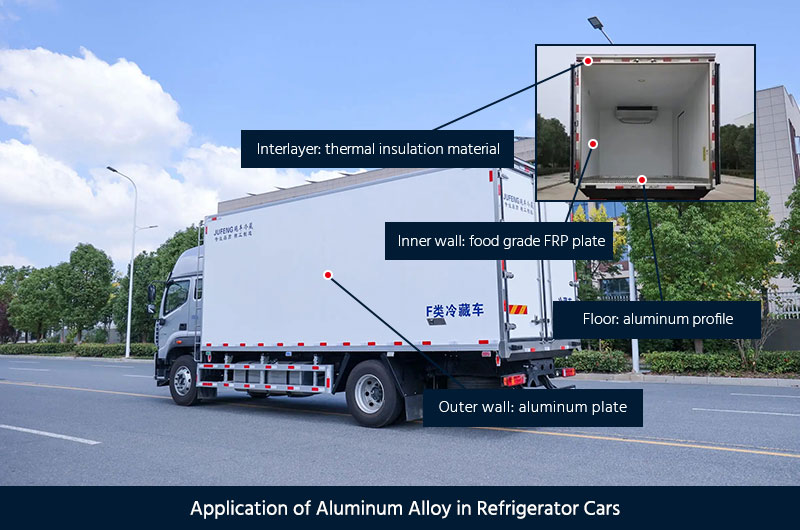 The exterior of the whole refrigerator car body is made of aluminum alloy, the middle is made of thermal insulation material, and the interior body is made of food grade FRP plate, which is safe and odorless.
The floor is welded with aluminum alloy profiles, with good sealing performance and grooves, which is conducive to the cold air circulation and keeps the temperature in the compartment consistent.
The aluminum alloy refrigerated truck is 2~3t lighter than the ordinary refrigerated truck, and has obvious advantages in long-distance cargo loading.
Aluminum alloy refrigerated truck is easy to clean, does not absorb and emit odor, is harmless to human body, and is environmentally friendly
Application of aluminum alloy on dump trailer
Dump trailer is used to transport bulk, granular, powdery and other goods. Its body can be made of 5A03, 5A05, 5083 and other aluminum alloys and welded with 5183 aluminum alloy welding rod. The truck body is welded with 3 mm~6 mm thick plates. In order to improve its wear resistance, steel plates are often used as the lining.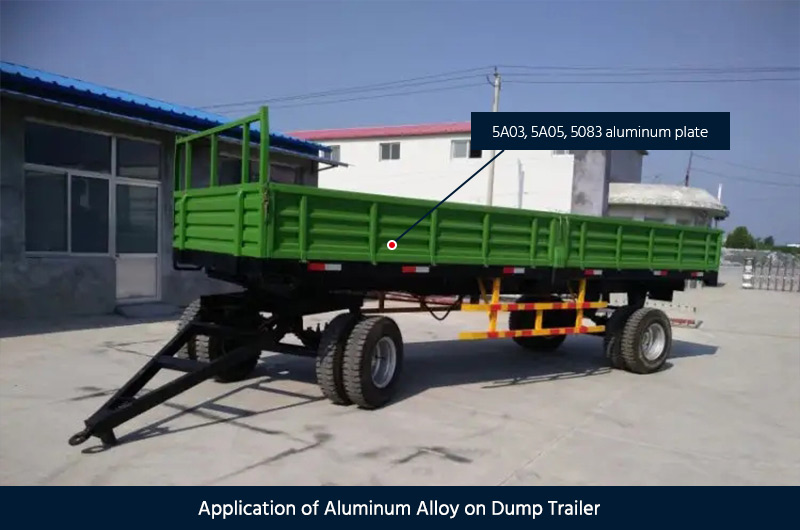 As the carriages are all made of aluminum alloy, which greatly reduces their own quality, they have obvious advantages in energy saving, emission reduction and performance. They are high-end dump trucks that can meet the transportation needs of bulk goods such as coal, grain, sand and mineral products.
Application of aluminum alloy in semi-trailer and recreational vehicle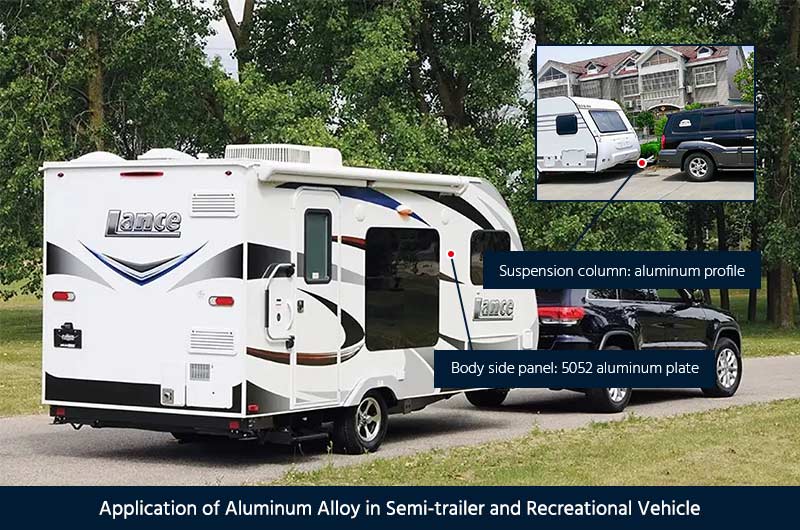 The semi-trailer and RV made of aluminum have great economic and social benefits. The RV is also a trailer for travel. Reducing the vehicle's own mass is the main reason why aluminum was selected as the basic material for manufacturing. The side plate and inner plate of the semi-trailer body are made of 5052 aluminum alloy with a thickness of 4 mm~5 mm, The thickness of the flange is equal to the thickness of the plate. The butt joint of the aluminum alloy plate is located at the stiffener, while the upper and lower edges of the aluminum alloy plate are supported on the flange of the upper and lower beams of the aluminum profile.
Application of aluminum alloy in fire truck
For fire engines, the lower curb weight means that the vehicles have higher mobility, can quickly reach the fire scene, and reduce the loss caused by fire.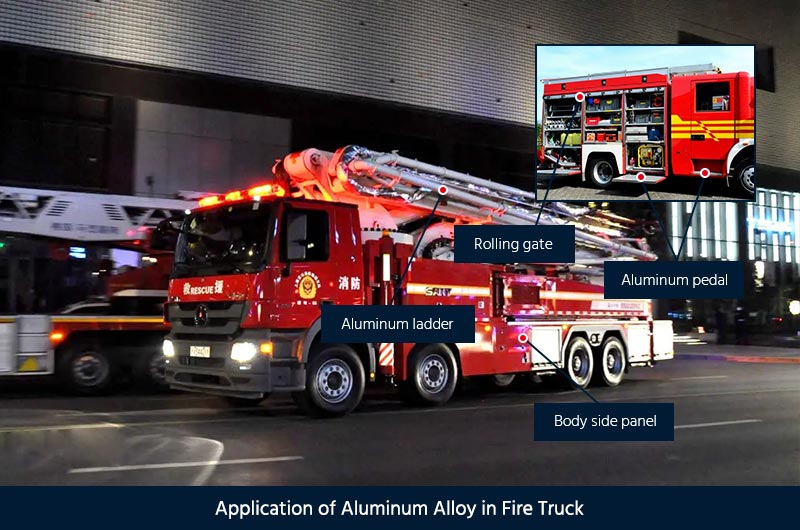 Fire fighting vehicles also have special operating environment requirements, that is, all parts of the fire fighting vehicle shall have certain corrosion resistance, especially the tank, ladder, cab, equipment box and other parts that are easy to contact with corrosive substances such as water, acid and alkali.
Aluminum profiles are used more and more widely on fire trucks. The main body structural components include cab and bumper, tank, pump, rescue and other types of fire truck equipment box box, cloud ladder of fire truck, slide and rolling shutter door of equipment box, etc; The main auxiliary parts include floor ladder, expansion ladder, roof ladder, step handrail, etc.
Application of aluminum alloy in livestock transport vehicle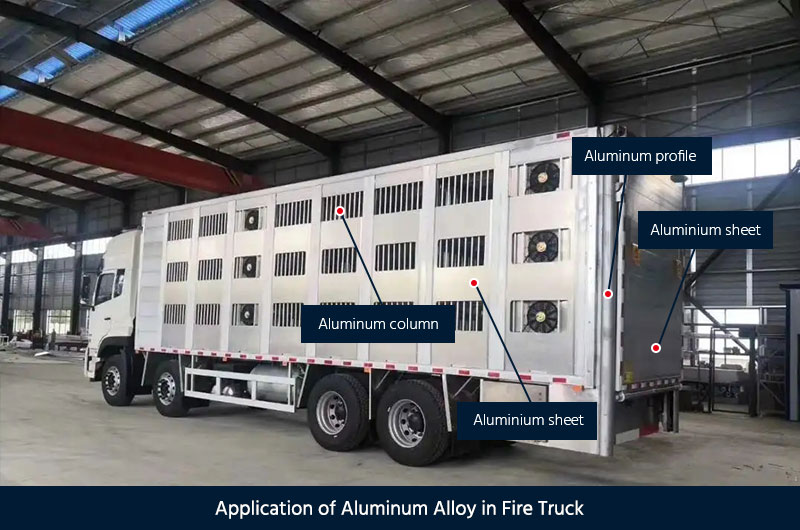 The livestock transport vehicle is prone to premature corrosion and damage due to the corrosion of livestock spray cooling water and livestock excreta. Therefore, the carriage is required to have good anti-corrosion performance. European and American livestock transport vehicles generally use aluminum alloy to make carriages, which generally include aluminum alloy sheet+column and aluminum profile+side wall.
Aluminum in tank truck
Compared with ordinary carbon steel and stainless steel tank cars, aluminum alloy tank cars can not only significantly reduce the dead weight of vehicles, improve transportation efficiency, but also extend the service life of tank bodies. 5083, 5454 and 5182 are commonly used tank materials, which can be used to load oil, gasoline, chemicals, cement and other dense materials.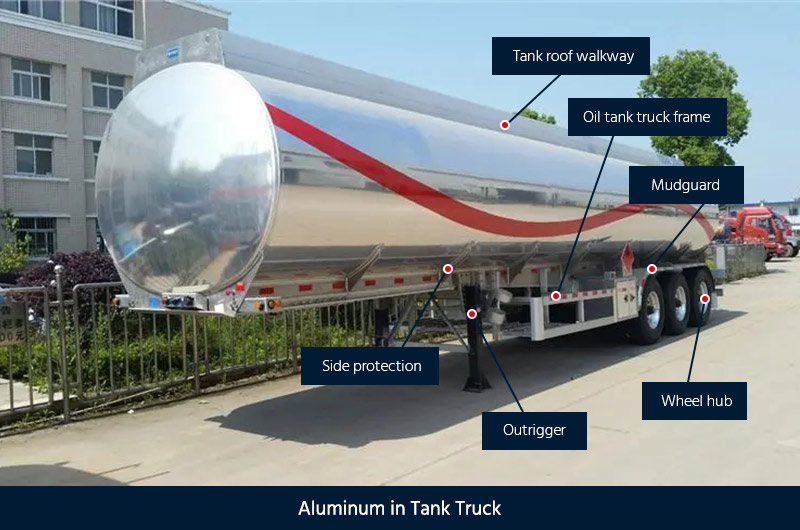 Tanker body
Because of its low strength and the low market price of 3003 materials, 3003 is usually used as a tool box door, bottom plate, tank top walkway and other non important strength parts.
5083 is the most common aluminum magnesium alloy, with good welding performance, corrosion resistance and processing performance, medium strength, and is a more commonly used tank material.
5454 aluminum alloy plate is an aluminum magnesium alloy suitable for use at high temperatures, which has good strength and corrosion resistance at high temperatures. 5454 (O/H111) has better strength than 5083 (O/H111) aluminum magnesium alloy when the long-term service temperature is above 135 ° C.
5182 is a special aluminum alloy plate for tank cars. It is a new type of high magnesium alloy developed in recent years for tank car storage and transport of dangerous goods, which meets the requirements of ADR (European Convention on the International Road Transport of Dangerous Goods). The corresponding elongation of 5182 (O/H111) is higher than 5083 (O/H111) and 5454 (O/H111).
Tanker frame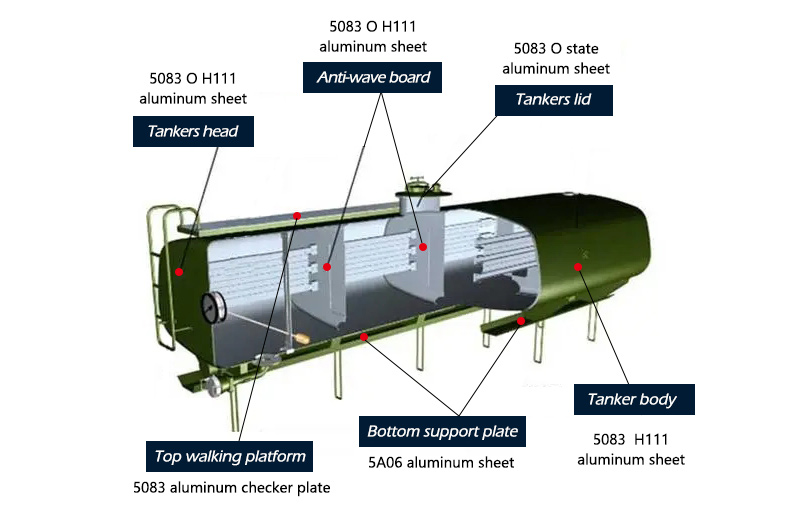 The frame should be made of extruded aluminum profiles, such as 6061 L-shaped beam, T-shaped beam, triangular beam and other wing plate profiles. For irregular shaped local webs and other structural members, 5083 or 5182 materials can be selected.
6061 and 6063 are usually used as extruded aluminum profiles for pipe, protection, girder and other structural parts on powder can semi-trailer. Under the same heat treatment state, 6061 has better mechanical properties than 6063; At the same time, due to the increase of silicon and manganese content, the welding performance of 6063 is lower than that of 6061.
Other facilities
Aluminum containing gold materials can also be used for accessories such as pipes, side protection, rear protection, tank top walkways, etc; At the same time, after several years of development, the aluminum alloy accessory structure has been fully developed on the powder tank semi-trailer with steel aluminum mixed structure (tank body and frame are made of high-strength steel, and some accessories and accessories are made of aluminum alloy).
Parts
Aluminum alloy rims, outriggers, gas reservoirs and fenders, as universal aluminum alloy accessories of semi trailers, have been greatly developed in all types of semi trailers; Aluminum alloy manhole cover, discharge butterfly valve, check valve, safety valve, etc. are special accessories for powder tank semi-trailer.
Aluminium in buses
The bus body is all aluminum, and the top side beam of the bus is extruded with 6005A T6 alloy; 6061 T6 aluminum profile is adopted for rectangular aluminum tube of body frame; The chassis and main beam are made of 6082 T6 aluminum profiles.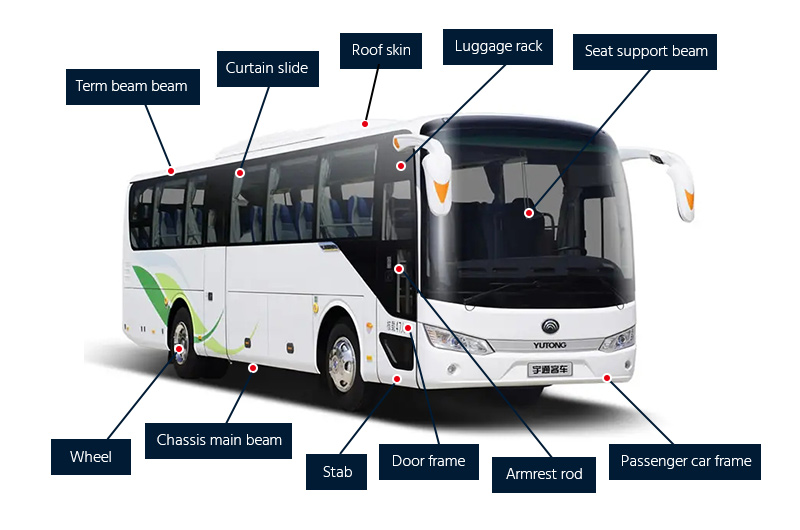 Aluminum profiles are widely used in passenger cars, with many types, including body structure, body covering and decorative parts.
The aluminum profile parts that were first applied to passenger cars mainly include floor layering, step layering, curtain slideway (channel profile), floor opening cover layering, ceiling layering (channel profile), ceiling layering (H-profile), vertical layering (angle profile), water flow striping (angle profile), interior/exterior trim strips, and side window trim cover profiles.
There are also some functional structural components, such as seat joist (channel profile), door frame, inner luggage rack, side window frame (channel profile), top grab bar chute aluminum profile, air circulation duct in the vehicle, etc.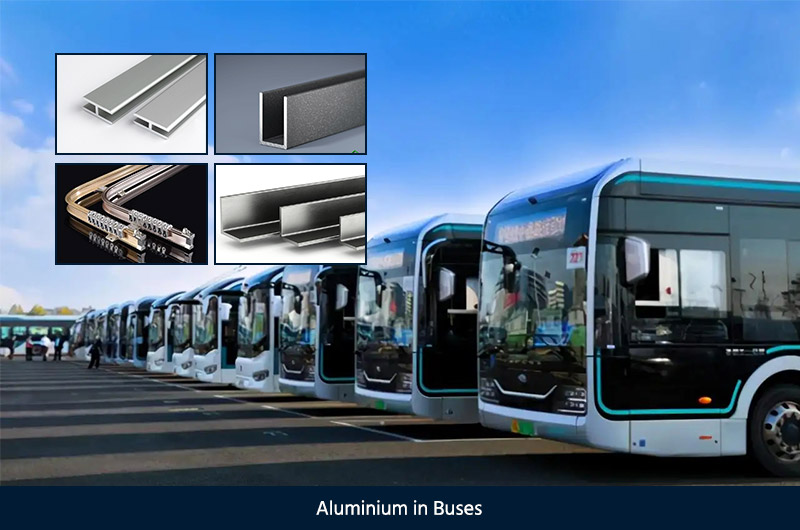 The all aluminum body of the bus has five advantages: lighter, safer, stronger, more economical, and more environmentally friendly.
Aluminum in freight containers
Aluminum profiles and aluminum plates are not only used more and more in the manufacture of refrigerated containers, but also have many advantages such as convenient processing and lightweight in the manufacture of dry containers requiring complex ventilation slots.
At present, aluminum containers are usually produced with appropriate aluminum alloy profiles and plates on the main components.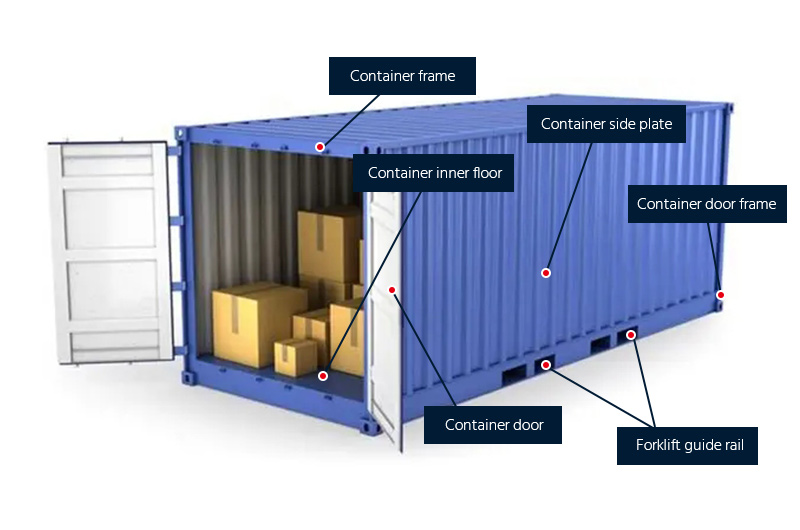 Aluminum profiles are mainly used in the floor of the box, connectors, forklift guide rails, bottom support beams, upper and lower fixed beams of side aluminum plates, door frames and other parts. Generally, containers of one specification and model are assembled by 15-20 aluminum profiles with different sections and then welded. 6061, 6082, 6063 and 6060 aluminum alloy T6 profiles are mainly used, in which the amount of 6061 and 6082 aluminum alloy exceeds 90%. There are very strict requirements on the alloy composition, dimensional accuracy, internal organization and performance of aluminum profiles to meet the high quality requirements of welding and assembly. Generally, a container with one specification and model is equipped with 15-20 aluminum profiles with different section specifications.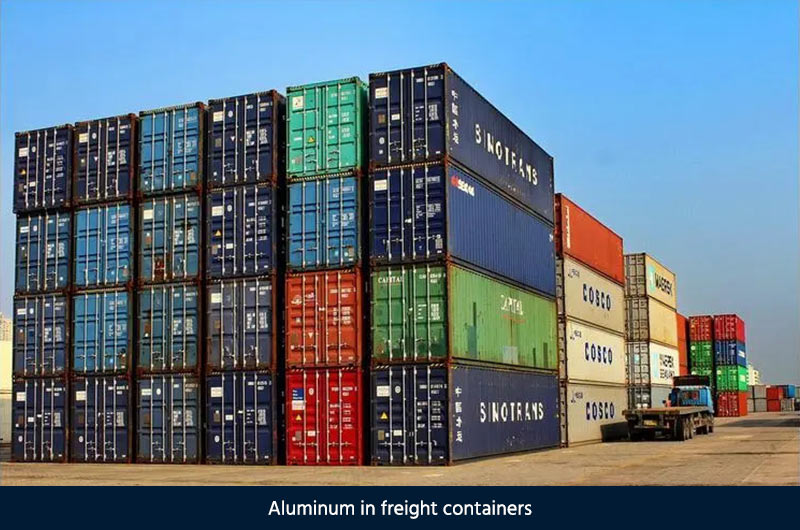 The side plates and top plates of aluminum containers are mostly 5052 aluminum alloy plates with good welding performance and corrosion resistance. The aluminum plates with different thicknesses and widths are selected according to different box types and performance requirements. The commonly used aluminum plates are 0.8 mm, 0.9 mm, 1.27 mm, 1.4 mm, 1.6 mm and 2 mm thick, and the widths are 1040 mm, 1250 mm, 226 mm, 2340 mm and 2500 mm.
Contact us for aluminum alloys for transport industry
If you are interested in learning more about the engineering required for land transport aluminum, make sure to contact Chalco Aluminum directly. Our team of highly trained and experienced engineers and technicians can help you meet all of your land transportation industry goals. Extruded aluminum and rolled aluminum can be created according to your specifications, including standard size or custom aluminum solutions, as needed.