2024 aluminum plate is a typical hard aluminum alloy in the aluminum-copper-magnesium system. Its composition is relatively reasonable and its comprehensive performance is good. It is the alloy with the largest amount of hard aluminum. The main alloy component copper makes it easy to corrode. Many items in this alloy have a cladding surface to protect the underlying material.Welcome contact
Common commercial types of 2024 alloy
UNS A92024, Al2024-O, Alclad 2024-O, AA2024-T3, Al2024-T3, Alclad 2024-T3, UNS A82024, Alclad 2024-T4/T351, Al2024-T4, UNS A82024, Alclad 2024-T851.
Chalco can produce ASTM B209 2024 T4 aluminum sheet, AMS-QQ-A-250/4 2024 aluminum plate, AMS4037 2024 T351 T3 aluminum sheet, the biggest feature of this alloy is high strength and certain heat resistance, it can be used as 150 Working parts below ℃. This is a great option if you need strong, durable aluminum.
If you are making bulk purchases or have strict delivery schedule requirements, Chalco also has a large stock list of 2024 aluminum sheets plate.available for your selection.
Chalco - 2024 aluminum sheet product specifications
Alloy
2024
Hot Selling Status
O , T3 , T4 , T351 , T8 , T42 , T851
Equivalent Names
UNS A97075 , EN AW-7075 , 3.4365 , 7075 A-Z5GU , AlZn6MgCu , 7075 L95 L96
2024 aluminum sheet
Thickness:0.01"-0.32"(0.2mm-8mm)
Width:35.4"-104"(900mm-2650mm)
2024 aluminum plate
Thickness:0.32"-9.84"(8mm-250mm)
Width:39.4"-150"(1000mm-3800mm)
2024 ALclad aluminum plate
Thickness:0.32"-3.94"(8mm-100mm)
Width:35.4"-104"(900mm-2650mm)
2024 Ultra wide aluminum plate
Thickness:8mm-250mm(0.32"-9.84")
Width:39.4"-150"(1000mm-3800mm)
Length
Max 20m, Fix & Cut Length or Customized
Coating
Black and white film, blue film, transparent film(Thickness: 50 microns, 80 microns)
Surface Treatment
Bright, polished, hair line, brush, sand blast, checkered, embossed, etching, etc.
2024 aluminium sheet plate physical properties
| | | | | |
| --- | --- | --- | --- | --- |
| | 2024-O | 2024-T3 | 2024-T4 | 2024-T351 |
| Tensile Strength | 100-200 MPa | 320-480 MPa | 310-480 MPa | 330-460 MPa |
| Shear Strength | 130 MPa | 290 MPa | 290 MPa | 290 MPa |
| Fatigue Strength | 90 MPa | 140 MPa | 140 MPa | 140 MPa |
| Elastic Modulus | 71 GPa | 71 GPa | 71 GPa | 71 GPa |
| Brinell Hardness | 49 | 120 | 120 | 120 |
| Elongation at Break | 15% | 15% | 16% | 13% |
2024 Aluminum sheet plate application
2024 T42 aluminum plate is used for bulletproof plate, 2024 T4 military aluminum plate, thickness: 5mm, ballistic limit speed under the impact of 25.4mm diameter spherical steel bullet is 151.7m/s, with good bulletproof performance.Quick Quote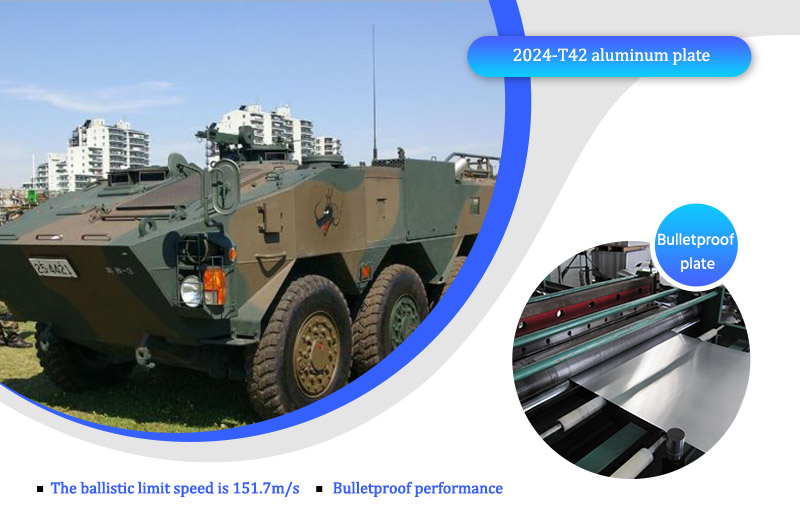 2024 T351 aircraft aluminum sheet is a high-strength aviation aluminum alloy material, T351 surface and internal residual stress, and good explosion impact resistance. It is one of the aviation aluminum alloys. It is widely used in skins, bulkheads and structural parts that need to withstand high cyclic loads on various aircraft.Quick Quote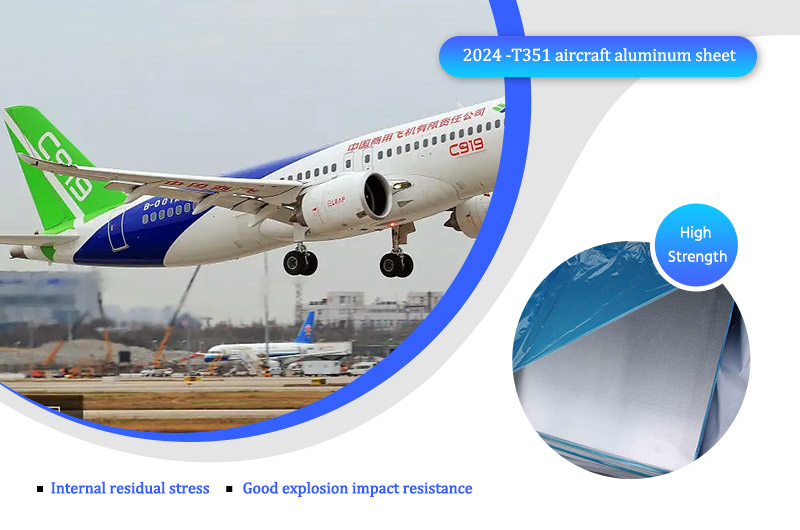 2024 O/H112 aluminum sheet plates are widely used in molds, precision parts, electronic decoration, hardware, hydraulic equipment, cameras and other fields. The heat treatment strengthening effect is remarkable, but the heat treatment process requires strict requirements, good fatigue resistance, and long service life.Quick Quote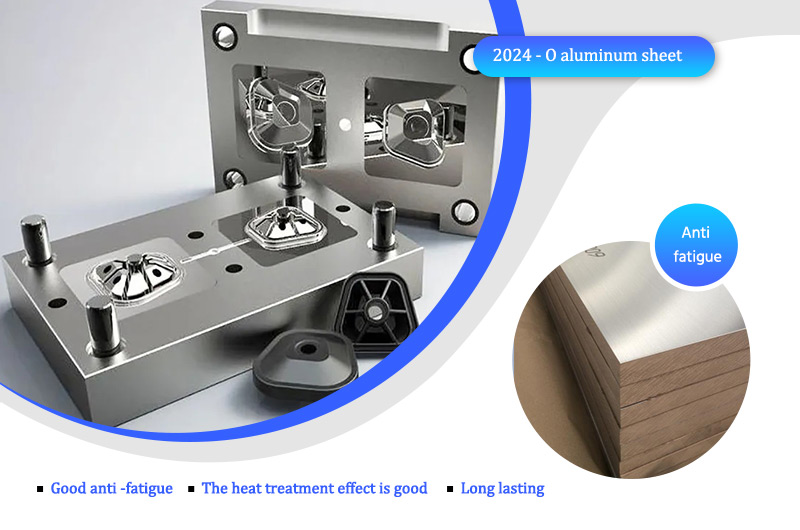 ALclad 2024 T3 aluminum plate is rolled with pure aluminum clad surface, which can improve the corrosion resistance of 2024 aluminum plate.
2024 T652 forged aluminum plate, used for aviation aluminum plate, aluminum flange, customized aviation forged aluminum parts, etc.Quick Quote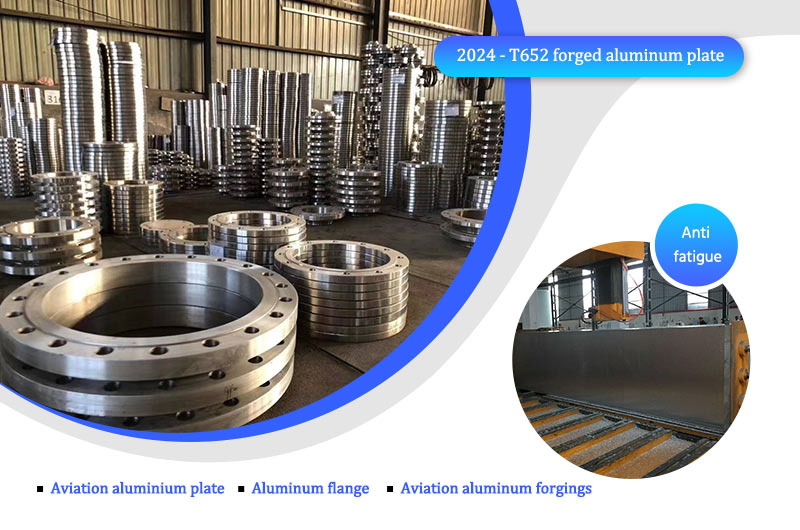 Why choose Chalco?
Chalco provides excellent quality aerospace materials, as well as the best technical services in the market, and has a deep knowledge base on how to support customers in meeting future challenges.
We have a complete set of domestic advanced aerospace materials research and development, testing and analysis instruments, which guarantee the efficiency of new product research and development and accelerate the transformation of scientific and technological achievements. In addition, our R&D & innovation and verification capabilities can help enhance customers' competitiveness by saving time and cost in new product development and marketing.
We have passed the AS9100 certification required by the aviation industry, providing a strong guarantee for the quality of aerospace materials produced by our company.
The Chalco brand stands for quality, delivery and a solid reputation. With leading technology and globally competitive products, we can continue to develop together with our customers in the future.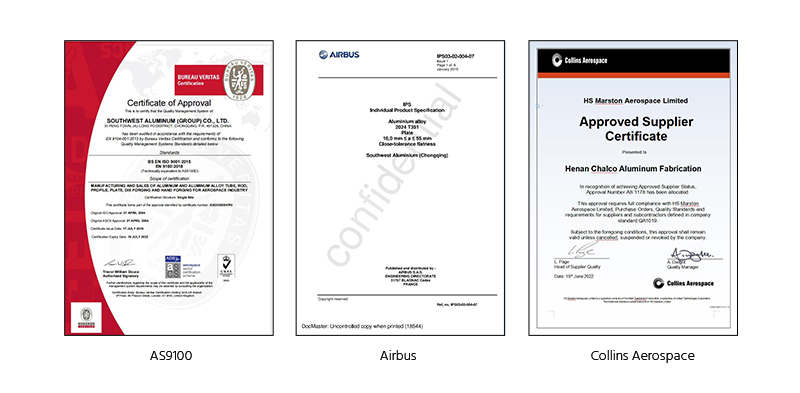 Other 2024 products you might be interested in
2024 aluminium sheet weight
2024 aluminum alloy with a density of 2.85 g/cm3.
Aluminum plate weight calculation: length (mm) x width (m) x density 2.85g/cm3
2024 aluminium sheet price
(LME ingot price + processing fee) * weight + packaging fee + transportation fee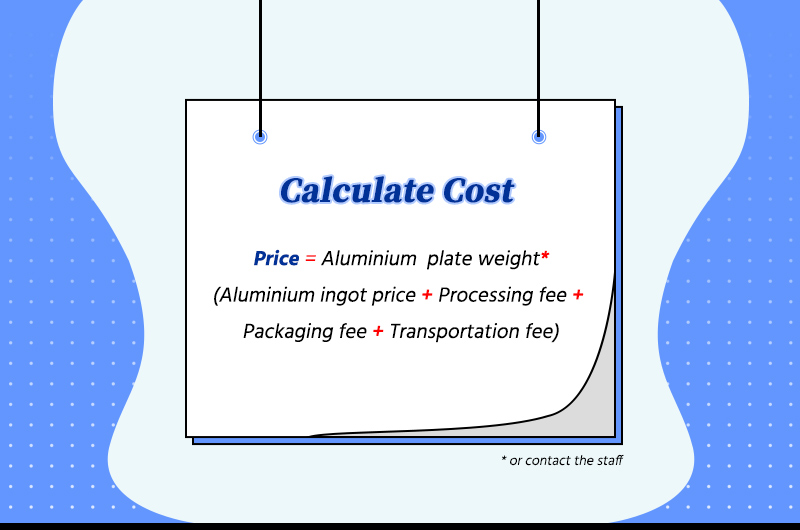 Please contact Chalco aluminum to inquire about the price, and how much is the processing fee per ton for the relevant type of aluminum square rod. The processing fee for 2024 aluminum sheets of different sizes varies greatly, and we will provide you with the best quotation.
In addition to 2024 aluminum plate, Chalco also produces 2024 T4 aluminum bar, 2024 T652 aluminum forged aluminum plate, 2024 T4 tube, etc.
2024 aluminum plate packaging and transportation
The products are packed in export wooden boxes or wooden pallets, fumigated wooden tray with fumigation certificate.
During transportation, it is not allowed to mix aluminum plate with active chemical products and wet materials. The carriage and cabin should be kept in a dry, clean and pollution-free condition.
Aluminum plates are generally shipped in closed carriages or warehouses, and ultra-long plates or gondola cars in special cases. The waterproof cloth shall be tightly covered and tied to ensure that water, rain and snow will not enter the packaging box and aluminum products.
Aluminum plates are generally stored in the warehouse during transshipment. If it needs to be stored in the open air under special circumstances, it must be tightly covered and tied with rainproof cloth. At the same time, the bottom aluminum plate shall be padded not less than 100mm.
During transportation, moisture-proof packaging measures shall also be taken to avoid water ingress into the aluminum plate packaging. In the process of loading and unloading, collision shall be avoided and aluminum plates shall be safely transported to the user's warehouse.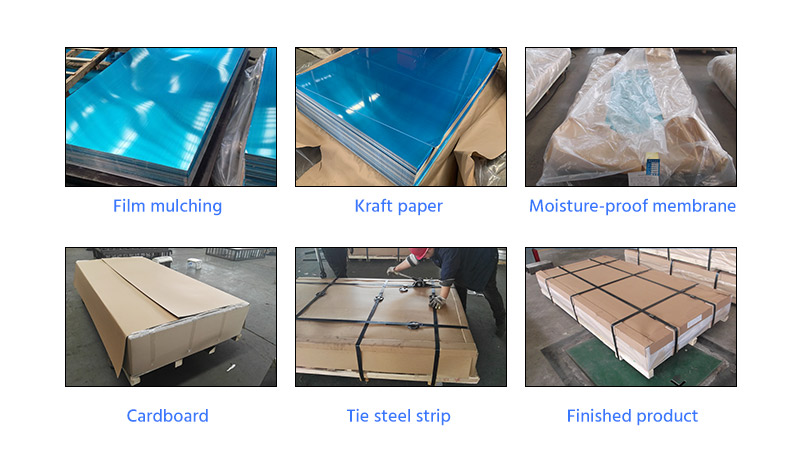 2024 Aluminum Sheet Plate Stock List
| | | | | |
| --- | --- | --- | --- | --- |
| Description | Temper | Imperial Thickness/in | Metric Thickness/mm | Width*Length/mm |
| 0.02t 2024 T4 Aluminum Sheet | T4 | 0.02 | 0.5 | 1250x2500 |
| 0.02t 2024 T4 Aluminum Sheet | T4 | 0.02 | 0.5 | 1500x3000 |
| 0.024t 2024 O Aluminum Sheet | O | 0.024 | 0.6 | 1200x3500 |
| 0.024t 2024 T4 Aluminum Sheet | T4 | 0.024 | 0.6 | 1250x2500 |
| 0.024t 2024 T4 Aluminum Sheet | T4 | 0.024 | 0.6 | 1500x3000 |
| 0.031t 2024 O Aluminum Sheet | O | 0.031 | 0.8 | 1500x3000 |
| 0.031t 2024 T4 Aluminum Sheet | T4 | 0.031 | 0.8 | 1000x2000 |
| 0.031t 2024 T4 Aluminum Sheet | T4 | 0.031 | 0.8 | 1500x3000 |
| 0.039t 2024 O Aluminum Sheet | O | 0.039 | 1 | 1200x2000 |
| 0.039t 2024 O Aluminum Sheet | O | 0.039 | 1 | 1500x3000 |
| 0.039t 2024 T4 Aluminum Sheet | T4 | 0.039 | 1 | 1250x2500 |
| 0.039t 2024 T4 Aluminum Sheet | T4 | 0.039 | 1 | 1500x3000 |
| 0.047t 2024 O Aluminum Sheet | O | 0.047 | 1.2 | 1500x3000 |
| 0.047t 2024 T4 Aluminum Sheet | T4 | 0.047 | 1.2 | 1250x2500 |
| 0.047t 2024 T4 Aluminum Sheet | T4 | 0.047 | 1.2 | 1500x3000 |
| 0.059t 2024 O Aluminum Sheet | O | 0.059 | 1.5 | 1200x2000 |
| 0.059t 2024 O Aluminum Sheet | O | 0.059 | 1.5 | 1500x3000 |
| 0.059t 2024 T4 Aluminum Sheet | T4 | 0.059 | 1.5 | 1250x2500 |
| 0.059t 2024 T4 Aluminum Sheet | T4 | 0.059 | 1.5 | 1500x3000 |
| 0.079t 2024 T4 Aluminum Sheet | T4 | 0.079 | 2 | 1500x3000 |
| 0.079t 2024 O Aluminum Sheet | O | 0.079 | 2 | 1200x2000 |
| 0.079t 2024 O Aluminum Sheet | O | 0.079 | 2 | 1500x3000 |
| 0.079t 2024 T4 Aluminum Sheet | T4 | 0.079 | 2 | 1250x2500 |
| 0.079t 2024 T4 Aluminum Sheet | T4 | 0.079 | 2 | 1500x3000 |
| 0.098t 2024 O Aluminum Sheet | O | 0.098 | 2.5 | 1500x3000 |
| 0.098t 2024 T4 Aluminum Sheet | T4 | 0.098 | 2.5 | 1250x2500 |
| 0.098t 2024 T4 Aluminum Sheet | T4 | 0.098 | 2.5 | 1500x3000 |
| 0.118t 2024 O Aluminum Sheet | O | 0.118 | 3 | 1200x2000 |
| 0.118t 2024 O Aluminum Sheet | O | 0.118 | 3 | 1500x3000 |
| 0.118t 2024 T4 Aluminum Sheet | T4 | 0.118 | 3 | 1250x2500 |
| 0.118t 2024 T4 Aluminum Sheet | T4 | 0.118 | 3 | 1500x3000 |
| 0.138t 2024 T4 Aluminum Sheet | T4 | 0.138 | 3.5 | 1500x3000 |
| 0.157t 2024 O Aluminum Sheet | O | 0.157 | 4 | 1500x3000 |
| 0.157t 2024 T4 Aluminum Sheet | T4 | 0.157 | 4 | 1200x2000 |
| 0.157t 2024 T4 Aluminum Sheet | T4 | 0.157 | 4 | 1250x2500 |
| 0.157t 2024 T4 Aluminum Sheet | T4 | 0.157 | 4 | 1500x3000 |
| 0.197t 2024 O Aluminum Sheet | O | 0.197 | 5 | 1500x3000 |
| 0.197t 2024 T4 Aluminum Sheet | T4 | 0.197 | 5 | 1250x2500 |
| 0.197t 2024 T4 Aluminum Sheet | T4 | 0.197 | 5 | 1500x3000 |
| 0.236t 2024 O Aluminum Sheet | O | 0.236 | 6 | 1500x3000 |
| 0.236t 2024 T4 Aluminum Sheet | T4 | 0.236 | 6 | 1250x2500 |
| 0.236t 2024 T4 Aluminum Sheet | T4 | 0.236 | 6 | 1500x3000 |
| 0.315t 2024 H112 Aluminum Plate | H112 | 0.315 | 8 | 1500x3000 |
| 0.315t 2024 H112 Aluminum Plate | H112 | 0.315 | 8 | 2000x4000 |
| 0.315t 2024 T4 Aluminum Plate | T4 | 0.315 | 8 | 1500x3000 |
| 0.394t 2024 H112 Aluminum Plate | H112 | 0.394 | 10 | 1500x3000 |
| 0.394t 2024 H112 Aluminum Plate | H112 | 0.394 | 10 | 2000x4000 |
| 0.394t 2024 T1 Aluminum Plate | T1 | 0.394 | 10 | 1500x3000 |
| 0.394t 2024 T4 Aluminum Plate | T4 | 0.394 | 10 | 1500x3000 |
| 0.472t 2024 H112 Aluminum Plate | H112 | 0.472 | 12 | 1500x3000 |
| 0.472t 2024 H112 Aluminum Plate | H112 | 0.472 | 12 | 2000x4000 |
| 0.472t 2024 T1 Aluminum Plate | T1 | 0.472 | 12 | 1500x3000 |
| 0.472t 2024 T4 Aluminum Plate | T4 | 0.472 | 12 | 1500x3000 |
| 0.551t 2024 H112 Aluminum Plate | H112 | 0.551 | 14 | 1500x3000 |
| 0.551t 2024 H112 Aluminum Plate | H112 | 0.551 | 14 | 2000x4000 |
| 0.551t 2024 T4 Aluminum Plate | T4 | 0.551 | 14 | 1500x3000 |
| 0.591t 2024 H112 Aluminum Plate | H112 | 0.591 | 15 | 1500x3000 |
| 0.591t 2024 H112 Aluminum Plate | H112 | 0.591 | 15 | 1520x3020 |
| 0.591t 2024 H112 Aluminum Plate | H112 | 0.591 | 15 | 2000x4000 |
| 0.591t 2024 T351 Aluminum Plate | T351 | 0.591 | 15 | 1500x3000 |
| 0.591t 2024 T4 Aluminum Plate | T4 | 0.591 | 15 | 1500x3000 |
| 0.63t 2024 H112 Aluminum Plate | H112 | 0.63 | 16 | 1500x3000 |
| 0.63t 2024 H112 Aluminum Plate | H112 | 0.63 | 16 | 2000x4000 |
| 0.63t 2024 H112 Aluminum Plate | H112 | 0.63 | 16 | 2200x4000 |
| 0.63t 2024 T1 Aluminum Plate | T1 | 0.63 | 16 | 1500x3000 |
| 0.63t 2024 T4 Aluminum Plate | T4 | 0.63 | 16 | 1500x3000 |
| 0.63t 2024 T4 Aluminum Plate | T4 | 0.63 | 16 | 2000x4000 |
| 0.709t 2024 H112 Aluminum Plate | H112 | 0.709 | 18 | 1500x3000 |
| 0.709t 2024 H112 Aluminum Plate | H112 | 0.709 | 18 | 2000x4000 |
| 0.709t 2024 T1 Aluminum Plate | T1 | 0.709 | 18 | 1500x3000 |
| 0.709t 2024 T4 Aluminum Plate | T4 | 0.709 | 18 | 1500x3000 |
| 0.787t 2024 H112 Aluminum Plate | H112 | 0.787 | 20 | 1500x3000 |
| 0.787t 2024 H112 Aluminum Plate | H112 | 0.787 | 20 | 2000x4000 |
| 0.787t 2024 H112 Aluminum Plate | H112 | 0.787 | 20 | 2200x4000 |
| 0.787t 2024 T1 Aluminum Plate | T1 | 0.787 | 20 | 1500x3000 |
| 0.787t 2024 T4 Aluminum Plate | T4 | 0.787 | 20 | 1500x3000 |
| 0.866t 2024 H112 Aluminum Plate | H112 | 0.866 | 22 | 1500x3000 |
| 0.866t 2024 T1 Aluminum Plate | T1 | 0.866 | 22 | 1500x3000 |
| 0.984t 2024 H112 Aluminum Plate | H112 | 0.984 | 25 | 1500x3000 |
| 0.984t 2024 T4 Aluminum Plate | T4 | 0.984 | 25 | 1500x3000 |
| 1.181t 2024 H112 Aluminum Plate | H112 | 1.181 | 30 | 1500x3000 |
| 1.181t 2024 H112 Aluminum Plate | H112 | 1.181 | 30 | 2200x4000 |
| 1.181t 2024 T1 Aluminum Plate | T1 | 1.181 | 30 | 1500x3000 |
| 1.378t 2024 H112 Aluminum Plate | H112 | 1.378 | 35 | 2200x4000 |
| 1.378t 2024 T1 Aluminum Plate | T1 | 1.378 | 35 | 1500x3000 |
| 1.378t 2024 T4 Aluminum Plate | T4 | 1.378 | 35 | 1500x3000 |
| 1.575t 2024 T1 Aluminum Plate | T1 | 1.575 | 40 | 1500x3000 |
| 1.575t 2024 T4 Aluminum Plate | T4 | 1.575 | 40 | 1500x3000 |
| 1.772t 2024 H112 Aluminum Plate | H112 | 1.772 | 45 | 1500x3000 |
| 1.772t 2024 H112 Aluminum Plate | H112 | 1.772 | 45 | 2000x4000 |
| 1.772t 2024 H112 Aluminum Plate | H112 | 1.772 | 45 | 2200x4000 |
| 1.772t 2024 T4 Aluminum Plate | T4 | 1.772 | 45 | 1500x3000 |
| 1.969t 2024 H112 Aluminum Plate | H112 | 1.969 | 50 | 1500x3000 |
| 1.969t 2024 H112 Aluminum Plate | H112 | 1.969 | 50 | 2000x4000 |
| 1.969t 2024 H112 Aluminum Plate | H112 | 1.969 | 50 | 2200x4000 |
| 1.969t 2024 T1 Aluminum Plate | T1 | 1.969 | 50 | 1500x3000 |
| 1.969t 2024 T4 Aluminum Plate | T4 | 1.969 | 50 | 1500x3000 |
| 2.165t 2024 H112 Aluminum Plate | H112 | 2.165 | 55 | 1500x3000 |
| 2.165t 2024 H112 Aluminum Plate | H112 | 2.165 | 55 | 2000x4000 |
| 2.165t 2024 T1 Aluminum Plate | T1 | 2.165 | 55 | 1300x3995 |
| 2.165t 2024 T1 Aluminum Plate | T1 | 2.165 | 55 | 1500x3000 |
| 2.165t 2024 T351 Aluminum Plate | T351 | 2.165 | 55 | 2000x4000 |
| 2.165t 2024 T4 Aluminum Plate | T4 | 2.165 | 55 | 1500x3000 |
| 2.362t 2024 H112 Aluminum Plate | H112 | 2.362 | 60 | 1500x3000 |
| 2.362t 2024 H112 Aluminum Plate | H112 | 2.362 | 60 | 2200x4000 |
| 2.362t 2024 T1 Aluminum Plate | T1 | 2.362 | 60 | 1500x3000 |
| 2.362t 2024 T351 Aluminum Plate | T351 | 2.362 | 60 | 2000x4000 |
| 2.362t 2024 T4 Aluminum Plate | T4 | 2.362 | 60 | 1500x3000 |
| 2.362t 2024 T4 Aluminum Plate | T4 | 2.362 | 60 | 2000x4000 |
| 2.559t 2024 H112 Aluminum Plate | H112 | 2.559 | 65 | 1500x3000 |
| 2.559t 2024 T4 Aluminum Plate | T4 | 2.559 | 65 | 1500x3000 |
| 2.756t 2024 H112 Aluminum Plate | H112 | 2.756 | 70 | 1500x3000 |
| 2.756t 2024 H112 Aluminum Plate | H112 | 2.756 | 70 | 2200x4000 |
| 2.756t 2024 T1 Aluminum Plate | T1 | 2.756 | 70 | 1500x3000 |
| 2.756t 2024 T351 Aluminum Plate | T351 | 2.756 | 70 | 2000x4000 |
| 2.756t 2024 T4 Aluminum Plate | T4 | 2.756 | 70 | 1500x3000 |
| 2.953t 2024 H112 Aluminum Plate | H112 | 2.953 | 75 | 1500x3000 |
| 2.953t 2024 T1 Aluminum Plate | T1 | 2.953 | 75 | 1500x3000 |
| 2.953t 2024 T4 Aluminum Plate | T4 | 2.953 | 75 | 1500x3000 |
| 3.15t 2024 H112 Aluminum Plate | H112 | 3.15 | 80 | 1500x3000 |
| 3.15t 2024 H112 Aluminum Plate | H112 | 3.15 | 80 | 2000x4000 |
| 3.15t 2024 H112 Aluminum Plate | H112 | 3.15 | 80 | 2200x4000 |
| 3.15t 2024 T1 Aluminum Plate | T1 | 3.15 | 80 | 1500x3000 |
| 3.15t 2024 T351 Aluminum Plate | T351 | 3.15 | 80 | 2000x4000 |
| 3.15t 2024 T4 Aluminum Plate | T4 | 3.15 | 80 | 1500x3000 |
| 3.346t 2024 H112 Aluminum Plate | H112 | 3.346 | 85 | 1500x3000 |
| 3.543t 2024 H112 Aluminum Plate | H112 | 3.543 | 90 | 1500x3000 |
| 3.543t 2024 H112 Aluminum Plate | H112 | 3.543 | 90 | 2000x4000 |
| 3.543t 2024 T1 Aluminum Plate | T1 | 3.543 | 90 | 1500x3000 |
| 3.543t 2024 T351 Aluminum Plate | T351 | 3.543 | 90 | 2000x4000 |
| 3.543t 2024 T4 Aluminum Plate | T4 | 3.543 | 90 | 1500x3000 |
| 3.543t 2024 T4 Aluminum Plate | T4 | 3.543 | 90 | 2000x4000 |
| 3.74t 2024 H112 Aluminum Plate | H112 | 3.74 | 95 | 1500x3000 |
| 3.937t 2024 H112 Aluminum Plate | H112 | 3.937 | 100 | 1500x3000 |
| 3.937t 2024 H112 Aluminum Plate | H112 | 3.937 | 100 | 2200x4000 |
| 3.937t 2024 T1 Aluminum Plate | T1 | 3.937 | 100 | 1500x3000 |
| 3.937t 2024 T351 Aluminum Plate | T351 | 3.937 | 100 | 2000x4000 |
| 3.937t 2024 T4 Aluminum Plate | T4 | 3.937 | 100 | 1500x3000 |
| 4.134t 2024 H112 Aluminum Plate | H112 | 4.134 | 105 | 1500x3000 |
| 4.331t 2024 H112 Aluminum Plate | H112 | 4.331 | 110 | 1500x3000 |
| 4.331t 2024 T1 Aluminum Plate | T1 | 4.331 | 110 | 1500x3000 |
| 4.331t 2024 T4 Aluminum Plate | T4 | 4.331 | 110 | 1500x3000 |
| 4.528t 2024 H112 Aluminum Plate | H112 | 4.528 | 115 | 1500x3000 |
| 4.724t 2024 H112 Aluminum Plate | H112 | 4.724 | 120 | 1500x3000 |
| 4.724t 2024 T1 Aluminum Plate | T1 | 4.724 | 120 | 1500x3000 |
| 4.724t 2024 T351 Aluminum Plate | T351 | 4.724 | 120 | 2000x4000 |
| 4.724t 2024 T4 Aluminum Plate | T4 | 4.724 | 120 | 1500x3000 |
| 5.118t 2024 H112 Aluminum Plate | H112 | 5.118 | 130 | 1500x3000 |
| 5.118t 2024 T351 Aluminum Plate | T351 | 5.118 | 130 | 2000x4000 |
| 5.315t 2024 T1 Aluminum Plate | T1 | 5.315 | 135 | 1330x2940 |
| 5.315t 2024 T1 Aluminum Plate | T1 | 5.315 | 135 | 1500x3000 |
| 5.512t 2024 H112 Aluminum Plate | H112 | 5.512 | 140 | 1500x3000 |
| 5.512t 2024 H112 Aluminum Plate | H112 | 5.512 | 140 | 2000x4000 |
| 5.512t 2024 T1 Aluminum Plate | T1 | 5.512 | 140 | 1500x3000 |
| 5.512t 2024 T351 Aluminum Plate | T351 | 5.512 | 140 | 2000x4000 |
| 5.512t 2024 T4 Aluminum Plate | T4 | 5.512 | 140 | 1500x3000 |
| 5.906t 2024 H112 Aluminum Plate | H112 | 5.906 | 150 | 1500x3000 |
| 5.906t 2024 H112 Aluminum Plate | H112 | 5.906 | 150 | 2000x4000 |
| 5.906t 2024 T4 Aluminum Plate | T4 | 5.906 | 150 | 1500x3000 |
| 6.299t 2024 H112 Aluminum Plate | H112 | 6.299 | 160 | 1500x3000 |
| 6.299t 2024 T4 Aluminum Plate | T4 | 6.299 | 160 | 1500x3000 |
| 6.693t 2024 H112 Aluminum Plate | H112 | 6.693 | 170 | 2000x4000 |
| 6.693t 2024 T351 Aluminum Plate | T351 | 6.693 | 170 | 2000x4000 |
| 7.087t 2024 H112 Aluminum Plate | H112 | 7.087 | 180 | 1500x3000 |
| 7.087t 2024 H112 Aluminum Plate | H112 | 7.087 | 180 | 2000x4000 |
| 7.087t 2024 T351 Aluminum Plate | T351 | 7.087 | 180 | 2000x4000 |
| 7.48t 2024 H112 Aluminum Plate | H112 | 7.48 | 190 | 1500x3000 |
| 7.874t 2024 H112 Aluminum Plate | H112 | 7.874 | 200 | 1500x3000 |
| 7.874t 2024 H112 Aluminum Plate | H112 | 7.874 | 200 | 2000x4000 |
| 7.874t 2024 T4 Aluminum Plate | T4 | 7.874 | 200 | 2000x4000 |
| 8.268t 2024 H112 Aluminum Plate | H112 | 8.268 | 210 | 1500x3000 |
| 8.661t 2024 T351 Aluminum Plate | T351 | 8.661 | 220 | 2000x4000 |
| 9.055t 2024 H112 Aluminum Plate | H112 | 9.055 | 230 | 2000x4000 |
| 9.055t 2024 T351 Aluminum Plate | T351 | 9.055 | 230 | 2000x4000 |
| 9.449t 2024 H112 Aluminum Plate | H112 | 9.449 | 240 | 2000x4000 |
| 10.236t 2024 H112 Aluminum Plate | H112 | 10.236 | 260 | 2000x4000 |
| 11.024t 2024 H112 Aluminum Plate | H112 | 11.024 | 280 | 1520x3020 |