In the aerospace industry, 2124 aluminum plates produced according to QQ-A-250/29, AMS 4101, ASTM B209 and other standards are usually used to manufacture important structural parts, such as fuselage shells, wings and landing gear, etc. Strength and corrosion resistance make it an ideal material choice.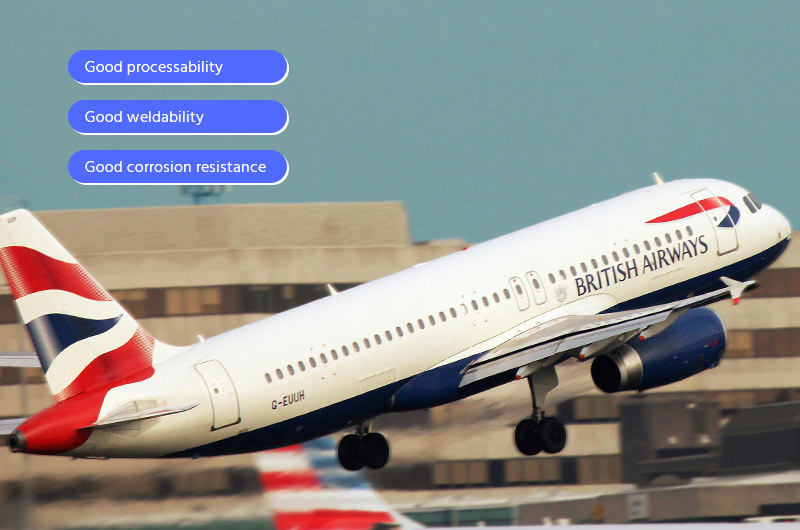 Why choose Chalco 2124 aerospace grade aluminum plate?
Chalco Aluminum provides excellent quality aerospace materials, as well as the best technical services in the market, and has a deep knowledge base on how to support customers in meeting the challenges of the future.
Quality could full meet AMS aviation standard.
Standard
QQ-A-250/29, AMS 4101, ASTM B209, etc.
We have passed AS9100, OHSAS 18001 and other certifications required by the aviation industry, providing a strong guarantee for the quality of aerospace materials produced by our company.
Accreditations
AS9100
OHSAS 18001
ISO14001
ISO9001
NADCAP HT
NADCAP NDT
IATP16949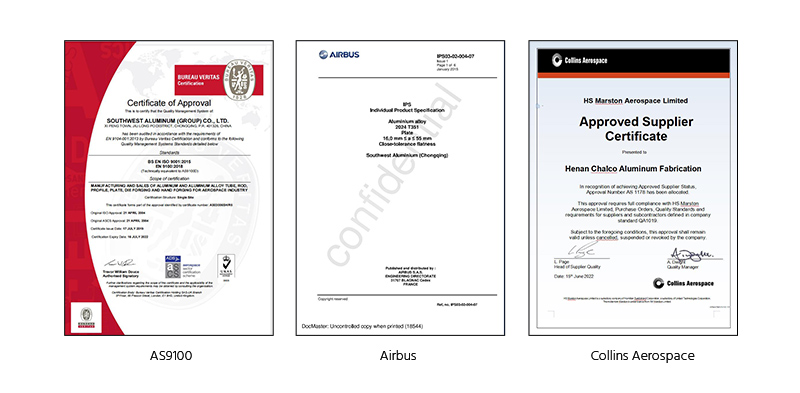 We have a complete set of domestic advanced aerospace materials research and development, testing and analysis instruments, which guarantee the efficiency of new product research and development and accelerate the transformation of scientific and technological achievements. In addition, our R&D&innovation and verification capabilities can help enhance customers' competitiveness by saving time and cost in new product development and marketing.
The Chalco brand stands for quality, delivery and a solid reputation. With leading technology and globally competitive products, we can continue to develop together with our customers in the future.
Specification of 2124 aerospace-grade aluminum plate
Temper
O, H112, T3, T4, T6, T351, T851, etc.
Thickness
0.5mm-300mm
Width
500-2650mm
Length
500-12000mm
Standard
GB/T3880, GJB1541, GJB2662, ASTMB209, EN485, QQ-A-250/29, AMS 4101, etc.
2124 plate stock size
Thickness: 0.6mm-300mm
Temper: T851
Size: 1500mm×3000mm; 2000mm×4000mm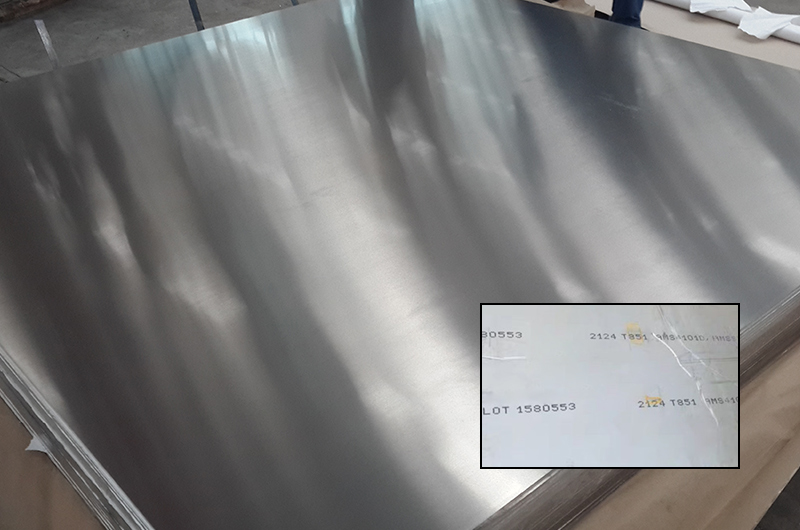 Chemical composition of 2124 aerospace-grade aluminium plate
| | |
| --- | --- |
| Element | Composition(%) |
| Si | 0.2 |
| Fe | 0.3 |
| Cu | 3.8-4.9 |
| Mn | 0.3-0.9 |
| Mg | 1.2-1.8 |
| Cr | 0.10 |
| Zn | 0.25 |
| Ti | 0.15 |
| Other | 0.2 |
| Al | Remainder |
Characteristics of 2124 aviation aluminum plate
High strength
2124 aluminum plate is a high-strength aluminum alloy, which has higher strength than ordinary aluminum alloys, and can still maintain good strength especially under high temperature conditions.
Good processability
2124 aluminum plate has good plasticity and processability, and can be used for various forming processes, including stamping, stretching, bending, rolling, etc.
Good weldability
2124 aluminum plate has good weldability, and can be used in various welding methods, such as argon arc welding, gas shielded welding, plasma welding, etc.
Good corrosion resistance
2124 aluminum plate has good corrosion resistance, can be used in seawater and other harsh environments for a long time, and is not easily damaged by corrosion.
Excellent fatigue strength
2124 aluminum plate has excellent fatigue strength and can withstand high-intensity dynamic loads. It is a material that is very suitable for manufacturing parts and structures that require high fatigue strength.
Lightweight
2124 aluminum plate has the characteristics of light weight. Compared with other metal materials, it has lighter weight, which makes it more widely used in aerospace, automobile and other fields.
Good high temperature performance
2124 aluminum plate has good performance under high temperature conditions, can maintain a certain strength and hardness, and is not easy to soften or fail, so it is widely used in high temperature environments.
High recyclability
2124 aluminum plate is an environmentally friendly material with high recyclability, can be recycled, and has less impact on the environment.
Key points for purchasing 2124 aircraft aluminum plate
If you want to buy 2124 aluminum sheet, here are some items you may need to pay attention to:
Size and thickness
You will need to determine the size and thickness of the aluminum sheets you need to ensure they are suitable for your specific application.
Chalco Aluminum 2124 aluminum sheet can be used in aerospace, defense and other fields. There are many different sizes and thicknesses to choose from in stock, and the whole sheet can be sold in zero cuts, which is convenient and fast.
Material certification
You need to ensure that the purchased 2124 aluminum plate meets the relevant material certification standards. In aerospace and defense, Chalco Aluminum has passed standards such as AMS (Aerospace Material Specification) or MIL (Military Specification).
Surface treatment
You need to consider the surface treatment of the aluminum plate, such as anodizing or coating treatment, etc. This will vary based on your specific application, but different surface treatments can provide better corrosion resistance and surface hardness for your application.
Supplier reputation and service
Chalco Aluminum is a supplier with a good reputation and good service record, which can ensure you to get high-quality products and timely after-sales service.
Price
Considering the cost of 2124 Aluminum Plates, Chalco Aluminum is moderately priced and widely favored by aerospace parts manufacturers.
Production process
Chalco Aluminum has a complete aviation quality control system to ensure that the products meet your quality requirements.
Packaging and shipping
Chalco Aluminum has fully considered the packaging and shipping methods of aluminum sheets to ensure that they will not be damaged during transportation.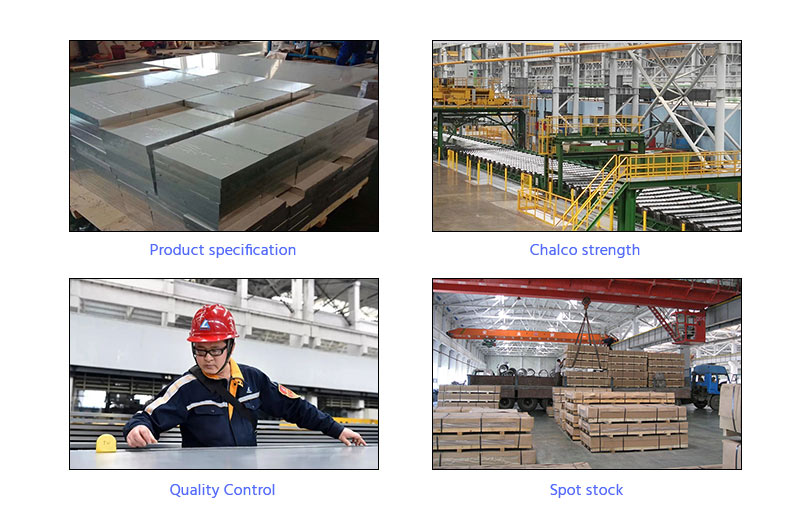 To sum up, multiple factors need to be considered when purchasing 2124 aluminum sheet, including size and thickness, material certification, surface treatment, supplier reputation and service, price, production process, packaging and transportation.
The application of 2124 aerospace aluminum alloy plate
2124 T851 aluminum plate
Typically used to manufacture high-strength structural components such as those found in aircraft and spacecraft.
Due to its high strength and corrosion resistance, 2124 T851 aluminum alloy plate is widely used in the aerospace industry, including applications such as aircraft skins, landing gear, hydraulic systems, engine covers, ballistic missiles, and satellites.
2124 T351 T851 aluminum alloy thick plate
It is a highly purified alloy of 2024 aluminum alloy, its strength, plasticity and fracture toughness are better than that of 2024 aluminum alloy, and its SCC performance is similar to that of 2024 aluminum alloy.
Typical uses of 2124 T351 and T851 aluminum alloy thick plates: aircraft structural parts, wings, fuselage, gun beams, fuselage skins, central wing skins, air inlets, skins and fairings, etc.
2124 T6 high strength aluminum alloy forged plate
Good forgeability and plasticity, poor corrosion resistance, is a typical hard aluminum alloy.
Typical uses of 2124 T6 high-strength aluminum alloy forgings: aircraft components.