Chalco's cooking bag foil has minimal pinholes, is easily processed, and has obtained BSCI, PDA, and KOF-K certifications.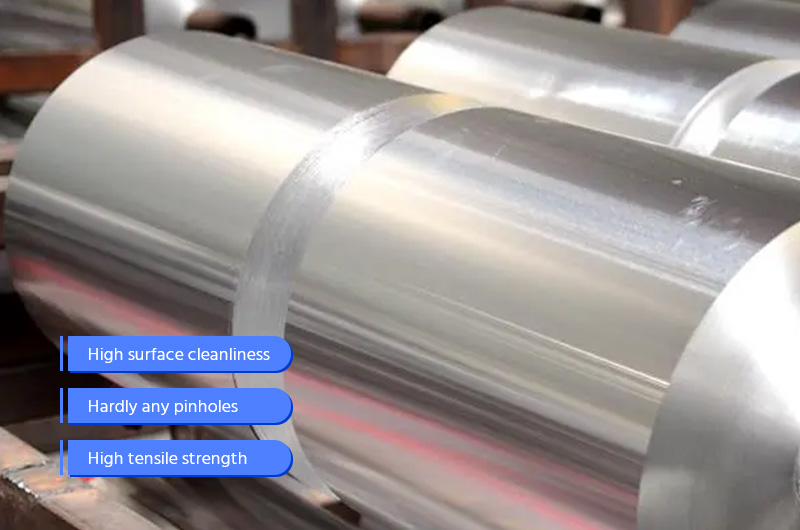 Specifications of the cooking bag foil
Alloy
1235
8011
8079
Temper
O
O
O
Width
300-1790 mm (11.81-70.47 in)
300-1600 mm (11.81-62.99 in)
700-980 mm (27.56-38.58 in)
Thickness
0.0065-0.007 mm
0.006-0.015 mm
0.007mm-0.009mm
Pinhole
0.0065mm: <=150/mm²
0.007mm: <=100/mm²
0.007mm: <=100/mm²
0.007mm: <=100/mm²
0.009mm: <=20/mm²
0.009mm: <=20/mm²
Brush water test
Spray Class A
Price
(LME ingot price + processing fee) × weight + packaging fee + transportation fee
Sample
Send samples for free, if you need samples, please clickFree sample
stock
In stock
Custom Made
The above specifications and packaging spraying can be customized according to customer needs
For other questions, such as minimum order quantity, payment method, delivery date, packaging and transportation, etc., please click to view
Chemical composition of cooking bag foil
Element
Composition (%)
1235
8011
8079
Al
99.3
Remainder
Remainder
Si
-
0.50-0.90
0.05-0.30
Fe
-
0.6-1.0
0.7-1.3
Cu
0.05
0.10
0.05
Mn
0.05
0.20
-
Mg
0.05
0.05
-
Cr
-
0.05
-
Zn
0.10
0.10
0.10
Ti
0.06
0.08
-
Ga
-
-
-
V
0.05
-
-
Si + Fe
0.70
-
-
Other(each)
0.03
0.05
0.05
Other(total)
-
0.15
0.15
The chemical composition will affect the performance and can be produced according to the standard required by the customer.
Effect of chemical composition on the performance of cooking bag foil
Effect of chemical composition on 1235 cooking bag foil
The solid solution of Fe and Si in Al will increase the material's work hardening rate, leading to a relatively higher rolling difficulty for Cooking Bag Foil.
The mechanical properties of 1235 aluminum foil for Cooking Bag Foil are not only affected by purity and Fe/Si content but also by the Fe/Si ratio.
Effect of chemical composition on 8011 8079 cooking bag foil
Adding an appropriate amount of Cu to the alloy can enhance its strengthening ability during annealing.
The alloy with a higher manganese content has a higher yield strength compared to an alloy with a lower manganese content under the same conditions.
Chromium (Cr) can also impede the nucleation and growth processes of recrystallization, impart a certain degree of strengthening to the alloy, and improve its toughness.
Cooking bag foil mechanical properties
Alloy
Temper
Tensile Strength Rm/(N/mm²)
Elongation After Break %
1235
H18
≥140
≥1
H16
120-160
≥1
H14
105-145
≥2
8011 8079
H18
≥160
≥1
H16
145-185
≥1
H14
125-165
≥2
If you have special requirements for performance, please contact us in advance and indicate it in the contract.
Cooking bag foil quality requirements
Hydrogen content
The hydrogen content in the cold-rolled strip of Cooking Bag Foil does not exceed 0.14 mL/100 g of molten aluminum.
Appearance quality
The cold-rolled strip of Cooking Bag Foil should have no defects that would hinder further processing, such as corrosion, oil stains, peeling, impressions from metal or non-metal objects, or severe scratches on the surface.
The ends of the cold-rolled strip of Cooking Bag Foil should be free from cracks, burrs, impacts, or scratches.
The cold-rolled strip of Cooking Bag Foil should be free from bird nests, collapsing rolls, and joints.
Grain size
The as-cast (casting) grain size should not be lower than grade two.
The annealed grain size should not be lower than grade one.
Other requirements
If customers have other special requirements, please contact us in advance and indicate them in the contract.
Cooking bag foil size deviation
| | | | | |
| --- | --- | --- | --- | --- |
| Thickness mm | Width mm | Convexity | Flatness | Coil end dimension deviation |
| ±4% of nominal thickness | ±1.5 | 0-1% | 95% of the flatness on the strip is less than 201 | The layering should be no more than 3mm; the telescoping should be no more than 10mm (excluding the first and last 5 coils, but not exceeding 20mm). The width of the paper core sleeve is 0-10mm less than the width of the strip on each side. |
Why choose Chalco aluminum cooking bag foil?
Company strength
Currently, China holds the position of being the world's leading producer and exporter of aluminum foil. Chalco Aluminum, in particular, stands as the largest aluminum manufacturer in China.
Our production of ultra-thin aluminum foil ranging from 0.0045 to 0.005mm has been recognized as a key new product by the Chinese government.
For several consecutive years, we have been honored by ABB as an outstanding supplier of the year, and we have also received the Annual Excellence Award from the American company GE.
Production equipment
Chalco Aluminum boasts impressive production equipment.
We possess a 2000mm Achenbach and Davy aluminum foil rolling mill, alongside the incorporation of the German Herkules roll grinder, with a maximum roll diameter of 650mm and a grinding precision that reaches a remarkable 0.0001mm.
Furthermore, we have the Kampf aluminum foil slitter, which enhances the diversification of our production line, catering to the needs of various customers.
To ensure product quality, we have invested in high-precision annealing furnaces that utilize negative pressure vacuum annealing technology.
The furnace gas temperature differential is controlled within a range of ±3℃, ensuring a steadfast enhancement of product quality for every batch.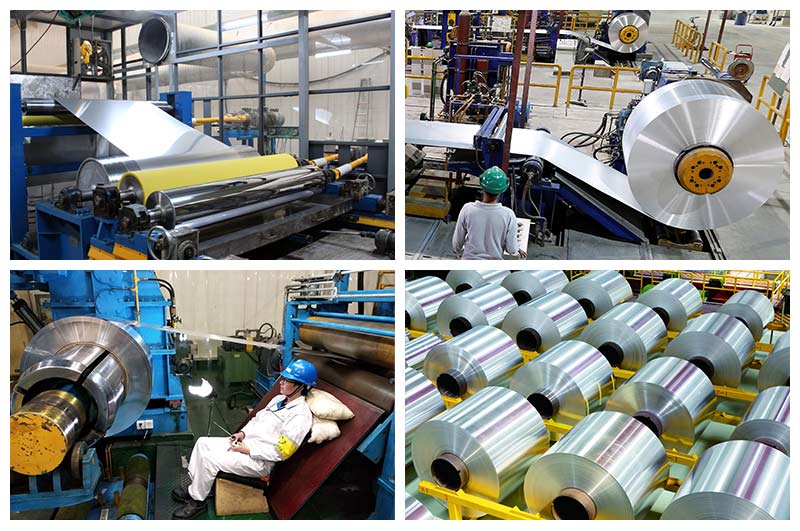 Quality assurance
The Cooking Bag Foil produced by Chalco Aluminum exhibits toughness, strong puncture resistance, high temperature resistance, clean and burr-free surface, and ease of processing.
We commit to maintaining a 34-35 Dyne value for the Cooking Bag Foil product within two weeks of usage. All water brush tests meet the highest A-level spray standard, and all pressure resistance tests pass with approval.
Furthermore, we provide online surface defect and pinhole inspection reports for the entire length of the Cooking Bag Foil product.
We consistently adhere to a zero-defect principle, ensuring that every piece of product leaves the factory without defects, and offering you high-quality Cooking Bag Foil products.
Management system and certification
ISO 14001 Environmental Management System
ISO9001 quality management system
ISO45001 occupational health and safety management system
FSSC22000 food safety management system certification
BSCI Business Social Standard Certification
PDA US Food and Drug Administration Food Grade Certification
KOF-K Kosher Certification

Frequently asked questions for buying cooking bag foil
Payment method
Contact us to get quotation information. Quick Quote
Delivery time
We have enough stock for common models and colors. That's why our MOQ is so low, please confirm with sales before placing an order.
Cooking bag foil packaging
The packaging methods of Cooking Bag Foil can be divided into two types according to the thickness and status: box packaging and tic-tac-toe packaging.
Box packaging is divided into stacking type, suspension type and bottom bracket type.
The stacking type is mainly used for products with small specifications and light weight.
the bottom bracket type is mainly used for products with large specifications and heavy weight; the suspension type is mainly used for products with general specifications and weight.
To learn more about packing methods, please click How to Pack Aluminum Products (to Avoid Shipping Damage).
Is Chalco Aluminum a trading company or a manufacturer?
We are manufacture of aluminum foil for the cooking bag foil.
Does Chalco Aluminum offer other aluminum foil products?
We offer the following hot selling aluminum foils:
Vial sealed with 1060 aluminum foil
Aluminum foil for 3105 screw cap
5052 Aluminum foil for EOE and tabs
0.006-0.05mm household aluminum foil roll
8011 8011A Aluminum foil for bottle caps
Aluminum foil for candy packaging
1145 1235 8011 Aluminum foil for cigarette packing
Application of cooking bag foil
Grill Bags.
Foil oven bags.
Foil BBQ.
Aluminum foil bag.
High temperature aluminum foil cooking bag.
Standing pouch aluminium foil.
Used in cosmetics packaging.
Face bag.
Etc.