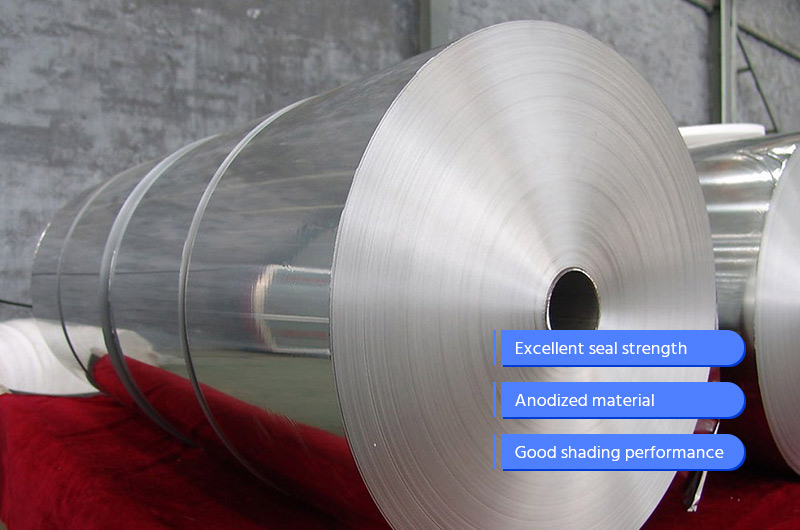 Grades, temper and specifications of aluminum foil for PTP
Alloy
Temper
Thickness/mm
Width/mm
ID of coil/mm
OD of coil/mm
1100, 1200, 1235, 1145, 3003, 8006, 8011, 8011A, 8079
O, H18
0.018-0.100
200-1500
75.0, 76.2
300-600
150.0, 152.4
450-1200
Thickness tolerance of aluminum foil for PTP
Thickness(t) /mm
Thickness tolerance /mm
High precision grade
Standard grade
0.018-0.100
±4%t
±6%t
Width tolerance of aluminum foil for PTP
| | |
| --- | --- |
| Width /mm | Width tolerance /mm |
| ≤800.0 | ±1.0 |
| >800.0 | ±1.5 |
Mechanical properties of aluminum foil for PTP
Grades
Temper
Thickness/mm
Tensile strength/Mpa
Elongation/%
1235
O
0.018-0.025
40-100
1
>0.025~0.040
50-110
4
>0.040-0.100
55-110
8
1100, 1200, 1235
H18
0.018-0.100
≥135
-
1100, 1200
O
0.018-0.025
40-100
1
>0.025-0.040
50-110
3
>0.040-0.100
55-110
6
3003
O
0.018-0.025
80-130
1
>0.025-0.040
80-130
4
>0.040-0.100
80-130
8
8006
O
0.018-0.025
80-140
1
>0.025-0.040
85-140
2
>0.040-0.100
90-145
6
H18
0.018-0.100
≥180
1
8011, 8011A, 8079
O
0.018-0.025
55-105
1
>0.025-0.040
60-110
4
>0.040-0.100
60-120
8
H18
0.018-0.100
≥150
1
Number and diameter of pinholes in aluminum foil
| | | |
| --- | --- | --- |
| Thickness /mm | Number of pinholes per square meter | Pinhole diameter/mm |
| 0.018-<0.020 | ≤3 | ≤0.3 |
| 0.020-0.100 | 0 | - |
The number of joints per roll of aluminum foil and the spacing between joints
Outer diameter of the roll
Allowable number of joints per roll
Spacing between joints
Thickness≤0.050mm
Thickness >0.050mm
≤500
≤1
0
≥2000
>500
≤2
Characteristics and application of aluminum foil for PTP
PTP aluminum foil packaging is used for aluminum-plastic blister packaging of pharmaceutical tablets, capsules, pills, etc. It has a novel appearance and improves the image and competitiveness of pharmaceuticals.
Excellent sealing strength compared to PVC, PVC/PVDC, PET, PP, PE, and high barrier base materials.
Made with hard aluminum anodized material, making it easy to break the aluminum foil to access the medicine.
PTP aluminum foil packaging provides good light-blocking, moisture resistance, gas retention, and flavor retention properties, as well as resistance to oxidation.
Perfect printing quality with no fading after sealing.
PTP aluminum foil exhibits exceptional mechanical strength and corrosion resistance, ensuring its suitability for high-speed pharmaceutical packaging production lines, whether at low or high temperatures.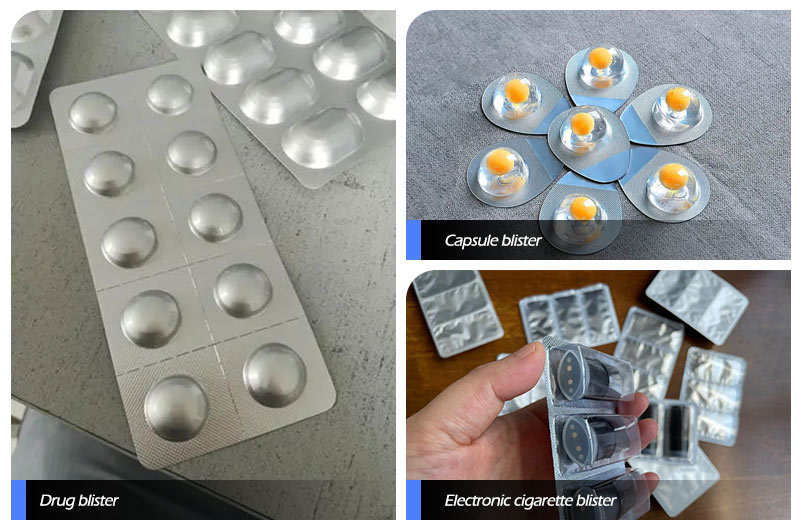 Printing aluminum foil for PTP
Plain foil (unprinted)
Printed foil (single-sided printing, double-sided printing, monochrome printing, two-color printing, multicolor printing, colored foil (single-sided gold, two-color gold), double-sided gold, green background, various colored backgrounds)
Anti-counterfeit (steganography, design, positive and negative printing)
Single-sided or double-sided printing, providing improved appearance as per requirements.