Why choose chalco 5A02 Aluminum alloy wire for rivets
Chalco Aluminum is a company that integrates the design, development and precision inspection of smelting, extrusion and fine drawing aluminum manufacturing.
Chalco Aluminum can provide excellent quality aluminum wire for rivets in 5A02 alloy , as well as excellent technical service in the market, and has a deep knowledge of how to support customers to meet the challenges of the future.
We have a set of domestic advanced rivet aluminum alloy wire research and development, testing, analysis instruments, to provide guarantee for new product research and development efficiency, accelerate the transformation of scientific and technological achievements. In addition, our R&D & innovation and validation capabilities can help strengthen the competitiveness of our customers by saving time and cost in new product development and marketing.
We have passed the AS9100 certification required by the aviation industry, IATF16949 certification required by the automotive industry, etc., which provides a strong guarantee for the quality of aluminum wire for rivets produced by our company.
The Chalco brand stands for quality, delivery and a good reputation. With leading technology and globally competitive products, we can continue to grow together with our customers in the future.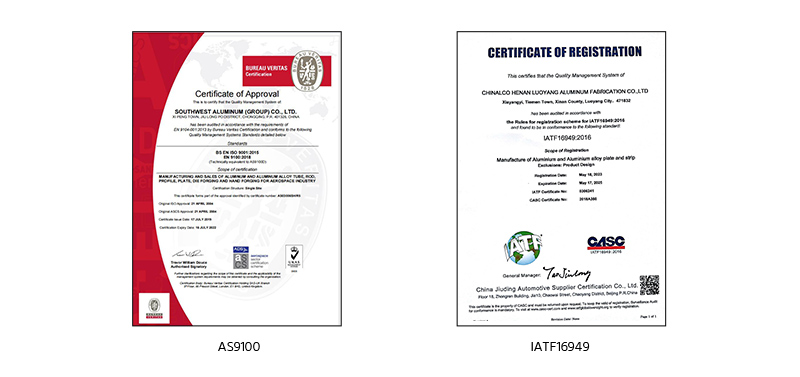 The Specs of 5A02 aluminum wire for rivets
| | |
| --- | --- |
| Size | 1.6-10.0mm |
| Temper | H14 |
| Size Tolerance | ±0.02mm |
| Weight Coil | Above 50KGs |
| Function | make Solid rivets |
The chemical composition of 5A02 aluminum wire rod for rivets
| | |
| --- | --- |
| Element | Composition % |
| Si | 0.40 |
| Fe | 0.40 |
| Cu | 0.10 |
| Mn | 0.15-0.40 |
| Mg | 2.0-2.8 |
| Cr | - |
| Zr | - |
| Zn | - |
| Ti | 0.15 |
| Al | Remainder |
Shear strength and riveting performance of 5A02 aluminum riveting wire
Alloy
Temper
Sample temper
Diameter mm
Shear strength τ Mpa
Riveting performance
Protrusion height of sample ratio to diameter
Riveting test time
5A02
H14
H14
1.6-10.0
≥115
1.5
-
>10.0-20.0
-
-
-
Allowable deviation of diameter of 5A02 aluminum wire rod for rivets
Diameter
Tolerance allowed
Grade A
Grade B
Grade C
Grade D
≤1.6
+0.000
-0.015
+0.015
-0.015
±0.015
+0.00
-0.04
>1.6-4.0
+0.000
-0.025
+0.025
-0.015
±0.025
+0.00
-0.05
>4.0-6.0
+0.000
-0.030
+0.025
-0.025
±0.040
+0.00
-0.08
>6.0-10.0
+0.000 -0.040
+0.050
-0.025
±0.060
+0.00
-0.12
Appearance quality of 5A02 aluminum wire rod for rivets
Defect name
Technical requirement
Fastener aluminum wire
Cracks, burrs, peeling, air bubbles, bumps, dents, scratches, triangular mouths, metal press-in, non-metal press-in and surface corrosion
Not allowed
Scuffs, scratches, bumps
Allowable depth does not exceed half of the negative deviation value
Oil spots
Allowed
Characteristics of 5A02 aluminum wire for rivets
Lightweight: aluminum is a lightweight metal, so the rivets made of 5A02 aluminum wire rods are relatively lightweight, which helps reduce overall weight.
Good corrosion resistance: aluminum alloy has excellent corrosion resistance, making 5A02 rivets have good durability in humid or corrosive environments.
Moderate strength: 5A02 aluminum alloy has moderate strength under T6 treatment, which can meet the requirements of general rivet applications.
Weldability: 5A02 aluminum wire rod is easy to weld, which makes the connection between rivets and other components more convenient.
Good processing performance: this aluminum alloy is easy to process and form, which is beneficial for producing rivets of various sizes and shapes.
Excellent conductivity and thermal conductivity: aluminum alloys are excellent electrical and thermal conductors, and these characteristics may be necessary in certain applications.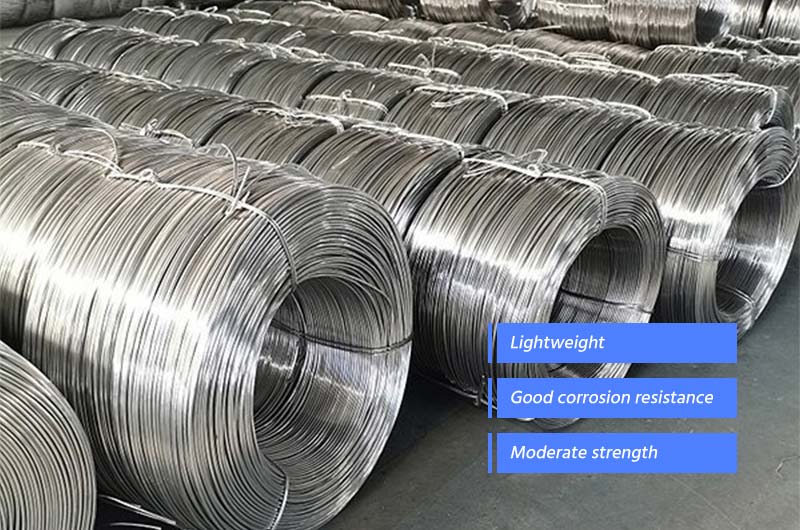 Precautions for buying 5A02 aluminum rivet wire
Material specifications: confirm the specific material specifications of the aluminum wire rod, including alloy type, composition, hardness, etc. Different alloys and specifications are suitable for different application scenarios.
Heat resistance: if you need to use aluminum wire rods for rivets in high temperature environments, ensure that it has sufficient heat resistance to avoid softening or losing strength during use.
Strength and hardness: depending on your needs, choose the appropriate strength and hardness of the aluminum rod to ensure that it can meet the desired connection or support requirements.
Size and shape: according to your specific application, choose the appropriate size and shape of the aluminum rod to ensure that it matches the rivets.
Surface treatment: find out if the aluminum wire has been specially treated to improve its corrosion resistance and appearance quality.
Quality certification: ensure that the purchased aluminum rod meets the relevant quality standards and certification requirements to ensure product quality and reliability.
Supplier reputation: select reputable suppliers or manufacturers to ensure product quality and after-sales service.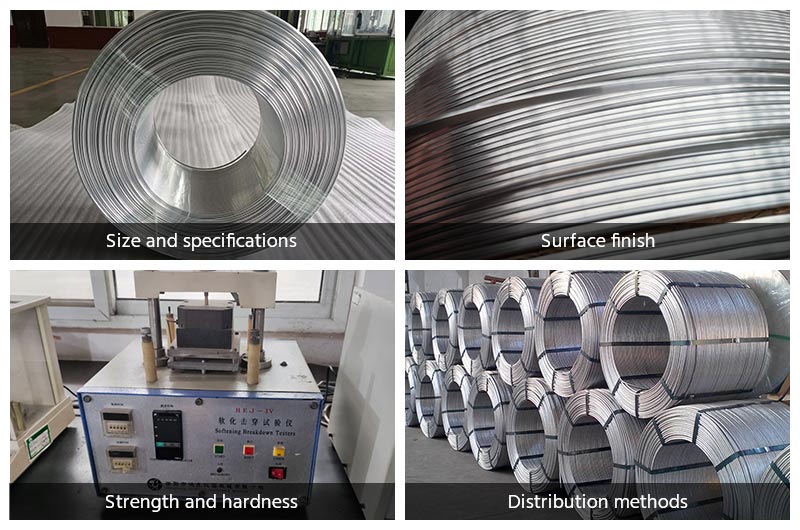 Packaging method of 5A02 aluminum wire for rivets
Double fiber cloth packing
Wooden box packing
Eye to sky wooden pallet packing
Applications of 5A02 aluminum wire for rivets
5A02 aluminum wire for rivets is widely used in the production of various fasteners, including high-strength solid rivets, half round heads, solid rivets, high-strength screws and rivets, due to its lightweight, corrosion-resistant, and certain strength characteristics.
Widely used in fields and industries such as automotive manufacturing, aerospace, transportation, mechanical manufacturing, and construction.