Copper is one of the oldest known conductive materials and is the most common conductive metal besides silver. The application of aluminum in the field of conductivity began in the 1960s. However, the inherent advantages of aluminum have also led to its rapid development in the field of conductivity.
This article provides a comparative analysis of conductive copper busbar and aluminum busbars to help you better understand their respective advantages, so that you can make the most favorable choice for yourself in future projects.
For both products, you can contact us to know more information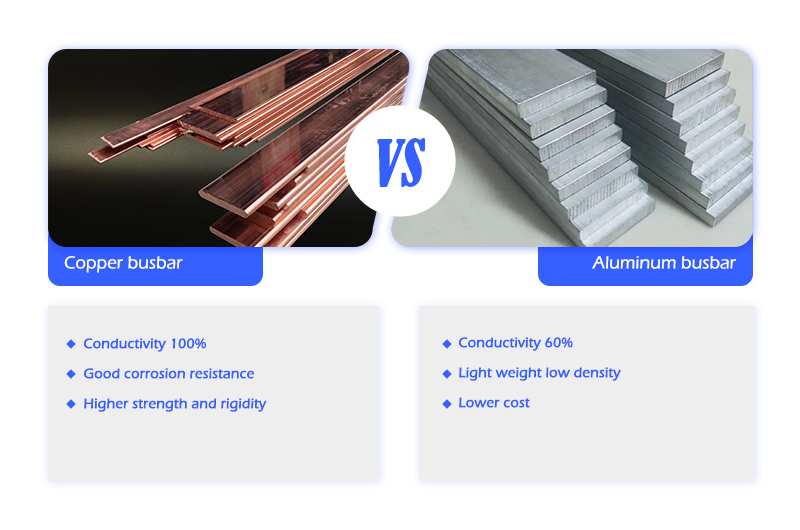 The comparison of conductive copper busbar and aluminum busbar
Conductivity and resistance of copper and aluminum
Copper is considered to be the international standard for conductivity, and with changes and improvements in processing technology, commercial pure copper can have 100% or even higher IACS conductivity values. So, the conductivity of copper is beyond doubt in the field of electrical engineering.
Although conductive aluminum is only 62% of copper, it is still another preferred choice for conductive products. This is attributed to the advantage of strong processing ability of aluminum. The conductive aluminum busbar can be cut into different widths or thicknesses according to different scene requirements. A larger cross-sectional area can provide more conductive channels, thereby reducing current density, resistance, and voltage drop. And hollow and extruded profiles have larger surfaces than standard rectangular sections. It can also provide greater heat exchange and more effective heat dissipation while reducing electrical resistivity.
Corrosion resistance of copper and aluminum
Conductive copper busbar has good corrosion resistance and can resist the effects of oxidation and corrosion under various environmental conditions. And copper can resist corrosion caused by most organic chemicals. Even if rusted, verdigris is only a protective surface and does not alter the properties of copper.
Aluminum also has strong anti-corrosion properties, but there are still differences compared to copper. The aluminum surface of the conductive aluminum busbar will form an oxide layer, which can provide certain anti-corrosion protection. However, conductive aluminum busbars may be more susceptible to corrosion in corrosive environments. This requires some surface treatment processes such as electroplating, spraying, etc. to improve the corrosion resistance of aluminum.
Quality and strength of copper and aluminum metals
Copper has high strength and rigidity in metals, and conductive copper busbars can withstand large loads and stresses, making them suitable for applications with high strength requirements.
Conductive aluminum busbars have lower density and lightness compared to conductive copper busbars, and they have advantages in applications with critical weight limitations. High-quality aluminum has sufficient tensile strength to withstand thermal expansion strain. Therefore, in the market environment of automobile lightweight trend, and in scenarios with weight requirements such as aerospace, the application of conductive aluminum busbar is more widespread.
Cost comparison of copper conductive busbar and aluminum conductive busbar
From the perspective of conductivity, conductive copper busbar is undoubtedly still the preferred choice in the field of conductivity, but aluminum also occupies a place in the field of conductivity due to its own advantages.
The cost of aluminum busbar can be significantly lower than that of copper busbar. Its lightweight characteristics can significantly save costs in terms of processing costs. Aluminum also has high recyclability, which makes it less likely to experience market fluctuations or supply shortages.
Environmental protection and sustainability
Although copper and aluminum are both recyclable metals. However, compared to copper (65%), aluminum has a higher recovery rate of 75%. And the energy used for recycling and extracting aluminum is only 15% of the energy required for mining and extracting the same amount of copper.
Ampacity chart of copper and aluminum busbar
Converting Copper to Aluminum using an Ampacity Chart
Ampacity Conversion Chart
Copper C110
30° C Rise
50° C Rise
65° C Rise
Aluminum 6101
30° C Rise
50° C Rise
65° C Rise
Flat Bar Size in Inches
Sq. In
Circ Mils Thousands
Weight Per Ft in Lb.
DC Resistance at 20° C, Microhms/Ft
60 Hz Ampacity Amp*
Weight Per Ft in Lb.
DC Resistance at 20° C, Microhms/Ft
60 Hz Ampacity Amp**
1/2*1
0.5
637
1.93
16.5
620
820
940
0.585
31
347
459
526
1/2

*

1 1/2
0.75
955
2.9
11
830
1100
1250
0.878
21
465
616
700
1/2

*

2
1
1270
3.86
8.23
1000
1350
1550
1.17
15
560
756
868
1/2

*

2 1/2
1.25
1590
4.83
6.58
1200
1600
1850
1.463
12
672
896
1036
1/2

*

3
1.5
1910
5.8
5.49
1400
1850
2150
1.755
10
784
1036
1204
1/2

*

3 1/2
1.75
2230
6.76
4.7
1550
2100
2400
2.048
9
868
1176
1344
1/2

*

4
2
2550
7.73
4.11
1700
2300
2650
2.34
8
952
1288
1484
1/2

*

5
2.5
3180
9.66
3.29
2050
2750
3150
2.925
6
1148
1540
1764
1/2

*

6
3
3820
11.6
2.74
2400
3150
3650
3.51
5
1344
1764
2044
1/2

*

8
4
5090
15.5
2.06
3000
4000
4600
4.68
4
1680
2240
2576
1/4

*

1/2
0.125
159
0.483
65.8
240
315
360
0.146
123
134
176
202
1/4

*

3/4
0.188
239
0.726
43.8
320
425
490
0.220
82
179
238
274
1/4

*

1
0.25
318
0.966
32.9
400
530
620
0.293
62
224
297
347
1/4

*

1 1/2
0.375
477
1.450
21.9
560
740
880
0.439
41
314
414
482
1/4

*

2
0.5
637
1.930
16.5
710
940
1100
0.585
31
398
526
616
1/4

*

2 1/2
0.625
796
2.410
13.2
850
1150
1300
0.731
25
476
644
728
1/4

*

3
0.75
955
2.900
11
990
1300
1550
0.878
21
554
728
868
1/4

*

3 1/2
0.875
1110
3.380
9.4
1150
1500
1750
1.024
18
644
840
980
1/4

*

4
1
1270
3.860
8.23
1250
1700
1950
1.170
15
700
952
1092
1/4

*

5
1.25
1590
4.830
6.58
1500
2000
2350
1.463
12
840
1120
1316
1/4

*

6
1.5
1910
5.800
5.49
1750
2350
2700
1.755
10
980
1316
1512
1/8

*

1/2
0.0625
79.6
0.241
132
153
205
235
0.073
247
86
115
132
1/8

*

3/4
0.0938
119
0.362
87.7
215
285
325
0.110
164
120
160
182
1/8

*

1
0.125
159
0.483
65.8
270
360
415
0.146
123
151
202
232
1/8

*

1 1/2
0.188
239
0.726
43.8
385
510
590
0.220
82
216
286
330
1/8

*

2
0.25
318
0.966
32.9
495
660
760
0.293
62
277
370
426
1/8

*

2 1/2
0.312
397
1.210
26.4
600
800
920
0.365
49
336
448
515
1/8

*

3
0.375
477
1.450
21.9
710
940
1100
0.439
41
398
526
616
1/8

*

3 1/2
0.438
558
1.690
18.8
810
1100
1250
0.512
35
454
616
700
1/8

*

4
0.5
636
1.930
16.5
900
1200
1400
0.585
31
504
672
784
1/16

*

1/2
0.0312
39.7
0.121
264
103
136
157
0.037
494
58
76
88
1/16

*

3/4
0.0469
59.7
0.181
175
145
193
225
0.055
327
81
108
126
1/16

*

1
0.0625
79.6
0.242
132
187
250
285
0.073
247
105
140
160
1/16

*

1 1/2
0.0938
119
0.362
87.7
270
355
410
0.110
164
151
199
230
1/16

*

2
0.125
159
0.483
65.8
345
460
530
0.146
123
193
258
297
Source: Copper Development Organization; Aluminum Association
Note: Ratings depend upon configuration, air flow, ambient temp, etc. The values depicted are an approximation. Controlled testing is always required to validate.
Other considerations Forming the busbar (aluminum has a tendency to crack with very tight radius) Electroplating the busbar (white rust on aluminum, oxidation is an issue with aluminum) Configuration of the busbar (vertical or horizontal configuration)