Chalco conductive aluminum tubular bus pipe conforms to ASTM B241, ASTM B 317M-07, GB/27676-2011, GB/T 33228-2016, IS:5082, IS:2673 etc. standards. Hot selling alloy products include 1350, 1060, 1070, 3003, 3A21, 6061, 6063, 6101 and some others.
3000 series aluminum alloy adds Manganese (Mn), which can provide good corrosion resistance and moderate strength after appropriate surface treatment (such as anodizing). Chalco 3003 and 3A21 aluminum tube busbars can be widely used in transmission and transformation systems and wind power generation systems in harsh environments such as humidity.
Why choose Chalco 3003 aluminum EC tubular bus pipe
Chalco aluminum conductive bus pipes are produced by using the technology of casting hollow core billet + three roll rolling + cold stretching. The products have uniform and stable mechanical and electrical properties in both length and cross-sectional directions;
Chalco conductive aluminum tube products use independently developed rare earth and heat-resistant aluminum alloy materials, which have excellent processing, welding, conductivity, and heat resistance properties;
Chalco conductive aluminum tubes are widely used in power engineering such as transmission and transformation stations, as well as in power equipment such as transformers, and have established cooperation with many well-known enterprises.

Specification of Chalco 3003 3A21 EC aluminum tubular busbar
Temper
H14
Outer diameter
Φ60mm-Φ450mm
Wall thickness
3mm-15mm
Length
The length of a single bus pipe can reach 15 meters;
deviation:+15~+25mm
Curvature
m/L<2.0mm
Size and Deviation
Click to view the [Size and Deviation Table]
Surface requirement
The surface is smooth and flat, without cracks, wrinkles, inclusions, deformation, or distortion.
Product requirement
The finished pipeline is completely straight;
High dimensional accuracy and high tensile strength;
Not prone to discharge and corona.
Profiles can be provided
Certificate of origin;
Invoice and PL certified by Chamber of Commerce;
Test certificate according to EN 10204 3.1;
Other test reports that may be requested by the customer.
Mechanical and Physical property of Chalco 3003 3A21 EC bus pipe tube
| | | |
| --- | --- | --- |
| Alloy | 3003 H14 | 3A21 H14 |
| Tensile strength Rm/MPa | ≥135 | ≥135 |
| Prescribed plastic extension strength Rp0.2/MPa | ≥120 | ≥120 |
| Elongation after fracture (% ) | ≥4 | ≥4 |
| Electrical conductivity(%IACS) | ≥32 | ≥41 |
| Density | - | 2.74 |
| Melting point | - | 620-640 |
| Thermal conductivity(K/℃*cm*s) | - | 0.46 |
| 20°C Temperature coefficient of electrical resistance I/℃ | - | 0.0042 |
| 20℃ Electrical Resistivity β, Ω mm2/m | - | 0.043 |
Chemical component of Chalco 3003 3A21 aluminum alloy
Element
Composition (%)
3003
3A21
Si
0.6
0.6
Fe
0.7
0.7
Cu
0.05-0.2
0.20
Mn
1.0-1.5
1.0-1.6
Mg
-
0.05
Cr
-
-
Ni
-
-
Zn
0.1
0.15
Ca
-
-
V
-
-
Ti
-
0.10-0.20
Other
0.15
0.15
Min.A1
Remainder
Remainder
Advantage of Chalco 3003 3A21 tubular aluminum bus bar
Advantages of tubular busbar
The tubular conductor has a larger cross-sectional area, reduces the influence of Skin effect and resistance loss, and improves the transmission efficiency;
Reduce Corona Inception Voltage;
Can be customized and assembled through various methods such as connection, bending, welding, etc., to adapt to different circuit layouts and topological structures.
Advantages of Chalco 3003 3A21 aluminum tubular busbar
Good conductivity;
Good corrosion resistance, more reliable for use in humid environments or corrosive conditions;
Compared to copper products, 3003 and 3A21 aluminum alloys have lower costs.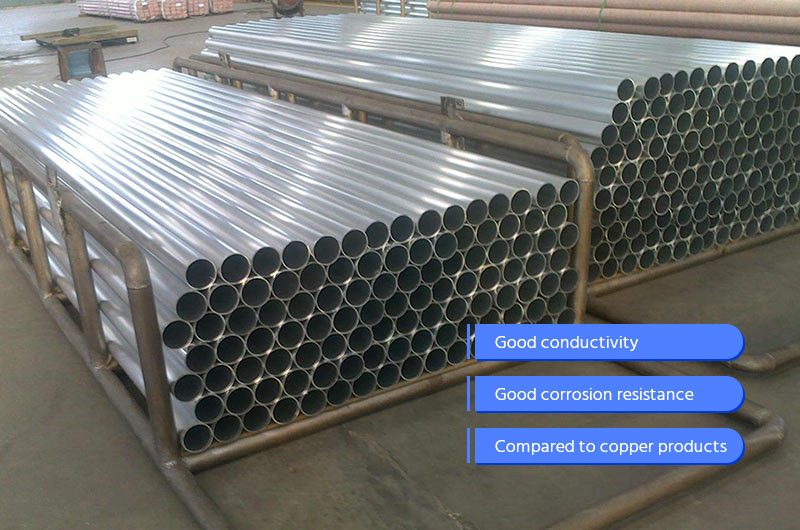 Cooperative field of Chalco 3003 3A21 conductive aluminum bus tube pipe
Tubular conductors are a new type of conductor that replaces traditional transmission conductors such as rectangular, slot shaped, strip busbar, and flexible conductors.
Used for 400KV, 220KV, 132 KV, and 33 KV switchyards, as well as for connecting large pivot twist substations such as 220KV, 500KV, 750KV, and 1000KV with multi circuit power grid lines and main transformers.
Application of Chalco 3003 aluminum EC tubular bus bar
Aluminum alloy extruded pipes for high-frequency conductivity in power plants;
Current conductors in power construction projects;
The conductor connection between the power grid transmission conductor and the substation;
Jumpers in transmission lines;
High current DC ice melting device;
Power transmission and distribution system;
Power capacitors, battery packs, etc.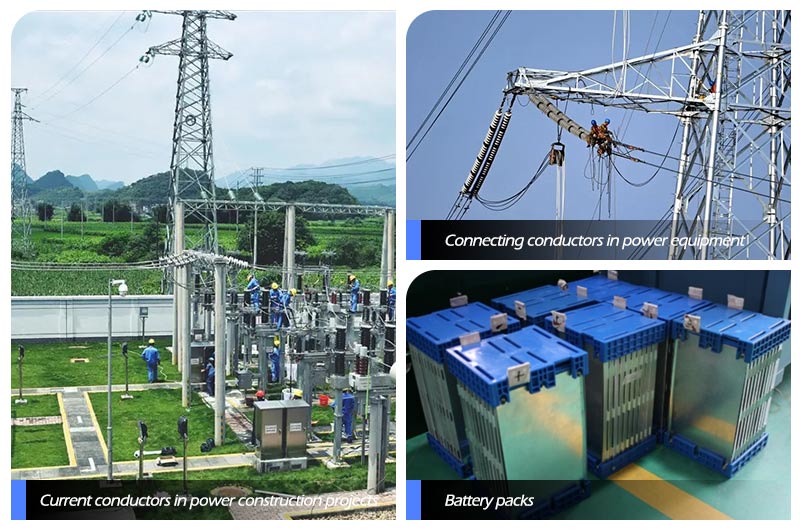 More electrical aluminum products in Chalco
Size and deviation table of Chalco 3003 3A21 aluminum tubular busbar
Size table reference table
SCH 40 Nominal size
(in.)
Outside diameter of tube
(in.)
Wall Thickness
(in.)
Area
(sq. in.)
Weight
(lb/ft)
1
1.315
0.133
0.4939
0.581
1.25
1.66
0.14
0.6685
0.786
1.5
1.9
0.145
0.7995
0.94
2
2.375
0.154
1.075
1.264
2.5
2.875
0.203
1.704
2.004
3
3.5
0.216
2.228
2.621
3.5
4
0.226
2.68
3.151
4
4.5
0.237
3.174
3.733
5
5.563
0.258
4.3
5.057
6
6.625
0.28
5.581
6.564
8
8.625
0.322
8.399
9.879
SCH 80 Nominal size
(in.)
Outside diameter of tube
(in.)
Wall Thickness
(in.)
Area
(sq. in.)
Weight
(lb/ft)
1
1.315
0.179
0.6388
0.751
1.25
1.66
0.191
0.8815
1.037
1.5
1.9
0.2
1.068
1.256
2
2.375
0.218
1.477
1.737
2.5
2.875
0.276
2.254
2.65
3
3.5
0.3
3.016
3.547
3.5
4
0.318
3.678
4.326
4
4.5
0.337
4.407
5.183
5
5.563
0.375
6.112
7.188
6
6.625
0.432
8.405
9.884
8
8.625
0.5
12.763
15.009
Wall thickness deviation
Nominal wall thickness
3-5
>5 -8
>8-10
>10-12
>12-15
>15 -20
Ordinary level
Average & nominal wall thickness
±0.30
±0.50
±0.70
±0.9
±1.10
±1.3
Any & nominal wall thickness
H14
±0.40
±0.60
±0.90
±1.10
±1.3
±1.6
T5A, T6, T10
±12% of the specified wall thickness, maximum value is 1.90
High precision level
Average & nominal wall thickness
±0.15
±0.20
±0.38
±0.50
±0.70
±1.00
Any & nominal wall thickness
H14
±0.2
±0.3
±0.5
±0.76
±1.00
±1.4
T5A, T6, T10
±10% of the specified wall thickness, maximum value is 1.70
Outer diameter deviation
Nominal OD
Ordinary level
Average & Nominal outer diameter
Any & Nominal outer diameter
H14
T5A, T6, T10
50.00 - 80.00
±0.24
±0.30
±0.45
> 80.00- 120.00
±0.35
±0.40
±0.62
>120.00-150.00
±0.45
±0.50
±0.75
>150.00 - 200.00
±0.65
±0.7
±1.00
>200.00 - 250.00
±0.77
±
±1.2
>250.00 - 300.00
±0.96
±1
±1.5
>300.00 - 350.00
±1.3
±1.4
±1.8
High precision level
Nominal OD
Average & Nominal outer diameter
Any & Nominal outer diameter
H14
T5A, T6, T10
50.00 - 80.00
±0.15
±0.15
±0.3
> 80.00-120.00
±0.20
±0.20
±0.41
>120.00-150.00
±0.25
±0.25
±0.5
>150.00-200.00
±0.38
±0.38
±0.76
>200.00-250.00
±0.50
±0.5
±1.00
>250.00-300.00
±0.64
±0.64
±1.25
>300.00-350.00
±0.9
±0.9
±1.6