Chalco 6101 6201 aluminum wires rods conforms to GB/T6892, ASTM B233, GOST 13843–78 etc. standards.
Chalco 1000 series high-purity electrical aluminum wire rods, 6000 series high-strength electrical aluminum wire rods, 8000 series high conductivity thermoelectric aluminum wire rods, and rare earth electrical aluminum wire rods are widely used in the manufacturing of wires and cables such as AAC, AAAC, AaCSR, ABC, and other power transmission and distribution equipment.
Why choose Chalco as aluminum wire rod supplier?
Chalco electrical aluminum wire rods are produced through continuous casting and rolling in an integrated process of raw material melting. The maximum size can be provided is φ32mm. The large unit weight (up to 2 tons) significantly improves productivity.
Chalco Aluminum supplies 1370, 1350, 1070, 1050, 6101, 6201, 8176, 8030, 8017 etc. aluminum wire rod for electrical application and has established long-term cooperative relationships with AVIAL LLC, WIELAND METAL SERVICES, enjoying good reputation from them.

Specification of Chalco electrical wire rod
Temper
T4
Typical diameter
7.5mm, 9.5mm, 12.0mm, 15.0mm, 19.0mm, 24.0mm;
View popular products 【Click for size table】
Specific dimensions can contact for customization
Processing technology
Heat treatment, drawing, etc.
Surface treatment
Deoxygenation, polishing or electroplating
Surface quality
No casting and rolling defects (fractures, tears, cracks, burrs, rolling laps, notches, films, voids, scratches)
No oil stains, oxides or surface corrosion, dirt, aluminum powder
No welded joints, grinding defects, end damage
package
To ensure integrity, each wire rod coil must be tightly strapped with steel or polyester tape, in at least three places evenly distributed around the circumference of the coil.
Mark
Each coil bear with a suitable tag having manufacturer's name, size, aluminum temper number, manufacturing lot no, net weight & material code.
Standard
GB/T6892, ASTM B221, ASTM B233, GOST 13843–78, EN 1715, EN 755
Chalco 6101 6201 aluminum wire rod mechanical and electrical property
| | | |
| --- | --- | --- |
| Alloy | 6101-T4 | 6201-T4 |
| Tensile Strength (Mpa) | 150-220 | 160-220 |
| Elongation (10%) (no less than) | 10 | 10 |
| Conductivity at 20°C % IACS | 52 | 51 |
| Volume Resistivity(20℃)(nΩ·m)(not more than) | 35 | 36 |
Chalco 6101 6201 aluminum wire rod chemical component
Chemical composition (EN 573-3)
Element
6101 (%)
6201 (%)
Si
0.3-0.7
0.5-0.9
Fe
<0.5
<0.5
Cu
<0.1
<0.1
Mn
<0.03
<0.03
Mg
0.35-0.8
0.6-0.9
Cr
<0.03
<0.03
Zn
<0.1
<0.1
V
-
-
Ti
-
-
B
<0.06
<0.06
Other each
<0.03
<0.03
Other total
<0.1
<0.1
Al
rest
rest
Advantages of Chalco 6101 6201 aluminum wire rod
Good conductivity: although slightly lower than that of copper, 6101 and 6201 aluminum alloys have relatively high conductivity in aluminum conductive products.
Lightweight: low density and light weight, can be used in lightweight requirements.
Good corrosion resistance: can withstand harsh weather conditions.
Good mechanical performance: can withstand significant mechanical stress and external pressure, suitable for long-distance power transmission lines and various applications.
Cost effectiveness: compared to copper poles, the prices of 6101 and 6201 electrical aluminum round poles are more cost-effective.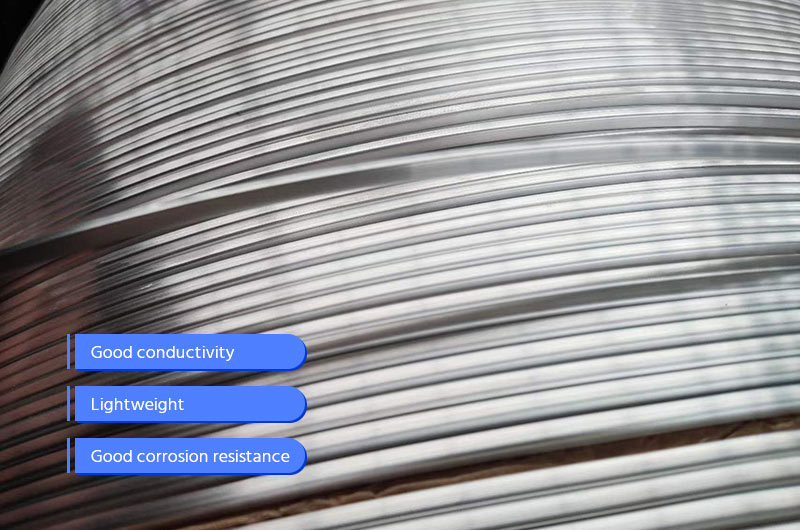 Application of Chalco 6101 6201 aluminum wire rod
Aluminum wire rod, or electric aluminum redraw rod, is the raw material for electric wire and cable, commonly used sizes are 9.5mm aluminum wire rod and 12.7mm aluminum wire rod.
Chalco 6101 6201 aluminum wire rod is widely used in the production of wires, cables, and power fields.
Aluminum stranded wire: AAC, AAAC, ACSR, ACAR, ACSS/AW, AACSR, ACSR/AW, AACSR/AW ACS, GWS)
Overhead insulated cables: LV, MV ABC Overhead Wire
High voltage transmission lines: such as transmission towers, power poles, and power conductors. They can carry high voltage and effectively transmit electrical energy.
Low voltage distribution lines: such as low-voltage power poles, substations, and outdoor distribution lines. It has good performance in low-voltage power transmission.
Internal electrical wiring in buildings: such as residential, commercial, and industrial facilities. They can be used to make cables, wires, and terminal blocks.
Electric power equipment and motors: the wire part used to make electric power equipment and motors plays an important role in equipment such as motors, transformers, and generators.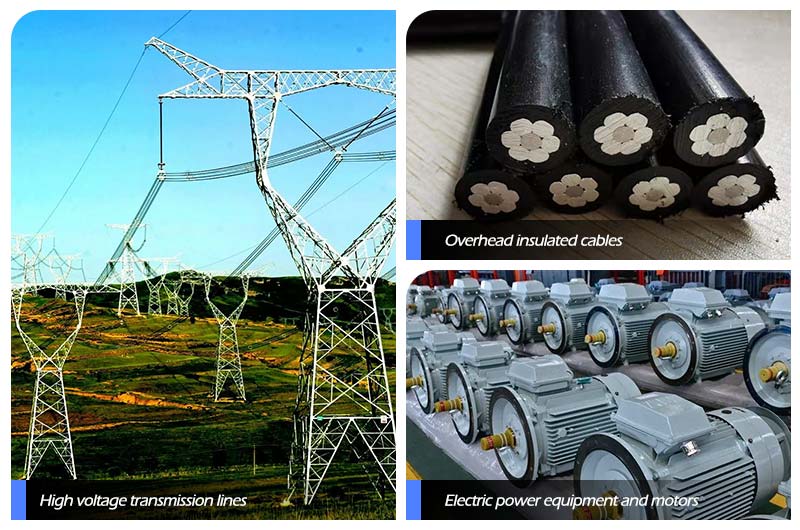 More electrical aluminum products in Chalco
Common size reference table for Chalco aluminum wire rod
Common sizes of Chalco electrical aluminum wire rod
Alloy
Temper
Diameter/mm
1000 series high-purity electrical aluminum wire rods
1350 1370 1050A 1070A 1080A 1098
O
9.50-25.00
H12 H22
H14 H24
H16 H26
H18
1.20-6.50
1A50
O H18
0.80-20.00
6000 series high-strength electrical aluminum wire rods
6101 6201
T1 T4
9.5
8000 series high conductivity thermoelectric aluminum wire rods
8017 8030 8076 8130 8176 8177
O H19
0.20-17.00
8C05 8C12
O H14 H18
0.30-2.50
Nominal dimensions and tolerance
Nominal Diameter
9mm
9.5mm
12mm
15mm
19mm
23mm
25mm
Diameter tolerance, not more
+/-0, 3 mm
+/-0, 3 mm
+/-0, 4 mm
+/-0, 5 mm
+/-0, 8
+/-1, 0
+/-1, 0 mm
mm
mm
Ovality, not more
0, 4 mm
0, 3 mm
0, 4 mm
0, 5 mm
0, 6 mm
0, 8 mm
0, 8 mm
0, 4 mm
0, 5 mm