Why choose Chalco Aluminum electrical busbar
Chalco 1350 EC grade aluminum busbar conforms to ASTM B317, ASTM B236, IEC 60105, ISO 209-1, 2, DIN EN 755-2, DIN EN 755-5:2008-06 standards. 1350 aluminum busbar has excellent conductivity, high strength, good corrosion resistance, and lightweight design.
Chalco Aluminum supplies 1050, 1060, 1070, 1100, 1350, 6060, 6082, 6101 etc. conductive aluminum busbar product. The products have been widely exported to Hitachi, ABB, Siemens, Legrand, Toshiba etc. companies, and enjoy good reputation from them.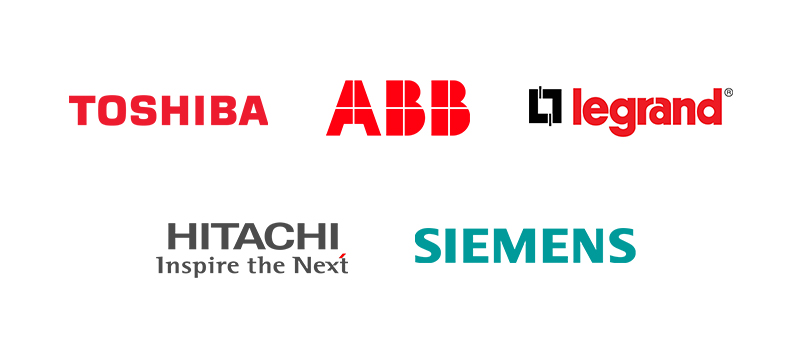 Specification of Chalco Aluminum 1350 electrical busbar
EC 1350 aluminum busbar specification
Temper
H14, H16, H19
Requirements for surface quality
Smooth surface without defects such as burrs and spots; The surface is clean, dust-free, oil-free, and free of other impurities; The oxide layer is uniform, dense, and has good corrosion resistance;
Surface treatment
Anodizing, electroplating, spraying, etc. Usually aluminum plating includes: silver, tin, nickel
Insulation treatment
Insulation coating: powder coating, epoxy resin coating or insulation paint coating, etc. Insulating sleeve: polyvinyl chloride (PVC), heat shrink tubing, or silicone rubber, etc.
Product packaging
When delivering according to length, it should be packaged in bundles and boxes, and when delivering according to quality, it should be packaged in discs, circles, or bundles.
Test
Conductivity test, temperature rise test, bending test, etc.
Standard
ASTM B317, ASTM B236, IEC 60105, ISO 209-1, 2, DIN EN 755-2, DIN EN 755-5:2008-06
Dimensions and tolerance
Length
Maximum 6m 【Click for size table】
Width
10mm - 200mm
Width tolerance [mm]
b≤35.50
±0.40
35.50<b≤100.00
±0.80
6>100.00
±1.20
Thickness
0.15mm - 40mm
Thickness tolerance [mm]
a≤6.30
±0.15
6.30<a≤12.50
±0.20
a>12.50
±0.30
Minimum Bend Radius [mm]
1x thickness (up to 12mm) 2x thickness (>12mm)
Note: In the above table,
a=thickness, i.e. narrow edge size;
b=width refers to the size of the wide edge.
Properties of Chalco Aluminum 1350 electrical aluminum busbar
Chalco aluminum busbar has outstanding performance advantages in terms of conductivity and current carrying capacity. According to different busbar sizes, Chalco conductive aluminum bus bars can handle currents up to 4000A.
For specific requirements, please click to contact our customer service personnel. The following table is a reference table for the performance parameters of Chalco 1350 conductive aluminum busbar.
Mechanical and electrical property (ASTM B 236, B 317, and The Aluminum Association)
Thermal conductivity (20°C)
5.9-6.0
Volume electrical conductivity (20°C)
61-62
Electrical resistivity (dc) (20°C)
13.35-13.14
Temperature coefficient of electrical resistance (20°C)
0.00403-0.00410
Chemical composition of Chalco Aluminum 1350 conductive aluminum busbar
| | |
| --- | --- |
| Element | Composition (%) |
| Si | Max. 0.10 |
| Fe | Max. 0.4 |
| Cu | Max. 0.05 |
| Mn | Max. 0.01 |
| Mg | — |
| Cr | Max. 0.01 |
| Zn | Max. 0.05 |
| V+Ti | Max. 0.02 |
| Other each | Max. 0.03 |
| Other total | Max. 0.1 |
| Al. | Min. 99.50 |
Advantage of Chalco Aluminum 1350 electrical aluminum busbar
Chalco can provide complete design, including machining, forming, and brazing. Cutting, stamping, bending, drilling and other processing can be completed according to the specific requirements of customers for current capacity and bending degree.
Chalco can provide surface coating and insulation processing for conductive aluminum busbars according to customer requirements to improve product corrosion resistance, aesthetics, and avoid short circuits and other issues.
Excellent conductivity: 1350 aluminum alloy has high conductivity, close to pure aluminum.
Lightweight: low density, suitable for conductive scenarios with lightweight requirements.
Good processability and corrosion resistance: flexible in shape and usage environment.
Reliability: good conductivity and corrosion resistance enhance the reliability of 1350 conductive aluminum busbar power transmission.
Long service life: corrosion resistance and reliability enable the 1350 conductive aluminum busbar to have a longer service life and save replacement costs.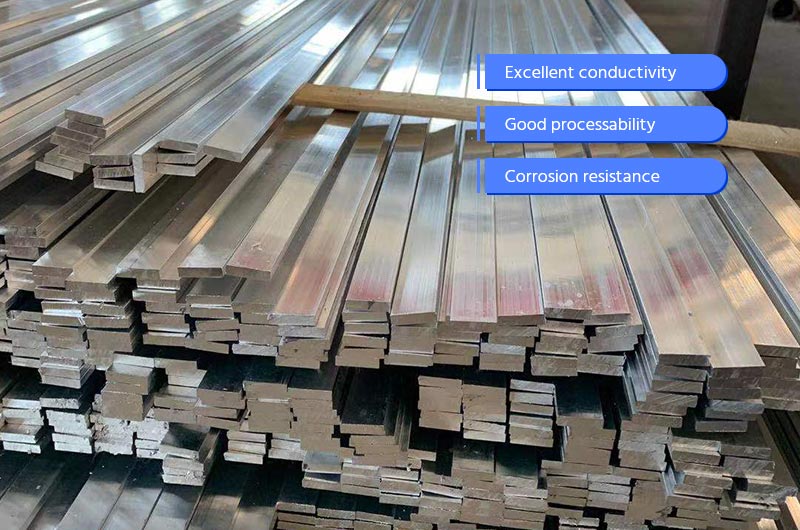 Application of Chalco Aluminum electrical aluminum busbar
Power transmission and distribution system
Power electronic equipment and communication system
Industrial electrical equipment
Electric tools
Automotive and aerospace electrical systems
New energy such as solar energy, wind energy, and new energy vehicles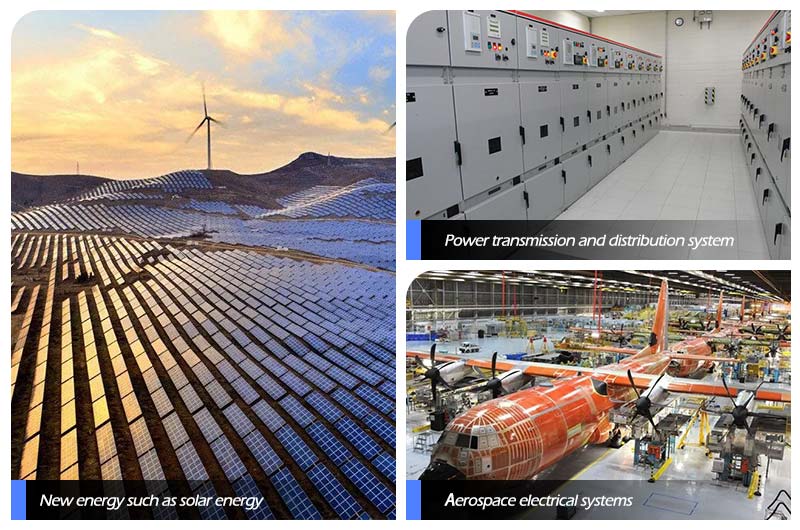 More electrical aluminum products in Chalco
Common sizes of Chalco aluminum electrical aluminum busbar
Square angle aluminum bar
2mm
2*30
2*40
2*67
2*70
2.5* 25
3mm
3*10
3*15
3*20
3*25
3*30
3*40
3*50
3*60
3*67
3*75
3*110
4mm
4*10
4*15
4*20
4*25
4*30
4*40
4*45
4*50
4*60
4.6*60
4.8*9.8
5mm
5*15
5*20
5*25
5*30
5*35
5*40
5*50
5*60
5*80
5*100
6mm
6*20
6*25
6*30
6*40
6*50
6*54
6*55
6*60
6*65
6*70
6*75
6*80
6*100
6*120
6*150
6*160
6.3mm
6.3*50
6.3*63
6.3*63.5
6.3*80
6.35*50.8
6.35*76.2
7mm
7.6*80
7*150
7*4*20*4
8mm
8*11
8*30
8*40
8*50
8*51
8*60
8*63
8*63.5
8*65
8*70
8*80
8*90
8*100
8*120
8*125
8.8*28.6
9mm
9*170
9*125
9. 2*64
10mm
10*20
10*25
10*30
10*40
10*45
10*50
10*60
10*63
10*65
10*70
10*80
10*90
10*100
10*110
10*114
10*120
10*125
10*140
10*150
10*160
12mm
12*30
12*40
12*45
12*50
12*60
12*70
12*76
12*80
12*100
12*120
12*125
12*130
12*140
12*150
12*160
12.5mm
12.5*90
12.5*100
12.5*125
12.5*127
12.7*101.6
12.7*160
13mm
13*125
13*130
13*160
14mm
14*100
14*120
14.5*80
15mm
15*30
15*35
15*50
15*60
15*80
15*100
15*120
15*125
15*150
16mm
16*30
16*90
16*100
16*110
16*125
16*130
16*140
16*150
16*160
20mm
20*76
20*100
20*120
20*130
Square bar
19*19
30*45
15*15
Round bar
Φ6
Φ8
Φ10
Φ11
Φ12
Φ14
Φ15
Φ15.6
Φ16
Φ18
Φ20
Φ21
Φ22
Φ23
Φ25
Φ27
Φ28
Φ30
Φ32
Φ35
Φ38
Φ40
Φ45
Φ50
Φ55
Φ60
Round angle aluminum bar
2mm
R2*20
R2.5* 50
3mm
R3*30
R3*40
R3*50
R3*60
R3*80
R3*100
R3*120
R3*160
4mm
R4*25
R4*30
R4*35
R4*40
R4*50
R4*60
R4.1*44.1
R4.7*151
5mm
R5*30
R5*35
R5*40
R5*45
R5*50
R5*60
R5*70
R5*75
R5*80
R5*90
R5*100
R5*120
6mm
R6*40
R6*50
R6*60
R6*70
R6*80
R6*100
R6*120
R6*140
R6*160
R6.3*63
R6.35*76.5
7mm
R7*70
8mm
R8*40
R8*50
R8*60
R8*80
R8*100
RS*120
10mm
R10*20
R10*40
R10*50
R10*60
R10*75
R10*80
R10*100
R10*120
R10*125
R10*150
R10*160
R10*170
R10.4*25
12mm
R12*80
R12*100
R12*110
R12*120
R12*125
R12*150
R12*160
12.5mm
R12.5*80
R12.5*125
R12.7*90
R12.7*127
13mm
R13*120
R13*125
14mm
R14*100
R14*120
R14*150
15mm
R15*100
R15*120
R15*130
R15*150
16mm
R16*150
R16*160
19mm
R19.05*101.6
R19.05*127
20mm
R20*80
R20*120
R20*130
Special-shaped hypotenuse
*4*50
*5*50
*5*60
*6*40
*6*50
*6*60
*6*80
*8*60
*8*80
*8*100
*8*120
*10*40
*10*80
*10*100
*10*120
*12*80
*12*100
*12*120
*15*120
*20*130
*28*60