Why choose Chalco 5086 aircraft aluminum sheet plate?
Chalco is a professional manufacturer of aviation materials with AS9100 aviation certification and strictly adheres to the following AMS aviation standards.
Quality could full meet world wide aviation standard
QQ-A-250/7 5086 sheet and plate
Production and management comply with international aviation quality system certification
AS9100
OHSAS 18001
ISO14001
ISO 45001
ISO 9001
NADCAP HT
NADCAP NDT
IATP16949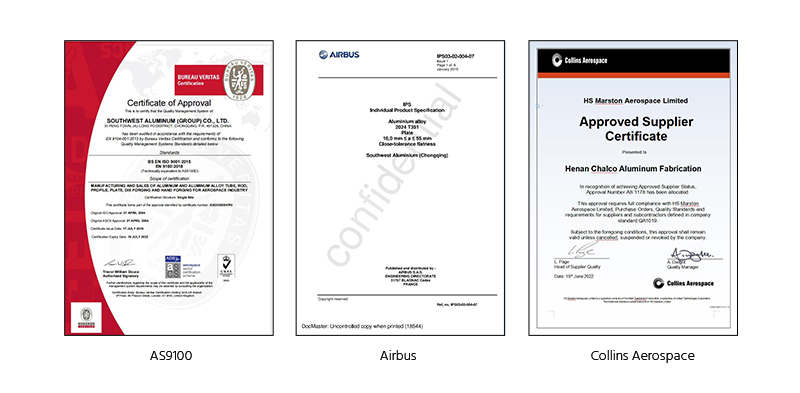 The specification of 5086 H14 aircraft aluminum sheet plate
Chalco 5086 aluminum alloy specification
Alloy
5086
Temper
O, H111, H112, H116, H321, H12, H14, H16, H18, H32, H34, H36
Thickness
0.8-200mm
With
500-2800mm
Length
1000mm-12000mm
Normal dimension
1250*2500mm, 1500mm*3000mm.
Standard
QQ-A-250/7 5086 sheet and plate
Chemical composition of 5086 aircraft sheets
Chemical composition
Al
REM
Si
≤0.4
Fe
≤0.5
Cu
≤0.1
Mn
0.2-0.7
Mg
3.5-4.5
Cr
0.05-0.25
Zn
≤0.25
Ti
≤0.15
Note: EACH≤0.05; TOTAL≤0.15
Mechanical properties of 5086 aerospace aluminum plates
Temper
Room temperature test result
Tension strength/MPa
Yield strength/MPa
Elongation/%
Hardness
O/H111
240-310
100
11-17
65
H112
240-250
100-105
8-12
65-69
H116/H321
275
195
8-10
81
H12
275-335
200
3-7
81
H14
300-360
240
2-4
90
H16
325-385
270
2
98
H18
345
290
1
104
H22/H32
275-335
185
5-10
80
H24/H34
300-360
220
4-8
88
H26/H36
325-385
250
3
96
Advantages of Chalco 5086 O aerospace alloy metal aluminium sheet
High strength: the 5086 aircraft aluminium plate has high strength and can withstand various loads and vibrations during flight, while maintaining a stable form.
Lighter: the 5086 H16 aircraft aluminum sheet is lighter than traditional steel and copper, helping the aircraft achieve lightweight design, load capacity and fuel efficiency.
Good corrosion resistance: the 5086 H24 aviation aluminum plate has excellent corrosion resistance, which can resist the influence of high temperature, high humidity, salt spray and other environment on its corrosion during the flight, and prolong the service life.
Good processing performance: 5086 H111 aviation aluminum plate has good processing performance, can be cold processing, hot processing, deep stamping and other processing methods to meet different production needs.
Easy to weld: the 5086 aircraft metal aluminum plate is easy to be welded and can be composed of composite materials with other materials to improve the comprehensive performance of the material.
Environmental protection: 5086 H32 aviation aluminum plate does not contain lead, mercury and other harmful substances, meet the environmental protection requirements, can meet the environmental protection requirements of the aviation field.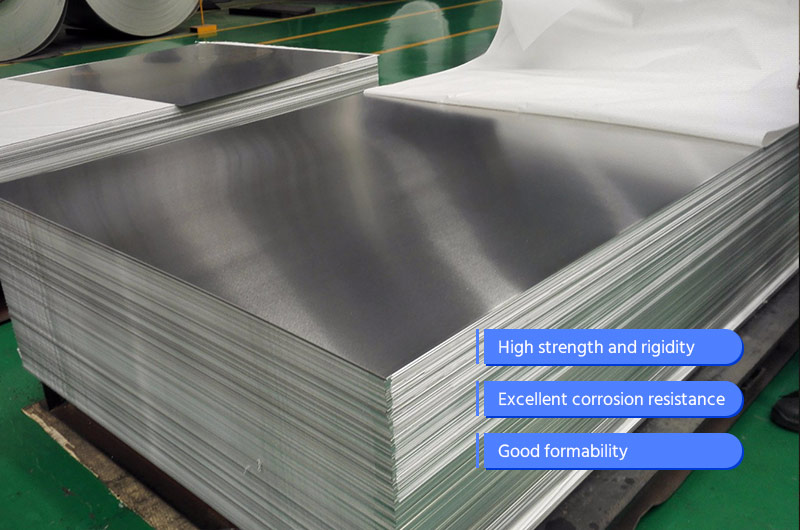 Precautions for purchasing 5086 alloy aluminum aerospace sheets
Plate specification and size: 5086 metal aviation aluminum sheet usually has different specifications and sizes, according to the specific application scenario and requirements, select the appropriate plate specifications and sizes. It can be tailored and customized as needed.
Plank thickness: the thickness of 5086 aircraft aluminum plate is also an important parameter. According to the need, select the appropriate plate thickness to meet the corresponding strength, stiffness and weight requirements.
Plate surface quality: the surface quality of the 5086 aircraft aluminum sheets also needs to be considered. Check the surface of the sheet for dents, oxidation, scratches and other quality problems to ensure the availability of the sheet.
Plank standards and certification: 5086 H22 aircraft aluminum sheet shall meet the relevant standards and certification requirements, such as AMS (American Society for Materials and Testing) standard and ASTM (American Society for Materials and Testing) standard. The relevant standards and certificates should be checked at the time of purchase.
Plate suppliers and brands: choose reputable, high-quality plate suppliers and brands, to ensure the quality of 5086 H26 aviation aluminum plate and service quality.
Logistics and packaging: when buying aluminum 5086 aircraft alloy sheet, you need to pay attention to transportation and packaging issues. Ensure that the board is not damaged during transportation, and select appropriate packing materials and methods.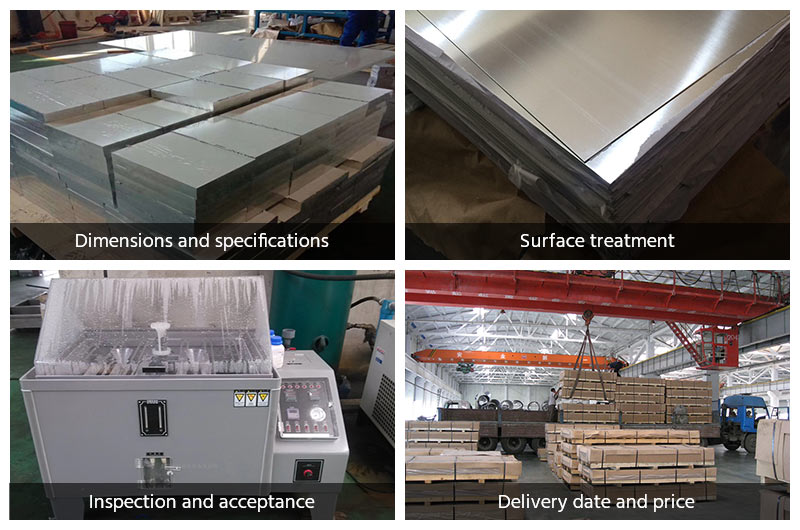 Applications of Chalco 5086 aircraft grade aluminum sheet
Leather plate: 5086 aluminum aerospace plate can be used to manufacture aircraft skin, as a protective layer on the outer surface of the aircraft, can withstand a variety of loads and vibration during the flight, while maintaining a stable form.
Structural parts: the 5086 aircraft aluminum alloy plate can be used to manufacture various structural parts of aircraft, such as wing spars, body, flaps, etc., with high strength and rigidity, it can withstand a large number of loads and vibrations.
Fuel tank: 5086 H116 aircraft aluminum plate can be used to manufacture aircraft fuel tanks, has good corrosion resistance and sealing performance, can ensure the safety and stability of fuel supply.
Interior panel: 5086 H321 aircraft aluminum plate can be used to manufacture aircraft interior panels, such as seats, siding, ceiling, etc., with good surface finish and wear resistance, can improve passenger comfort.
In short, 5086 aviation aluminum plate sheet has a wide range of application prospects in aircraft aviation applications, can provide a good material basis for aircraft design and manufacturing.