The aluminum plate used for tooling is usually made of aluminum thick plate, and some of them may use the cast ultra-thick plate. Aluminum mold plate has fine and uniform grain structure. It is famous for its excellent thickness tolerance, and has the first-class stability among all aluminum plate products. This type of aluminum is very suitable for precision applications. Its welding, anodizing and corrosion resistance are very good.
Specifications of Chalco aluminum tooling and jig plate
Chalco aluminum tooling plate specifications
Alloy series
2000 series, 4000 series, 5000 series, 6000 series, 7000 series
Typical alloy
2024, 5052, 5083, 5086, 6061, 7075
Temper
H111, H112, H116, T4, T6, T651
Thickness
6~150mm
Width
1000~2500
Length
2000~6000
Surface finish tolerance
(2 sides) <25 microinches
Flatness tolerance (inches)
1/4-5/8: .015
exceed 5/8: .005
Thickness tolerance (inches)
.250-4.000:±.015
Specification
ASTM B209
Classification of aluminum tooling & jig plate
There are three types of aluminum tooling and jig plate: casted aluminum tooling plate, rolling aluminum tooling plate and molding aluminum tooling plate.
Cast aluminum tooling plate
Aluminum cast tool plate is a vertically cast and stress-relieving machined plate. The cast aluminum alloy tool plate is a continuous casting plate, which is machined to about 25 microinches on both sides, and then eliminate the thermal stress. Aluminum tooling plate has the best thickness tolerance, maximum stability, and excellent welding, anodizing, corrosion resistance.
Chalco cast aluminum alloy tool plate is very suitable for non-strength applications and precision applications, such as electronic base or mounting plate, photo vacuum plate and inspection device. It is also suitable for professional equipment, such as medical instruments and electronic components. The application of aluminum plate is usually in the thickness range of 6mm to 50mm, but it can also be provided up to 150mm.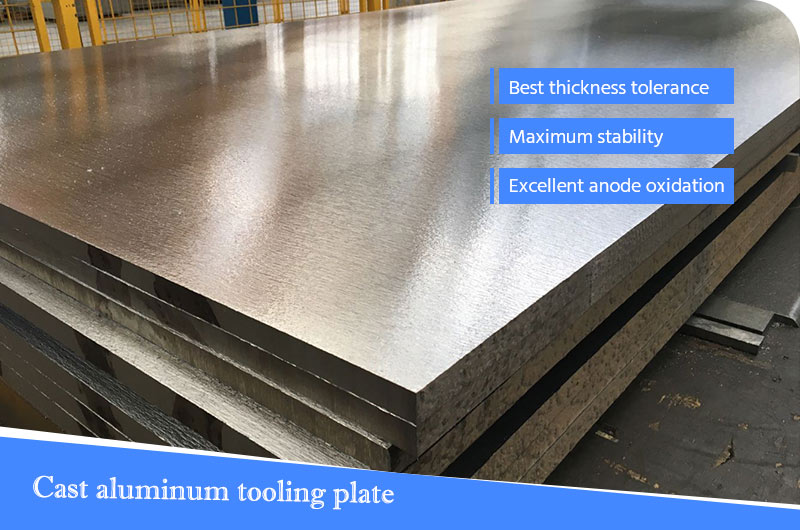 Rolled aluminum tooling plate
Rolled aluminum alloy tool plate is usually made of 5000 series alloy, which is thinned in a traditional way before annealing. Annealing can change the physical and chemical properties of metals. It improves ductility and reduces hardness, so the product is easier to use. Then the metal is processed with precision surface to form a good and tight tolerance dimension. The weldability and anodic oxidation performance of the obtained sheet are better, but the stability is poor.
Chalco rolled aluminum plate has higher ductility and machinability. Rolled tooling aluminum plate is often used for strength applications, such as engineering. It is also widely used in construction, manufacturing and food industries.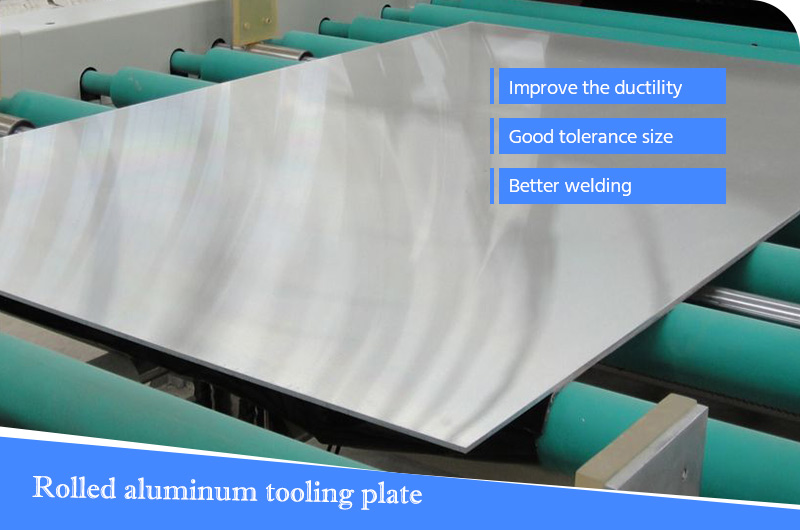 Mold aluminum tooling plate
Molded aluminum plate for tooling is usually rolled tool plate, which is manufactured according to the specifications of the rolling plant. It is not as stable as the casting tool plate, but has a longer service life in highly processed parts. Its non-porous characteristics make it an ideal choice for injection mold. It is most commonly used in the thickness range of 100mm to 250mm, and can also be rolled to 400mm.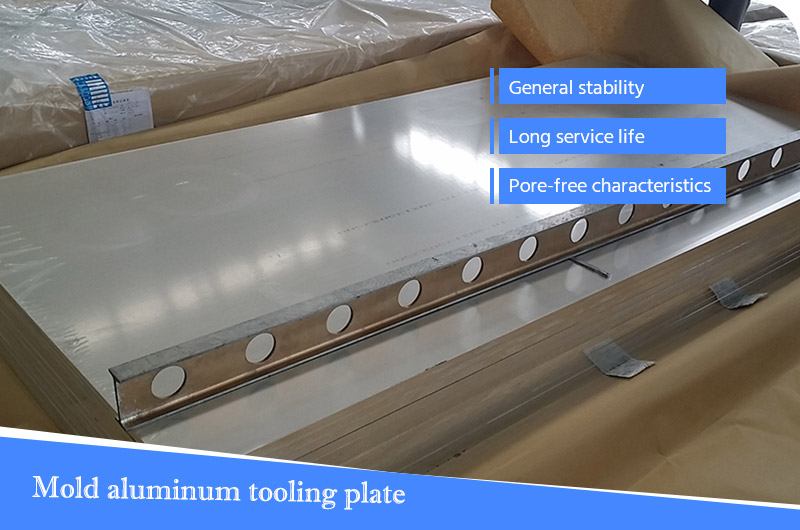 Chalco casted tool & jig plate
The cast aluminum alloy tool plate is made of fine-grained aluminum alloy. It has no internal stress, making it a material with internal stability. Minimal movement during processing. It can provide good dimensional stability even after a large number of machining operations, with minimum or no deformation.
The thickness tolerance of cast aluminum tool plate is +/-. 005, the machined surface has excellent flatness, and both sides are protected by PVC plastic. In terms of quality and performance, aluminum alloy tooling and jig plates provided by Chalco can be compared with Mic-6, ACP5080, ACP5080R, Alca5TM, ATP5TM, C520 and other international best-selling products. All products are complied with international product quality standards.
Common alloy of Chalco casted aluminum tooling and jig plate
2000 series: 2017A, 2024, 2007, 2011, 2014, 2214, 2017
4000 series: 4032
5000 series: 5019, 5052, 5083, 5086, 5754
6000 series: 6101B, 6106, 6005, 6005A, 6008, 6012, 6060, 6063, 6080, 6081, 6082
7000 series: 7003, 7005, 7108, 7116, 7020, 7021, 7022, 7149, 7050, 7150, 7055, 7072, 7075, 7175, 7278, 7040
The typical hot selling aluminum alloys of tooling and jig plate are 5083, 6061-T651, 6082-T651 and 7075-T651.
Mechanical properties of Chalco casted aluminum tooling and jig plate
| | | |
| --- | --- | --- |
| | Imperial | Metric |
| Density | 0.101 lb/in3 | 2.796 g/cc |
| Ultimate tensile strength | 23, 900 psi | 165 MPa |
| Yield tensile strength | 15, 200 psi | 105 MPa |
| Modules of elasticity | 10, 300 psi | 71.0 GPa |
| Elongation at break | - | 3% |
| Hardness brinell | - | 65 |
The chemical composition and mechanical properties provided are general approximate values. Please contact our customer service department to obtain the material test report.
Main properties of Chalco cast aluminum alloy tooling plate
Good tensile strength;
Good ductility, polishing, corrosion resistance, weldability and machinability;
Good anodizing and hard anodizing performance;
The stress-free condition similar to the "O" tempered forged plate;
Ra 0.4 - 0.8 Å ³ M Main surface finish, usually protected by thin polymer coating film;
The flatness is very good, usually 0.15 - 0.5 mm, depending on the area of the plate;
Excellent dimensional stability even when machining in large quantities;
Excellent basic materials;
Excellent mechanical and dimensional stability during repeated heating and cooling in its application;
Annealing is not required after machining.
Service areas of Chalco casted aluminum tooling and jig plate
Industry examples: aerospace tooling | NC parts | general engineering | precision engineering | mold and measuring tool manufacturing | tool technology | food industry | medical industry, etc.
Typical components and applications: clamps and fixtures for all industries.
Prototype blow forming die for plastic industry, injection molding die, hot forming die and rotary forming die.
Mold support plate and base plate.
Pressing plate and base plate of stamping industry.
Electronic base, mounting plate, vacuum plate, inspection device.
Container (box) and frame of food machinery.
Base plate of packaging machinery and high-voltage insulating parts (backplate).
Frozen engineering parts and mechanical parts mold working under high temperature (synthetic plastic rubber mold).
High-precision mechanical part mold (mechanical part mold with highly stable size is required).
Welded structural formwork.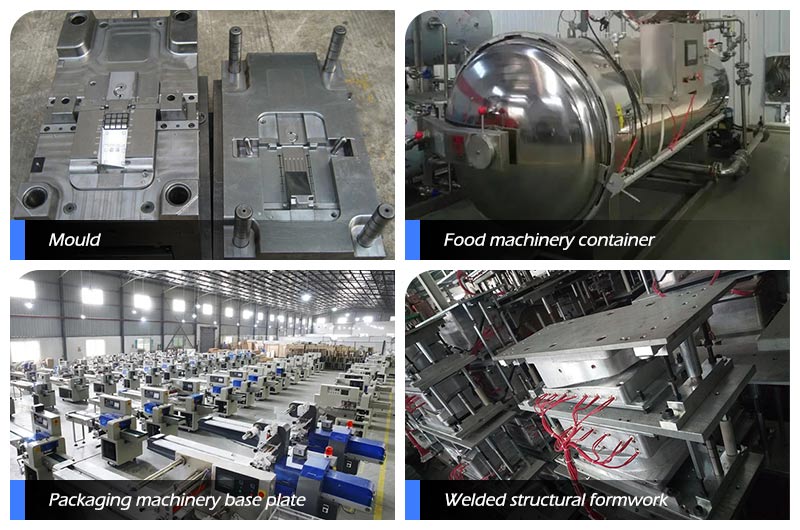 Chalco - supplier of high-quality aluminum tooling and jig plate
Chalco has advanced production technology of aluminum alloy plates for tooling and dies, and has been continuously innovating in machine introduction and production technology. It has casting and rolling production line, hot rolling production line, cold rolling production line and continuous rolling production line. In terms of rolling speed and rolling width, we also have press, double-sided milling, cutting machine, coiler, grinder, lathe, casting well, annealing furnace, smelting furnace, etc. It can independently complete the production and supply of aluminum alloy plates for tooling and molds.
If you have any demand for aluminum alloy thick plates for tooling, you can contact us through the following contact information, and our customer service personnel will help you solve any problems in the order. You can also leave detailed alloy brand, tempers, thickness, use and other requirements on the message board. Our professionals will reply to you in time and look forward to your consultation and cooperation.