Chalco provides 5000 series and 6000 series marine aluminum plates, checkered aluminum treat plate, aluminum stiffened plate, aluminum foam plates, honeycomb aluminum plates and anodized anti-corrosion aluminum plates. The products have ABS, BV, CCS, DNV, KR, LR, NK, RINA, etc. certifications, and meet the light weight, high strength, corrosion resistance, weather resistance, rust prevention, and welding requirements in the marine field.Welcome contact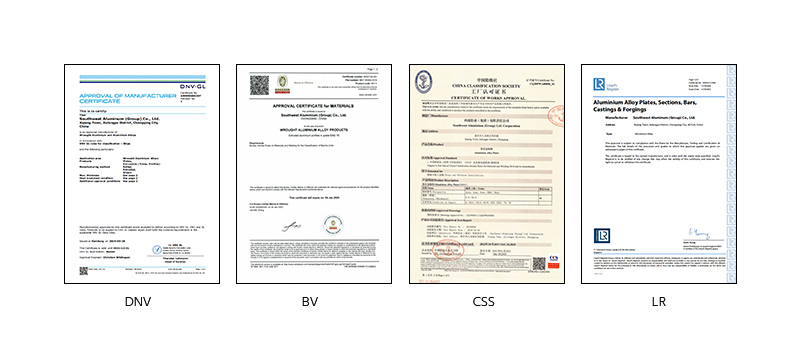 Marine grade aluminum alloy series
The 5000 series products are usually aluminum magnesium alloys, containing small amounts of other trace elements. Due to their excellent rust and corrosion resistance, they have excellent fatigue strength. Therefore, it can be used in various damp and corrosive places.
6000 series aluminum alloy products, with light weight, high strength and rigidity, and strong corrosion resistance. Strong processability, suitable for manufacturing complex shaped ship hulls. Strong welding performance makes it easier to assemble and connect various components of the ship.
Looking for competitive pricing and availability on larger quantities? Welcome for your contact and consult.Quick Quote
5083 marine grade aluminum plate

Rust resistance, good welding performance, good strength after welding;

Manufacturing of hull, deck, control console, etc.

Temper: O H111 H116 H32 H321

5052 marine grade aluminum plate

High formability, durable and sturdy, resistant to oxidation.

Used for hull, superstructure, and fuel tank panels.

Temper: O H111 H112 H22 H32

5059 marine grade aluminum plate

High tensile performance and good low-temperature performance;

Non-magnetic aluminum plate.

Temper: O H111 H116 H321

5454 marine grade aluminum plate

Strong weather resistance and good weldability;

Ship structure of fast boats, fishing boats, large cargo ships, etc.

Temper: O H111 H22 H32 H112

5456(5A30) marine grade aluminum plat

Corrosion resistance and good welding performance;

The bulkheads and decks of patrol boats and work boats.

Temper: H112

5754 marine grade aluminum plate

Maintain rated value at 150-300 degrees Fahrenheit;

Ship structure, offshore facilities, and chemical container handling.

Temper: H111 H112 O

5A01 marine grade aluminum plate

Good formability and high fatigue strength;

Used for deck, cargo hold walls, partitions, storage systems, etc.

Temper: O, H32, H111

5A05 marine grade aluminum plate

Corrosion resistance and antioxidant activity;

Used for ship bulkheads, decks, ceilings, and hatches.

Temper: O H112

5A06 marine grade aluminum plate

High strength and good processing performance;

Used for construction and repair of hull, deck, and cabins.

Temper: O H112

5086 marine grade aluminum plate

Compatible with various welding methods;

Hull shell, deck, cargo warehouse, and storage area.

Temper: O H112

5383 marine grade aluminum plate

High strength and good welding performance;

Used for High speed ships, decks, hulls.

Temper: O H112

6061 marine grade aluminum plate

Lightweight, solderability and slip resistance;

Sailboats, catamarans, ship decks and floors;

Temper: O T4 T6 T651 T6511
Chalco deep processing marine grade aluminum plate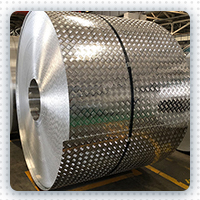 Aluminum checkered treat plateQuick Quote
Alloy: 5052, 5083, 5086, etc.
Checkered plate has 1-5 stripes, compass, lentil pattern, etc. The pattern is pressed onto the board with great force through the forming roller, and the bottom of the board remains flat.
The diagonal fin structure is improved the decoration and anti-slip performance, suitable for damp areas such as ship decks, indoor or outdoor staircases, etc.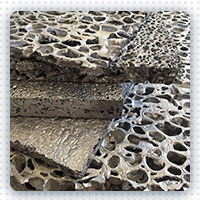 Aluminum foam plateQuick Quote
Density: 0.25-0.75g/cm³; Porosity: 75-90%;
Uniform distribution of pore size: 1-10mm; pore size: 4-8mm;
Compressive strength: 3-17Mpa; Bending strength: 3-15Mpa;
Moisture resistance, corrosion resistance, fire resistance and insulation, sound insulation, electromagnetic shielding, etc. Mainly used in ship cabins, it can be partitioned and also has decorative effects.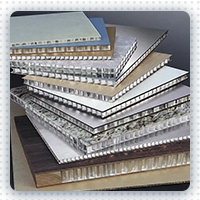 Honeycomb aluminum plate (QQ-A-250/26 BS1470)Quick Quote
Alloy: 3003 H18;
Core height range: 3-570mm;
Core maximum tension size: W1500×L4000mm - W1500×L6000mm;
It has high strength, light weight, moisture-proof, corrosion-resistant, insulated, fireproof, seismic resistan, good flatness, strong adaptability, and good decoration, mainly used for wall partition of cruise ships and internal partitions of cabins.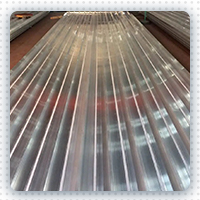 Marine stiffened plateQuick Quote
Alloy: 6082 T6;
Size: length is generally 6000mm; width depends on the extrusion mold, usually less than 2100mm;
The welding standard acceptance shall refer to Appendix A of ISO25239; The standard for surface flatness after welding is 5mm/m, and other tolerances shall be implemented according to the ISO 13920 BF level standard.; No scratches (0.2mm) are allowed on the surface after welding.
High geometric accuracy, low residual stress, and few structural welds; Suitable for both the main hull and the superstructure of the hull.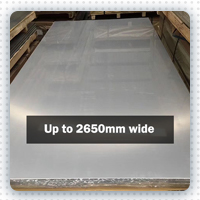 Marine ultra wide aluminum plateQuick Quote
Chalco can provide the extra-width aluminum plate with the width of 800-2000mm, the max. can be 2650mm.
Thickness of aluminum coil: 02-8mm, thickness of aluminum plate: 4.5-100mm.
The product has good surface finish, weather resistance, corrosion resistance, and UV resistance. Chalco has numerous partners in the field of large-scale ship construction and have won unanimous praise.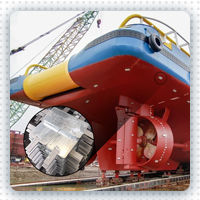 Marine anodized anti-corrosion aluminum plateQuick Quote
Anticorrosive aluminum plate is a sacrificial anode used for aluminum alloy cathodic protection. When installed on steel materials such as ships, mechanical equipment, and underwater facilities, it can protect steel materials from capacitive corrosion caused by battery action.
Mainly used in ships, diving or underwater structures, heat exchanger water chamber bolt types.
Chalco: supplier for high quality marine grade aluminum plate
Chalco is one of the world's largest manufacturers and exporters of marine grade aluminum plates, certified by multiple classification societies. Obtain the "World License" for marine aluminum plates. The product is widely used in ship deck, side, bottom, hull, deck, keel, chimney and other components. It can be used to manufacture various ships ranging from small yachts to tens of tons of cruise ships.
The introduction of the world's most advanced equipment, the 3000T stretching machine, can perform permanent tensile plastic deformation of 1.0% -3.0% on the plate within the specified time according to process requirements. By transitioning from elastic deformation to plastic deformation, residual internal stress after quenching is eliminated, ensuring that the product does not deform during processing.
Chalco marine aluminum plate has no oil spots, ripples, or scratches.
Chalco marine aluminum plate has no burrs, no surface rolling marks, and neat cutting edges.
Chalco adopts advanced production processes to reduce the tendency of ingot cracking and improve the surface quality of rolled plates.
How to obtain the best quotation and value-added services for marine aluminum plates
Chalco has collaborated with multiple shipbuilding companies around the world for many years. If you want to obtain high-quality marine grade aluminum plates at a discounted price, Chalco will be a good supplier.
We have the ability to independently process various alloy grades of marine grade aluminum plates and provide deep processing of aluminum plates. We can meet your needs in terms of width, thickness, pattern, and performance requirements, and ensure the optimal price.
Chalco also provides product value-added services. We can provide value-added services such as anodizing, chemical milling, deep hole drilling, grinding, perforation, polishing, rigidity, and ring drilling for your ship board products.
Chalco marine aluminum plate specification reference table
| | |
| --- | --- |
| Size | 4x8, 4x10, 5x10 |
| Thickness | Commonly used plates include sheet with a thickness of over 1.6mm and plate with a thickness of over 30mm. 2mm, 2.5mm, 3mm, 3.5mm, 4mm, 5mm, 6mm, 10mm thick, etc. |
| Width | To reduce welding, 2.0m wide aluminum plates are often used, and 2.5m wide aluminum plates are often used for large ships |
| Length | Generally, 6m |
| Surface treatment | Anodizing, color coating, mirror coated marine aluminum plates, etc. |
| Packaging | Wooden pallets and boxes are used as standard sea or seaworthy packaging with waterproof film inside, and can also be packaged according to customer requirements. |
| Certification | ABS, BV, CCS, DNV, KR, LR, NK, RINA |
Chalco can provide you the most comprehensive inventory of aluminum products and can also supply you customized products. Precise quotation will be provided within 24 hours.
Get a quote