Aluminum alloy honeycomb panel is an aluminum composite panel composed of two cover plates and one aluminum honeycomb core. It is suitable for various applications in transportation, industry, or construction, demonstrating excellent product characteristics such as exceptional flatness, multiple colors, and high formability.
Detailed information of Chalco aluminum honeycomb plate
Specification of Chalco aluminum honeycomb plate
Alloy of the honeycomb core
3003,3005,3103,3104,5052, 5056
Alloy of the aluminum panel
1100, 2024,3003, 3014, 5005, 6063,7075
Thickness of the aluminum panel
0.125", 0.25", 0.375", 0.5", 0.625", 0.75", 1" etc. The thickness of the upper and lower panels can be consistent or customized according to customer requirements
Thickness of the honeycomb core
0.045", 0.17", 0.245", 0.42", 0.55" , 0.67", 0.92", etc.
Size of the aluminum honeycomb plate
The sizes of the aluminum plate can be cut into 1200*2400,1400*3000,1200*240,1400*3000,2000*6000,2500*1250,3120*1500, 1500*1000, 600*600 etc. sizes;
More customized sizes can click to check the【stock size table】
Special shaped honeycomb panel
Edge honeycomb plate, curved honeycomb plate, 90 degree folding honeycomb plate, aluminum alloy honeycomb plate with V-shaped groove, 3D panel aluminum alloy honeycomb plate
Additional services
special die-cutting dimensions and tolerances product customization, CNC machining, cold and hot lamination, welding, destructive and non-destructive testing
Factory Certificate
BSI ISO 9001,ISO 14001,Nadcap
Certification of product quality
EN 13501-1 A2,GB8624-2006 A2-s2 d0,ASTM E84 – 10a, EN 45545
Aluminum panel: AMSQQ-A-250, GB/T 3880.2, etc.
Aluminum honeycomb core: AMS-C-7438, etc.
Film adhesive: AMS-A-25463 1, GB 18583, etc.
Surface quality
The decorative surface is flatness and neat, straight and neat cut edges without burrs, no exposed aluminum honeycomb cores on the front and back sides, and no obvious cracks at the folded edges;
The non decorative surface has no damage that affects the use of the product, and the product has no degumming.
Chalco aluminum honeycomb core
The core material of aluminum alloy honeycomb panel adopts 3000 series and 5000 series alloys, with main alloy grades of 3003, 3005, 3103, 3104, 5052 and 5056. Aluminum alloy core materials can be supplied separately.
Chalco aluminum honeycomb plate panel
The panel of aluminum alloy honeycomb panel can be made of various materials such as aluminum, stainless steel, laminated sheet, FRP, plastic, ABS, wood, carbon fiber, glass fiber, etc.
Chalco aluminum alloy honeycomb plates are made of high-quality aluminum panels such as 1100, 2024, 3003, 3014, 5005, 6063, 7075, etc.
We can provide precision processing such as spray painting, chemical coating, powder coating, anodizing, polishing, heat transfer printing, drilling, embossing, etc.
Surface treatment can provide PVDF, PE, anodizing, epoxy resin, sublimation printing, galvanized and other coatings.
Chalco aluminum honeycomb plate composite method
Double sided bonding, hot melt bonding, mechanical connection, impregnation, press bonding, chemical bonding, brazing (exclusive technology, panel 100% flame proof), and other composite methods.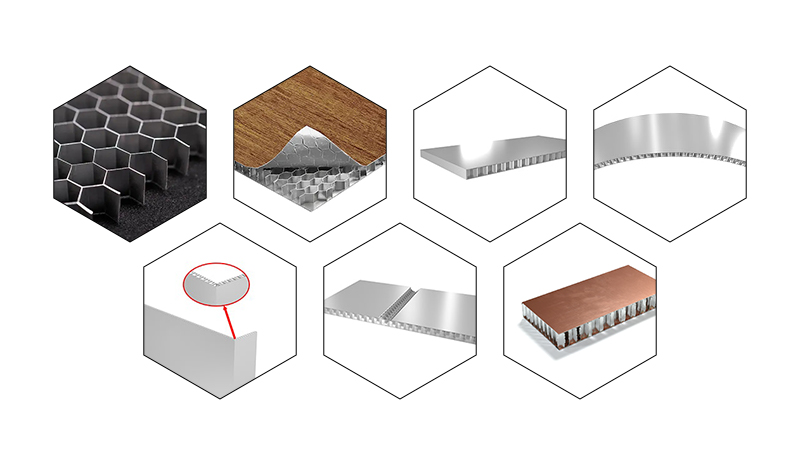 Properties of Chalco aluminum honeycomb plate
| | | | |
| --- | --- | --- | --- |
| Property | Welding aluminum honeycomb plate | Adhesive bonded honeycomb plate | Adhesive bonded honeycomb plate with modified epoxy adhesive |
| Flatwise tensile strength | 6Mpa | 1.5Mpa | 2.0Mpa |
| Flatwise compressive strength | 5Mpa | 2Mpa | 2Mpa |
| Flatwise shear strength | 1.5Mpa | 0.5Mpa | 0.8Mpa |
| Drum peeling strength | 120N.mm/mm | 50N.mm/mm | 60N.mm/mm |
| Flexural strength | 100Mpa | 60Mpa | 60Mpa |
| Temperature resistance | Up to 600-degree Celsius | Up to 150-degree Celsius | up to 80-degree Celsius |
Lightweight and low density
High strength and good rigidity
Good impact resistance and shock absorption
Sound insulation, thermal insulation, flame retardancy, and moisture resistance
Good formability and customizable thickness
Pollution-free, energy-saving and environmentally friendly
Beautiful appearance, easy to clean
Chalco hot selling aluminum honeycomb plate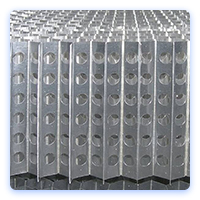 Perforated aluminum honeycomb plate or drilled aluminum honeycomb plate
The aluminum honeycomb panel can be perforated for air circulation and aesthetics, ideal for ventilation and lighting design; commonly used as a core material in vacuum workbenches and wind turbine blade mold. 6-hole perforation is the standard option, customizable. Quick Quote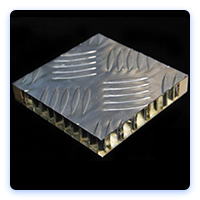 Checkered surface aluminum honeycomb panels
The aluminum alloy honeycomb plate with checkered surface, combined with the anti-slip properties of patterned surfaces and the characteristics of honeycomb panels, has a wider range of applications.Quick Quote
Marine aluminum honeycomb plate

With excellent moisture resistance, corrosion resistance, and toughness, widely used for wall and internal partitions of ships.

Aircraft aluminum honeycomb plate

Chalco aluminum honeycomb plate ensure that the internal structure of the aircraft meets strength and durability requirements.

Auto aluminum honeycomb plate

Reduce the weight and fuel consumption, create more efficient and sustainable electric vehicles.

Commercial vehicles and rail trains

Very suitable for commercial and rail vehicles. The panel can insert cables to meet specific requirements.

Military bulletproof honeycomb plate

It is applied in the military and public sectors due to its extraordinary mechanical properties.

Building construction and ceiling plate

Lightweight, sturdy, weather resistant, insulated, soundproof, and fire-resistant, it is very suitable for exterior walls, floors etc.

Vacuum workbenches plate

Used for vacuum workbenches, with a reinforced structure, smooth surface, and uniform suction distribution.

Clean room honeycomb plate

Used by system engineers and manufacturing companies to create clean rooms or biological protection modules;

Signage aluminum honeycomb plate

A flat, weather resistant surface suitable for billboards, road signs with various surface treatments and color coatings.
Chalco other processed aluminum plate products
6 FAQ for purchasing aluminum honey plate
1. How to purchase aluminum alloy honeycomb plates?
The decorative surface of aluminum alloy honeycomb plate should have a neat appearance, with straight and neat cut edges without burrs, no exposed aluminum honeycomb core on the front and back sides, and no obvious cracks at the folded edges; Non decorative surfaces are required to have no damage that affects the use of the product, and the product is not degummed.
2. How to find suppliers of aluminum alloy honeycomb plates that can be the long-term partner?
Aluminum alloy honeycomb plates have fierce competition in the aluminum product market due to their lightweight, high-strength, flexible assembly, and fire resistance, fatigue resistance, impact resistance, and other characteristics. It is a hot selling product for metal suppliers and distributors, aluminum manufacturers, e-commerce platforms, and other platforms.
However, it is not easy to choose a trustworthy long-term partner who can provide overall project solutions.
Chalco, as a professional manufacturer and supplier of honeycomb aluminum plates, has a fully automated production line that can customize product sizes and shapes, and provide a variety of surface patterns.
Chalco has collaborated with Mercedes Benz, Volkswagen, Ford, Lingyu Motors, Iveco, Kling Airways, Boeing, Airbus, and numerous construction companies, resulting in significant brand effects.
Chalco can provide complete quality assurance and quality inspection certificates from production to testing, ensuring product quality;
Chalco can provide free samples as a reference to dispel customer concerns from various aspects of production.
If you have any questions about purchasing aluminum honeycomb plates, do not hesitate to click the button and contact us. We are always welcome to your inquiry.
3. How to obtain the optimal quotation for aluminum alloy honeycomb plates?
Aluminum honeycomb plates are produced according to orders, and the price depends on various factors such as order quantity, size, configuration, processing, surface treatment, etc.
Chalco, with its own production and inventory advantages, will provide quotes based on your specifications to ensure the shortest delivery time, best quality, and most competitive prices. Please feel free to contact us for more details.
4. How to calculate the weight of aluminum honeycomb plate?
Dimensions of aluminum alloy honeycomb plates: length, width, and thickness of the plates.
Density of aluminum alloy: the density of aluminum is usually around 2.7 grams per cubic centimeter.
The type of honeycomb structure: different types of honeycomb structures have different density and strength characteristics. A honeycomb structure with lower density will result in lighter plates.
Weight calculation of aluminum alloy honeycomb panel:
Weight (kg)=Area (square meters) x Thickness (meters) x Density (kg/cubic meter)
Please note that this calculation method is an approximation as it does not take into account the effects of plate edges, borders, connections, and other complex structures. In practical applications, manufacturers usually provide detailed information about the weight of their products in order to estimate them more accurately.
5. Inventory dimensions and tolerance table for aluminum alloy honeycomb plates
Aluminum alloy honeycomb core is usually a hexagonal structure with a side length of 10mm or less.
Aluminum honeycomb core with a side length of less than or equal to 6mm, with an aluminum foil thickness of no less than 0.05mm;
The aluminum honeycomb core with a side length of 6 mm to 10 mm shall have an aluminum foil thickness of not less than 0.07 mm.

Product size table for Chalco aluminum honeycomb plate
-
Thickness
Honeycomb unit size
12*12 inch
1/8"
3/8"
1/4"
3/8"
3/8"
1/4"
1/2"
1/4"
3/4"
1/4"
1"
3/4"
24*24 inch
1/8"
3/8"
1/4"
3/8"
3/8"
1/4"
1/2"
1/4"
3/4"
1/4"
1"
3/4"
24*48 inch
1/8"
3/8"
1/4"
3/8"
3/8"
1/4"
1/2"
1/4"
3/4"
1/4"
1"
3/4"
Allowable size deviation
Length L/mm
L≤2m
±2
L>2 m
±3
Thickness/mm
±0.25
Diagonal length difference
≤3
Edge straightness /(mm/m)
≤2
Evenness /(mm/m)
≤2
6. Aluminum honeycomb plate or Aluminum-plastic composite plate, which is better?
In the construction or curtain wall industry, there are two popular types of composite panels: aluminum honeycomb plates and aluminum plastic composite panels. The two types of plates are similar on the surface, but the internal components of the two materials are different. Understanding the differences can help you make wise choices when making a purchase.
Aluminum honeycomb plate: it is a sandwich plate with a structural design where the upper and lower aluminum panels are attached to the aluminum honeycomb core. Equipped with polyester or fluorocarbon coating. The honeycomb board adopts a lighter honeycomb core layer than the plastic core, with a thickness of 12mm and 25mm. Due to its stable structure and low density, aluminum honeycomb plates are widely used in rocket fairings, automotive skins and doors, train bulkheads, building curtain walls, etc.
Aluminum plastic plate: like aluminum honeycomb plate, it is also a sandwich plate. It is formed by pressing two thin aluminum alloys and thermoplastic core materials, forming a sandwich shape. Aluminum plastic plates are made of plastic with a layer of PE or LDPE, with a thickness of 3mm to 8mm. Aluminum composite panels are commonly used for wall cladding, signage, and exterior walls. At present, the use of aluminum plastic panels has also been incorporated into the furniture industry, as they bond well with plywood or wood, giving kitchen or bathroom cabinets a gorgeous appearance.
Chalco can provide you the most comprehensive inventory of aluminum products and can also supply you customized products. Precise quotation will be provided within 24 hours.
Get a quote