5A01 aluminum alloy is a non-heat treatment strengthened alloy. Because of its good processing performance and high fatigue strength, plasticity, corrosion resistance and other mechanical properties, 5A01 aluminum plate is widely used in ships, containers and other fields.
Why Chose Chalco Aluminum's 5A01 marine grade aluminum plate?
Quality could full meet world wide marine grade standard: CCS, DNV, NK, CCS, ABS, BV, LR, KR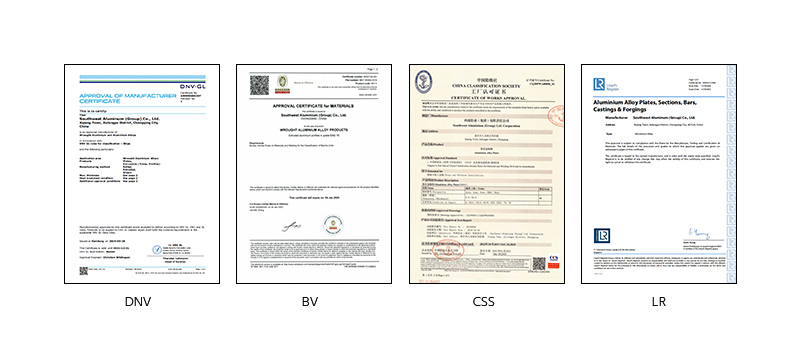 Production and management comply with international marine quality system, to make sure best quality of super resistance to corrosion, good welding ability and strong impact-resistance.
Specs of 5A01 marine grade aluminum plate
| | |
| --- | --- |
| Alloy | 5A01 |
| Temper | O, H32, H111 |
| Thickness | 5A01 marine grade aluminum sheet: 1.0-6mm 5A01 marine grade aluminum plate: 6.0-50mm |
| Normal dimension | 1250×2500mm, 1500mm×3000mm, 2000mm×8000mm |
| Standard | GB∕T 22641-2020 |
Chemical composition of 5A01 alloy
Element
Composition (%)
Si
0.40
Fe
Cu
0.10
Mn
0.30-0.70
Mg
6.0-7.00
Cr
0.10-0.20
Zr
0.10-0.20
Zn
0.25
Ti
0.15
Al
Remainder
Property of 5A01 marine grade aluminum plate
Alloy
Temper
Thickness mm
Tension Strength Rm/MPa
Yield Strength Rp0.2/ Mpa
Elongation %
A50 mm
A
5A01
O
3.00-50.00
325-385
≥165
≥16
H321
3.00-50.00
≥365
≥245
≥8
H112
6.00-50.00
≥325
≥165
≥10
Features of 5A01 marine grade aluminum plate
High strength: 5A01 marine aluminum plate has high strength and can withstand the vibration and impact of the ship in the marine environment.
Corrosion resistance: marine aluminum panels usually need to be able to resist corrosion in seawater, salt spray and the atmosphere. The marine grade 5A01 aluminum plate has good corrosion resistance and can be used for a long time in the harsh marine environment without damage.
Lightweight: compared with traditional steel, aluminum has a lower density, so marine grade aluminum plate 5A01 is relatively light. This helps reduce the ship's own weight, improving load capacity and fuel efficiency.
Good processing performance: marine grade aluminum plates 5A01 are easy to process into various shapes and sizes, which can meet the needs of different ship structures. It can perform cutting, welding, bending and other processing operations.
Good welding performance: marine aluminum plates usually need to be welded to connect various components. marine grade aluminum 5A01 has good welding performance and can be connected by various common welding methods.
In conclusion, 5A01 marine aluminum plate has the characteristics of high strength, corrosion resistance, light weight, good processability and good welding performance, making it one of the commonly used materials in ship construction and repair.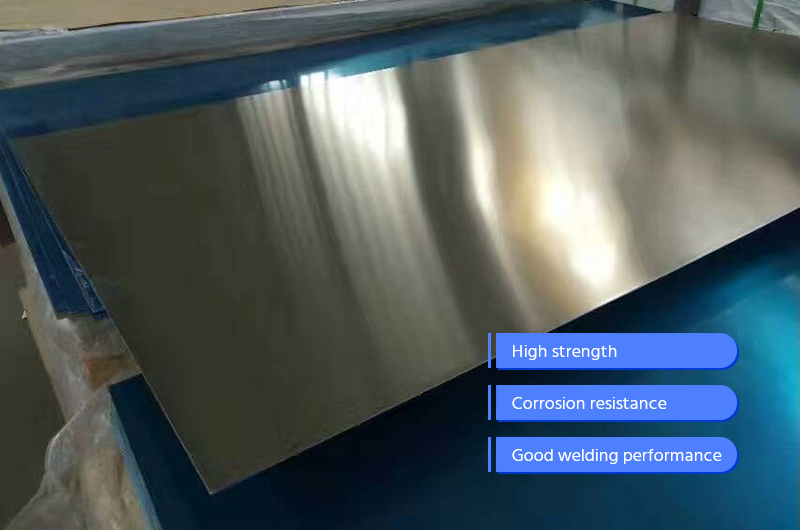 Uses of 5A01 marine grade aluminum plate
5A01 marine aluminum plate can be used in the following parts on different types of ships:
Hull structure: 5A01 marine grade aluminum plate are often used in the shell of the hull structure, the bottom plate of the ship, and the bulkhead of the hull. They are suitable for all types of vessels including merchant ships, passenger ships, fishing boats, patrol boats and more.
Deck: 5A01 aluminum plates can be used for the laying of ship deck, providing a flat working platform. This applies to all types of ships, such as cargo ships, passenger ships, yachts, etc.
Cargo wall: on cargo ships such as cargo ships and container ships, 5A01 marine aluminum plates can be used to construct cargo walls. They provide sufficient strength and stability to support and protect cargo.
Ship accessories: 5A01 aluminum plate can be used to make various ship accessories, such as portholes, doors, ship ladders, railings, etc. These accessories can be adapted to different types of vessels, including yachts, speedboats, ferries and more.
Internal structure: 5A01 marine aluminum plate can also be used in the internal structure of the ship, such as bulkheads, partitions, storage systems, etc. This applies to all types of ships, such as oil tankers, chemical tankers, box ships, etc.
It should be noted that the specific use of 5A01 marine aluminum plate and the type of ship may vary due to different ship designs, scales and uses. Shipbuilding and design companies usually choose appropriate materials and parts according to the requirements of the ship.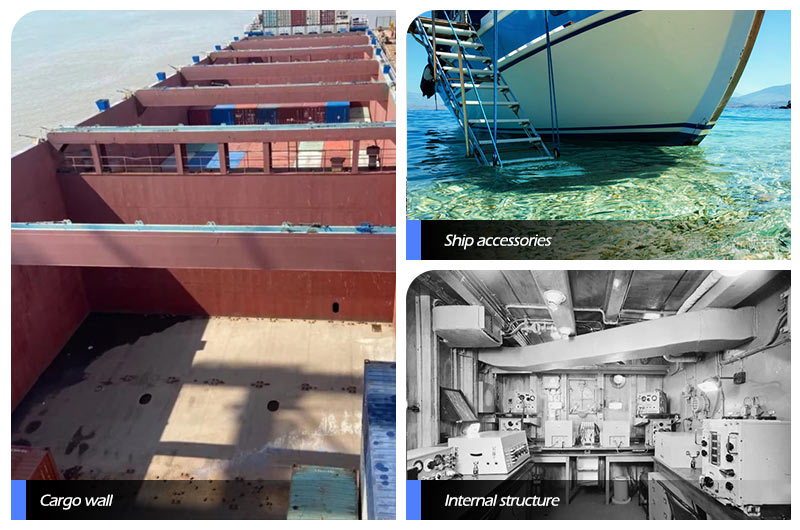 Precautions for purchasing 5A01 marine grade aluminum plate
When purchasing 5A01 marine aluminum plate, the following are some considerations:
Understand requirements: Determine your specific needs, including size, thickness, quantity and specifications, etc. This will help you choose the correct 5A01 marine aluminum sheet.
Quality certification: ensure that the purchased 5A01 marine aluminum plate meets relevant quality certification standards, such as the certification requirements of the International Marine Classification Society (Class Society) or other relevant certifications.
Supplier selection: choose a reputable and experienced supplier or manufacturer. Make sure they can provide high quality 5A01 marine aluminum sheet that meets your requirements and have the ability to deliver in time.
Plate inspection: before purchasing, conduct a visual inspection to check the appearance quality of the aluminum plate, including surface smoothness, flatness, and no obvious defects, etc.
Material certificate: the supplier is required to provide the corresponding material certificate to ensure that the purchased 5A01 marine aluminum plate meets the requirements of standards and specifications.
Logistics and packaging: understand the supplier's logistics and packaging measures to ensure that the 5A01 marine aluminum sheet can be safely transported to the destination and maintain its integrity and quality.
Marine grade aluminum price and delivery times: compare with multiple suppliers, understand prices and delivery times, and choose the best marine grade aluminum.
Consult a professional: if necessary, consult us for advice on the selection and application of 5A01 marine aluminum sheet, so as to know the difference between marine grade aluminum and regular aluminum.
The most important thing is to ensure that the purchased 5A01 marine aluminum plate can meet your specific requirements and application needs, and meet the relevant quality and safety standards.