Chalco is a professional manufacturer of tent aluminum materials, tent pole tubes, tent plugs, ends, adapters, and other accessories, producing high-quality 6061 7001 7075 T5/T6/T9 aluminum tent poles.
Chalco is one of the largest and most comprehensive tent aluminum factories in the world. Partners include well-known outdoor product companies such as SALEWA and NOME.
Why choose Chalco aluminum tent pole?
Chalco provides aluminum tent poles and anodized aluminum tubes for many world-renowned brands such as SALEWA and NOME. And we are committed to providing high-quality tent accessories and services for outdoor enthusiasts and scientific researchers.

Chalco has multiple advanced aluminum extrusion machines, hot melting furnaces, stamping equipment, using high-quality 7001-T6 and 7075-T9 aluminum alloy materials to manufacture tent poles and tubes, ensuring their strength and durability.
Chalco aluminum tent pole specification
| | |
| --- | --- |
| Alloy grade | 6000, 7000 |
| Alloy series | 6061, 7001, 7075 |
| Temper | T5, T6, T9 |
| Size | Please refer to the detailed size list, which can be customized according to customer requirements |
| Products types | Telescopic tent poles, adjustable tent poles, nested tent poles, plug-in tent poles, etc. |
| Surface treatment | Color coating, polishing, anodizing |
| Selective Color | black, blue, gold, silver, red, purple, orange, gray, etc. Any color of anodizing can be customized according to requirements. |
| Packing | Inside: Ep paper, Outside: kraft paper/tray. |
Chalco aluminum tent pole tube reference dimensions
Poles with inserts: the insert is a tube (or sleeve) that is typically glued inside one hollow end of a tent pole section and protrudes approximately 1 1/2". This insert allows you to stack one section on top of another.
Poles without inserts: these are hollow poles (sections) with no inserts.
Aluminum main tube specs
outside diameter of main tube
wall thickness of main tube
inside diameter of main tube
.340" (8.64 mm)
.025"(.64 mm)
.290"(7.36 mm)
.344"(8.74 mm)
.019"(.48 mm)
.306"(7.77 mm)
.355"(9.02 mm)
.025"(.64 mm)
.305"(7.74 mm)
.380"(9.65 mm)
.026"(.66 mm)
.328"(8.33 mm)
.433" (10.99mm)
.030"(.76 mm)
.373"(9.47 mm)
.490" (12.45mm)
.026"(.66 mm)
.438"(11.12 mm)
625"(15.88 mm)
.038"(.97 mm)
.549"(13.94 mm)
625" (15.88 mm)
.038"(.97 mm)
.549"(13.94 mm)
.742"(18.85 mm)
.032"(.81 mm)
.678"(17.22 mm)
.346"(8.79 mm)
.028"(.711 mm)
.290(7.36 mm)
Aluminum insert tube specs
outside diameter of inset tube
wall thickness of inset tube
inside diameter of insert tube
.287"(7.29mm)
.035" (.89mm)
.217" (5.51 mm)
.303"(7.70mm)
.021"(.53 mm)
.261"(6.62 mm)
.302"(7.67 mm)
.034"(.86 mm)
.234"(5.94 mm)
.325"(8.26 mm)
.034"(.86 mm)
.257"(6.52 mm)
.370" (9.4 mm)
.040"(1.02 mm)
.290"(7.36 mm)
.433"(11.0 mm)
.030"(.76 mm)
.373" (9.47 mm)
.544"(13.82mm)
.045"(1.11 mm)
.454"(11.53 mm)
.544"(13.82mm)
.045" (1.11 mm)
.454" (11.53 mm)
.675"(17.15mm)
.045"(1.11 mm)
.585"(14.85 mm)
.287" (7.29 mm)
.035"(.89 mm)
.217"(5.51 mm)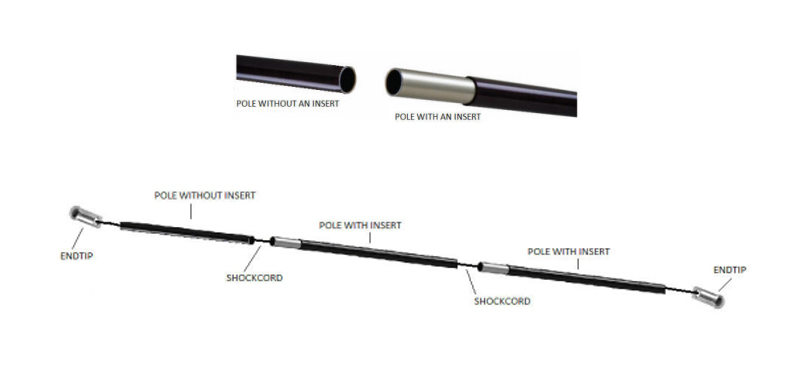 Chalco aluminum tent pole tub mechanical property
Alloy
Temper
Wall thickness (mm)
Tensile strength (MPa)
Elongation%
Standard
7000
T5
0.4-05
60-100
≥ 20
GB/T3190-1996
T6
0.5-6
70-120
≥ 4
T9
0.5-6
85-120
≥ 2
Production advantages of Chalco aluminum tent pole tube
Lightweight: lightweight is the trend of outdoor products. Chalco uses high-quality 6000 series and 7000 series aluminum alloys to manufacture aluminum tent poles, ensuring the toughness and strength of the product while being lightweight.
Strength and durability: the 7000 series rod uses a small amount of magnesium, making the product more sturdy and anti-twisting. Both wind resistance and durability are enhanced compared to 6000 series rods (of the same diameter).
Weathering resistance: Chalco aluminum tent poles undergo surface treatment processes such as anodizing to enhance their aesthetic appearance, while also protecting them from adverse weather conditions and salt containing climates. They do not discolor and are more durable.
Detachability and portability: Chalco offers a variety of nested, adjustable, retractable, and plug-in aluminum tent poles. It is not only convenient for disassembly and assembly, but also convenient for carrying and storage.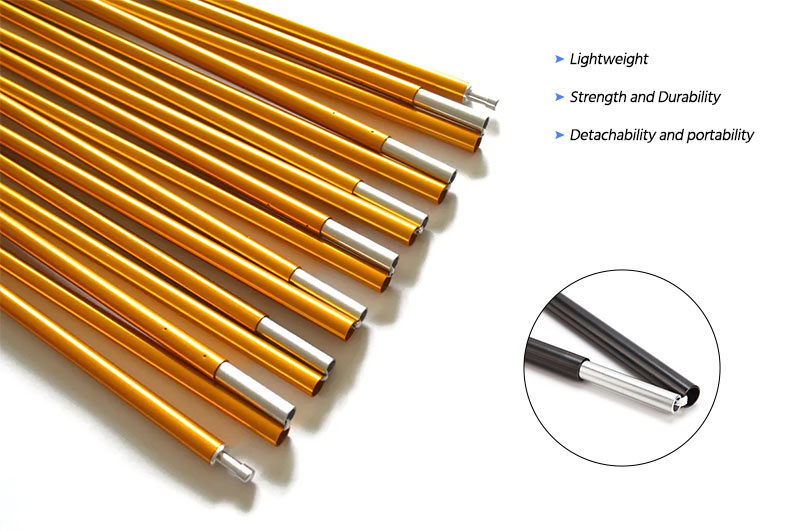 Chalco aluminum tent pole tube products classification and application
Aluminum tent poles for household tent: outdoor camping tents, courtyard tents, children's game tents, etc.; Used in outdoor activities such as family courtyards and gardens, it usually provides functions such as shading and rain protection.
Aluminum tent pole for self-driving tent: suitable for self-driving tours, camping and other activities, can be installed on the roof or rear of the car, convenient to carry and use.
Aluminum tent poles outdoor tent: climbing tents, expansion training tents, four season tents, five season tents, etc.; Lightweight, durable, and resistant to extreme weather conditions.
Aluminum tent poles for rescue tent: military tents, medical rescue tents, emergency rescue tents, etc.; Waterproof, windproof, mosquito resistant, easy to clean, and can be quickly constructed and dismantled.
Aluminum tent poles for display tents: used in exhibitions, trade fairs, and other occasions, they can usually be quickly erected and dismantled, and are easy to carry and transport.
Aluminum tent poles for replacement and maintenance: provide aluminum tent poles with various alloys, wall thicknesses, coatings, and different connection methods. Ensure that its quality and performance are consistent with the original aluminum tent poles to ensure the safety and reliability of the tent.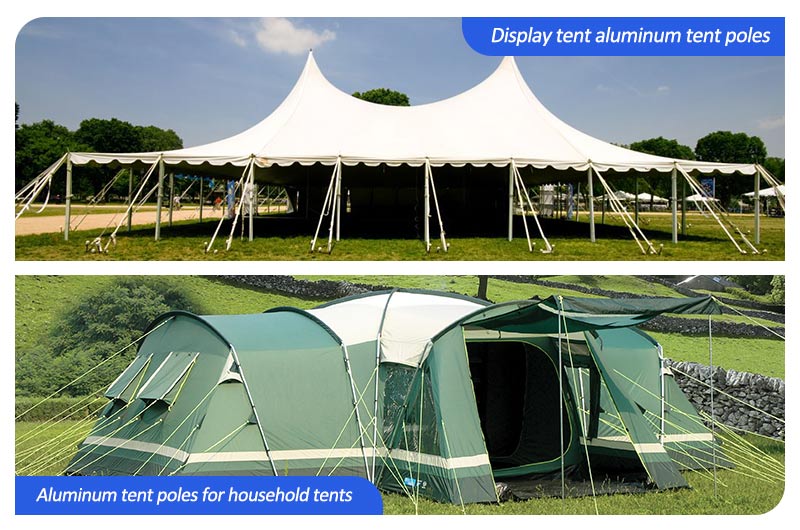 Tips for buying tent pole products:aluminum vs fiberglass tent pole
The main materials for tent poles are aluminum alloy and glass fiber. What are the advantages and disadvantages of each of these two materials? How to choose a product that is more suitable for oneself when facing numerous tent pole products? Here are some tips for choosing these two different kinds of tent poles. It may be useful for you.
Lightweight: lightweight is an important advantage of outdoor travel equipment. Aluminum poles are lighter than fiberglass poles and are more likely to be used for backpacking tents.
Strength and durability: compared to aluminum, fiberglass is not particularly sturdy and is generally used in 2-season tents (i.e. summer and sunny days) or some 3-season tents (sunny days or standard rain and wind). Aluminum tent poles are commonly used for tents in the four and five seasons.
Bending, crushing and repair: if too much force is applied to the aluminum rod, it will bend. But glass fibers can break or crack. Repairing a bent pole is definitely easier than repairing a broken pole.
Price: the production cost of fiberglass poles is lower than that of aluminum poles or other tent pole materials. Therefore, most leisure camping tents that focus on low-cost materials use fiberglass tent poles.
Corrosion resistance: aluminum is a metal, and corrosion and rusting can become a problem. Although there is a protective coating, there will still be corrosion over time. In contrast, fiberglass does not corrode or rust.