6063 Aluminum Tubing boasts excellent surface smoothness, corrosion resistance, and is amenable to heat treatment, anodization, and welding. It is the ideal choice for hollow profiles and architectural applications.Contact
6063 T5 T6 aluminum tubing stock
| | | | | |
| --- | --- | --- | --- | --- |
| Specification (in) | OD (in) | Wall (in) | Temper | Length (ft) |
| 6063-T5 Extruded Round Tube 0.236 X 0.039 | 0.236 | 0.039 | T5 | 13.12 |
| 6063-T5 Extruded Round Tube 0.276 X 0.039 | 0.276 | 0.039 | T5 | 13.12 |
| 6063-T5 Extruded Round Tube 0.315 X 0.039 | 0.315 | 0.039 | T5 | 13.12 |
| 6063-T5 Extruded Round Tube 0.315 X 0.047 | 0.315 | 0.047 | T5 | 13.12 |
| 6063-T5 Extruded Round Tube 0.315 X 0.059 | 0.315 | 0.059 | T5 | 13.12 |
| 6063-T5 Extruded Round Tube 0.315 X 0.079 | 0.315 | 0.079 | T5 | 13.12 |
| 6063-T5 Extruded Round Tube 0.354 X 0.039 | 0.354 | 0.039 | T5 | 13.12 |
| 6063-T5 Extruded Round Tube 0.394 X 0.039 | 0.394 | 0.039 | T5 | 13.12 |
| 6063-T5 Extruded Round Tube 0.394 X 0.047 | 0.394 | 0.047 | T5 | 13.12 |
| 6063-T5 Extruded Round Tube 0.394 X 0.059 | 0.394 | 0.059 | T5 | 13.12 |
| 6063-T5 Extruded Round Tube 0.394 X 0.079 | 0.394 | 0.079 | T5 | 13.12 |
| 6063-T5 Extruded Round Tube0.4330.039 | 0.433 | 0.039 | T5 | 19.68 |
| 6063-T5 Extruded Round Tube 0.433 X 0.047 | 0.433 | 0.047 | T5 | 13.12 |
| 6063-T5 Extruded Round Tube 0.433 X 0.059 | 0.433 | 0.059 | T5 | 13.12 |
| 6063-T5 Extruded Round Tube 0.472 X 0.039 | 0.472 | 0.039 | T5 | 13.12 |
| 6063-T5 Extruded Round Tube 0.472 X 0.059 | 0.472 | 0.059 | T5 | 13.12 |
| 6063-T5 Extruded Round Tube 0.472 X 0.079 | 0.472 | 0.079 | T5 | 13.12 |
| 6063-T5 Extruded Round Tube 0.472 X 0.098 | 0.472 | 0.098 | T5 | 13.12 |
| 6063-T5 Extruded Round Tube 0.472 X 0.118 | 0.472 | 0.118 | T5 | 13.12 |
| 6063-T5 Extruded Round Tube 0.512 X 0.051 | 0.512 | 0.051 | T5 | 8.2 |
| 6063-T5 Extruded Round Tube 0.512 X 0.079 | 0.512 | 0.079 | T5 | 13.12 |
| 6063-T5 Extruded Round Tube 0.551 X 0.039 | 0.551 | 0.039 | T5 | 13.12 |
| 6063-T5 Extruded Round Tube 0.551 X 0.047 | 0.551 | 0.047 | T5 | 13.12 |
| 6063-T5 Extruded Round Tube 0.551 X 0.059 | 0.551 | 0.059 | T5 | 13.12 |
| 6063-T5 Extruded Round Tube 0.551 X 0.079 | 0.551 | 0.079 | T5 | 13.12 |
| 6063-T5 Extruded Round Tube 0.551 X 0.098 | 0.551 | 0.098 | T5 | 13.12 |
| 6063-T5 Extruded Round Tube 0.551 X 0.118 | 0.551 | 0.118 | T5 | 13.12 |
| 6063-T5 Extruded Round Tube 0.591 X 0.039 | 0.591 | 0.039 | T5 | 13.12 |
| 6063-T5 Extruded Round Tube 0.591 X 0.047 | 0.591 | 0.047 | T5 | 13.12 |
| 6063-T5 Extruded Round Tube 0.591 X 0.059 | 0.591 | 0.059 | T5 | 13.12 |
| 6063-T5 Extruded Round Tube 0.591 X 0.079 | 0.591 | 0.079 | T5 | 13.12 |
| 6063-T5 Extruded Round Tube 0.591 X 0.098 | 0.591 | 0.098 | T5 | 13.12 |
| 6063-T5 Extruded Round Tube 0.591 X 0.118 | 0.591 | 0.118 | T5 | 13.12 |
| 6063-T5 Extruded Round Tube 0.63 X 0.039 | 0.630 | 0.039 | T5 | 13.12 |
| 6063-T5 Extruded Round Tube 0.63 X 0.047 | 0.630 | 0.047 | T5 | 13.12 |
| 6063-T5 Extruded Round Tube 0.63 X 0.059 | 0.630 | 0.059 | T5 | 13.12 |
| 6063-T5 Extruded Round Tube 0.63 X 0.079 | 0.630 | 0.079 | T5 | 13.12 |
| 6063-T5 Extruded Round Tube 0.63 X 0.118 | 0.630 | 0.118 | T5 | 13.12 |
| 6063-T5 Extruded Round Tube 0.63 X 0.157 | 0.630 | 0.157 | T5 | 13.12 |
| 6063-T5 Extruded Round Tube 0.709 X 0.039 | 0.709 | 0.039 | T5 | 13.12 |
| 6063-T5 Extruded Round Tube 0.709 X 0.047 | 0.709 | 0.047 | T5 | 13.12 |
| 6063-T5 Extruded Round Tube 0.709 X 0.059 | 0.709 | 0.059 | T5 | 13.12 |
| 6063-T5 Extruded Round Tube 0.709 X 0.079 | 0.709 | 0.079 | T5 | 13.12 |
| 6063-T5 Extruded Round Tube 0.709 X 0.118 | 0.709 | 0.118 | T5 | 13.12 |
| 6063-T5 Extruded Round Tube 0.709 X 0.157 | 0.709 | 0.157 | T5 | 13.12 |
| 6063-T5 Extruded Round Tube 0.709 X 0.197 | 0.709 | 0.197 | T5 | 13.12 |
| 6063-T5 Extruded Round Tube 0.748 X 0.039 | 0.748 | 0.039 | T5 | 13.12 |
| 6063-T5 Extruded Round Tube 0.748 X 0.047 | 0.748 | 0.047 | T5 | 13.12 |
| 6063-T5Extruded Round Tube 0.748 X 0.059 | 0.748 | 0.059 | T5 | 13.12 |
| 6063-T5 Extruded Round Tube 0.748 X 0.079 | 0.748 | 0.079 | T5 | 13.12 |
| 6063-T5 Extruded Round Tube 0.748 X 0.118 | 0.748 | 0.118 | T5 | 13.12 |
| 6063-T5 Extruded Round Tube 0.748 X 0.157 | 0.748 | 0.157 | T5 | 13.12 |
| 6063-T5 Extruded Round Tube 0.787 X 0.039 | 0.787 | 0.039 | T5 | 13.12 |
| 6063-T5 Extruded Round Tube 0.787 X 0.047 | 0.787 | 0.047 | T5 | 13.12 |
| 6063-T5 Extruded Round Tube 0.787 X 0.059 | 0.787 | 0.059 | T5 | 13.12 |
| 6063-T5 Extruded Round Tube 0.787 X 0.079 | 0.787 | 0.079 | T5 | 13.12 |
| 6063-T5 Extruded Round Tube 0.787 X 0.098 | 0.787 | 0.098 | T5 | 13.12 |
| 6063-T5 Extruded Round Tube 0.787 X 0.118 | 0.787 | 0.118 | T5 | 13.12 |
| 6063-T5 Extruded Round Tube 0.787 X 0.157 | 0.787 | 0.157 | T5 | 13.12 |
| 6063-H112 Extruded Round Tube 0.787 X 0.278 | 0.787 | 0.278 | T5 | 13.12 |
| 6063-T5 Extruded Round Tube 0.866 X 0.039 | 0.866 | 0.039 | T5 | 13.12 |
| 6063-T5 Extruded Round Tube 0.866 X 0.047 | 0.866 | 0.047 | T5 | 13.12 |
| 6063-T5 Extruded Round Tube 0.866 X 0.059 | 0.866 | 0.059 | T5 | 13.12 |
| 6063-T5 Extruded Round Tube 0.866 X 0.079 | 0.866 | 0.079 | T5 | 13.12 |
| 6063-T5 Extruded Round Tube 0.866 X 0.118 | 0.866 | 0.118 | T5 | 13.12 |
| 6063-T5 Extruded Round Tube 0.866 X 0.157 | 0.866 | 0.157 | T5 | 13.12 |
| 6063-T5 Extruded Round Tube 0.945 X 0.039 | 0.945 | 0.039 | T5 | 13.12 |
| 6063-T5 Extruded Round Tube 0.945 X 0.079 | 0.945 | 0.079 | T5 | 13.12 |
| 6063-T5 Extruded Round Tube 0.945 X 0.118 | 0.945 | 0.118 | T5 | 13.12 |
| 6063-T5 Extruded Round Tube 0.945 X 0.157 | 0.945 | 0.157 | T5 | 13.12 |
| 6063-T5 Extruded Round Tube 0.984 X 0.039 | 0.984 | 0.039 | T5 | 13.12 |
| 6063-T5 Extruded Round Tube 0.984 X 0.047 | 0.984 | 0.047 | T5 | 13.12 |
| 6063-T5 Extruded Round Tube 0.984 X 0.059 | 0.984 | 0.059 | T5 | 13.12 |
| 6063-T5 Extruded Round Tube 0.984 X 0.079 | 0.984 | 0.079 | T5 | 13.12 |
| 6063-T5 Extruded Round Tube 0.984 X 0.098 | 0.984 | 0.098 | T5 | 13.12 |
| 6063-T5Extruded Round Tube 0.984 X 0.118 | 0.984 | 0.118 | T5 | 13.12 |
| 6063-T5 Extruded Round Tube 0.984 X 0.157 | 0.984 | 0.157 | T5 | 13.12 |
| 6063-T5 Extruded Round Tube 1.024 X 0.039 | 1.024 | 0.039 | T5 | 13.12 |
| 6063-T5 Extruded Round Tube 1.024 X 0.079 | 1.024 | 0.079 | T5 | 13.12 |
| 6063-T5 Extruded Round Tube 1.024 X 0.098 | 1.024 | 0.098 | T5 | 13.12 |
| 6063-T5 Extruded Round Tube 1.024 X 0.118 | 1.024 | 0.118 | T5 | 13.12 |
| 6063-T5 Extruded Round Tube 1.024 X 0.157 | 1.024 | 0.157 | T5 | 13.12 |
| 6063-T5 Extruded Round Tube 1.063 X 0.079 | 1.063 | 0.079 | T5 | 13.12 |
| 6063-T5 Extruded Round Tube 1.063 X 0.118 | 1.063 | 0.118 | T5 | 13.12 |
| 6063-T5 Extruded Round Tube 1.063 X 0.157 | 1.063 | 0.157 | T5 | 13.12 |
| 6063-T5 Extruded Round Tube 1.102 X 0.039 | 1.102 | 0.039 | T5 | 13.12 |
| 6063-T5 Extruded Round Tube 1.102 X 0.059 | 1.102 | 0.059 | T5 | 13.12 |
| 6063-T5 Extruded Round Tube 1.102 X 0.079 | 1.102 | 0.079 | T5 | 13.12 |
| 6063-T5 Extruded Round Tube 1.102 X 0.118 | 1.102 | 0.118 | T5 | 13.12 |
| 6063-T5 Extruded Round Tube 1.102 X 0.157 | 1.102 | 0.157 | T5 | 13.12 |
| 6063-T5 Extruded Round Tube 1.181 X 0.039 | 1.181 | 0.039 | T5 | 13.12 |
| 6063-T5 Extruded Round Tube 1.181 X 0.059 | 1.181 | 0.059 | T5 | 13.12 |
| 6063-T5 Extruded Round Tube 1.181 X 0.079 | 1.181 | 0.079 | T5 | 13.12 |
| 6063-T5 Extruded Round Tube 1.181 X 0.098 | 1.181 | 0.098 | T5 | 13.12 |
| 6063-T5 Extruded Round Tube 1.181 X 0.118 | 1.181 | 0.118 | T5 | 13.12 |
| 6063-T5 Extruded Round Tube 1.181 X 0.157 | 1.181 | 0.157 | T5 | 13.12 |
| 6063-T5 Extruded Round Tube 1.26 X 0.039 | 1.260 | 0.039 | T5 | 13.12 |
| 6063-T5 Extruded Round Tube 1.26 X 0.059 | 1.260 | 0.059 | T5 | 13.12 |
| 6063-T5 Extruded Round Tube 1.26 X 0.079 | 1.260 | 0.079 | T5 | 13.12 |
| 6063-T5 Extruded Round Tube 1.26 X 0.098 | 1.260 | 0.098 | T5 | 13.12 |
| 6063-T5 Extruded Round Tube 1.26 X 0.118 | 1.260 | 0.118 | T5 | 13.12 |
| 6063-T5 Extruded Round Tube 1.26 X 0.157 | 1.260 | 0.157 | T5 | 13.12 |
| 6063-T5 Extruded Round Tube 1.339 X 0.039 | 1.339 | 0.039 | T5 | 13.12 |
| 6063-T5 Extruded Round Tube 1.339 X 0.059 | 1.339 | 0.059 | T5 | 13.12 |
| 6063-T5 Extruded Round Tube 1.339 X 0.079 | 1.339 | 0.079 | T5 | 13.12 |
| 6063-T5 Extruded Round Tube 1.339 X 0.098 | 1.339 | 0.098 | T5 | 13.12 |
| 6063-T5 Extruded Round Tube 1.339 X 0.118 | 1.339 | 0.118 | T5 | 13.12 |
| 6063-T5 Extruded Round Tube 1.339 X 0.157 | 1.339 | 0.157 | T5 | 13.12 |
| 6063-T5 Extruded Round Tube 1.378 X 0.039 | 1.378 | 0.039 | T5 | 13.12 |
| 6063-T5 Extruded Round Tube 1.378 X 0.059 | 1.378 | 0.059 | T5 | 13.12 |
| 6063-T5 Extruded Round Tube 1.378 X 0.079 | 1.378 | 0.079 | T5 | 13.12 |
| 6063-T5 Extruded Round Tube 1.378 X 0.098 | 1.378 | 0.098 | T5 | 13.12 |
| 6063-T5 Extruded Round Tube 1.378 X 0.118 | 1.378 | 0.118 | T5 | 13.12 |
| 6063-T5 Extruded Round Tube 1.378 X 0.157 | 1.378 | 0.157 | T5 | 13.12 |
| 6063-T5 Extruded Round Tube 1.417 X 0.039 | 1.417 | 0.039 | T5 | 13.12 |
| 6063-T5 Extruded Round Tube 1.417 X 0.059 | 1.417 | 0.059 | T5 | 13.12 |
| 6063-T5 Extruded Round Tube 1.417 X 0.079 | 1.417 | 0.079 | T5 | 13.12 |
| 6063-T5Extruded Round Tube 1.417 X 0.118 | 1.417 | 0.118 | T5 | 13.12 |
| 6063-T5 Extruded Round Tube 1.417 X 0.157 | 1.417 | 0.157 | T5 | 13.12 |
| 6063-T5 Extruded Round Tube 1.496 X 0.039 | 1.496 | 0.039 | T5 | 13.12 |
| 6063-T5 Extruded Round Tube 1.496 X 0.059 | 1.496 | 0.059 | T5 | 13.12 |
| 6063-T5 Extruded Round Tube 1.496 X 0.079 | 1.496 | 0.079 | T5 | 13.12 |
| 6063-T5 Extruded Round Tube 1.496 X 0.118 | 1.496 | 0.118 | T5 | 13.12 |
| 6063-T5 Extruded Round Tube 1.496 X 0.13 | 1.496 | 0.130 | T5 | 6.56 |
| 6063-T5 Extruded Round Tube 1.496 X 0.157 | 1.496 | 0.157 | T5 | 13.12 |
| 6063-T5 Extruded Round Tube 1.496 X 0.197 | 1.496 | 0.197 | T5 | 9.84 |
| 6063-T5 Extruded Round Tube 1.535 X 0.039 | 1.535 | 0.039 | T5 | 13.12 |
| 6063-T5 Extruded Round Tube 1.575 X 0.039 | 1.575 | 0.039 | T5 | 13.12 |
| 6063-T5 Extruded Round Tube 1.575 X 0.059 | 1.575 | 0.059 | T5 | 13.12 |
| 6063-T5 Extruded Round Tube 1.575 X 0.079 | 1.575 | 0.079 | T5 | 13.12 |
| 6063-T5 Extruded Round Tube 1.575 X 0.098 | 1.575 | 0.098 | T5 | 13.12 |
| 6063-T5 Extruded Round Tube 1.575 X 0.118 | 1.575 | 0.118 | T5 | 13.12 |
| 6063-T5 Extruded Round Tube1.5750.157 | 1.575 | 0.157 | T5 | 13.12 |
| 6063-T5 Extruded Round Tube1.6540.079 | 1.654 | 0.079 | T5 | 13.12 |
| 6063-T5 Extruded Round Tube 1.654 X 0.098 | 1.654 | 0.098 | T5 | 13.12 |
| 6063-T5 Extruded Round Tube 1.654 X 0.118 | 1.654 | 0.118 | T5 | 13.12 |
| 6063-T5 Extruded Round Tube 1.654 X 0.157 | 1.654 | 0.157 | T5 | 13.12 |
| 6063-T5 Extruded Round Tube 1.772 X 0.039 | 1.772 | 0.039 | T5 | 13.12 |
| 6063-T5Extruded Round Tube 1.772 X 0.059 | 1.772 | 0.059 | T5 | 13.12 |
| 6063-T5 Extruded Round Tube 1.772 X 0.079 | 1.772 | 0.079 | T5 | 13.12 |
| 6063-T5 Extruded Round Tube 1.772 X 0.118 | 1.772 | 0.118 | T5 | 13.12 |
| 6063-T5 Extruded Round Tube 1.772 X 0.157 | 1.772 | 0.157 | T5 | 13.12 |
| 6063-T5 Extruded Round Tube 1.89 X 0.079 | 1.890 | 0.079 | T5 | 13.12 |
| 6063-T5 Extruded Round Tube 1.89 X 0.118 | 1.890 | 0.118 | T5 | 13.12 |
| 6063-T5 Extruded Round Tube 1.89 X 0.157 | 1.890 | 0.157 | T5 | 13.12 |
| 6063-T5 Extruded Round Tube 1.89 X 0.157 | 1.890 | 0.157 | T5 | 19.68 |
| 6063-T5 Extruded Round Tube 1.969 X 0.039 | 1.969 | 0.039 | T5 | 13.12 |
| 6063-T5 Extruded Round Tube 1.969 X 0.059 | 1.969 | 0.059 | T5 | 13.12 |
| 6063-T5 Extruded Round Tube 1.969 X 0.079 | 1.969 | 0.079 | T5 | 13.12 |
| 6063-T5 Extruded Round Tube 1.969 X 0.098 | 1.969 | 0.098 | T5 | 13.12 |
| 6063-T5 Extruded Round Tube 1.969 X 0.118 | 1.969 | 0.118 | T5 | 13.12 |
| 6063-T5 Extruded Round Tube 1.969 X 0.157 | 1.969 | 0.157 | T5 | 13.12 |
| 6063-T5 Extruded Round Tube 2.047 X 0.079 | 2.047 | 0.079 | T5 | 13.12 |
| 6063-T5 Extruded Round Tube 2.047 X 0.118 | 2.047 | 0.118 | T5 | 13.12 |
| 6063-T5 Extruded Round Tube 2.165 X 0.079 | 2.165 | 0.079 | T5 | 13.12 |
| 6063-T5 Extruded Round Tube 2.165 X 0.118 | 2.165 | 0.118 | T5 | 13.12 |
| 6063-T5 Extruded Round Tube 2.244 X 0.118 | 2.244 | 0.118 | T5 | 13.12 |
| 6063-T5Extruded Round Tube 2.244 X 0.157 | 2.244 | 0.157 | T5 | 13.12 |
| 6063-T5 Extruded Round Tube 2.362 X 0.079 | 2.362 | 0.079 | T5 | 13.12 |
| 6063-T5 Extruded Round Tube 2.362 X 0.118 | 2.362 | 0.118 | T5 | 13.12 |
| 6063-T5 Extruded Round Tube 2.362 X 0.157 | 2.362 | 0.157 | T5 | 13.12 |
| 6063-T5 Extruded Round Tube 2.559 X 0.118 | 2.559 | 0.118 | T5 | 13.12 |
| 6063-T5 Extruded Round Tube 2.756 X 0.047 | 2.756 | 0.047 | T5 | 13.12 |
| 6063-T5 Extruded Round Tube X 2.7560.079 | 2.756 | 0.079 | T5 | 13.12 |
| 6063-T5 Extruded Round Tube 2.756 X 0.118 | 2.756 | 0.118 | T5 | 13.12 |
| 6063-T5 Extruded Round Tube 2.756 X 0.157 | 2.756 | 0.157 | T5 | 13.12 |
| 6063-T5 Extruded Round Tube 2.835 X 0.079 | 2.835 | 0.079 | T5 | 13.12 |
| 6063-T5 Extruded Round Tube 2.953 X 0.079 | 2.953 | 0.079 | T5 | 13.12 |
| 6063-T5 Extruded Round Tube 2.953 X 0.118 | 2.953 | 0.118 | T5 | 13.12 |
| 6063-T5 Extruded Round Tube 2.992 X 0.079 | 2.992 | 0.079 | T5 | 13.12 |
| 6063-T5 Extruded Round Tube 2.992 X 0.118 | 2.992 | 0.118 | T5 | 13.12 |
| 6063-T5 Extruded Round Tube 2.992 X 0.157 | 2.992 | 0.157 | T5 | 13.12 |
| 6063-T5 Extruded Round Tube 3.15 X 0.047 | 3.150 | 0.047 | T5 | 13.12 |
| 6063-T5 Extruded Round Tube 3.15 X 0.079 | 3.150 | 0.079 | T5 | 13.12 |
| 6063-T5 Extruded Round Tube 3.15 X 0.118 | 3.150 | 0.118 | T5 | 13.12 |
| 6063-T5 Extruded Round Tube 3.15 X 0.157 | 3.150 | 0.157 | T5 | 13.12 |
| 6063-T5 Extruded Round Tube 3.346 X 0.118 | 3.346 | 0.118 | T5 | 13.12 |
| 6063-T5 Extruded Round Tube 3.346 X 0.197 | 3.346 | 0.197 | T5 | 19.68 |
| 6063-T5Extruded Round Tube 3.504 X .157 | 3.504 | 0.157 | T5 | 19.68 |
| 6063-H112 Extruded Round Tube 3.504 X 0.157 | 3.504 | 0.157 | T5 | 19.68 |
| 6063-T5 Extruded Round Tube 3.504 X 0.197 | 3.504 | 0.197 | T5 | 19.68 |
| 6063-T5 Extruded Round Tube 3.543 X 0.079 | 3.543 | 0.079 | T5 | 13.12 |
| 6063-T5 Extruded Round Tube 3.543 X 0.118 | 3.543 | 0.118 | T5 | 13.12 |
| 6063-T5 Extruded Round Tube 3.543 X 0.157 | 3.543 | 0.157 | T5 | 19.68 |
| 6063-T5 Extruded Round Tube 3.543 X 0.197 | 3.543 | 0.197 | T5 | 19.68 |
| 6063-T5 Extruded Round Tube 3.74 X 0.197 | 3.740 | 0.197 | T5 | 19.68 |
| 6063-T5 Extruded Round Tube 3.937 X 0.079 | 3.937 | 0.079 | T5 | 19.68 |
| 6063-T5 Extruded Round Tube 3.937 X 0.118 | 3.937 | 0.118 | T5 | 19.68 |
| 6063-T5 Extruded Round Tube 3.937 X 0.157 | 3.937 | 0.157 | T5 | 19.68 |
| 6063-T5 Extruded Round Tube 3.937 X 0.197 | 3.937 | 0.197 | T5 | 19.68 |
| 6063-T5 Extruded Round Tube 4.016 X 0.118 | 4.016 | 0.118 | T5 | 19.68 |
| 6063-T5 Extruded Round Tube 4.016 X 0.157 | 4.016 | 0.157 | T5 | 19.68 |
| 6063-T5 Extruded Round Tube 4.016 X 0.197 | 4.016 | 0.197 | T5 | 19.68 |
| 6063-T5 Extruded Round Tube 4.134 X 0.197 | 4.134 | 0.197 | T5 | 19.68 |
| 6063-T5 Extruded Round Tube 4.252 X 0.118 | 4.252 | 0.118 | T5 | 19.68 |
| 6063-T5 Extruded Round Tube 4.252 X 0.157 | 4.252 | 0.157 | T5 | 19.68 |
| 6063-H112 Extruded Round Tube 4.252 X 0.157 | 4.252 | 0.157 | T5 | 19.68 |
| 6063-T5Extruded Round Tube 4.252 X 0.197 | 4.252 | 0.197 | T5 | 19.68 |
| 6063-T5 Extruded Round Tube 4.252 X 0.315 | 4.252 | 0.315 | T5 | 19.68 |
| 6063-T5 Extruded Round Tube 4.331 X 0.118 | 4.331 | 0.118 | T5 | 19.68 |
| 6063-T5 Extruded Round Tube 4.331 X 0.157 | 4.331 | 0.157 | T5 | 19.68 |
| 6063-T5 Extruded Round Tube 4.331 X 0.177 | 4.331 | 0.177 | T5 | 19.68 |
| 6063-T5 Extruded Round Tube 4.331 X 0.197 | 4.331 | 0.197 | T5 | 19.68 |
| 6063-T5Extruded Round Tube 4.488 X 0.197 | 4.488 | 0.197 | T5 | 19.68 |
| 6063-T5 Extruded Round Tube 4.528 X 0.197 | 4.528 | 0.197 | T5 | 19.68 |
| 6063-T5 Extruded Round Tube 4.724 X 0.118 | 4.724 | 0.118 | T5 | 19.68 |
| 6063-T5 Extruded Round Tube 4.724 X 0.157 | 4.724 | 0.157 | T5 | 19.68 |
| 6063-T5 Extruded Round Tube 4.724 X 0.197 | 4.724 | 0.197 | T5 | 19.68 |
| 6063-T6 Extruded Round Tube 4.724 X 0.787 | 4.724 | 0.787 | T6 | 19.68 |
| 6063-T5 Extruded Round Tube 4.921 X 0.118 | 4.921 | 0.118 | T5 | 19.68 |
| 6063-T5 Extruded Round Tube 4.921 X 0.197 | 4.921 | 0.197 | T5 | 19.68 |
| 6063-T5 Extruded Round Tube 5.118 X 0.118 | 5.118 | 0.118 | T5 | 19.68 |
| 6063-T5 Extruded Round Tube 5.118 X 0.197 | 5.118 | 0.197 | T5 | 19.68 |
| 6063-T5 Extruded Round Tube 5.118 X 0.276 | 5.118 | 0.276 | T5 | 19.68 |
| 6063-T5Extruded Round Tube 5.236 X 0.157 | 5.236 | 0.157 | T5 | 19.68 |
| 6063-T5Extruded Round Tube 5.236 X 0.197 | 5.236 | 0.197 | T5 | 19.68 |
| 6063-T5Extruded Round Tube 5.236 X 0.236 | 5.236 | 0.236 | T5 | 19.68 |
| 6063-T5 Extruded Round Tube5.3150.197 | 5.315 | 0.197 | T5 | 19.68 |
| 6063-T5Extruded Round Tube 5.315 X 0.295 | 5.315 | 0.295 | T5 | 19.68 |
| 6063-T5 Extruded Round Tube 5.512 X 0.118 | 5.512 | 0.118 | T5 | 19.68 |
| 6063-T5 Extruded Round Tube 5.512 X 0.197 | 5.512 | 0.197 | T5 | 19.68 |
| 6063-T5 Extruded Round Tube 5.512 X 0.276 | 5.512 | 0.276 | T5 | 19.68 |
| 6063-T6 Extruded Round Tube 5.709 X 0.787 | 5.709 | 0.787 | T6 | 19.68 |
| 6063-T5 Extruded Round Tube 5.748 X 0.118 | 5.748 | 0.118 | T5 | 19.68 |
| 6063-T5 Extruded Round Tube 5.906 X 0.118 | 5.906 | 0.118 | T5 | 19.68 |
| 6063-T5 Extruded Round Tube 5.906 X 0.197 | 5.906 | 0.197 | T5 | 19.68 |
| 6063-T5 Extruded Round Tube 5.906 X 0.276 | 5.906 | 0.276 | T5 | 19.68 |
| 6063-T5 Extruded Round Tube 6.142 X 0.118 | 6.142 | 0.118 | T5 | 19.68 |
| 6063-T5 Extruded Round Tube 6.299 X 0.118 | 6.299 | 0.118 | T5 | 19.68 |
| 6063-T5 Extruded Round Tube 6.299 X 0.197 | 6.299 | 0.197 | T5 | 19.68 |
| 6063-T5 Extruded Round Tube 6.299 X 0.276 | 6.299 | 0.276 | T5 | 19.68 |
| 6063-T6 Extruded Round Tube 6.299 X 0.394 | 6.299 | 0.394 | T6 | 26.24 |
| 6063-T6 Extruded Round Tube 6.299 X 0.591 | 6.299 | 0.591 | T6 | 22.96 |
| 6063-T5Extruded Round Tube 6.614 X 0.197 | 6.614 | 0.197 | T5 | 19.68 |
| 6063-T6 Extruded Round Tube 6.614 X 0.256 | 6.614 | 0.256 | T6 | 19.68 |
| 6063-T5 Extruded Round Tube 6.693 X 0.118 | 6.693 | 0.118 | T5 | 19.68 |
| 6063-T5 Extruded Round Tube 6.693 X 0.197 | 6.693 | 0.197 | T5 | 19.68 |
| 6063-T6 Extruded Round Tube 6.772 X 0.276 | 6.772 | 0.276 | T6 | 19.68 |
| 6063-T5 Extruded Round Tube 6.772 X 0.276 | 6.772 | 0.276 | T5 | 19.68 |
| 6063-T5 Extruded Round Tube 7.0 X 0.071 | 7.000 | 0.071 | T5 | 19.68 |
| 6063-T5 Extruded Round Tube 7.087 X 0.118 | 7.087 | 0.118 | T5 | 19.68 |
| 6063-T5 Extruded Round Tube 7.087 X 0.197 | 7.087 | 0.197 | T5 | 19.68 |
| 6063-T6 Extruded Round Tube 7.087 X 1.181 | 7.087 | 1.181 | T6 | 19.68 |
| 6063-T5 Extruded Round Tube 7.283 X 0.157 | 7.283 | 0.157 | T5 | 19.68 |
| 6063-T6 Extruded Round Tube 7.2830 X .394 | 7.283 | 0.394 | T6 | 19.68 |
| 6063-T5 Extruded Round Tube 7.48 X 0.197 | 7.480 | 0.197 | T5 | 19.68 |
| 6063-T5 Extruded Round Tube 7.559 X 0.236 | 7.559 | 0.236 | T5 | 13.12 |
| 6063-T5 Extruded Round Tube 7.874 X 0.197 | 7.874 | 0.197 | T5 | 19.68 |
| 6063-T5 Extruded Round Tube 7.874 X 0.315 | 7.874 | 0.315 | T5 | 39.36 |
| 6063-T5 Extruded Round Tube 8.268 X 0.197 | 8.268 | 0.197 | T5 | 19.68 |
| 6063-T5 Extruded Round Tube 8.386 X 0.236 | 8.386 | 0.236 | T5 | 19.68 |
| 6063-T5 Extruded Round Tube 8.654 X 0.322 | 8.654 | 0.322 | T5 | 19.68 |
| 6063-T6 Extruded Round Tube8.6540.322 | 8.654 | 0.322 | T6 | 19.68 |
| 6063-T6 Extruded Round Tube 8.661 X 0.197 | 8.661 | 0.197 | T6 | 19.68 |
| 6063-T5 Extruded Round Tube 8.661 X 0.197 | 8.661 | 0.197 | T5 | 19.68 |
| 6063-T5 Extruded Round Tube 8.661 X 0.236 | 8.661 | 0.236 | T5 | 19.68 |
| 6063-T5 Extruded Round Tube 9.055 X 0.197 | 9.055 | 0.197 | T5 | 19.68 |
| 6063-T5 Extruded Round Tube 9.055 X 0.354 | 9.055 | 0.354 | T5 | 19.68 |
| 6063-H112 Extruded Round Tube 9.055 X 0.394 | 9.055 | 0.394 | T5 | 19.68 |
| 6063-T6 Extruded Round Tube 9.055 X 0.394 | 9.055 | 0.394 | T6 | 9.84 |
| 6063-T5 Extruded Round Tube 9.449 X 0.197 | 9.449 | 0.197 | T5 | 19.68 |
| 6063-T6 Extruded Round Tube 9.449 X 0.787 | 9.449 | 0.787 | T6 | 19.352 |
| 6063-T6 Extruded Round Tube 9.843 X 0.197 | 9.843 | 0.197 | T6 | 19.68 |
| 6063-T5 Extruded Round Tube 9.843 X 0.197 | 9.843 | 0.197 | T5 | 19.68 |
| 6063-T6 Extruded Round Tube 9.843 X 0.394 | 9.843 | 0.394 | T6 | 26.24 |
| 6063-T5 Extruded Round Tube 10.354 X 0.236 | 10.354 | 0.236 | T5 | 19.68 |
| 6063-T5 Extruded Round Tube10.7480.358 | 10.748 | 0.358 | T5 | 19.68 |
| 6063-T5 Extruded Round Tube 11.811 X 0.236 | 11.811 | 0.236 | T5 | 19.68 |
| 6063-T6 Extruded Round Tube 12.047 X 0.315 | 12.047 | 0.315 | T6 | 19.68 |
| 6063-H112Extruded Round Tube 12.047 X 0.315 | 12.047 | 0.315 | T5 | 13.12 |
| 6063-T6 Extruded Round Tube 12.205 X 0.236 | 12.205 | 0.236 | T6 | 19.68 |
| 6063-H112 Extruded Round Tube 12.205 X 0.236 | 12.205 | 0.236 | T5 | 19.68 |
| 6063-T5 Extruded Round Tube 12.323 X 0.236 | 12.323 | 0.236 | T5 | 13.12 |
| 6063-H112 Extruded Round Tube 12.677 X 0.315 | 12.677 | 0.315 | T5 | 19.68 |
| 6063-H112 Extruded Round Tube 12.717 X 0.315 | 12.717 | 0.315 | T5 | 19.68 |
| 6063-T5 Extruded Round Tube12.7170.315 | 12.717 | 0.315 | T5 | 19.68 |
| 6063-T5 Extruded Round Tube13.0710.236 | 13.071 | 0.236 | T5 | 19.68 |
| 6063-H112 Extruded Round Tube 13.717 X 0.264 | 13.717 | 0.264 | T5 | 19.68 |
| 6063-H112 Extruded Round Tube 14.803 X 0.236 | 14.803 | 0.236 | T5 | 19.68 |
| 6063-T5 Extruded Round Tube 14.803 X 0.315 | 14.803 | 0.315 | T5 | 19.68 |
| 6063-H112 Extruded Round Tube 14.803 X 0.315 | 14.803 | 0.315 | T5 | 19.68 |
| 6063-H112 Extruded Round Tube 15.354 X 0.315 | 15.354 | 0.315 | T5 | 16.4 |
| 6063-T5 Extruded Round Tube 15.984 X 0.315 | 15.984 | 0.315 | T5 | 16.4 |
| 6063-T5 Extruded Round Tube X 200.315 | 20.000 | 0.315 | T5 | 19.68 |
| 6063-T5 Extruded Round Tube 20.236 X 0.315 | 20.236 | 0.315 | T5 | 19.68 |
| 6063-H112 Extruded Round Tube 20.709 X 0.315 | 20.709 | 0.315 | T5 | 23.288 |
| 6063-H112 Extruded Round Tube 22.441 X 0.315 | 22.441 | 0.315 | T5 | 19.68 |
| 6063-T6 Extruded Round Tube 23.622 X 0.315 | 23.622 | 0.315 | T6 | 20.3032 |
| 6063-T6 Extruded Round Tube 7.087 X 0.394 | 7.087 | 0.394 | T6 | 22.96 |
Can't find the size you need? pleaseQuick Quote
Introduction to 6063 aluminum tubing
| | |
| --- | --- |
| Length | Can be cut to customer-specified dimensions. |
| Price | Factory price |
| MOQ | One piece |
| Delivery time | One week |
| Standard | ASME B31.1-31.9, CE, EN 573.3, EN 755.2, EN 755.8, ISO 8573, ISO 9001, premium coating, TUV, ASTM B221 |
| Manufacture method | EXTRUDED STRUCTURAL |
Performance of 6063 aluminum tubing
Tensile strength:83, 000 PSI
Yield strength:73, 000 PSI
Elongation:11%
6063 aluminum tubing FAQ
6063 aluminum tubing packaging and transportation
Use appropriate packaging materials such as foam padding, wooden pallets, or plastic film to protect the aluminum bars from impact and moisture.
Follow proper stacking and storage guidelines to ensure that the aluminum bars are not subjected to excessive pressure or deformation.
Control the transportation environment to avoid extreme temperature and humidity conditions.
Use professional logistics companies or transportation services experienced in handling and transporting sensitive metal products.
Regularly inspect the products to ensure there is no damage or deformation.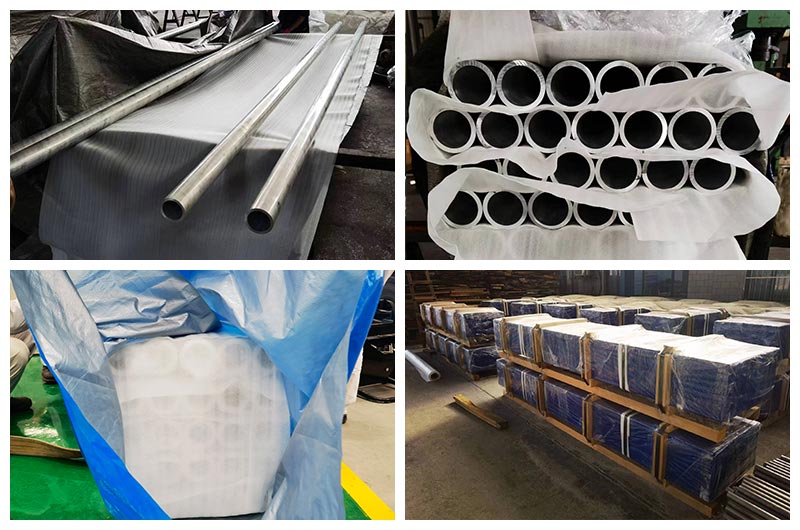 Considerations for choosing 6063 aluminum tubing
Does the aluminum tubing meet the required thickness and straightness standards?
Is the wall thickness consistent throughout the tubing?
Does it meet the required ellipticity standards?
Chalco offers 6063 Aluminum Tubing with quick delivery in as fast as 7 days. Our products are known for their stable quality and are exported worldwide, all at affordable prices.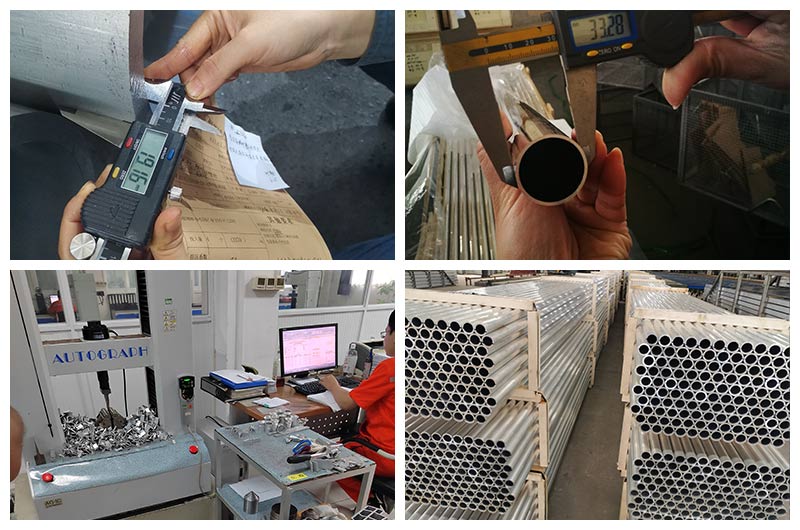 6061 aluminum tubing VS 6063 aluminum tubing
6061 Aluminum Tubing has higher yield strength and hardness.
6063 Aluminum Tubing offers better corrosion resistance.
6063 T5 aluminum tubing VS 6063 T6 aluminum tubing
6063 T6 aluminum tubing has higher hardness and mechanical performance compared to 6063 T5 aluminum tubing, but it may be more brittle during processing. For most products, T5 is sufficient.
Can 6063 aluminum tubing be bent?
6063 Aluminum Tubing, due to its formability, high strength-to-weight ratio, and excellent corrosion resistance, can be easily bent into various shapes.
It is the preferred choice for architectural and industrial applications.
The applications of 6063 aluminum tubing
6063 Aluminum Tubing is a medium-strength alloy used for railings, window frames, door frames, roofing, sign frames, fittings, irrigation pipes, construction products, electrical components, ships, pipelines, recreational equipment, storage tanks, truck frames, and more.