1050 aluminum metal wire is a high-purity aluminum alloy wire with high strength and excellent corrosion resistance, which is widely used in the aerospace field. Chalco 1050 aviation aluminum wire shall strictly comply with BS 5L36, AMS-QQ-A-225/1 and ASTM B211 aviation standards.
Why choose Chalco 1050 aircraft aluminum wire?
Chalco is a professional manufacturer of aviation materials. It has AS9100 aviation certification and strictly complies with the following AMS aviation standards.
Standards
BS 5 L36 is one of the British Standards, which specifies a series of requirements, including chemical composition, physical properties, processing properties, surface quality, etc., to ensure that the quality and performance of 1050 aviation aluminum round wire meet specific standards.
AMS-QQ-A-225/1 is the standard for aluminum alloy wires issued by the American Society for Testing and Materials (AMS). This standard covers the requirements of chemical composition, mechanical properties, electrical conductivity and other aspects of soft aluminum alloy wires.
ASTM B211 is a standard developed by the American Society for Testing and Materials (ASTM) to regulate the production, testing and use of aluminum alloy materials. It includes specifications for the production of aluminum wire.
Accreditations
AS9100
OHSAS 18001
ISO14001
ISO 45001
ISO 9001
NADCAP HT
NADCAP NDT
IATP16949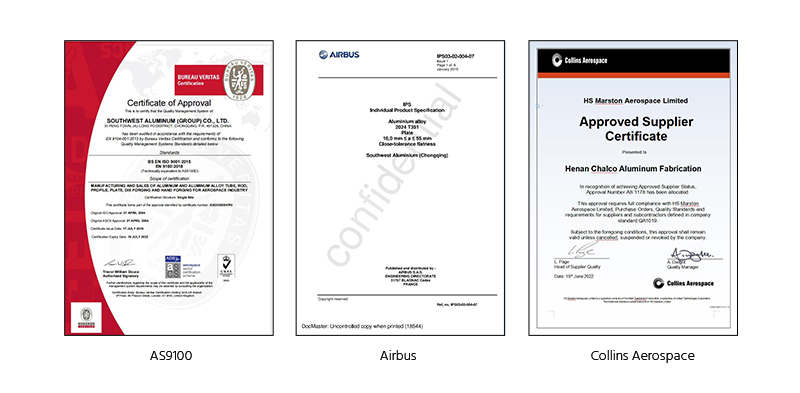 The specification of 1050 aerospace aluminum alloy wire
| | |
| --- | --- |
| Alloy | 1050 |
| Temper | O, H12, H14, H16, H18, H22, H24, H26, H28 |
| Diameter | 1mm-50mm |
| Packing | Spools |
| Standard | BS 5L36, AMS-QQ-A-225/1, ASTM B211 |
Chemical composition of 1050 aluminum wire for aerospace
Element
Composition(%)
Al
REM
Si
≤0.25
Fe
≤40
Cu
≤0.05
Mn
≤0.05
Mg
≤0.05
Cr
/
Ni
/
Zn
≤0.05
Ti
≤0.03
Note :EACH≤0.05; TOTAL≤0.15
Mechanical properties of 1050 aircraft square wire
| | | | | |
| --- | --- | --- | --- | --- |
| Temper | Tensile strength(MPa) | Yield strength(MPa) | Elongation(%) | Hardness(HB) |
| O | 60-95 | 20-45 | 25-35 | 19-26 |
| H12 | 80-120 | 60-100 | 10-20 | 28-35 |
| H14 | 100-140 | 75-115 | 6-12 | 32-40 |
| H16 | 120-160 | 90-135 | 4-8 | 37-44 |
| H18 | 140-180 | 110-155 | 2-6 | 42-50 |
| H22 | 80-120 | 60-100 | 12-18 | 28-35 |
| H24 | 100-140 | 75-115 | 8-14 | 32-40 |
| H26 | 120-160 | 90-135 | 6-10 | 37-44 |
| H28 | 140-180 | 110-155 | 4-8 | 42-50 |
What are the advantages of Chalco 1050 H24 aviation aluminum flat wire?
High plasticity and good processability
1050 aluminum alloy wire has good plasticity, ductility and workability, and can be processed into parts and components of different shapes through various processing processes, such as drawing, stamping, deep drawing, bending, bending, etc.
Good electrical and thermal conductivity
1050 aviation aluminum round wire has high conductivity and thermal conductivity, so it is widely used in power and electronic industries.
Good corrosion resistance
1050 aviation aluminum wire has good corrosion resistance and can maintain good corrosion resistance in most corrosive media.
Low density
1050 aluminum electrical wire has low density, about 2.7 g/cm3, It is much lighter than ordinary structural steel, so it is widely used in the aerospace field, which can effectively reduce the dead weight of aircraft and spacecraft, and improve the load capacity and fuel efficiency.
High purity
The aluminum content of 1050 aviation aluminium wire is as high as 99.5%, with high purity, which can meet the application requirements of many high-purity aluminum materials.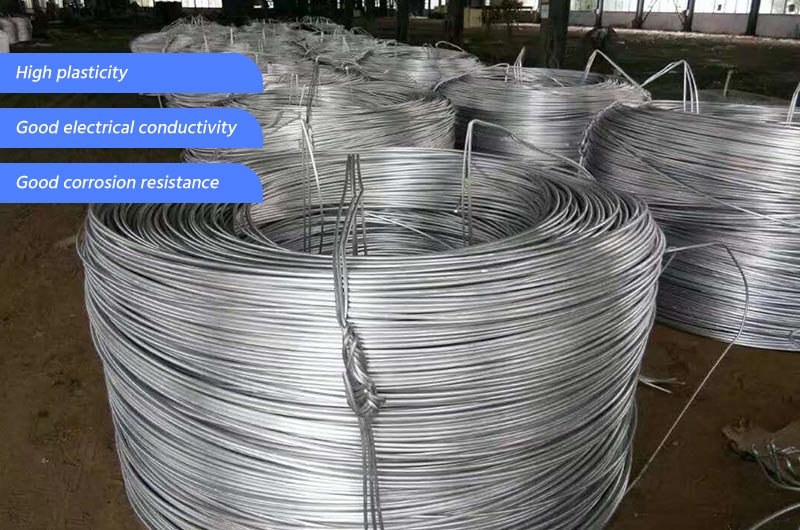 What are the precautions for purchasing 1050 high purity aluminum aircraft wire?
Material standard
The material standard of 1050 aviation aluminum wire rod shall comply with relevant international and domestic standards, such as GB/T, ASTM, EN, etc. When purchasing, carefully check whether the material standard meets the requirements.
Size specification
The size and specification of 1050 aluminium metal wire should meet the specific use requirements, and the appropriate diameter, length and other specifications should be selected according to the actual needs.
Supplier reputation
When purchasing 1050 aluminum aircraft wire, suppliers with certain reputation and experience should be selected to ensure the reliability of product quality and delivery date.
Inspection requirements
When purchasing, the supplier can be required to provide relevant test reports or certificates to ensure that the products meet relevant standards and requirements.
Packaging requirements
1050 aluminum wire for aviation needs proper packaging protection during transportation and storage to avoid damage and pollution. The supplier shall be required to provide appropriate packaging and transportation methods when purchasing.
Price comparison
The price of 1050 aviation metal wire will be affected by many factors, such as market supply and demand, material quality, specification and quantity. It is necessary to compare prices among multiple suppliers to obtain more competitive prices.
In short, when purchasing 1050 aerospace aluminum wire, it is necessary to select appropriate products and suppliers according to specific application requirements and requirements to ensure the reliability of product quality and delivery date.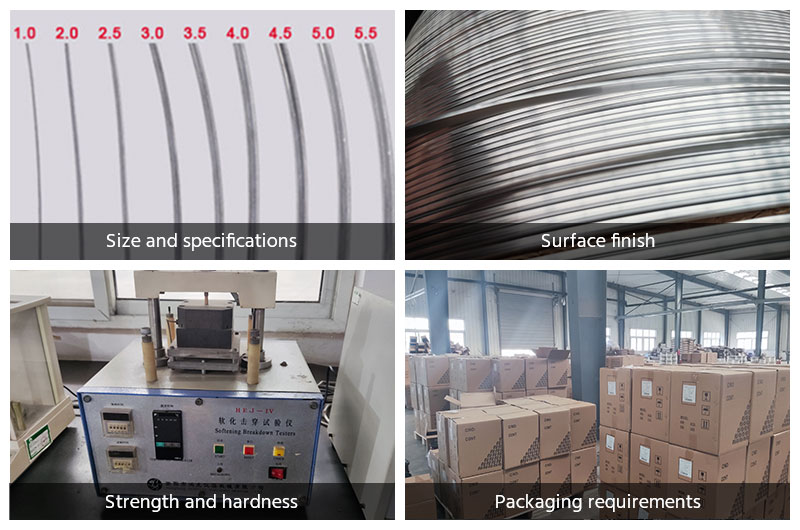 What are the applications of Chalco 1050 aircraft grade aluminum wire?
Cable and wire
The high conductivity and excellent corrosion resistance of 1050 aluminum wire make it an ideal material for aviation cables and wires.
Fuselage and structural parts
The lightweight and high-strength properties of 1050 aluminum wire make it an ideal material for aircraft fuselage and structural parts, such as propeller, wing, fuselage cover plate, landing gear, etc.
Cooling system
The high thermal conductivity of 1050 aluminum wire makes it an important material in aircraft engine cooling system, such as radiator.
Aircraft ground equipment
1050 aircraft & aerospace aluminium wire rod is widely used in aircraft ground equipment, such as baggage car, cable bridge, aircraft ladder, etc.
Fuel system
The corrosion resistance and machinability of 1050 aluminum wire make it an ideal material for aircraft fuel system, such as fuel tank and oil pipe.