Why choose Chalco 6082 aluminum aviation profile?
Chalco is a professional manufacturer of aviation materials with AS9100 aviation certification and strictly adheres to the following AMS aviation standards.
Quality could full meet world wide aviation standard
BS L111 Alloy 6082-T6 Bars and Sections
EN 2326 6082-T6 Extruded bar
AMS 4152
AMS 4151
AMS 4150
AMS 4153
Production and management comply with international aviation quality system certification
AS9100
OHSAS 18001
ISO14001
ISO 45001
ISO 9001
NADCAP HT
NADCAP NDT
IATP16949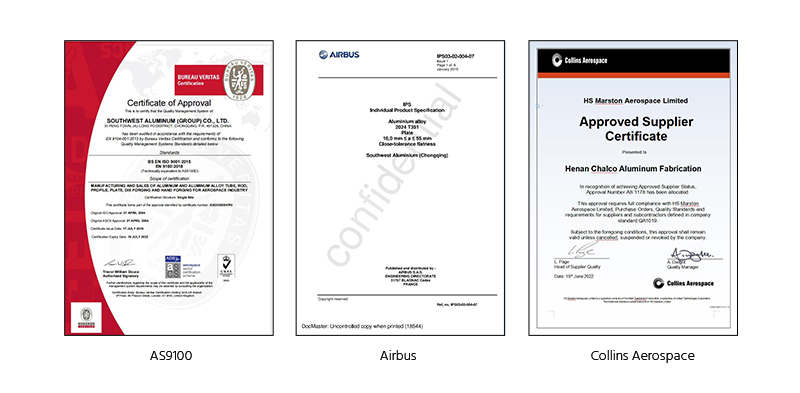 The specification of aerospace 6082-T6 extrusions
6082 extrusion specification
Temper
O, H111, T4, T5, T6, T651
Open profile dimensions:
4mm*3mm Min., 850mm*50mm Max.
Closed profiles dimension:
6.35mm*1mm Min, 573mm*10mm Max.
Weight per meter:
0.03kg/m Min., 124kg/m Max.
Profile length:
Maximum 28m (standard 6000mm)
Standard
BS L111 Alloy 6082-T6 Bars and Sections
EN 2326 6082-T6 Extruded bar
AMS 4152
AMS 4151
AMS 4150
AMS 4153
Chemical composition of 6082 aerospace aluminum profiles
6082 chemical composition
Al
REM
Si
0.7-1.3
Fe
≤0.50
Cu
≤0.1
Mn
0.4-1.0
Mg
0.60-1.2
Cr
≤0.25
Ni
/
Zn
≤0.20
Ti
≤0.10
Note: EACH:≤0.05; TOTAL: ≤0.15
Mechanical properties of 6082 T651 aircraft extrusion
Physical Property
Temper
Dimensions /mm
Room temperature test result
Tension strength/MPa
Yield strength/MPa
Elongation/%
A50mm
A
O/H111
All
160
110
14
T4
All
205
110
14
T5
All
270
230
8
T6
All
290-310
250-260
8-10
What are the advantages of Chalco 6082 aerospace aluminium grades?
High strength
The strength of 6082 aluminum alloy is about 30% higher than that of ordinary industrial aluminum alloy, which can meet the demand for high-strength materials in the aviation industry.
Corrosion resistance
6082 aluminum metal alloy contains a small amount of copper and magnesium, which has excellent corrosion resistance and can be used in harsh environments.
High toughness
6082 aluminum aircraft alloy has good toughness and plasticity, and can withstand large impacts and vibrations.
Good machinability
6082 aluminum aerospace alloy can be processed using various conventional methods, such as extrusion, rolling, casting, stamping, etc.
Easy to weld
6082 aluminum alloy can be welded using various conventional welding methods, such as argon arc welding, TIG welding, MIG welding, etc.
Light weight
The density of 6082 aluminum alloy is much lighter than that of steel, which can effectively reduce the dead weight of aircraft and improve its performance.
In summary, 6082 aviation extruded aluminum profiles have advantages of high strength, corrosion resistance, high toughness, good processability, ease of welding, and lightweight, and are widely used in the aviation field.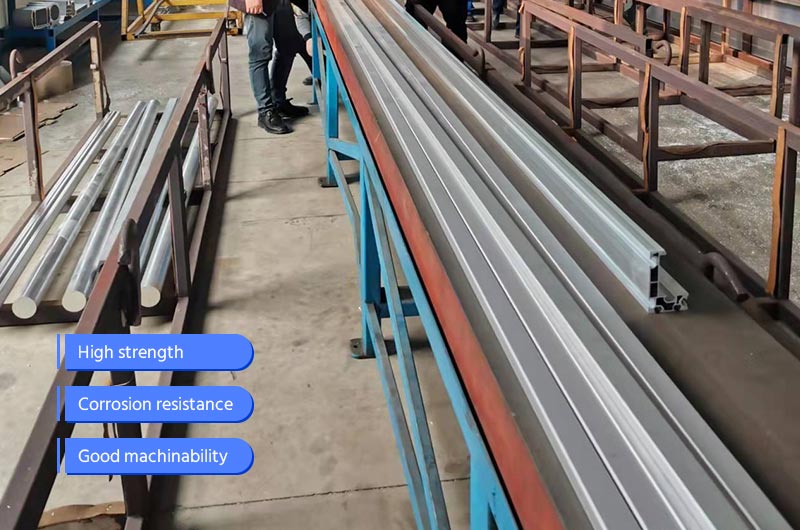 What are the precautions for purchasing 6082 T651 aerospace aluminium grade profile?
Choose a regular manufacturer
When purchasing 6082 aviation aluminum profiles, you should choose a regular manufacturer to ensure product quality and after-sales service.
Attention to model specifications
There are multiple models and specifications for extruded 6082 aviation aluminum, and you should select the appropriate model specifications based on your own needs.
Accuracy of specifications and dimensions
The accuracy of 6082 aviation aluminum extrusions is very high, and it is necessary to carefully check whether their accuracy meets the standard requirements.
Surface quality
The surface of 6082 aircraft aluminum profiles should be flat and smooth, without defects such as cracks, bubbles, and dents.
Packaging identification
When purchasing, attention should be paid to whether the packaging identification is complete, whether there are quality certificates and inspection reports.
Transportation method
6082 T6 aluminum extrusion aerospace are fragile products, and appropriate transportation methods should be selected to avoid damage during transportation.
Storage conditions
6082 T4 aluminum extrusion aerospace should be stored in a dry, ventilated, non corrosive atmosphere, avoiding contact with humidity and corrosive substances.
In summary, when purchasing 6082 aerospace grade aluminum profiles, it is necessary to pay attention to product quality, model specifications, accuracy, surface quality, packaging identification, transportation methods, and storage conditions to ensure that qualified products are purchased.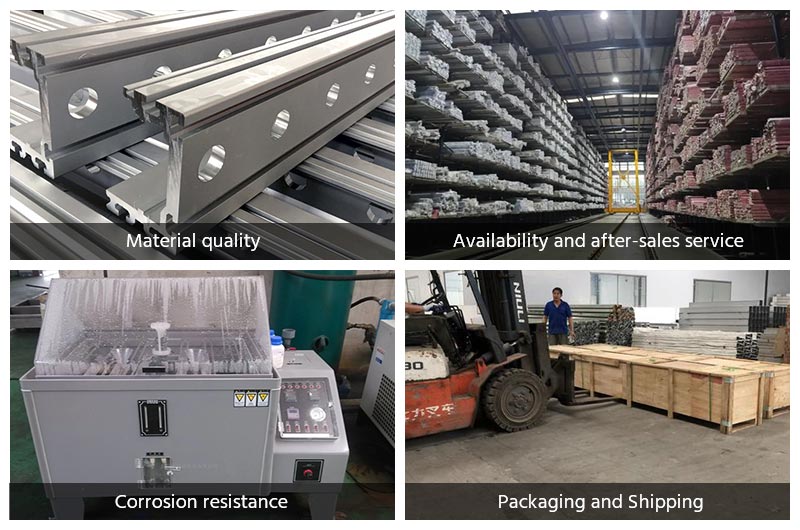 What are the applications of Chalco 6082 T6 extrusion aircraft aluminum profile?
Fuselage structure
6082 T6 and T651 aviation aluminium profiles can be used for structural components of aircraft fuselage, such as frames, ribs, brackets, etc.
Wing structure
6082 T651 aviation aluminum extrusions can be used for structural components of aircraft wings, such as leading edges, trailing edges, wingtips, chord ribs, beams, and so on.
Flap structure
6082 T6 aluminium aerospace profiles can be used for structural components of aircraft flaps, such as leading edges, trailing edges, brackets, and so on.
Landing Gear
Aluminium Alloy 6063 T6 Bar & Extrusion Grade can be used for structural components of aircraft landing gears, such as main beams, support rods, shock absorbers, and so on.
Cabin interior structure
Aviation aluminum profile 6082 T6511 can be used for aircraft cabin internal structural components, such as seat structures, luggage racks, partitions, and so on.