The growth of aluminum demand is mainly driven by the prosperity of packaging, electrical applications, construction, consumer goods, automobiles and automobile downstream industries. Due to its advantages of light weight and corrosion resistance, aluminum is one of the most important and widely used nonferrous metal materials in the world, which is used in various industrial, commercial and household applications. At the same time, the technological progress of aluminum manufacturing and aluminum recycling also plays an important role in the growth of aluminum consumption.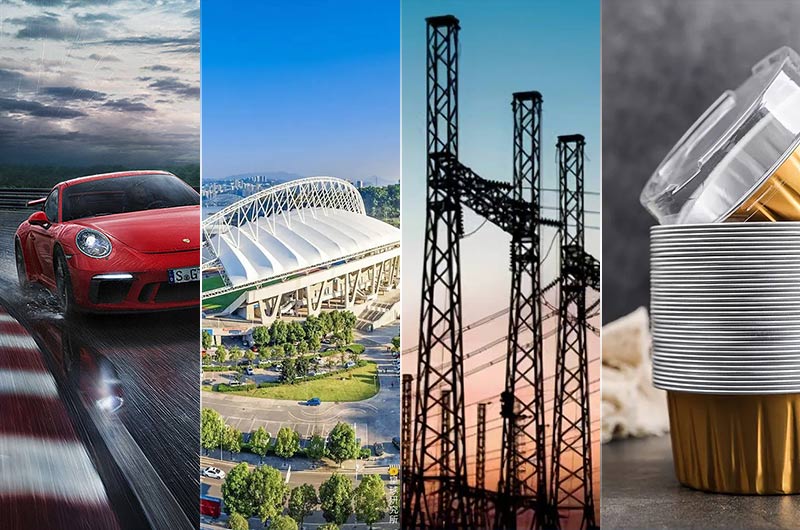 The world Top 10 aluminum producers include China, India, Russia, Canada, the United Arab Emirates, Australia, Bahrain, Norway, the United States and Iceland. Together, these top 10 largest aluminum producers account for over 85.6% of the world total aluminum production volume every year, and their leading position in the global market is expected to continue in the coming years. The following is a brief analysis of the world top ten aluminum companies.
Chalco
Company profile
Chalco is a leading enterprise in China's nonferrous metal industry, the world largest alumina producer and aluminum company with the largest output. The company is headquartered in Beijing, China. As a national enterprise technology center, the company has independently researched and developed a large number of representative scientific and technological achievements such as bauxite, alumina, fine alumina, electrolytic aluminum. It also led the formulation (revision) of a large number of national and industrial standards, leading the industry standards and technological progress.
Aluminum corporation of China Limited was incorporated on September 10th, 2001 in China, and aluminum corporation of China is its controlling shareholder. Currently Chalco has 39 subsidiaries, 18 wholly owned and 21 controlled ones. Chalco has been listed in the New York Stock Exchange (stock code: ACH), the Stock Exchange of Hong Kong (stock code: 2600), and Shanghai Stock Exchange (stock code: 601600).
Main business
Bauxite and coal mining, alumina refining and primary aluminum smelting.
Production and sales of aluminum alloy products, carbon products and other electrolytic aluminum products.
It also conducts business in other fields, such as international trade, logistics, fossil fuel and new energy power generation.
Characteristic fields
Civil field: the company has successively provided key aluminum profiles for China's construction, transportation, rail and other industries.
Military industry: Chalco takes the maintenance, development and utilization of national strategic resources as its own responsibility. It plays an important role in military industry, aerospace, high-end alloy production and other fields.
Aerospace and Other High-tech Fields: Chalco developed China's first man-made satellite, the first nuclear reactor and submarine, Long March rockets, Shenzhou spacecraft, Chang'e lunar probe, commercial aircraft, aircraft carriers and high-speed trains.
Company profile
UACJ was established in October 2013 when Furukawa-Sky Aluminum and Sumitomo Light Metal Industries merged their business operations. Both companies featured a distinguished history as aluminum producers in Japan. Together, their annual capacity for flat rolled products exceeded 1 million tons, establishing UACJ as a top-class manufacturer, not only in Japan but throughout the world.
The head office of UACJ corporation is located at Tokyo Sanjing Building, No. 7-2, Daicho 1, Chiyoda District, Tokyo. President and CEO Miyuki Ishihara. The Main business items include the production and sales of rolled products, casting products, forged products and processed products of aluminum and other non-ferrous metals and their alloys. The registered capital is 52.277 billion yen. The number of employees is 9722.
Main business
UACJ'S multiple facilities and great depth of experience allow us to offer a full selection of manufacturing options.
UACJ supplies aluminum products in a variety of forms to meet differing needs, including rolled, extruded, foil, cast and forged products, as well as processed and color-coated products that use these items as raw materials. Each of these products and processes requires unique equipment, technologies and expertise.
As Japan's foremost comprehensive aluminum manufacturer, and one of few such companies in the world, UACJ is able to meet the diverse needs of a wide range of industries. UACJ produce everything from everyday items such as aluminum cans and automobile part materials, to electronic and medical products, and even part materials for rockets and aircraft.
Characteristic fields
In the context of rising environmental awareness and soaring gasoline prices, the primary task of the automotive industry is to improve fuel efficiency through lightweight body. This has led to an increased use of aluminum, which is lighter than both steel and copper. UACJ offers aluminum part materials with a high level of added value, including alloys specifically optimized for use in the high-temperature molding of automobile bodies. UACJ also boasts the number one share for heat exchanger materials in the Japanese market, and are one of the few companies in the world capable of manufacturing compressor wheels.
Information devices such as computers and smartphones have advanced in a variety of ways, not only growing smaller, thinner and lighter, but also providing more diverse and sophisticated features coupled with lower power consumption. Aluminum is helping to support this progress through its inclusion in components such as small, high-volume electrolytic capacitors, which offer exceptional reliability and cost-performance. Thanks to its light weight, durability, heat dissipation, machinability and lustrous appearance, aluminum is also frequently used in structural materials and casings.
Pressed into an ultrathin foil, highly pure aluminum provides a safe, odorless and very hygienic material that can be used in packaging for various medical products, including blister packaging for pills and tablets. When creating such items, UACJ enforces strict manufacturing and quality control systems that take hygiene into consideration and are in line with international GMP standards for medical products.
Company profile
Rusal is a leading Russian aluminum producer based in Moscow. The company is engaged in the production and sale of primary aluminum and other related products. The company is involved in mining and refining of bauxite into alumina. The company is currently one of the world largest aluminum companies by production, and it has 10 aluminum smelters, of which nine are in Russia and one in Sweden.
Rusal is a public company traded on Moscow Stock Exchange and Hong Kong Stock Exchange and interests of its shareholders are at the heart of Rusal values. Evgenii Nikitin is the CEO of Rusal and its Chairman is Bernard Zonneveld.
Main business
Rusal has its own resource base and carries out the entire production cycle, from extraction of bauxite to the production of finished products, which ensures maximum control over product quality.
Rusal's main products are primary aluminum and aluminum-based alloys, alumina, as well as foil and packaging.
Characteristic fields
The company is a leading producer of low-carbon aluminum because 90% of its aluminum comes from renewable electricity. More than 90% of RUSAL's aluminum production power is provided by clean and renewable hydropower, which enables the company to produce low-carbon aluminum products.
On July 7, 2022, RUSAL approved a production waste management strategy based on the "waste zero landfill" method. The strategy aims to ensure that by 2030, at least 95% of aluminum and silicon production waste will be included in the company's turnover and processing (more than 20% increase) and at least 65% of aluminum oxide production (excluding mineral waste and overburden floor), an increase of more than 2.5 times compared with the level in 2020.
Company profile
Hindalco is an India-based aluminum manufacturing company and is the world largest flat-rolled products player and recycler of aluminum. It is one of the world largest aluminum companies, with a global footprint covering 49 state-of-the-art manufacturing facilities in North America, Europe, and Asia.
Hindalco Industries Limited is the metal flagship company of Aditya Birla Group. Kumar Mangalam Birla is the chairman and Satish Pai is the managing director. Hindalco is a $26 billion metal giant and a leader in the aluminum and copper industries. Today, Hindalco, as a comprehensive manufacturer, ranks among the global aluminum giants, and its business covers 9 countries/regions outside India. Hindalco has won the status of a Star Trading Company in India.
Main business
Hindalco ranks among the global aluminum majors as an integrated producer and its business covers 9 countries/regions outside India.
The company's aluminum sector covers all businesses from bauxite mining, alumina refining, coal mining, captive power plants and aluminum smelting to downstream rolling, extrusions and foils.
Major products include standard and specialty grade aluminas and hydrates, aluminum ingots, billets, wire rods, flat rolled products, extrusions and foil.
Characteristic fields
Hindalco's products cater to many markets and meet all industrial and commercial needs, such as: automobile and transportation, building construction, electrical and electronic, industrial applications, drugs and packaging, white goods.
Its wholly-owned subsidiary Novelis Inc. is the world largest producer of aluminum beverage cans and the largest recycler of waste beverage cans (UBC).
Company profile
Rio Tinto is a U.K.-based metals and mining corporation and one of the global leaders in aluminum. Rio Tinto's aluminum division is a subsidiary of the world leading mining company Rio Tinto, based in Montreal. The company has 24 production sites across the globe. As of 2022, the company has four alumina refineries in Australia, Brazil, and Canada and 14 aluminum smelters in Canada, Australia, New Zealand, Iceland, and Oman.
Rio Tinto is headquartered in the UK and Australia in Melbourne. Jakob Stausholm is a Danish businessman, and the CEO of Rio Tinto Group. Hammersley Iron Ore Co., Ltd., controlled by the company, is the second largest iron ore producer in Australia. Rio Tinto is the world second largest mining group with a market value of 52.3 billion US dollars. The Company's total assets are divided by region, 89% of which are concentrated in Australia and North America.
Main business
Rio Tinto operates through multiple mining and metal manufacturing businesses, including iron ore, aluminum, copper and diamond, energy and mineral and other businesses.
The company's products include slab ingot, extrusion billet, forging billet, etc.
Characteristic fields
High grade bauxite for global maritime trade, aluminum from sustainable sources for beverage packaging, new light alloys for automobile industry, etc;
Rio Tinto produces some aluminum with the highest quality and the lowest carbon in the world, and uses clean and renewable hydropower to produce aluminum.
Rio Tinto is helping to further develop breakthrough smelting technology to produce aluminum that does not directly emit greenhouse gases. This technology is now being used in Apple products.
Company profile
Alcoa is one of the world leaders in the production of bauxite, alumina and aluminum products, with corporate headquarters in Pittsburgh, Pennsylvania. Michael Morris is the Chairman and Roy Harvey is the CEO. Alcoa conducts business across 10 countries and has facilities located in Australia, Guinea, Suriname, Texas, Sao Luis, Brazil, and Spain. Alcoa has the largest bauxite mining operations in the world, a leading alumina refining system, as well as a global network of aluminum smelting plants.
Main business
Aluminum: Alcoa's high-quality aluminum has many advantages, including our value-add castings (billet, foundry, rod and slab) and a portfolio of patented alloys. Alcoa offers a variety of options that carry certifications from the Aluminum Stewardship Initiative.
Alumina:With the lowest carbon footprint in the industry, Alcoa's smelting grade and non metallurgical grade alumina are renowned worldwide for their high quality.
Bauxite: using leading technological advances and environmental practices, Alcoa is one of the world largest bauxite miners with high-quality reserves through both Alcoa-owned and operated mines and our equity interests. Alcoa adopted a kind of responsible mining practices.
Characteristic fields
From mines to finished metals, Alcoa's products focus on environmental protection, and most of its aluminum product portfolio is powered by renewable energy. Alcoa produces alumina with a lower CO2 concentration than any other global producer.
Company profile
Emirates Global Aluminum is the world leading aluminum producer based in the UAE. The company 4% of the aluminum production in the world or almost half of the aluminum produced in the Gulf Cooperation Council. Emirates Global Aluminum is the world largest 'premium aluminum' producer and the biggest industrial company in the UAE outside oil and gas.
Abdullah Jassim Kalba served as President and CEO. EGA's core operating assets are Dubai Aluminum ("DUBAL") and Emirates Aluminum ("EMAL") - with a total output of 2.34 million tons per year ("tpa"). DUBAL is one of the largest single primary aluminum smelters in the world. EMAL is the world largest single point primary aluminum producer.
Main business
The company produces three major categories of high-quality aluminum products: primary aluminum, bauxite and solar aluminum.
Its product portfolio includes high purity and cast remelting products, rolled products and billets for extrusion and forging.
Characteristic fields
Emirates Global Aluminum transforms aluminum into products that make modern life possible - its aluminum products supply fields cover from smart phones and building materials to food packaging and auto parts.
On 21 April 2022, Emirates Global Aluminum signed an agreement to supply CelestiAL solar aluminum to Hammerer Aluminum Industries, which is a Mercedes-Benz parts maker. The agreement aims to increase the use of aluminum using solar power.
Company profile
Hydro is a Norway-based aluminum and renewable energy company. Hydro is engaged within all market segments for aluminum, from production of the primary metal to recycling and repurposing it. It is one of the world leading companies in the fields of bauxite and alumina, primary metals, rolled products, extrusion solutions and energy.
Hydro has Hilde Meret Achim as its president and CEO. The company has a registered capital of 4.981 billion kronor and has more than 38000 employees. The company is one of the world top 500 companies selected by Fortune magazine.
Main business
The company's aluminum products include recycled aluminum, low carbon aluminum, bauxite and alumina, precision pipe, welded pipe, electric pole, etc..
Characteristic fields
Low-carbon aluminum: Hydro's low-carbon aluminum uses wind and solar power in the production process to create an average of 4.0 kilo of CO2e per kilo of aluminum.
Recycled aluminum: Hydro's recycled aluminum efficiently utilizes pre- and post-consumer scrap to create a lower carbon footprint and support the circular economy.
Company profile
Vedanta Aluminium, which is a business of Vedanta Limited, is one of the leading producers of aluminum in the world. The company's aluminum business is amongst the leading aluminum producers in the world, with operations in India. Vedanta Aluminum & Power Business is India's largest producer of 'green metal' aluminum, the second most important metal in the world. Backed by rich deposits of high-quality bauxite, India has the second largest aluminum production capacity in the world after China.
Main business
Vedanta Aluminum is a global leader in top aluminum products. Its main products include low carbon aluminum and ultra-low carbon aluminum products, primary casting alloy products, wire rods, plates and other products to meet the needs of the end use industry.
Characteristic fields
With world-class smelters, alumina refineries and power plants in India, Vedanta is committed to promoting the emerging application of aluminum. Aluminum is the "metal of the future", Vedanta Aluminum is committed to achieving a greener and more sustainable development of aluminum.
Company profile
Century Aluminum Company is a U.S.-based producer of primary aluminum, Jesse Gary is its President and CEO. The company operates three U.S. aluminum smelters, in Hawesville, Kentucky (Hawesville); Robards, Kentucky (Sebree); and Mt. Holly, South Carolina (Mt. Holly). The company is a listed company listed on NASDAQ.
Main business
Its main products include high-purity aluminum, natural aluminum, aluminum ingots, primary casting aluminum alloys, etc.
Characteristic fields
Century Aluminum Company's primary aluminum facilities produce standard grade and value-added primary aluminum products.
While producing products, Century Aluminum Company is committed to minimizing the impact on the environment and promoting responsible use of energy and raw materials. Continue to focus on reducing the carbon footprint of aluminum products and strive to minimize greenhouse gas emissions.